Shopify Store Management Services
We give you a full-fledged Shopify store maintenance and management based on your needs right at your fingertips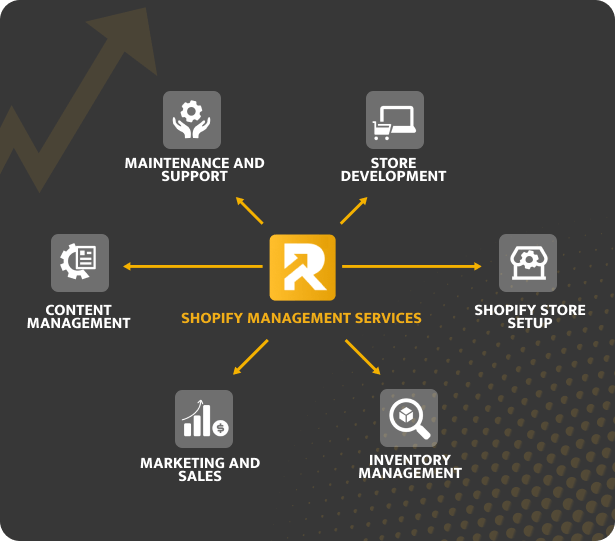 with our innovative and efficient Shopify management services
Ensuring quick growth in your Shopify store relies heavily on how well it is maintained and managed. Proficiently managing your Shopify store will make it more engaging and user-centric to satisfy the visitors. And when the visitors are satisfied with their experience, they can quickly turn into customers, and you get a higher conversion.
Our in-house Shopify experts are here to help you manage your Shopify store. We work towards creating the best possible outlook of your brand to bring in as many customers as possible. With our years of experience in the field, you always convert the visitors we bring to the website through impressive organic reach.
Let us become your partner in the journey to grow your Shopify store!
Explore Our Services to
Grow Your Shopify Store
Our Shopify store management services start from the foundation of developing a perfect Shopify store for you.
We will make the store well-designed and fully functional with additional features. It ensures that your Shopify store is user-friendly and appealing to users for a higher conversion rate.
The Shopify development services include –
The Shopify development services include –
Designing and implementing custom apps or integrating third-party solutions to enhance the functionality of your Shopify store.
Configuring and connecting a custom domain to give the Shopify store a more professional and branded web address.
Identifying and resolving technical issues or errors to ensure a smoother customer experience
Using custom codes to craft a store that meets your unique business needs.
Providing ongoing maintenance and update services to keep your store running smoothly and securely.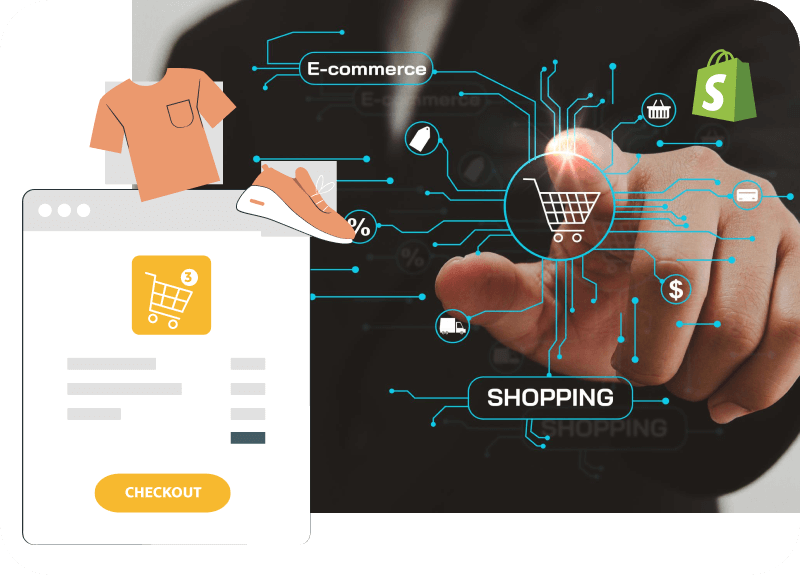 Setting up a Shopify store might be more complex than developing it from scratch. It's crucial to set up the store with proper settings, payment gateway, shipping options, tax settings, and more.
Otherwise, the store can easily crumble. Our experts are dedicated to providing the perfect setup for your Shopify store.
Here's what you get with our store setup services –
Creating a new store from scratch.
Migrating your existing online store from another platform to Shopify.
Organizing and populating the store with products and collections.
Configuring all the store settings, including payment gateways, shipping options, and tax settings, ensuring seamless operation.
Setting up or migrating the point-of-sale systems for physical retail locations and integrating them with your online store.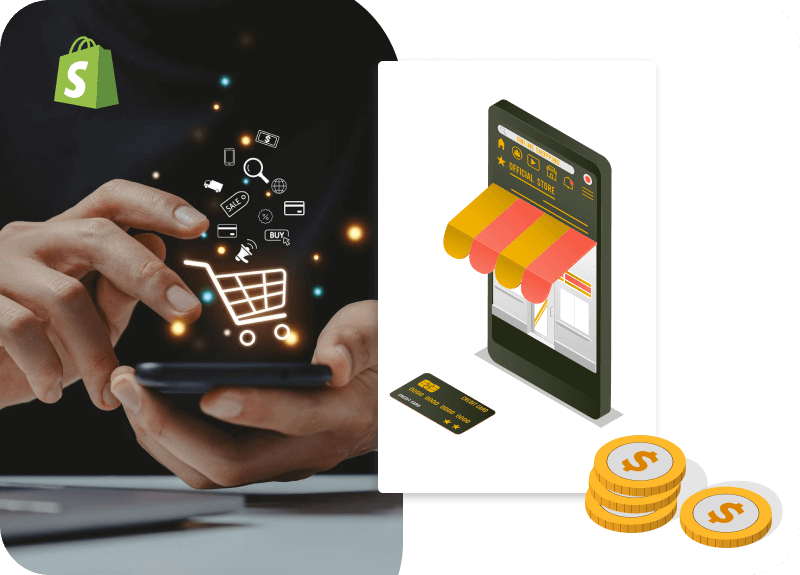 Having a strong inventory management process in your Shopify store can always lead to an organized and seamless client service for your shop.
We ensure our services provide you with the best efficiency in your online shop with highly capable inventory management services. With our services, you can prevent uncertain situations and track stock with ease.
Some of our key Shopify inventory management services are –
Here's how we manage your WooCommerce store –
Efficiently managing your product catalog includes adding new products, updating existing ones, and monitoring stock levels.
Ensure timely and accurate delivery to customers by streamlining the order fulfillment process.
Designing banners, product images, and promotional materials with eye-catching graphics and visuals.
Optimizing product listings for maximum visibility and conversions with skillful keyword research and SEO.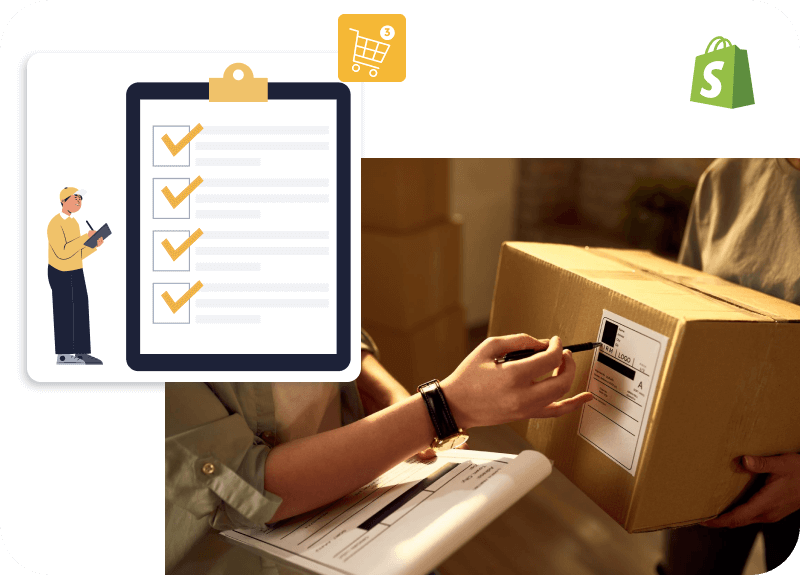 Engaging with your customers or website is always reliant on high-quality content available on the website.
With well-written content on your website, you can get a higher SEO score to rank up in the search engine and become more visible. Content on a Shopify store can be product descriptions, blog posts, or any other relevant information.
Our content writing services are –
Resonating with your target audience and driving sales by crafting compelling and informative product descriptions.
Create engaging and relevant content for your website to use as a marketing channel for the shop.
Generating various types of content, such as blog posts, articles, and videos, to inform and engage your audience.
Regularly refreshing and updating your website content to keep it more relevant and appealing.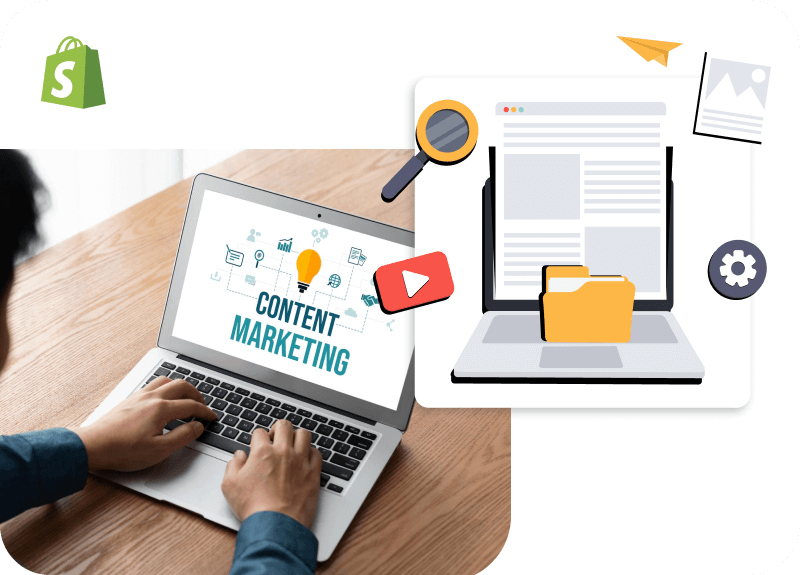 Growing your Shopify store needs the implementation of marketing strategies that can drive organic traffic with higher conversion rates.
Our Shopify experts are here with their vast skills to provide you with the best marketing services for your Shopify store.
See rapid growth in your sales with the following services –
Optimizing your store for search engines to improve organic search rankings.
Managing paid advertising campaigns to attract targeted visitors to the store.
Promoting the store and products on social media platforms to engage with the targeted audience even more
Developing and executing content marketing strategies to attract and retain customers.
Boosting conversion rates by understanding user behavior and implementing unique strategies.
Monitoring and analyzing website data to make informed marketing decisions.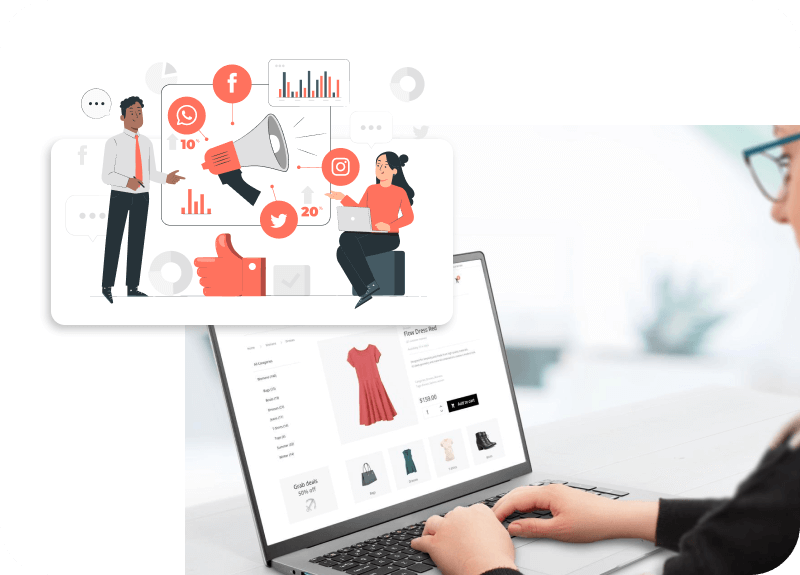 Keeping your Shopify store fully functional is as crucial as setting it up carefully. That's why our maintenance and support services are here to help you throughout the journey. We don't leave you mid-way just after the development. Our services are here to see through the whole thing till the end, and we are always there to support your store.
These are our exclusive maintenance and support services –
Implementing necessary security measures to protect your store and customer data.
Updating the software components of your Shopify store for security and performance improvements.
Setting up backup solutions to safeguard stored data and ensure quick recovery in emergencies.
Continuously monitoring and improving store performance for a better user experience.
Ensure your store is accessible to all users, even those with disabilities.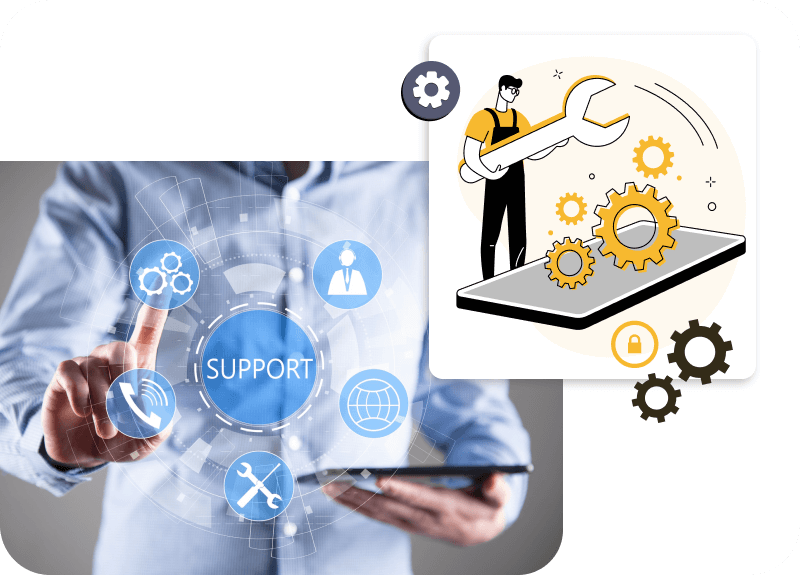 We Will run
the day-to-day operations of your shopify stores
When you hire a Shopify virtual assistant from RankUpper, you are in for a thoroughly professional service experience. Our accomplished team of Shopify experts provides you with the following benefits to take your Shopify store to the next level of growth.
eCommerce Website Audit
Store Design & Improvement
Shipping Software
Inventory Management
Order Management
Customer Management
Access Management
Store Migration
Products Import & Upload
Catalog Management
Product Returns Management
E-commerce Integrations
API Integration
Hosting Support
Bug Fixes / Code Debugging
Marketplace Management
Listing Management
Payment and distribution Management
Email Marketing & SMS
eCommerce SEO Service
Content Management
Social Media Management
Campaign Management
Paid Search & Shopping Ads
Marketplace Ads & Services
Organic Search & SEO
Social Ads & Marketing
Conversion Testing
E-commerce Tracking
Shopify Virtual Assistant from Rank Upper
When you hire a Shopify virtual assistant from RankUpper, you are in for a thoroughly professional service experience. Our accomplished team of Shopify experts provides you with the following benefits to take your Shopify store to the next level of growth.
With RankUpper as your Shopify development company, you gain instant access to years of hard work and dedication.
A professional team of well-versed Shopify experts is always lined up to help you grow your Shopify store.
They bring expertise in product management, order processing, content updates, SEO, and customer support. In short, they have the complete package with years of experience backing them up.
When you have us by your side, you won't have to spend your time on regular day-to-day tasks on your Shopify store.
Simply rely on us to take care of those little tasks and free up your valuable time to utilize it somewhere useful.
Our skilled team will handle all the routine operational activities with excellence while you concentrate on strategic planning, business growth, and core activities that drive your store's success.
A cost-effective solution
Understanding the profitability factor for a business, we always have a reasonable pricing structure for our services.
We cater to all kinds of businesses, from smaller scale to enterprise level. No matter what scale of business you run, our services are always affordable to acquire.
And you won't have to compromise on the quality of service either. That's how we become your cost-effective solution to Shopify management.
Use our support to get optimal growth in your business. Whether you have a new small or a large business, our expertise can always be handy.
With our advanced strategies and an experienced team of Shopify experts, we provide you with the best possible route toward success within the shortest possible time. Let's work together and grow the business together.
Every moment your Shopify is down, you are at risk of losing customers or not gaining new customers.
That's why we ensure your Shopify is up and running 24/7 with our backend support. Our goal is zero downtime in the shop to get the maximum output.
Every time we spot an issue in the shop, we get it fixed right away without any delay whatsoever.
Improved Customer Experience
When it comes to Shopify stores, customers are your ultimate concern. Keeping that a priority, we ensure a seamless and user-friendly customer experience on your Shopify store.
We provide a journey that can satisfy the customers from start to finish and make them return to your store again and again.
Customer acquisition and retention are both our top priorities, just like we do in our businesses.
Shopify Experts Help Your Business?
Our Shopify management services are tailored towards fulfilling any Shopify store's basic and advanced needs that want to achieve glory.
We ensure we are doing all the right things to bring customers and profits right to the doorstep of your Shopify store. Here's how we do it –
Hiring a virtual assistant for Shopify isn't just about increasing sales. They also help you avoid certain situations. Our experts help you with exceptional inventory management that can prevent things like overselling, backorder, and high-demand yet low-supply scenarios. These eventually result in eliminating customer dissatisfaction from the business.
Track and manage stock efficiently
Shopify warehouse management is another crucial aspect of getting our service. We try to manage all the warehouses of your store in different locations and track the running condition of the stocks. This can help avoid overstocking items while having a good amount of product to sell without stocking out.
Decrease spoilage and dead stock
Having out-of-trend products or products that have gone bad can never bring you the profits you desire from the Shopify stores. That's where our Shopify product management comes in with the expertise of selling orders quickly and systematically. With the experts working behind the scenes, products never get wasted in your inventory.
Selling products on multiple channels
With the help of our E-commerce store manager, you can easily sell your products on different channels. Our experts can make things happen with advanced inventory management tactics, whether on the social media marketplace or directly from your Shopify store. They ensure an utterly seamless e-commerce store operation across different channels.
Frequently Asked Questions
Still confused about growing your Shopify store with external management services? Check out these popular questions to clear out all confusion.
What is Shopify store management?
Shopify store management involves the day-to-day tasks, optimizations, and support needed to run a successful online store. Getting these services can ensure that a store runs efficiently, products are well-maintained, and customers have a positive shopping experience.
What tasks can a Shopify store management service handle?
They can handle a variety of tasks, including product management, order processing, content updates, SEO, marketing, customer support, and more. Some services also provide maintenance and support for all Shopify stores throughout their duration.
Is my data and customer information safe when using a store management service?
This mostly depends on the manager service company you are choosing. If it's a reputable store management service like Rank Upper, then your data and customer information will completely be safe. We prioritize data security and implement security measures to protect your data and customer information from unauthorized access or breaches.
Can I adjust the level of service I receive as my business evolves?
Yes, most store management services offer flexibility. You can scale up or down the services you receive as your business grows or your needs change, ensuring you always receive the support you require. Whether you are a small-scale or a large-scale business, most companies have services catering to all kinds of businesses.
How do I get started with a RankUpper Shopify store management service?
Getting started with our Shopify management service is straightforward. You can contact us with your project requirements. Then, we will discuss your needs and goals and create a tailored plan for your Shopify store. Then, we will let our Shopify experts guide you through the onboarding process.
Have A Project In mind?
Let Gets To Work
As an industry-acknowledged digital marketing agency, we are backed by a team of reliable promising members who will support and assist your brand in coming up with innovative solutions and strategies. As a result, you get Clicks, Leads, CTR, and Sales INCREASED and have the last laugh! Let's unlock your growth.