Enhance User Satisfaction with our
Revolutionize Your Digital Presence with UI/UX Expert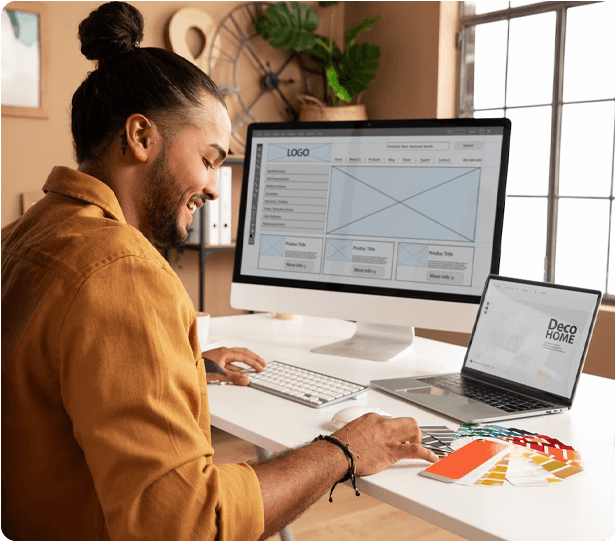 We Specialize in Providing
UI/UX Design Services Tailored to Meet Your Unique Needs
Add the best user experience to your website, applications, and software with our UI & UX design services. From RankUpper, we guarantee exceptional UI/UX designs that elevate your website, mobile app, software, and products.
Our highly skilled UI and UX designers are dedicated to establishing a solid business identity for you. We analyze your business persona and align the goals you have set for the business to incorporate them into the designs. It's our way of conveying your message to the customers.
UI/UX Design Services

We Offer
Website UI/UX Design Service
Want a website that works wonders in looks, interaction, and user experience? Then, our website UI/UX design services are awaiting your call. Our expert UI/UX designers will provide high-end designs that tell your story to your customers proficiently. For your website's success, we ensure it's highly interactive and visually appealing for every user level.
Benefits you get with our website UI/UX design services –
Modern designs with easy navigation
Full website UI/UX branding guideline
Great interactiveness with exciting visual elements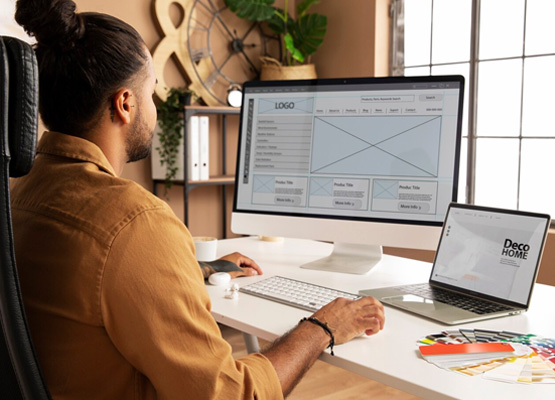 Mobile App UI UX Design Service
Reaching the vast majority of people these days requires a mobile app, which also needs to be user-friendly. With vast experience in designing, our app designers will craft your mobile applications perfectly that radiate your business visions and goals to your customers.
We ensure with Mobile App UI/UX design services –
Highly responsive apps with updated coding trends
Easy to navigate application with simple design choices
Well-optimized applications with maximum OS support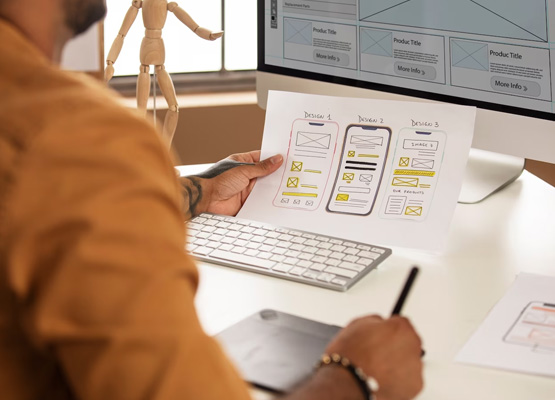 Software UI UX Design Service
When it comes to software, people always look for something user-friendly. One of the best ways to achieve that is through a high-end software UI/UX design. Our expert designers have put their years of experience into creating software designs that can ensure a better user interface and experience. Our services include –
Efficient designs with proper optimizations
Ease of accessibility to the software
Interactive designs with excellent information architecture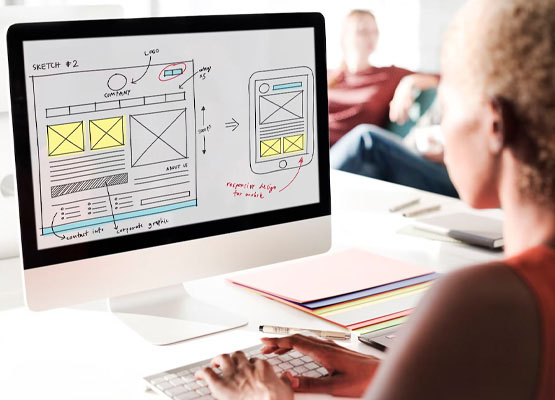 Finding the flaws and weak points is crucial to elevating the effectiveness of your existing UI/UX design. That's where our experts come into play and determine everything going wrong with the UI/UX design. Not only that, they also help suggest the necessary improvements to get better conversion and increase effectiveness. The services feature the following –
Find exact weaknesses with extensive research and analysis
Heuristic evaluation with user testing and usability studies
Identifying areas for improvement with expert reviews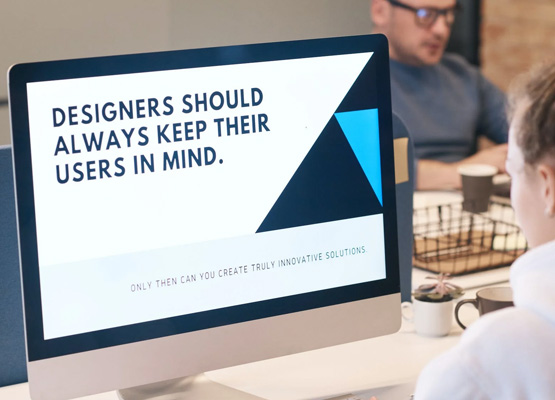 We not only have expertise in UI and UX design, but we also come up with exciting product designs from scratch. Our team has knowledge of creating a product, from generating ideas to final product launch. With our product design services, you can rely on a high-conversion and high-sales product idea. Our product design service is all about –
Generating unique and compelling product ideas
Efficient product designing and prototyping
Final testing and launching with feasibility analysis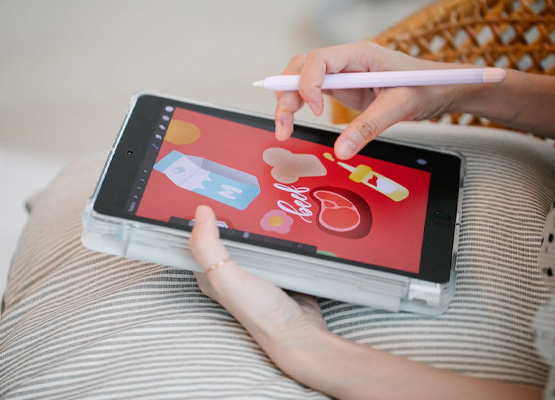 If you plan to create software, a website, or a mobile app for the best possible results, our UI/UX consultancy can help you. We try to provide our knowledge based on years of experience in the UI/UX design industry that can take specific software's user interface and experience to the next level. Here's what our UI/UX consultancy has to offer –
Understand user needs and wants with user research
Help with intuitive user interface design to create more appeal
Improving interactions and navigation with expert user experience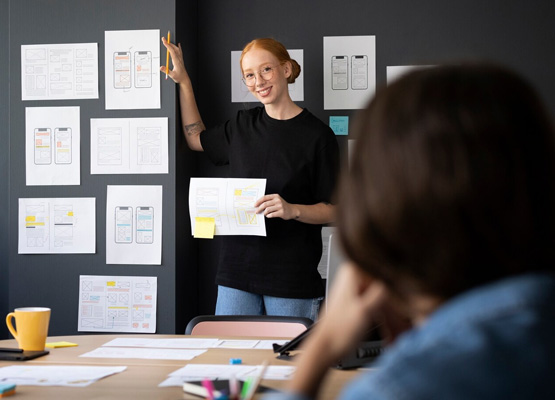 What Makes Us Different
from Other UI UX Design Services Company
Our working mechanisms and processes keep us ahead of the competition and bring the best possible value to our clients.
UI/UX Expertise
User-Centered Approach
Data-Backed Design
Innovation
Collaborative Partnerships
Client-Centric Approach
Rapid Prototyping
Experienced Team
Customized Solutions
Accessibility
Transparent Pricing
Responsive Design
User Testing Expertise
Focus on Conversion
Continuous Support
Our UI/UX Design Services
Looking to uplift the conversion rates and bring in the profit in your business? Then, our UI/UX design services can be the perfect answer to that. With our expert team backed up by plenty of experience, we provide a complete solution of seamless design, easy navigation, and optimized user journey.
User Research and Analysis
In every UI/UX design we provide, we prioritize researching the users and analyzing their needs. We use the research and analysis information to create a UI design that meets your business goals effectively.
We gather insights about user behavior and analyze them to determine user experience.
We create user personas to understand users and how they would navigate certain situations deeply.
Wireframing and Architecture
We always seriously emphasize the need to develop a blueprint for every UI/UX project. Planning the design is the most important factor in getting a well-organized and optimized design.
We start with a complete visual layout of the design to have a journey walkthrough that ensures easy navigation.
We implement the information architecture in our designs to give the users a more intuitive experience.
Prototyping and Interaction Design
Before we approach our finalized design, we prefer to start with a prototype. Our expert team creates prototypes for every project to have a flawless outcome.
We develop interactive prototypes to get an idea of the project and eliminate any issues.
We try to refine the interactions and test the basic functionalities of each design to make adjustments before the final design.
Creating a visual appeal is vital to UI/UX design, and that's where our UI designers excel the most. We put a lot of time and effort into creating a unique visual identity for the business to attract more people.
Applying design elements that make the projects eye-catching and more aesthetically pleasing.
We try to add the brand identity into the design to showcase the goals and objectives of a business.
User Testing and Integration
To achieve perfection in every design, our team always puts their work to the test. Through several user tests, we try to get feedback about the design and then implement the necessary changes to perfect the craft.
We collect proper information through surveys and questionnaires to find out the lackings of our designs.
After taking feedback from real users, we integrate all the UI/UX design project changes.
Responsive designs are almost necessary nowadays, as people can access websites, apps, and software using various devices. Our designers always create responsive designs to make them available for maximum devices.
We make designs usable on tablets, smartphones, laptops, and desktop computers.
We implement techniques that can adapt to different screen sizes, layouts, and orientations through customization.
One of The Best UI UX Design Agency
A combination of several factors makes RankUpper a worthy choice to consider. These factors make RankUpper excel at UI/UX design with an accomplished team providing the services.
Exceptional Design Talent
Our most valuable asset at RankUpper is the exceptional talent working behind the scenes. We have a team of highly skilled and creative visionaries who can go beyond the norm and come up with some unique designs. The designs are enough to set a website, app, or software apart from other UI/UX design service agencies.
Data-Driven Decision-Making
We prefer a data-driven approach whenever we decide on our UI/UX designs. For the most part, we conduct thorough research and analyze the results to determine the best solution. Here, we use the data to understand the users' behavior and preferences in creating designs.
Our track record is a testament to our quality. We have an extensive portfolio to showcase our work and plenty of satisfied clients. The clients have always gotten results, so they keep coming back for our services. With our services, many businesses got their desired user retention, increased conversions, and better brand recognition.
No matter what happens, we always keep our clients at the center when designing UI and UX. Every decision we take is from the client's perspective, giving our clients a competitive advantage over everyone else. We try to communicate, collaborate, and understand our clients' concerns and bring them profitable results.
Frequently Asked Questions
With our years of expertise in UI/UX design, we have encountered some questions repeatedly. We are about to answer them here.
What are UI UX services?
UI/UX services usually involve designing the user interface and developing user experiences for digital products. For example, designing the user interface of a website, mobile app, or software and ensuring a satisfying user experience.
What are UI design services?
UI or user interface design services are all about creating the visual elements you see on a digital product. It includes the layout, color schemes, design patterns, typography, icons, and, in short, any graphic element of a digital product.
What does a UX service designer do?
A UX service designer creates an intuitive and user-friendly experience on their website, application, or design software. The process usually involves researching, wireframing, prototyping, user testing, and implementing feedback.
What is the average cost for UI UX design?
Typically, a project can cost around $700 to $5000 for UI and UX design. Depending on the complexity and elements of the projects, it can even go up to $10,000. The cost will also vary significantly based on your chosen service agency.
Why UI/UX design is important for any business?
The importance of UI and UX design for any business is its impact on user satisfaction and experience with a digital product. A well-optimized user interface and experience can ensure better engagement and conversion rates. It also creates a better brand identity and increases customer retention.
How long does it typically take to complete a UI/UX design project?
For smaller projects, expert designers can complete any UI/UX project within a few weeks. But depending on a number of factors, including the size and complexity of the project and resources availablety a UI/UX design project can take around 1 to 2 months. If the project is much more complex, it can go up to 3 months or even more.
Can you work with existing design assets or redesign an existing interface?
Yes, at RankUpper, we have the option where you can bring your existing design assets, and we can use them to create designs. We can also redesign an entirely built interface and change the look of the whole interface.
What design tools and technologies do you use in your projects?
We use most advanced and modern design tools and technologies in our UI/UX design projects, depending on our clients specific needs. Some of the most common tools and technologies include: Figma, Sketch, Adobe XD, Framer, InVision, etc.
How can I get started with your UI/UX design services?
To get started with our services, you can simply contact us through our website. You can get a form to state your required services and explain your project requirements. Give us a briefing on your project, and we will get back to you with our quotes.
Have a Project in Mind?
Let's Discuss!
Are you ready to take your online presence to the next level? Our web design and development agency is here to help you achieve your business goals through UI UX design services. Whether you're looking for a simple website, an e-commerce platform, or a web application, we have skills and expertise to bring your vision to life.