During the pandemic period, digitalization was largely pervasive throughout every industry. Traditional businesses are mostly affected, so digitalization in business can be a game-changer. This change in the world of digital business evolves around SEO.
Every small-to-large business must index its business profile on Google or other search engines. If not, the company can't make a profit without SEO in the vast search engine universe.
This is because modern marketing trends are moving away from relying solely on word-of-mouth or paid ads instead of looking for ways to attract organic traffic. But still, the questions remain unanswered: How can SEO be your lifesaver in the ocean of search engines? How does SEO push your restaurant's menu forward to the foodies?
Let's walk through each step to figure out SEO for restaurant marketing.
What is SEO for Restaurants?
Search engine optimization (SEO) refers to a procedure to improve your website's visibility in search engines. While people feel hungry or crave cheesy, tangy, or scrumptious food, their first destination is Google to find their desired dish to place a takeaway or go for dine-in. This is because 79% of millennials have ordered takeout online and 77% of diners research restaurant websites before visiting.
People's food-related queries need to be met so that your business site gets ranked on Google, Bing, Yahoo, and other popular search engines. It is the best way to reach the SERPs page.
To get on the front page of a search engine, you must use some local ranking factors if you want to eagerly promote your local restaurant business. The local audience can physically visit. 93% of locales used online search terms to find a local business. Local and organic searches account for 69% of all digital traffic.
As a local restaurant business, you don't need to attract foreign customers because it's kind of a needle in a haystack. Whereas local searches demand that consumers use search engines often to find local restaurants, plateful foodies figure out a nearby geographic location.
No one denies the fact that by utilizing an SEO strategy, a restaurant business can rapidly uplift its success.
Why is SEO Important for Restaurants' Business?
Every restaurant desires a constant flow of new potential customers coming through the entrance. In the digital age, it might be difficult to continuously welcome consumers. We do not live in a time when there were fewer restaurants, but now the number is constantly growing. You must keep up with the long-term sustainability of a restaurant.
Suppose you have a Chinese restaurant named "MingHin Cuisine," so if your potential customer searches for a "Chinese restaurant near me," some suggestions with location appear on the first page of results, as you can see in the image.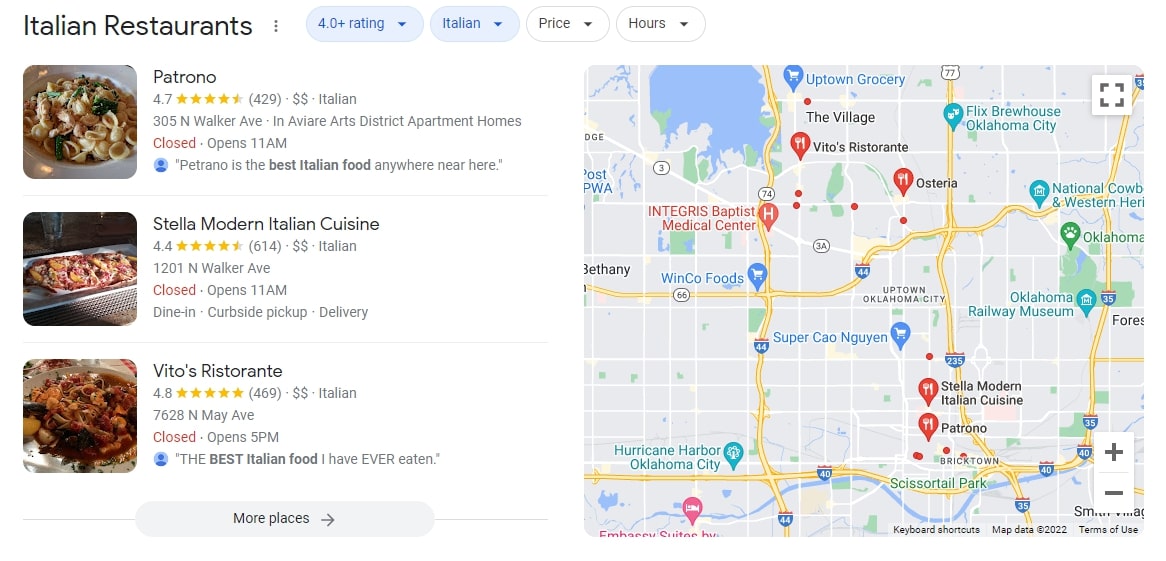 Look, some reasons are given to justify why exactly SEO is important for restaurant businesses:
In-foot restaurant traffic
Reveal new possibilities
Build trust and credibility
A Worthwhile Investment
Help to gain long-lasting rankings.
To minimize CPA (cost per acquisition)
Influence the buying cycle of online ordering and reservations.
So, you're still wondering, "Is it good to invest in SEO for the restaurant business?"
Yes, Of course! Because investing in SEO helps determine the buyer persona and expands your restaurant's brand recognition, trust, and authenticity while allowing you to publicize your dishes 24/7.
Nowadays, customers' process for buying food has changed; now they order it from an app or from a website and get it in just a few moments.
How does Digital Marketing Help to Grow Restaurant Businesses?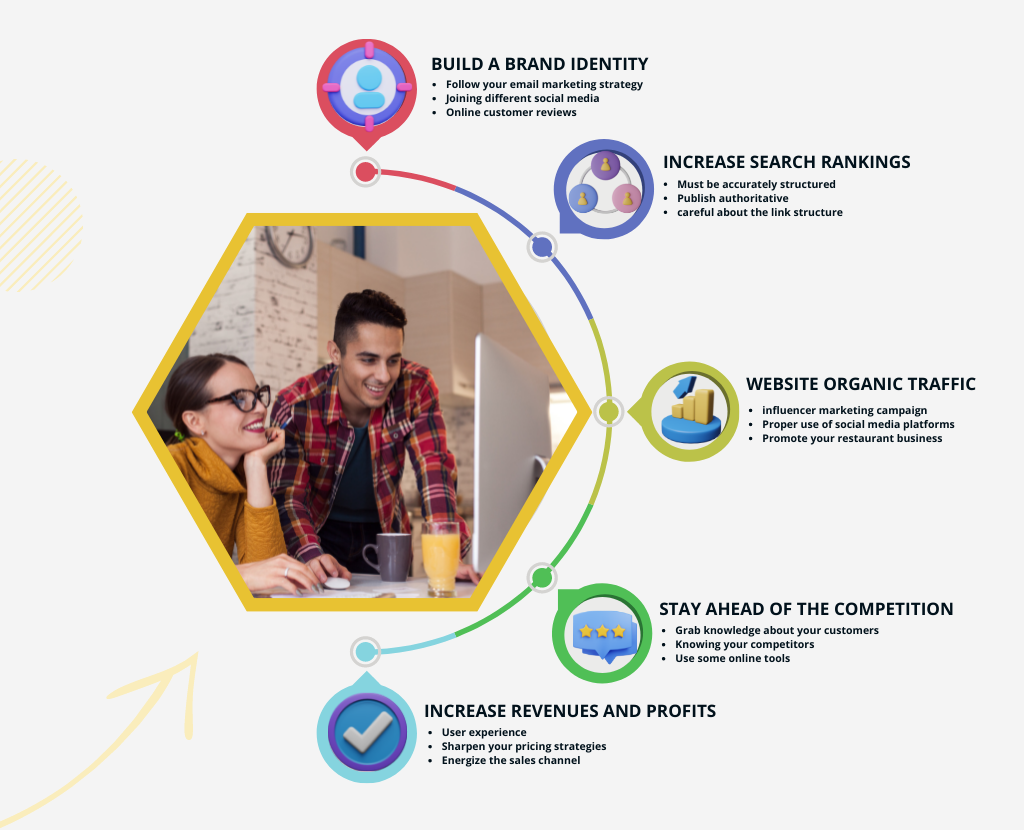 Digital marketing has the ability to target foodies online and plan an accurate strategy that impacts your restaurant's reputation.
Really, the time has totally changed. If we look back, it seems like yesterday that traditional marketing strategies were booming around the world, like TV or print ads, the distribution of pamphlets, truck advertisements, and many other public announcement activities.
But now, every small business has changed its path to digital marketing because it is a comparatively lower cost and more effective way to reach consumers directly. The use of digital marketing strategies increases your restaurant's visibility in the local community and even further afield.
There are some aspects to evaluating how digital marketing helps to grow a local restaurant business.
1. Build a brand identity for a strong digital presence
To create a brand identity, you must end up with some sort of question like,
What is your restaurant's USP? If not, how do you develop a USP? How do you communicate with your targeted audience? What do you actually want people to think about your restaurant and its services?
Identify those answers to glue up your identity all over the digital world. There are a few aspects to consider if you've really become a part of the digital marketing era-
Follow your email marketing strategy being a reliable and cost-effective method of forming and nurturing relationships with your target prospects.
Joining social media handles connecting directly with the targeted audience, broadcasting your word, driving more in-foot and online traffic, and ultimately expanding to get high-quality leads and sales.
Implement digital marketing strategy consistently across all digital marketing channels.
Earn online customer reviews to hold a strong position throughout digital media. For example, UGC-generated content, whether on social channels or online business directories, helps you to grow organic traffic and build a strong social presence.
Increase search rankings and stay on the top
When people rely on finding their queries on Google search, SEO can be on your priority list. 93% of internet users start to search with a search engine. Even the top search results on Google have a 33% chance of getting clicked on the terms, and 75% of people won't click on the second page of search results.
But the actual question is, how long does SEO take to increase their search rankings? The answer is, "It depends on various factors."
Want to achieve the highest position in the top SERPs? It is all about hard work, and refined skills, and sometimes luck also matters. Let's take a look at the ranking factors that should consider:
Your restaurant's website must be accurately structured. If not, do a technical SEO audit to figure out their speed and health issues because Google algorithms integrate thousands of signals, machine learning, and AI to identify search rankings. You must pay heed to core web vitals.
Publish authoritative and relevant content that fulfills the intent of users and increases traffic.
Optimizing the keyword phrases with Long-tail or LSI can be helpful to the audience to get the proper information because Google mostly focuses on informational search intent.
It is important to review the metadata used throughout the content with rich keyword phrases and, of course, meta descriptions can pull the customer towards your website, so they should be appealing and concise.
Be careful about the link structure. It must be done strategically to fix the broken and duplicate links, or it will have a poor impact on the user experience. Don't forget to use an appropriate internal linking strategy.
Improving your CTR can be the most effective metric to direct you to your restaurant's right target audience. Basically, it helps you understand your customers and identify potential ones.
Try to use CTAs, images, and hashtags depending on social media channels to increase the chances of getting more conversions for your restaurant business.
Craft a comprehensible 404 page to deal with the error points that can't be able to distract your target prospects.
Increase website organic traffic
Organic traffic primarily refers to when the search engine visitors come to Google to search for their queries about your restaurant or the place your restaurant is situated. Suppose, you've searched for an "Italian restaurant near me" or the Italian traditional dish "Risotto Alla Milanese". With the use of keywords or phrases, they find you, not your competitors, without any Pay-per-click ads.
You must include these most searched terms into your content while visitors instruct the Google bots to find their search results so they can be able to grab your content in the top 10 results. Pay attention to the constant changes or Google's algorithms will be upgraded 600 times every year. Some majors are Panda, Pigeon, Pirate, Hummingbird, and most recently, Bert.
Some factors you should take into account are:
A successful influencer marketing campaign can dramatically increase traffic to your restaurant's social media pages and websites. This is because influencers can regularly engage with them and influence a lot of organic traffic.
Optimize the on-page SEO on your well-researched content and analysis, find out the non-performing content, and remove it. This content strategy can put your rank in a high position and help you earn more organic traffic.
The proper use of social media platforms can be an excellent approach to generating traffic. Most traffic-generated keywords are included in your content and posted on high-traffic communities like Reddit, Quora, LinkedIn, and Facebook groups.
If you'll promote your restaurant business through your blogs and answer the questions on "Google's People Also Ask", you're sure to direct more organic traffic to your website.
Earn high-quality backlinks so you'll rank higher than your competition.
To stay ahead of the competition
The competition in the restaurant business is fierce. Even though the majority of businesses fail quickly during the pandemic, achieving success is challenging, but it's possible to get great results with SEO strategies.
So, you wish to stand out and compete with the powerful rivals in your local territory. You must follow certain factors-
Grab knowledge about your customers because their expectations are changeable. Do a survey on your targeted customers' expectations and implement it.
The most important factor is knowing your competitors. Which dishes are on their restaurant's menu? Is it a lower price or a competitive price? What are their strengths and weaknesses? Clearly define this market and make a plan in accordance with it.
You can use some online tools, including MOZ, Semrush, Ahrefs, and Spyfu, to analyze the performance on an SEO level, which can audit the competition and determine the limitations of your restaurant business.
Use popular online directories such as Yelp, Foursquare, YellowBot Manta, Google My Business, and Bing Places for Business, among others. You can add your company to these directories, which will help your restaurant gain more customers and popularity in the local territory. Just make sure to fill out its basic details accurately, like NAP, and a detailed description, and earn a backlink.
Your restaurant must operate in an area. So you'll surely add your exact locations on the location pages. This location page provides NAP, store hours, descriptions, promotional announcements, customer reviews, Google maps, and parking availability. Make sure the content is compelling and unique on every page, and add location. In order for customers to locate your restaurant with ease.
Increase revenues and profits
Every digital marketer uses several techniques to obtain the top position of SERPs and market the products or services. Their ultimate objective is to boost sales and profits. Around 81% of users search for queries before deciding to buy something.
User experience influences your restaurant's revenues. Even 90% of people check online just to review before takeaway or dine-in.
Sharpen your pricing strategies to offer discounts, refunds, and BOGO that attract more customers to dine in your restaurants.
Energize the sales channel to get the highest SEO ROI. Running an ad campaign helps your restaurant be more visible to your local customers, and gradually reduces your costs over time.
The Key Marketing Strategies to Grow Your Restaurant Business: 5 Steps to Accelerate Your Success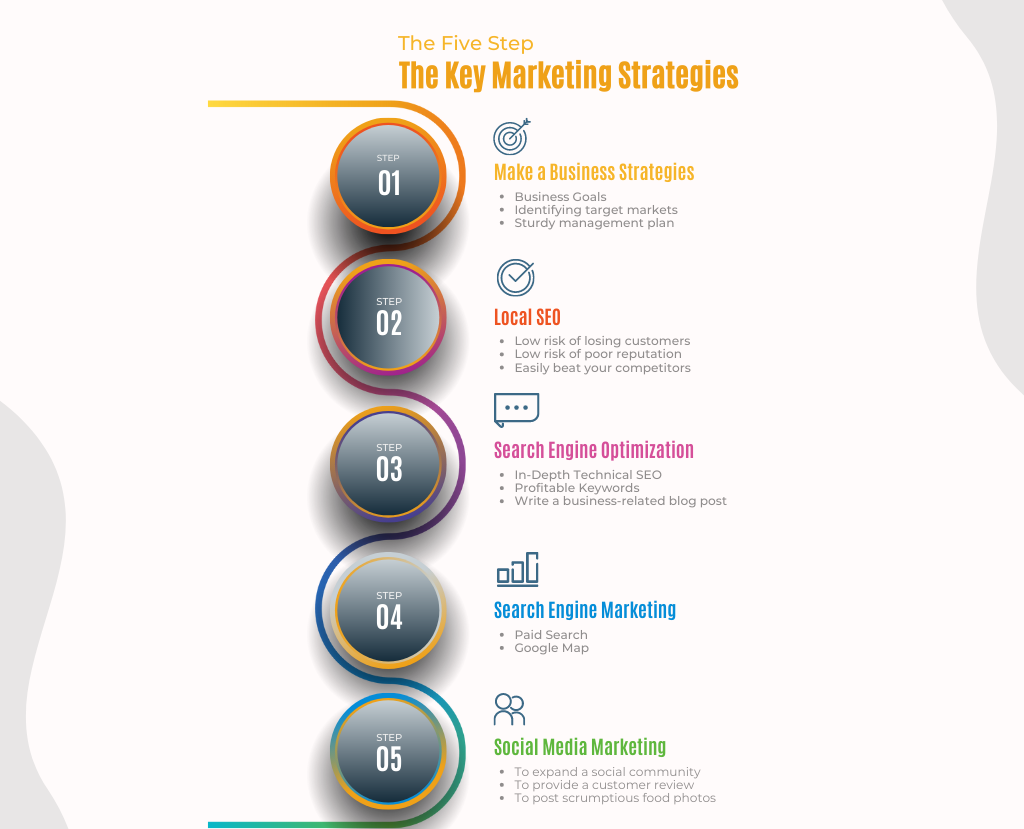 Competition in the food industry is intense, so an established cafe or restaurant never solely depends on food quality and customer retention. Building it can be easier, but standing there might be more challenging. Follow some key strategies that can grow your restaurant business:
1) Make a Business Strategies
Whether you've just started or established a restaurant, it requires killer business strategies. In order to succeed, every industry must prioritize these three factors, which should be justified. These are-
Business Goals
Identifying target markets
Sturdy management plan
Business goals are basically the road map to success, which can be short-term, mid-term, or long-term. There, SEO plays a crucial role in creating a route to reach the goal in a steady way.
After that, identifying your market competitors and competing with them are both daunting tasks for a restaurant owner. Because there is a huge chance to miss your target audience just for giving poor service or hospitality. Local SEO-generated content influences local visitors to visit your restaurant more.
The proper and sturdy management plan identifies your market rivals, thoroughly analyzes them, and then devises a winning strategy.
To build a competitive strategy, you must find out, How will you communicate with your targeted audience? Use social media to directly communicate with your potential audience! In our opinion, you can use local SEO to connect your websites and social media to local audiences. It can be cost-effective for you.
There, we've elaborated some more strategies that you can choose from to build competitive and growth strategies that will surely accelerate your success.
2) Local SEO: Brings more traffic to local search results
Local SEO optimizes your business to be more visible in local SERP results on Google. As a local restaurant business, you have an opportunity to appear more within both organic results and local map listings. There are more local SEO tactics that influence your local business. Such as-
Create your business profile on Google
Google Business Profile can help you showcase your business in front of a crowd of searchers. Consumers can easily discover your profile, learn about you, and even contact your business. This is because today's customers must require a website or business profile index on Google, so the restaurant is not excluded.
You can create it because:
Low risk of losing customers
Low risk of poor reputation
Easily beat your competitors
Manage your SERP results
On Google My Business, you can enlist your local citations, from data aggregators and review signals that should be published by your customers so that they elevate your local-oriented SEO rankings and in-foot traffic at physical locations.
NAP Listing – Build local citations
In local SEO, a local citation is key for your business. It provides business information NAP on the Web. It can help customers locate your restaurant or give you a call. Make sure the accuracy of your local citations, and NAP information on external sites is optimized with supporting details. You can cite your business on online business directories, such as-
Google
Facebook
Yelp
MapQuest
YP.com among others
Add location pages to your website
Add location pages that help customers locate your exact locations or get in touch with you by phone or email. About 46% of searchers include locations in their search terms. You know, location pages impact external SEO factors.
It is most important to create local landing pages if you've got a single location; that can't be and issue with your ranking, but having multiple locations indexed in one business page can be harmful. So the multiple locations require multiple location landing pages.
Participate in your local community
Involvement in the local community improves brand awareness, increases sales opportunities, and boosts your local ranking. It could create your buying cycle in a positive way and remove the trust issue. The local community of your restaurants shares a lot of personal exposure and expertise invites people to your events and provides an offer.
Create local content
Your customers may discover your restaurant while browsing the menus of other nearby eateries thanks to local content. This is so that you can upload your content as text or video pieces, or even take mouthwatering photos that make customers hungry.
So they tried to find you on local Google Maps or even on social media. You must use social media to entice the millennials. There are some landing pages where you can publish your local content. These are:
City-Specific Landing Page
State Or Regional Landing Page
FAQ Pages
Host local news & events
Discounts, Gifts, and Free Coupons
Blog Content
Interviews and Testimonials
3) Search Engine Optimization: Get traffic to a website from search engines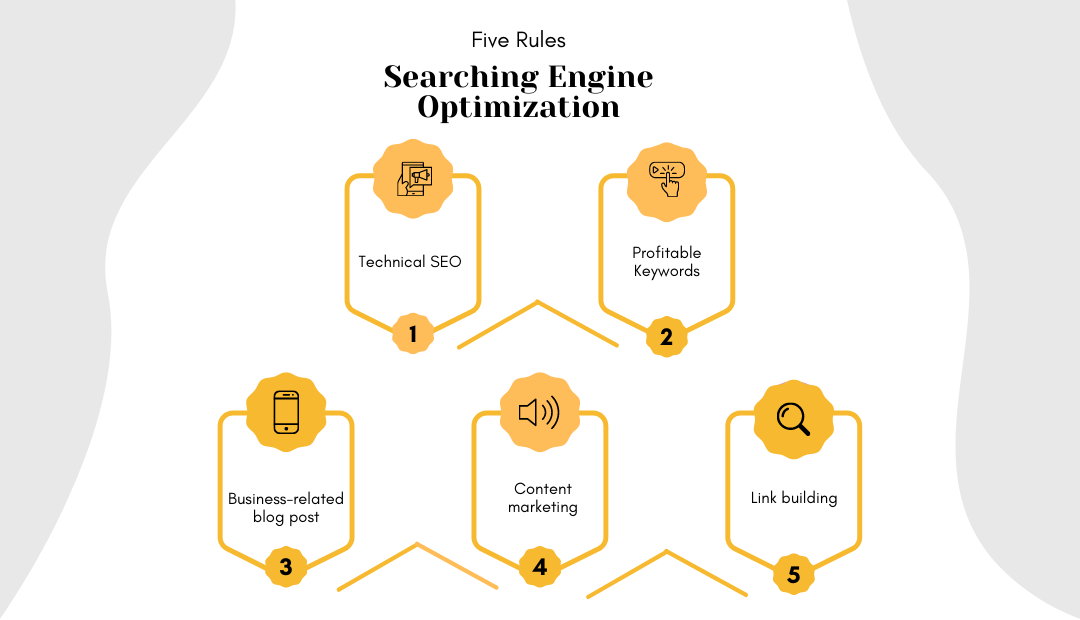 To increase traffic to your websites, a number of ranking factors must be determined. . Numerous marketing techniques, including paid advertisements, partner services, and referral programs, increase traffic from the viewpoint of the restaurant industry.
It is impossible to use those strategies for your business and make this organic traffic last a lifetime. But SEO tactics can bring you to the top of Google's organic search results.
Let's get going on the core parts of SEO.
In-Depth Technical SEO:
Technical SEO is the procedure of making websites comply with the technical requirements. If these requirements are not met, they may act as a barrier to increasing organic traffic. Learn about improving specific sections of websites so that search engine spiders can crawl and index web pages much more easily.
The core elements of technical SEO, such as:
Crawling, Indexing, and Rendering: Google bots crawl and render your content to index it on Google SERPs. At first, maintain the website architecture like a flat architecture, where web pages are accurately linked to each other, but use a pillar page structure where internal links connect the relevant pages. If web pages aren't connected to the home pages, search engine spiders find it hard to identify them. Then, an XML sitemap serves as a road map to inform search engines of the content that is available and how to access it. Google Search Console has a helpful way to report on common issues like crawl errors, broken redirects, and URLs.
Site structures: It arranges your website's content whether it is product pages or blog posts. As you add more product pages or write more content, your site becomes cluttered and navigation becomes more difficult. So the use of site structure organizes your content stuff neatly for both Google crawlers and searchers. Make sure to use structured data markup code that helps search engines accurately understand your well-researched content and allows it to be featured in rich snippets, which persuades more searchers to click. Don't use complicated long URLs; follow a simple and consistent pattern.
Content quality: Content is the king and an important asset for any website. Sometimes, CMS (Content Management System) generates several versions of the same page on different URLs, a practice known as 'duplicate content'. Add the no-index tag to avoid duplicate content because it harms your site's ranking. Form a robot.txt file that blocks search engine bots from crawling and indexing it. Canonical tags prevent duplicate content from appearing on multiple URLs.
Site speed: Webpage loading speed directly impacts the user experience and increases the chances of a bounce rate. Squeeze the large files and high-resolution photos to reduce the load time. You can use the redirect option to ensure the searchers spend more time, but not using lots of redirects can cause load times to be slower, as well as redirect loops, which are also reasons for loading problems and error messages.
Keywords research:
Keyword research is the core of search engine optimization. Without it, no webpage's content has a chance to get onto the SERPs' top results. The longer your keyword phrases the wider you have the chance to reach the arena of customers. Before conducting keyword research, ask questions about your targeted customers and what their objectives are. There are local intended types of keywords:
Industry related keywords
local-based keywords
Product defining keyword
Geo-targeting keyword
Customer defining keyword
Intent targeting keywords
The higher the search volume, the greater the chance to gain high rankings, but the keyword difficulty should be If not, the competition is more fierce and it's comparatively difficult to reach the top rank.
Long tail keywords are comparatively the most used by marketers, but don't underestimate those long tail keywords with low-search volume. They often convert the traffic better. In the local arena of searchers, "near me" is widely used and effective to help the searchers find you easily through geographic locations.
Write a business-related blog post:
Local SEO content includes blog, photo, and video content to meet the demands of local searchers. Those contents show on your websites, your Google My Business profile, and the online directories' landing pages. Here are some aspects that help you to write for grabbing the local customers' intent.
Add schema markup to your local business, and content authors and emphasize the expertise and authority that helps algorithms to understand how your content relates.
Spray local mentions on your content, which can easily connect you with your local audiences.
Write the content in a conversational tone, so your target audience automatically comes up to you.
Optimize images for mobile search. Add unique images in an appropriate square format with alt text for a greater chance of ranking.
Content marketing:
Content is king in the realm of the internet. It plays a crucial part in local SEO. Content marketing intends to leverage content that drives more visitors to your local business.
So you must include website URL, design, brand name, images. When think about the local content ideas You must target a specific audience and create content full of actionable insights.
Some online tools, like Semrush, Ahrefs, and Buzzsumo, help find ideas. There, we identify the content strategies that elevate you at the peak of success. these are-
Write to satisfy your users' intent
Make sure to sprinkle local phrases
Add customers' reviews and transcriptions
Increase the local-focused topical authority of your content
Don't forget to mention regional statistics, original ideas, and notable sites.
Frequently updating your content so that it remains current even after being published for months or years
Link building (Backlink):
Link building is the procedure of getting other websites to link to the relevant content of your website, which boosts the authority of your web pages in Google's eyeballs.
According to Google, link building is one of the three major ranking factors. The more you earn a backlink, the higher you rank in SERP results. There are three crucial tactics to building your link:
Manually place your link on business directories, social profile creation, blog commenting, forum posting, and job hiring listings. You can avoid this sort of linking process because that probably can't give you any competitive benefits.
Ask the website owners to give a link, but it must be for convincing reasons. This type of linking process is based on guest blogging, the skyscraper technique, link inserts, Ego bait, testimonials, resource page link building, HARO & journalist requests, and image & broken link building. even though you can exchange links by providing products or services. Additionally, we can't recommend buying a link.
Earning links refers to only promoting the owners' website's links. The more you reach your targeted websites, the higher the chance you'll convince them. In order to get links, some tactics such as linkbait, podcasts, interviews, content promotion, and expert roundups need to be in practice.
Read Also: Affordable SEO Packages for Small Businesses – Choose What You Need!
4) Search Engine Marketing: Paid ads provide measurable results
SEM and SEO ensure that hungry searchers find you because both are interconnected. You've got to utilize the proper SEO technique, and after that, you just run the paid ad campaigns that surely get conversions through pay-per-click.
In SEM, the techniques are mostly the same, such as finding the best keyword and including it in your business-related relevant content, meta tags, and title tags. 33% of marketers spend on paid search ads to increase their brand awareness, and 68% of marketers think paid advertising is "very important" in marketing strategy.
Paid search on the most popular search engine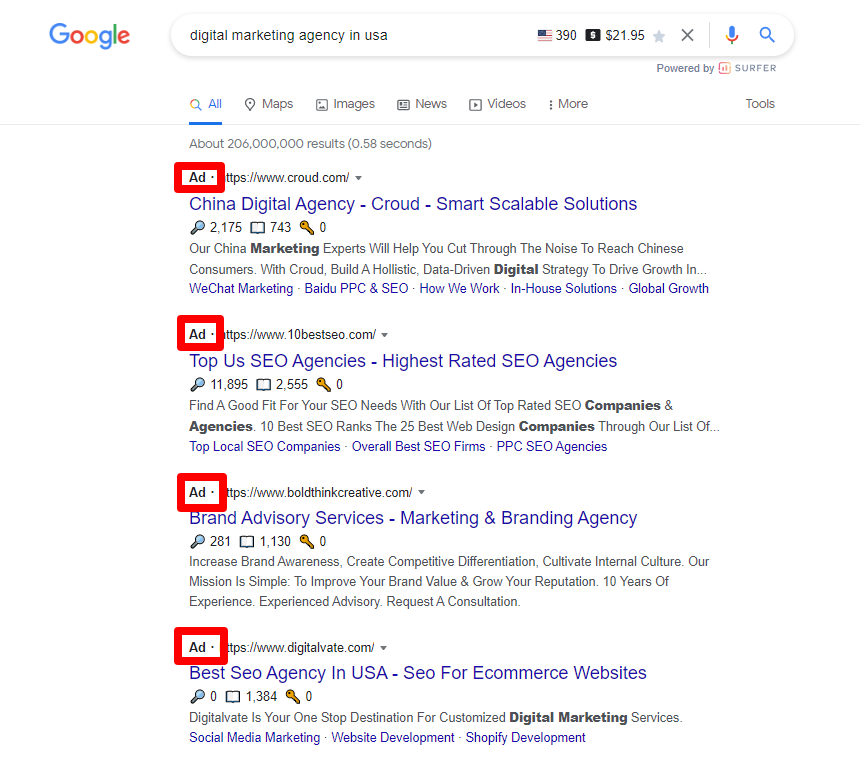 Around 3.5 billion searchers use Google. Here, SEM utilizes the digital paid marketing plan to get instant results. There are several paid marketing platforms, including
Google Ads
Facebook
YouTube
Amazon
Yahoo!
Bing
Baidu
DuckDuck Go
Among them, Google Ads are densely popular and hold about 65% of the market. Those social paid ad channels and search engines are extremely targeted, compared to traditional marketing paid ads.
It takes only a few hours to get better results, and even those campaigns are monitored and analyzed just to ensure the performance can be long-term. You can measure your results by connecting with Google Analytics or other social media handles that offer insights to determine how well those search campaigns are working.
Google Maps Marketing for Restaurants:
Google Maps is free to use, but here you can run local search ads to boost your business's visibility in GoogleMaps SERPs. Running your restaurant ads can bring them to the top of local listings, depending on your search terms.
These ads only come forth from locations relevant to searches. You really want to utilize Google Maps, so you must open up your account on Google My Business and optimize all the detailed information about your restaurants and the social proof and testimonials.
5) Social Media Marketing: Interact with customers to build brand awareness
No matter what the size of your business is, visitors can reach you through your SEO-optimized social media profile. First, analyze when people feel hungry. What do they do next?
They open their locked screens and click on Google, then type in the search bar " restaurant near me" or sometimes hit up social media handles including Facebook, Instagram, and YouTube to check customer reviews, discounts, and locations.
Most of them find a decorative place to hang out with their friends. All roads reach one place, and that is social media.
A smart restauranteur should follow some social media marketing strategies before investing in it. These are-
To expand a social community for staying in touch with your customers.
To keep your visitors updated, including the dish of the day, the most popular dish of yours, shifts in opening hours, cultural events, and so on.
To provide a customer review like user-generated content that is easily inter-connected to the new potential customers.
Be active on review sites to respond timely and determine which sections need improvement.
To post scrumptious food photos that improve the social media presence and brand awareness so as to increase the in-foot and takeaway traffic.
Make your regular visitors feel like king or queen of this palace to get some discounts, free dining options, and giveaways from you.
To create social community-engaged content like asking questions, "What is your favorite dish?" or generating the latest trends related to content or national observance-related content.
Use social media ad campaigns that might make it easy for the restaurant owners to find out their target audience, locations, interests, and behaviors on Facebook, Instagram, Messenger, Pinterest, YouTube, and so on.
Wanna Hire SEO Agency? Find the best SEO agency for your restaurant business
In the modern era, conducting business and its social presence is no longer distinct from one another but rather are interdependent. Because if your business has no digital presence, you'll lose a large number of consumers. So, the majority of customers will find your offered product or service on the internet for shopping or compiling information.
The above strategic steps are probably your guidance, but doing so can be challenging if you're from a non-SEO or Computer related background. To succeed, you'll need the cooperation of SEO professionals.
RankUpper is the platform of SEO professionals from where you'll get the best support on your SEO (Search engine optimization) and SMM(social media marketing) related tasks that pull your restaurant's position higher than other locales.
There is no denying the significance of good SEO for a restaurant business. It helps to stay competitive in the fierce competition, change your complexities, be cost-effective, and be capable of getting the best results.
Let's walk through our services as an SEO agency.
Technical audit
A technical audit is a reflection of your business website's performance. It shows the strengths and limitations of your website, and a professional can give you a better solution and how to deal with them.
We, as technical auditors, have a deep knowledge of SEO development, Google and other social media algorithms, security, and website design.
Marketing plans and competitor analysis
SEO competitor analysis considers conducting research thoroughly on their competitors' ranking keywords, backlinks, content strategy, and other technical factors. An extensive analysis of their websites offers a clear understanding that helps in the creation of your own marketing plans to achieve the best results within this competitive boundary.
With keyword gap analysis, competitors' ranked content, and the link sources that help to identify your steady pulse in the arena of competition and give you the vision to stay ahead of the curve. Our expert team turns your ambitious thoughts into a path to success.
Analytics and Reporting
It is difficult to stand out with your own brand in the ocean of search engines. Holding the SEO expert's hand, you can enter the doorway of this most crowded space. So they are totally aware of all the SERPs factors because a maestro in the art of SEO can't be a piece of cake.
SEO expert covers all the crucial knowledge of how users socialize your brands and how you can go further to increase the conversion rates with the analytical reports. Our in-house professional maps out where to find the potential customers for conversion.
ROI driven result
ROI refers to the return on investment, which means the profit earned through an investment. Let's clear you more, suppose, You spend your business around $8000 on SEO every month, and with just one SEO campaign you'll earn around $15000, which represents 47% of ROI. You'll get a considerable amount!
SEO marketing professionals may inform you about the decisions to be made about which marketing campaigns do best for the growth of restaurants. Our expert teams are able to identify which market campaigns should invest in or which ones to abandon.
Common Question of Restaurant SEO
What is the best marketing strategy for restaurants?
The approach to the restaurant business is totally digitalized. In that case, the use of social channels can be your best marketing strategy, whether you have a startup or a 5-star restaurant.
Does SEO really work for restaurants?
SEO is a long-term strategy, so it maximizes the digital presence and sustainability of a restaurant business. It generates a steady stream of new customers both online and offline.
Do you need SEO as an established restaurant?
Undoubtedly yes, because with the help of SEO, you can totally grasp the audience's search intent and when using the queries in the relevant content, it comes up in the top search results.
Is SEO for food bloggers helping to get more website traffic?
When the potential visitor types into the search bars of Google, Pinterest, or even YouTube, their intended search terms, your food blog will show up at the top of the SERPs results. It optimizes food blogs with SEO ranking factors including on-site, off-site, user experience, and most importantly relevant content.
How much does it cost to build a restaurant's brand awareness?
The pricing depends on the complexity of the projects, but approximately $3000 to $ 20,000 into a new business for building your restaurant's brand awareness.
How much should you pay for local SEO for restaurant businesses?
Typically, there are lots of things to do in terms of local SEO for restaurant businesses. In order to determine some complexities, between $500 to $3000 for a one-time project that focused on research, audit, analysis, and optimization of local SEO.
Local SEO vs Organic SEO: Which would be best for restaurants' business?
From our point of view, local SEO can be the best option to establish your restaurant business in specific geographic locations, whereas organic traffic is about optimizing the content on search engines including Google, Bing, Yahoo!, and so on.
Summary
Despite the huge competition in the restaurant industry, you must grow your business in a positive way. Applying SEO's stated technique, you'll be ahead of your competitors. Make sure you've listed your business profile on Google My Business, Yelp, and also on food delivery apps like UberEats, Foodler, Doorbash, and Seamless. Those food delivery apps make it easier to find you.
If you find some potential in Rankupper, you can assign our professional, certified team to increase your online presence by following the SEO strategies for restaurant marketing. They are all set to take a flight higher in your restaurant's marketing campaign.