Client hunting is always challenging for any business. You have to convince them to make them leave one of your competitors.
Though this fact is somewhat difficult for service providers, they deal with some intangible items. But some services are advantageous. By doing the math properly, they can have clients deal right away. The cleaning business is one of those.
If you are a business owner, looking to get clients for cleaning businesses, you are at the right place.
This article is about how to get cleaning business clients with some effective strategies that are on a roll in this day and age.
Let's check those out.
Cleaning business statistics: Are they profitable in 2023?
Since 2011, the cleaning industry has grown by over 6% each year.
At present, there are 60 million domestic workers in the world. North America ranks first, and Asia ranks 2nd in the cleaning business industry. The cleaning industry has over 70% of women working.
In the UK alone, the cleaning industry produces $30 billion annually.
Commercial cleaning statistics
In 2021, over 1,063,000 janitorial services were recorded in the US. 65% of the janitors are male.
Commercial cleaners earn over $21,000 annually. Washington State, Massachusetts, and Connecticut are the top-paying cities for janitors and building cleaners.
By 2023, Janitors numbers are expected to increase to over 236 000.
Residential cleaning statistics
Residential cleaning covers 15% of the cleaning industry. Such cleaners earn over $20,000 per year. By 2025, the residential cleaning market is expected to grow by $40 billion.
In 2022, over 850,000 maids will be employed in the US. Maids or housekeepers earn over $28,000 per year. Columbia, Hawaii, and New York are the most paying districts for maids and housekeepers.
The future of the cleaning business
The cleaning market is expected to earn revenue of $468 billion by 2027 and is expected to grow 10% by 2026.
By 2024, cleaning products are expected to increase by over $15 million.
4 Successful effective marketing strategies to acquire customers for cleaning services in 2023
There are no epitomes to understand which strategy will work best for a cleaning business among the wide range of marketing strategies.
But, few strategies have proven to be effective for every business. Here are the top 4 marketing strategies for 2022 to grow a cleaning business and acquire customers.
1. Local SEO for a commercial cleaning company
Local SEO is the top most strategy a commercial cleaning company should consider. Starting with local clients will help you reach more clients within reach in the shortest possible time.
Local SEO helps increase a brand's online visibility. This results in reaching a more targeted audience and getting more in-store foot traffic. Being appear on local search help a brand gain more trust.
To get clients for a cleaning business, the promotion should start from scratch- with local SEO. For that, you don't necessarily have to have a physical store.
Local SEO helps promote a cleaning company by appear Google search result in 3 spots: Google Maps, 3-pack listings, and organic search.. However, while ranking a business on those spots, Google prioritizes proximity, prominence, and relevance.
To do that, make sure your business is registered on Google My Business with accurate and updated NAP data for local citation. If you already have a website, include the location pages. This helps prospective clients to find out if your service is available to any location near them.
Communicate more with the local community. This will initiate your business name from people to people (as known as word-of-mouth marketing).
2. Search Engine Marketing (SEM) for a commercial cleaning company
Search Engine Marketing (SEM) is the premium or paid marketing process. Paid search on a search engine is another effective method to get closer to customers fast.
Optimizing SEM results in manifolds. Such as-, it increases website visibility to SERP through paid, organic, and contextual advertising.
Being customized, SEM works best for bringing higher CTR and conversions than other passive types of marketing. Also, SEM helps businesses understand the search intent. Thus it greatly suits local marketing by creating brand awareness.
SEM opens the door for more possibilities. It ensures to appear before the exact targeted audience you are looking for. A successful SEM campaign produces fast and qualified results.
Before you go for SEM, make sure your SEO is in effect, which includes on-page SEO, off-page SEO, technical SEO, and time to time extensive SEO audit.
As part of your SEO strategy, make sure to post SEO-optimized content and link-building approaches. As long as your SEO strategies are clear, you can go for SEM to drive traffic to your website.
Also Read: Best Ways to advertise cleaning business
3. Social Media Marketing (SMM) for a commercial cleaning company
You might be wondering why a cleaning business should focus on Social Media Marketing (SMM). Social media is currently one of the largest platforms that aid in maximizing a business's existence. It helps a brand increase visibility and recognition, which is very effective for new businesses.
If your cleaning business is new, marketing locally through social media is a smart choice. It works fast to promote your business. Also, you can understand what your audience like looking for and which of their needs you can address.
It helps you engage with the service-specific community or groups. As you are targeting cleaning clients, you can directly address their needs by being added there.
You've probably noticed that cleaning business videos are getting more popular. So, if you are using SMM for hunting clients for a cleaning service, you have to pay heed to that.
Platforms that allow publishing videos are the places you will find your targeted audience. For that, you can go for both paid marketing on social media and google maps marketing. So, when anyone searches with your keyword, your chance of popping up before them will be faster.
4. Email Marketing to connect to the subscribers directly
Email marketing is a great way to directly communicate with biz-specific potential clients. The result email marketing brings takes time but is worth it.
Email is the commercial approach that has more chances to be opened and seen compared to other messaging options available. Email marketing is a cost-effective, engaging, and fast solution to engage with the right audience. It helps you build business trustworthiness among the mail receivers.
So, what type of mail should you send to your cleaning business clients? Welcoming messages, promotional offers, subscribing mail, service updates, etc.
To do this, you need to have a list of clients who are already looking for these services. Once you acquire that, send personalized mail rather than a one-for-all version.
You need to follow up from time to time. Because, even if they reply, it's possible that they aren't ready to take your service just yet. So, you need to communicate- make yourself their acquaintance and earn their trust. Once they are ready, they will convert to your client.
List of most profitable cleaning services in 2023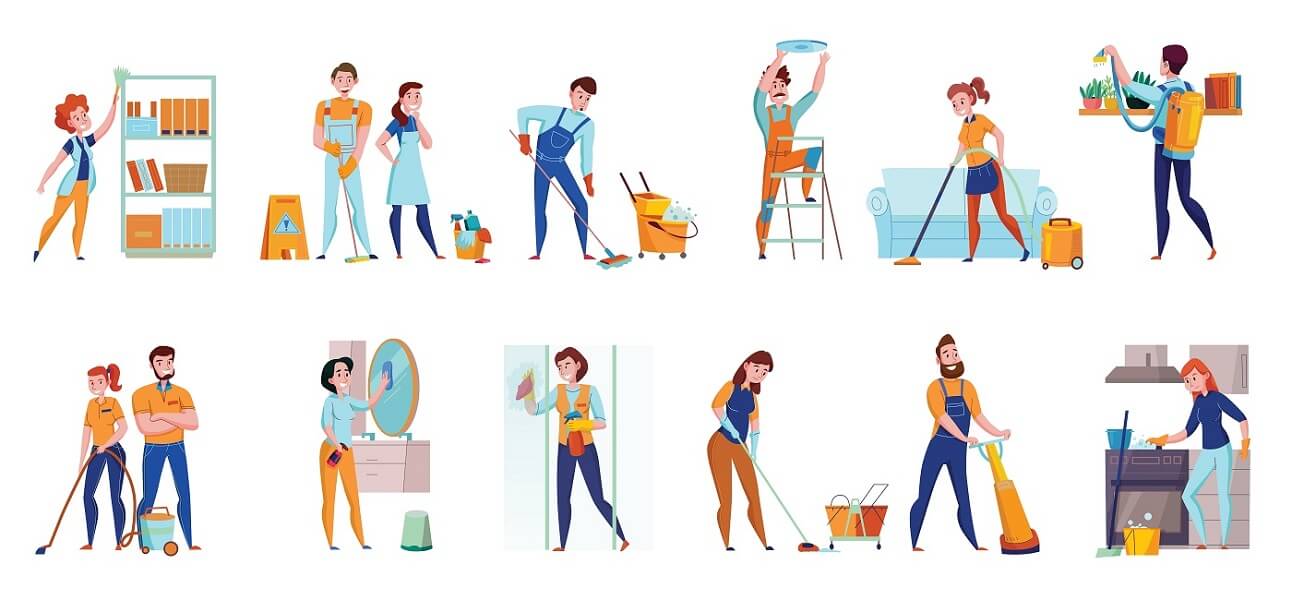 Though commercial cleaning services bring handsome revenue at the year-end, this is an odd job. If you are determined to serve cleaning clients, you must find the job you feel at ease with.
On that note, here is a list of the 18 most demanding and profitable cleaning services.
Commercial cleaning service: Office space cleaning, retail stores, super shops, and schools require cleaning, which falls under this category. It's one of the most paying services.
Window cleaning service: A dirty window blocks the view. It needs cleansing from time to time. If you can master this, you can fetch a high ROI by offering this service for both commercial and residential.
Carpet cleaning service: Carpet isn't something easily washable. It requires professional cleaners to do the job. If you can learn that skill, you can make money by serving urgent clients as well.
Residential cleaning service: It includes living room cleaning, bedroom cleaning, mattress cleaning, kitchen cleaning, bathroom cleaning, and more- all of which can be served differently. People living in cities take these services frequently.
Pressure washing service: Places like roofs, sidewalks, fences, and driveways gather dust, grime, and mud that can only be cleansed with pressure washing. This is a low-investing service in the cleaning category.
Pool cleaning service: This is a skilled type of cleaning. Unused or used- swimming pool needs skimmed and disinfected to ensure fresh and clean water.
Chimney cleaning service: Chimneys or fireplaces gather soot, and simple cleaning doesn't help much. This includes the repair as well. You can look to provide such services.
Gutter cleaning service: Debris and dust clog the gutter, making the natural rain flow stop. Professionals use machines to keep the drainage system activated. This is another low-investing business.
Duct/Vent cleaning service: This is another mandatory type of cleaning. Piled-up dust in the air duct or vent needs to be cleaned. This is not regular cleaning, yearly 2 or 3 at best. So, you can repeat providing services.
Upholstery cleaning service: This type of furniture can't be cleaned like the regular one. They need washing without being wet to remove stains, spots, and dust. By having the machines, you can plan for providing this service as well.
Clothing cleaning service: Clothing cleaning is an all-time business. Clothing picks up, washing or drying, cleaning, drop-off- you can offer a full service under this category. There's another type of service of closet organizing in cupboards that many service providers offer.
Green cleaning service: This is an eco-friendly approach. The cleaning is done using cleaning materials that aren't detrimental to the environment, for example, lemons, baking soda, vinegar, etc. Many people prefer this type of cleaning for it's safe to use.
Vehicle cleaning service: Being an essential part of life, vehicles like cars and motorbikes need to wash once a week. It includes washing, cleaning, stain removal, etc. As your target will be vehicle owners, you can earn a good amount from this service.
Boat cleaning service: This might surprise you, but water vehicles, especially boat cleaning, have good demand due to their cleaning and maintenance. However, living near a coastal area might benefit you from this service.
Move-in/out cleaning service: People who are shifting offices or houses often consider having the space cleaned before the move. To make sure their requirements are met, you can consider choosing this job.
Waste disposal service: Industries or companies that work with raw materials get tons of wastage after certain times, and getting rid of that is big trouble for them. If you have a team, this service will benefit you.
Foreclosure cleaning service: When a bank forecloses a house, it needs to be tidy enough to be ready to sell. Such houses require deep cleaning, though. This is a fast profit-bringing cleaning service.
Common questions of cleaning company SEO
What is the best way to advertise your dry cleaning business?
Social media is one of the best platforms for advertising a dry cleaning business. Aside from that, you can use paid campaigns to marketize your cleaning business.
What makes the cleaning business so profitable?
Low operation cost and frequent client demand has made a cleaning service business profitable.
What do I need to know when starting a cleaning business?
Before starting a cleaning business, look for types of services, the location you want to serve, demand in that area, necessary expenditure and revenue, how to serve clients, etc.
Is it possible to grow a cleaning business using social media?
Yes, it is. If you plan to serve local clients, social media is going to be your 2nd option for marketizing and client hunting, apart from the local SEO activities
How do land more contracts for the cleaning business?
Communication is the key. It doesn't only mean verbal; with SEO and other promotional activities- you need to give the message to the right receivers at the right time.
What should you look for when choosing an SEO service for a cleaning company?
You need to heed the expertise- how efficient their SEO services are, their action plan, are they affordable to hire and their strategy to bring the desired results. When you are assured of that, you can hire SEO services.
Wrapping up
Cleaning is a tedious job. Emerge of commercial cleaning services has provided a sense of relief, making this one of the most sought-after services.
As long as you are devoted to doing your best, following the strategic measures, and providing smooth and convenient client services, your business is bound to outperform your competitors and reach beyond.
Hopefully, this guide helps you understand how you should plan out and execute your activities from here onwards. Best wishes for your venturing online!