Do you own a cleaning business? Want to get more cleaning business client's across the neighborhood of your business?
In today's digital age, having a strong online presence is crucial for the success of any business, including cleaning companies. Search Engine Optimization (SEO) is a powerful marketing strategy that can help your cleaning business rank higher on search engines like Google and attract more potential clients.
By implementing effective SEO techniques, you can increase your website's visibility, drive more traffic to your site, and ultimately convert more leads into paying customers. With the right marketing strategies in place, your cleaning company can grow and thrive in a competitive market.
In this article, we will discuss some essential SEO strategies that can help your commercial cleaning business stand out online and reach more customers. From optimizing your website's content to building quality backlinks, we'll provide you with practical tips and insights to help you improve your local SEO and grow your business.
Without further ado, let's dig in.
Who Needs Local SEO for Their Commercial Cleaning Business?
Any commercial cleaning business that wants to increase its online visibility, attract more potential clients, and grow its customer base can benefit from SEO.
The number of cleaning service seekers will increase. In 2020, 795,590 residential maids and housekeepers were recorded only in the US. According to another study, commercial cleaning service is expected to grow 5.4% annually through 2025.
Cleaning business owners might want to expand their services, they might have just started but don't have enough manpower to support the website, or might not have enough knowledge on SEO. So, they need to look for professional SEO services.
Implementing effective SEO strategies can help cleaning companies rank higher on search engines like Google, making it easier for potential customers to find them online. With the right marketing techniques in place, SEO can be a powerful tool for driving traffic to a cleaning business website and ultimately converting leads into paying customers.
There is a wide range of digital marketing agencies for cleaning companies available nowadays, and those are offering such services at competitive pricing. Therefore, it's wise to take on SEO for cleaning businesses.
Why do commercial cleaning service companies absolutely need SEO?
SEO is this century's smart, strategic, and effective marketing plan. With proper planning in SEO, you can outperform competitors, get more clients and increase sales for your cleaning business.
Here's why a cleaning business should look forward to SEO to be successful.
Effective SEO strategy helps businesses increase visibility in SERP, resulting impact on ranking.
It helps potential buyers track down your product or services based on certain keywords and reach you.
SEO activities ensure businesses reach a more targeted audience. Thus, it helps increase traffic.
Online paid marketing ensures you get the best output within a certain period of time and get close to more audiences.
SEO helps businesses build trust, recognition, and authority among target audiences, competitors, and mostly to Google.
According to a survey by BrightLocal, 97% of consumers searched online for a local business in 2020.
Another study by Search Engine Journal found that the top five search engine results receive 75% of user clicks, while the first result alone garners 33% of clicks.
In the same BrightLocal survey, 87% of consumers read online reviews for local businesses in 2020, with 48% only considering businesses with a rating of 4 stars or higher.
According to HubSpot, SEO leads have a 14.6% close rate, while outbound leads (such as cold calling or direct mail) have a 1.7% close rate.
A study by Moz found that 71% of clicks on search engine results pages (SERPs) are on the first page, with the first five results accounting for 67% of those clicks.
Ranking for Success: Types of Commercial Cleaning Services Benefit Most from SEO
If you are wondering which types of cleaning companies need SEO, here's a list of the most popular cleaning services that people look for around the world. So, if your business falls into any of these, make sure you are optimizing SEO for the cleaning business:
House cleaning services
Office cleaning services
Kitchen cleaning services
Window cleaning services
Construction cleaning
Pool cleaning service
Gutter cleaning services
Air duct cleaning services
Move out cleaning services
Septic tank cleaning service
Drain cleaning services
Upholstery cleaning service
Vent cleaning service
Effective SEO strategies for cleaning companies that encourage buyers to give you a call
The saying goes, if you aren't online, you don't exist. In this digital era, if you want to get more clients and increase your sales, being present where your target audience is the most effective way.
That's why SEO is required for online cleaning companies to make their presence more visible. The question is, which strategies should you follow for that? Here're 3 strategies:
The question is, which strategies should you follow for that? Here're 3 strategies:
Local SEO for cleaning companies
SEO (Search Engine Optimization) for cleaning business
SEM (Search Engine Marketing) for commercial cleaning service
Local SEO for cleaning companies
Want your cleaning business to hunt more clients? Then it would be best if you aim for local SEO. Let me break this down for you.
A study says 46% of searchers on Google are local. So, getting more visitors will be faster if you can appear in the local business. Otherwise, you'll miss the lion's share of local search opportunities.
When we search for something with 'near me' or 'in [place], we want to know how close that is. Generally, we tend to click pages that pop up on the 1st page of Google.
So, how does Google rank them for local search? Well, based on these 3 factors: Distance (how close the solution is), Relevance (matching with the search), and Prominence (how well known that is).
Therefore, to appear on the local search, you should aim for these 3 sections:
Google map
Snack pack (aka local pack, Google 3-pack) and
Organic search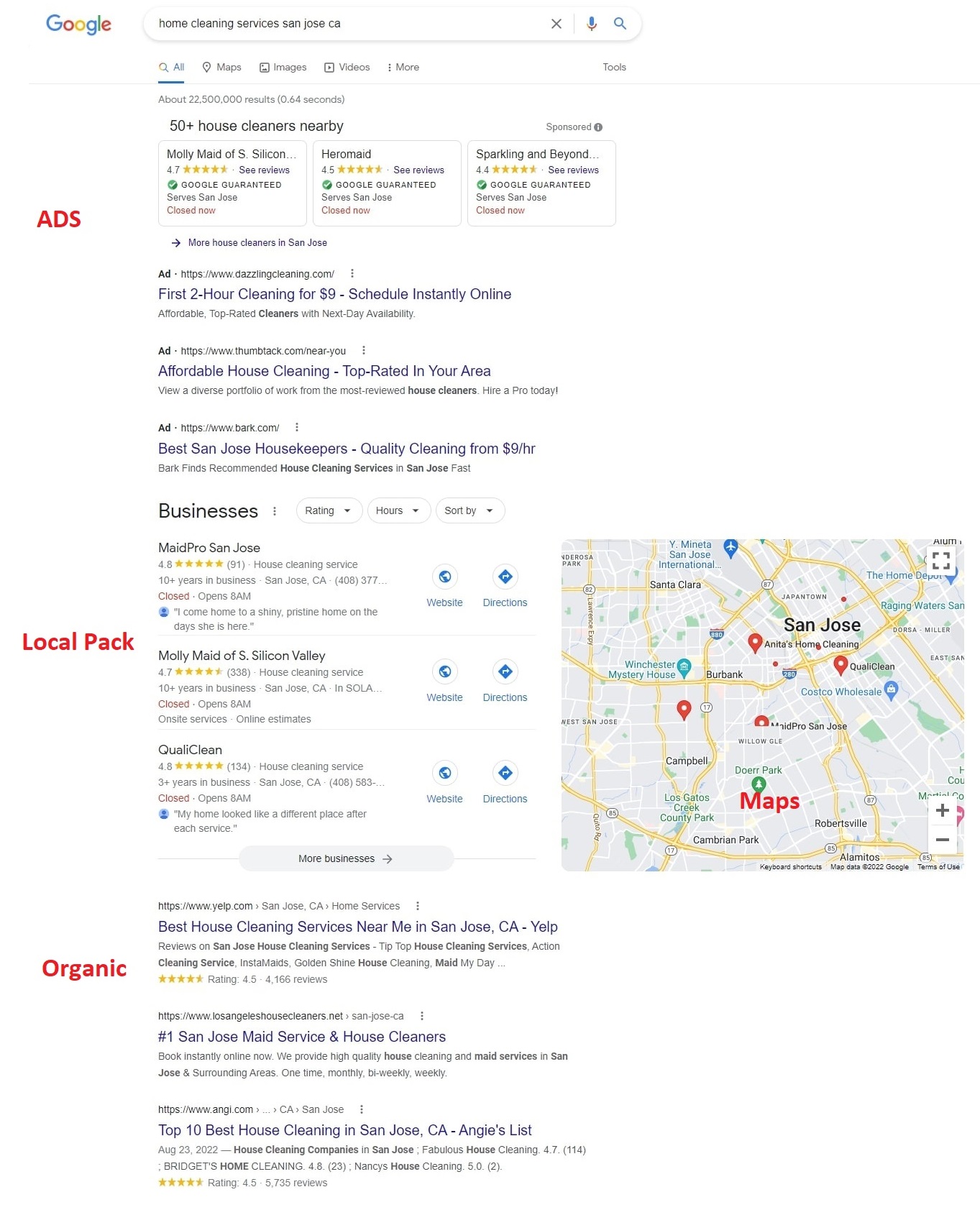 Here's what you ought to do if you want to be listed on the local search.
1. Create your business profile on Google
Former Google My Business (GMB) is now known as Google Business Profile (GBP). Once you register your cleaning business there, it will be ready to show up on the map of Google local listings.
How do you add your business in GBP? Go to Google Maps and click the menu. Then scroll down to 'Add your business.'
Fill up your business information step by step. It includes- business name, category, address, hours, phone numbers, short names, website, services, attributes, description, photos, etc. These sections may vary depending on the business.
In the end, you will go through the verification process. Ensure inputting accurate data (or as close as possible) and completing the profile.
2. NAP Listing- Build local citations
The local citation means the mention of a business' NAP data. NAP stands for Name, Address and Phone number. This information helps Google understand your business; determines and validates your online existence.
Let's say someone searches for cleaning services. If your cleaning service is extended to his/her area due to the local citation, you will have a higher chance of appearing on the 1st page of Google and making your business visible to them.
Local citations appear on business directories, social networks, review sites, and many more. So, make sure to fill up your up-to-date data as accurately as possible. You can use MozLocal to verify the accuracy of NAP data.
If your business doesn't have an address, Google has a solution for that. While listing, you will find an option "I deliver goods and services to my customers". Select this option, and your business listing will be done; no address is required.
3. Add location pages to your website
Let's say your established cleaning business is probably targeting or already serving clients of different locations. You might not have a physical location in all of those. It'll be better for you to organize them on a single page. The solution is to create SEO-friendly location pages.
A location page is a web page or landing page that includes all the address details of your business in different locations. It's not part of local SEO but rather a strategy that adds benefit to local SEO for your cleaning service business.
By adding a location page to your website, you help your potential customers to find the information they are searching for. Those who reside geographically close to your location will be able to reach you. That means you can not only serve the mentioned location but also around the neighborhood.
4. Participate in your local community
To appear more frequently on local search results and get more clients, take part in local events, like campaign sponsorship, around your business location. When you publish them, you can use local keywords, involving more clients from different ranges. This engagement will help your business earn brand awareness.
5. Create local contents
When it comes to content, keywords are a must. To find your cleaning business related keywords, run keyword research. While selecting keywords, consider search volume and search intent as well.
Local contents include a business introduction, description, and website contents that can be text, videos or images etc. The purpose of local content is to target the searchers of a particular area the business is serving and bring foot traffic.
While creating content, pay attention to your local keywords, especially the long-tail ones, and include them. This way, you will earn niche-related local traffic on your website.
While writing content, answer the questions people ask and link to other websites. Also, add Schema Markup that precisely describes to Google what your content is about.
SEO (Search Engine Optimization) for cleaning business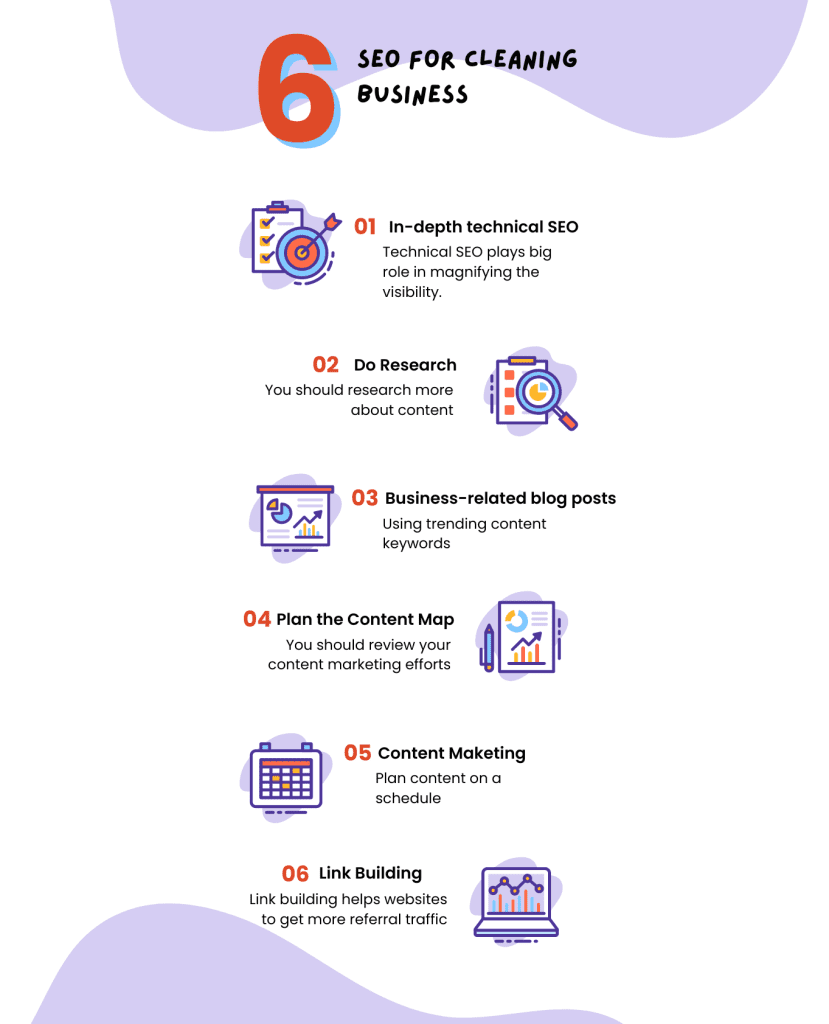 While optimizing SEO for cleaning business, things might puzzle you. Which part should you focus on first or how to get those started? To aid here, we have pointed out the essential parts that you cannot but focus on.
1. In-depth technical SEO
Apart from On-page SEO and Off-page SEO, technical SEO plays another big role in magnifying the visibility of your business. As long as the technical part is ensured, your website will upgrade, and so will the chance of rank.
So, what is included in technical SEO requirements? Here is the checklist-
Using HTTPS
Creating XML sitemap
Enabling AMP
Structured data markup
Tracking duplicate content
Identifying crawl errors
Site speed improvement
Fixing broken links and more
2. Keyword research
Research for your niche-related keywords by following the target markets. What your target audience searches for, what type of information they are looking for. Generally, while searching for cleaning services, people ask about location, costing, timing, services etc. For clearer ideas, put your keywords in the Google search box and check out SERP results.
By using different tools like Ubersuggest, you need to look for search volume to understand how many searchers looked for them over a certain period, keyword difficulty etc. Also, choosing a long tail keyword has proven to be way more effective. With tools like Moz Keyword Explorer, Google Trends, and Answer the Public, you can check the keywords' current influence.
Once you have picked the keywords, you can use them in a different way. Look for which keywords your competitors have been using and ranked for. As you are targeting locally, make sure to use local relevant keywords. You can take advantage of seasonal searching as well.
Place your keywords in URLs, page titles, Meta descriptions, Image titles, Alt tags, and H-tags to activate your website's ability to rank.
3. Write business-related blog posts
If your website doesn't have a blog section, consider creating one. It will look like this- www.yourbusinessblog.com. When naming your blog, you can choose anything that doesn't exist online.
The blog is a big area that covers a lot of information on every topic. Statistics say 409 million people view more than 20 billion pages. With blog articles on your website, you help readers know information as well as convince them.
The advantage the blog section serve is it talks to specific needs in each content. So, when writing an article, make sure to define your audience, optimize keywords, and create high-quality content with attention-grabbing headlines. Make sure your content is answering a solution, sharing original data or expert suggestions, etc.
4. Content marketing
SEO content marketing differs from blogging, email, infographic, social media content for posts, videos, podcasts, and so on. So, for your cleaning business, you need to figure out which type of content goes well.
The importance of quality content for a business are
Helps get more backlinks
Provides business message
Reach more audience organically
Influential presence and increased CTR
While getting your cleaning business-specific content, make sure to follow fundamentals like content length, tone, word choice, formatting, readability, keyword implementation, linking, authenticity etc.
5. Link building
Link building is the process of linking with other websites. The quality of links impacts a website on ranking. While crawling, Google checks those links and decides if a website is qualified enough for citation. Also, link building helps websites to get more referral traffic. All of which result in building websites' authority.
Read Also: Affordable SEO Packages for Small Businesses – Choose What You Need!
SEM (Search Engine Marketing) for commercial cleaning service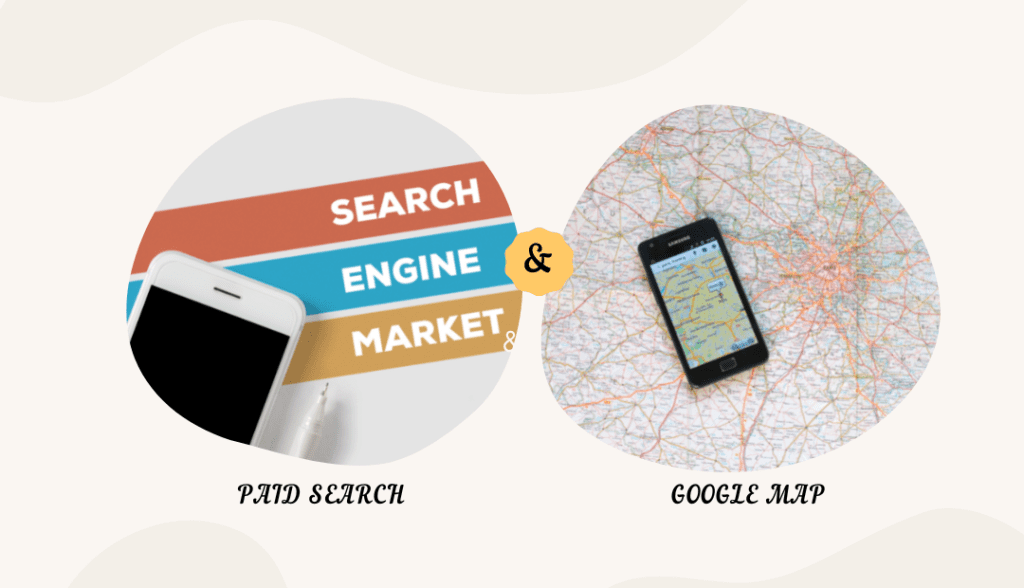 SEM (Search Engine Marketing) is pretty self-explanatory. Marketers pay search engines so that their products or services become visible when anyone searches for them.
Paid search on the most popular Search Engine
This digital marketing strategy allows businesses to show their advertisements on SERP in exchange for payment in search engines. As a result, those businesses can drive more relevant traffic to their websites.
Let's talk about Google paid search. How does Google's paid ad work?
Google uses PPC (Pay Per Click). To compete on Google, businesses target specific keywords under which they want to appear when anyone searches and makes a bid on that.
The main goal of paid ads is- to increase traffic, conversion, and sales. By using paid ads to advertise your cleaning business, you can target and reach more clients who search for relevant services.
Google maps marketing for cleaning business
Google maps marketing helps your business gain more visibility and increases the probability of customers visiting your business. That's why businesses include detailed information like working hours and customer reviews in their Google Business Profile to appear on search results and rank high in search results. Generally, Google shows the most relevant businesses on the map and local 3 packs.
Rank Upper offers in-depth SEO services for cleaning companies
If you are looking for a digital marketing agency to take SEO services for your cleaning service company, RankUpper is your good-to-go solution.
Here at RankUpper, we are offering full-service SEO for On-page SEO, Off-page SEO, Local SEO, Ecommerce SEO, Technical SEO, and SEO Audit.
We help you build a brand through consistent and custom SEO strategy and optimize your acquisition costs so that your business gets more traffic, leads and sales.
Why should you choose a Rank Upper digital marketing agency for long-term returns?
RankUpper is driven by results. We come up with a custom solution that works best for cleaning companies. Our process includes
Competitor and market analysis
Forming custom strategy and monitoring
Quality link building & influencer marketing
Blog Sales Funnel Strategy & content repurposing
In-details monthly reports analysis and updation
With a team of expert digital marketers who have proven skills in bringing results, we can deliver the results you want.
FAQs About SEO for Commercial Cleaning Business
Do I need SEO services if my site has a page 1 ranking?
Yes, you do. Ranking fluctuates all the time, and every company is vying for that position. Your stopping will open the chance for your competitors.
Can you scale up a window cleaning business?
Yes, with proper planning on SEO activities, any cleaning business can be scaled up.
Is SEO a part of digital marketing?
SEO is an integral part of digital marketing, and both of them are complementary to each other.
What are the worst SEO mistakes that can ruin your rankings?
Poor site structure or not focusing on SEO harms a website's ranking.
Why do websites need SEO link-building services?
Quality link building speaks volumes about your website to Google. As a result, it makes citation easier for your website.
Which is good for a new website, paid campaign, or organic SEO?
Organic SEO brings results that last long, whereas paid campaigns are immediate solutions, both of which are required for a new business.
Who needs a local SEO?
Any type of business need local SEO to make them appear in search results based on proximity.
You can try Squarespace or Wix, but the simplest and most effective first site would be to build a Google My Business profile, and Google will give you a free site that is populated with the info you supply.
When Can I See the Results after doing SEO?
3-6 months is the average time for SEO to take effect for a business. However, depending on the business, the time will vary.
Conclusion
Hope this article helps you understand why you need SEO and find the best digital marketing agency for your cleaning services.
Please remember that SEO isn't a short-term solution for any business. It's a continuous process that brings long-term results.
So make sure you are sticking to your SEO practices for the results you deserve.