Nowadays, 4.62 billion social media active users are hungry to stay up to date.
So, why not attempt a few social media marketing ideas to elevate the growth of your bootstrapped startup or small business?
Social media, a platform for global communication, has evolved into a money-making machine. It lets you create a strong brand without spending a ton of cash.
We're revealing some incredible social media marketing ideas for small businesses.
Without much further ado, let's walk you through it.
What is Social Media Marketing?
"Social Media Marketing" refers to the process of broadcasting your company's products or services via social media websites and networks.
Previously, social media was simply a means of posting content in your territory. However, it has expanded well beyond the ability to advertise your content or products worldwide. Social media significantly influences the business sector from top to bottom. If your company is not on social networking sites, potential clients will be unable to find you.
Social media sites directly connect with a targeted audience, raising brand awareness, boosting sales, and driving more website traffic.
Some of the major social media sites and their MAUs (monthly active users ) are:
Facebook: (2.91 billion)
Instagram: (1.48 billion)
Twitter: (217 million)
LinkedIn: (66.8 million)
YouTube: (2.56 billion)
Tiktok: (1.39 billion)
Pinterest: (433 million)
Whatsapp: (2 billion)
Snapchat: (332 million)
Quora: (300 million)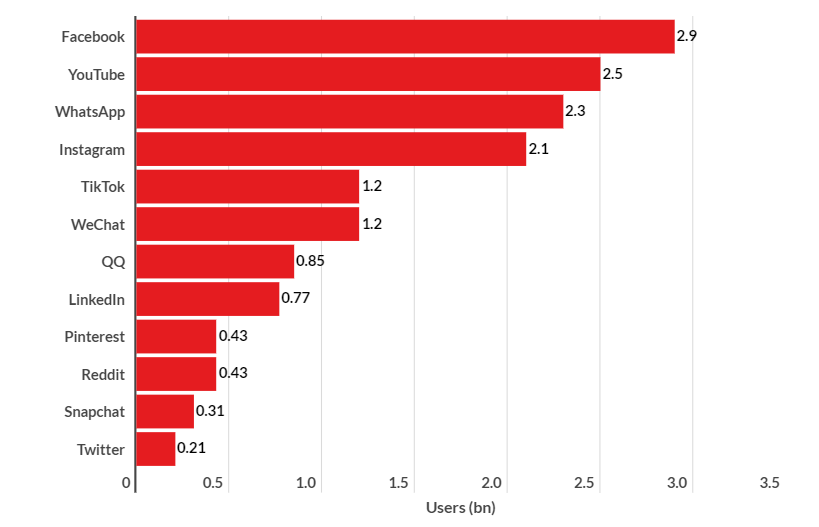 The social networks listed above are constantly growing and introducing new features daily.
Your marketing strategy will depend significantly on how well social media channels attract the most audience engagement. It only occurs when you make people satisfied with your services or products.
The more satisfied your consumers are, the faster your brand will thrive. You can see on the bar chart that the most popular sites list where maximum audience engagement is found on Facebook, and one of the most popular video-sharing platforms, YouTube, and recently trending social site, Tiktok, are also in that row.
Get the Guide: Affordable SEO Packages for Small Businesses
Why Should You Use Social Media for Small Business?
Social media is the most comprehensive tool for small businesses. It provides free access to such an enormous audience, even if it's safe and free to access.
The most of marketers form close-knit communities on those social networking sites to increase engagement and boost their revenue with flying colors.
It allows any small business to connect directly with people interested in your brand. When a potential customer clicks on your advertised content, it indicates that they are actively seeking it out or eagerly awaiting news from your company. There tends to be a scope likelier to convert than a random person seeing an ad or offer.
Some of the justifications for using social media-
1. To increase brand awareness
On social media platforms, 55% of consumers discover new brands. So, there is considerable scope for making a social media strategy to capture Gen Z and Millennials, who mostly use social sites for brand discovery.
If you don't take advantage of the expanding networks, your customers will turn to your rivals first, costing you money. It is better to increase brand awareness through constant posting engaging content, or find other ways, like streaming live or sharing reels about your service.
2. To generate more traffic on a website
In the USA, 82% of all age groups who use the internet are regularly active on social media, and 56% have multiple social media accounts.
These estimates demonstrate that can generate a lot of traffic on social media sites by posting teasers, excerpted videos, or blog posts that pique users' interests and encourage them to click for further information. So, whether you have an ecommerce store or just a social media store, you have the potential to generate more traffic.
3. Sufficient pricing on targeted Ads
There are many advertising social channels across social media sites, such as Facebook, Twitter, LinkedIn, Instagram, Pinterest, and many more.
If you run an advertisement campaign, these social channels will increase engagement on your business profile. It costs very little in comparison to traditional marketing.
It is comparatively more sufficient, assures you of winning over a maximum number of consumers, and gives them unique opportunities to engage.
However, previously, we could spend a lot on marketing without even having the assurance that we had reached our goal for sure or not. Now, you can get the percentage of assurance.
4. Promoting your content on social media sites
Social media is the best way to promote your well-researched content globally. It lets you interact directly with your targeted customers or followers.
However, you must stay active and constantly in touch with the potential audience by responding to their comments, through a Q&A session, or by going live streaming or making video reels.
Make sure your content marketing strategy can broaden your business's benefits and strengthen your relationships with the audience.
5. Selling your products and services
Traditional markets deprive them of some exposure, which occurs only on social media platforms. You must highlight your product description in an engaging way so that your content is not limited to your territory, but goes beyond it. As a result, you have a good chance of selling a lot of products or services.
What Are the Social Media Marketing Ideas for Small Businesses?
Social media is a hub of new and established brands. Consumers and sellers directly interact and form relationships with the help of those media sites.
Every small business wants to go viral!
But in reality, virality can't reach your brand at its peak. It is just a moment of excitement, and though it may achieve a large amount of revenue in the short term, it is not permanent.
You've got to hold onto this virality for a long time, so you just need market-grabbing social media post ideas for business that no entrants or established brands shake your throne of success.
1. Develop a Unique Sell Point (USP)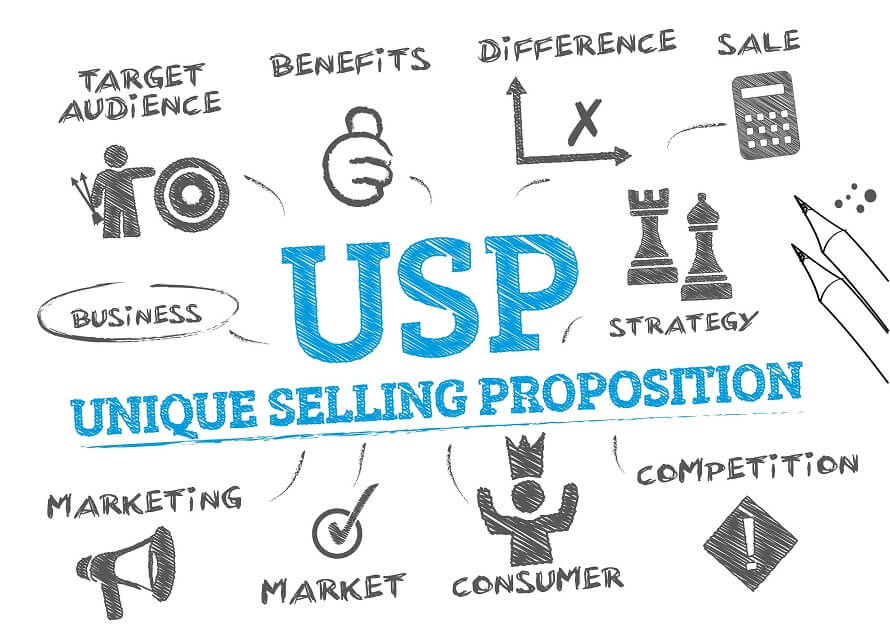 A Unique Sell Point (USP) is looking for the market gaps that make your product or service better than competitors. It primarily focuses on your brand's unique position in the marketplace, such as the issues you address and the benefits you provide. USPs differentiate your business from your competitors.
For example, Amazon has become an eCommerce product selling platform for the technological giant marketplace. Its USP primarily focuses on a massive choice of selections at low prices and fast delivery. It aims at the pain point of customers' needs that have never changed.
On the other hand, Walmart is on the same categorical platform as Target. Its USP is offering goods at everyday low prices, and its Black Friday offers are one of the most famous events at throw-away prices.
On social platforms, you can see several similar brands, but you need to develop a strong statement that holds down your brand's position.
Follow some steps on the way to developing your USP. these are:
Test your USP with the A/B testing process to determine your target audience. The single most compelling benefit you offer that moves forward from competitors and how to keep promises that you made to the audience.
Make sure your USP is focused on the quality(best materials or ingredients, excellent craftsmanship, manufacturing methods, etc. ) and pricing range (lower price guaranteed, free shipping, special offers, etc.) of your products or services.
Evaluate your USP as a benchmark for your business and search for its marketplace position. Then start to develop your social media marketing strategy.
Keep an eye out for market trends, analytics, and new competitors that may impact how customers perceive your USP.
Through methods like advertising, social media campaigns, content marketing, and SEO, companies can communicate their USP to their consumers and prospects.
2. Utilize All The Social Media to Promote
Whether you sell beverage products or vintage items, a brand's social media presence is compulsory. Every social media site requires well-researched content, which builds hype for the audience.
Small marketers plunge into some dilemmas where they are unable to compete with the established brand. This self-doubt never gets out of it. Leave the self-doubt, if you've stepped into the eCommerce world. Make a marketing plan for your small business on social media because, to some degree, it is free, powerful, and makes it easy to achieve your goals.
However, you've never just relied on SEO and being able to be found on Google search. You must also establish your profile on Instagram, Facebook, Twitter, LinkedIn, and other social media. Because 97% of marketers rely on social media sites to promote their businesses globally. It can be a breakthrough for your small business to use all social media after evaluating the impact and selecting the best channel.
3. Grow Your Audience and Stand Out on Social Media
Convincing followers to get involved in your social media business profile can be tricky. Because there, you'll find your competitors who have worked in a similar niche, and they may give better service than you.
Being content-savvy in this social media industry must be a plus point to make a brand stand out and be competitive against competitors. Let's find out which factors help you grow your audience:
Be dynamic in listening to customers' opinions and responding accordingly.
Give them reasons to follow you. Tim Sanders, a business guru, comes up with four factors of likeability, such as friendliness, relevance, empathy, and realness. These factors help you to humanize your brand, bring value to the audience's lives, feel aspirational and give logical reasons to connect with them.
Offer free stuff because everyone loves free products or services. These tricks grow your social page's likes, engagement, and even conversion.
Keep updated with your launch news, events news, and reaching milestones news so that they feel connected with you and your brand.
4. Focus on Authenticity to Drive Customer Trust and Loyalty
In this personality-driven social media era, authentic content is key to strengthening customers' trust and loyalty. The more you get followers or fans, the higher you rise in the social algorithms and attain new, free, and more exposure.
Acquiring new customers is a great thing, but don't belittle the value of customer retention. That boosts the customers trust in your service or product. For example, Facebook users engage with more than 1000 potential newsfeed at once daily.
Well, which strategies drive your customer trust and loyalty or build a community?
Establish social sites like Facebook, LinkedIn, Reddit, and WhatsApp groups to connect with the audience impersonally to redirect them to your website.
Connect with social media influencers or content creators. Don't think it will be high based on your budget range because there are also micro-influencers and nano-influencers.
Try to collect user-generated content. It can be your social proof to establish your brand positively. If any followers tag you in their Instagram stories, you can reshare them on your social business profile.
5. Creating Engaging Visual Content
Visual content rules over all social media sites. Even Google constantly changes its visual themes to force you to visit its landing page. Visually solid content also creates the same impact on the user's mind. It moves you to like, comment, follow, add links, and eventually buy products from them.
According to the Visual Teaching Alliance, 90% of the information the human brain receives is visual rather than text. It can be the best strategy to integrate visual elements with content. Many small marketers should have to play with the users' minds by creating unique and knowledgeable visualizations.
To plan proper social media content ideas for small businesses, you need to add-
Infographics can take your content to a new level.
To tone down your audience's mood with social media, Memes, and GIFs may not seem professional, but you can take advantage of them.
You can add charts and graphs as a data visualization that can justify your statement accurately.
How-to-guides or want to explain something, you must add screenshots or screencasts.
Audiences are more engaged with video content. It's a great way to hold the audience's attention.
6. Craft a Social Content Strategy
Content has the power to grab the whole market within a short time. It needs to find a proper way to stand out on social media, so you must create a strategic plan.
You've set a yearly, monthly, and weekly goal and distributed appropriate content on appropriate platforms. This content marketing strategy mostly depends on a brand and its target audience. There you've got some steps that build out a long-term plan. These are:
Set SMART goals
Strategy rejuvenates the business in new terms because setting goals may not provide the progress you want. To measure your defined metric upgrade or degrade, you must follow some strategic factors.
In this case, SMART is a business framework, meaning your goal will become a reality. SMART stands for-
Specific– What exactly are you trying to achieve?
Measurable -How will you measure the achievement?
Attainable– Is your most wanted goal achievable?
Relevant– Does your set goal sustain your firm's objectives and vision?
Time specific– make a deadline for your set goals.
Figure out these solutions above that can help you align your social media marketing activity. When you have goals, you can more precisely trace your KPIs (Key Performance Indicators) and measure metrics.
Planning for relevant social content
Having a goal can make the journey to success easier. You need to conduct a social media content audit that can give you a clearer view of which posts you should write or not, and which social media platforms generate more engagement and reach with that kind of content.
The content can reach the audience easily through Facebook, LinkedIn, Twitter, Instagram, and Pinterest business accounts, but relevant content is required for each site. Do your keyword research accurately before starting to write on this topic. Make sure your writing style and tone of content are unique and engaging so they can attract your targeted audience organically.
Form a social media content calendar
The best method for increasing engagement is to schedule your content. Using a calendar enables you to plan your social media content in the long term.
We are analyzing all the social media platforms and deciding when and where to post content.
It is, of course, the best practice for growing your brand on different social platforms. A content calendar helps collaborate to create a more versatile plan.
Publicize the content on social channels
Different social media have different demographics. So before publishing content on social channels, you must focus on your targeted audience of this post, and add share buttons if any followers feel like sharing.
Discover how you can create viral content on social platforms that can not only promote your content but your brand. For example, image-based content is super-shareable on Facebook, Twitter, and Instagram, and viral video content on Youtube, Tiktok, and even Instagram.
Millennials and GenZ are primarily active on Instagram and Youtube. In contrast, Baby boomers started to use Facebook, the most-educated users are active on LinkedIn, and social shoppers are especially women than men users of Pinterest. Determine those factors and promote your content accordingly to your targeted audience.
Analyze the outcomes of social media metrics
Analyzing social media metrics gives you a clear view of how your content performs if it is well, then follow this strategy. If not, changes are required.
Which metrics need to focus on:
Reach: How many social media users actually saw your post on their newsfeeds?
Engagement: How well does your audience observe your brand and their promptitude to interact with it?
Clicks: How many clicks on your content or social account? Clicks per campaign trace what factors drive curiosity in people to buy products or services or engage with social accounts.
Organic and paid interactions: How much harder is it to gain organic engagement than paid engagement? Measuring the difference helps to save your budget, whether you spend it on ads or invest the time in different formats.
Sentiment: What is the audience's reaction to your content, brands, or hashtags? Which type of sentiment does the audience connect with your campaigning content? We can learn what people are saying or thinking about your content.
Hashtag performance: Which hashtag do you most use? Which one is more related to your brand?
7. Engage With Your Social Media Followers
Elevating a brand to success means doing more tasks like publishing SEO-friendly content, being a master of social media marketing, and running a paid or organic campaign.
However, the outcome is inconsistent and calls for consistency in the engagement. You should create a plan to engage more social media followers. So there we've got some steps to follow-
Optimize accurately your social media profiles
Choose suitable social media networking sites for your brand, products, or services
Know the best time to post on your social profile
Purposeful and consistent SEO-friendly content
Collaborate with micro and nano influencers for higher organic engagement
Host an AMA (Ask Me Anything) session to educate the followers about the brands
8. Use Trending Topics to Your Brand's Advantage
Social media's trending topics broadcast more of your brand's visibility. The more visible your company is, the quicker its revenue scale will expand. Even psychologists talk about following trends that foster a sense of harmony, unity, or tribalism.
However, any action that occurs on social platforms and goes viral creates a trend worldwide, and even the US never falls behind in following these trends. This idea of following a trend gives a chance to every small business to perceive the customers' behavior shifts in the market.
You should inject the trending topics into your brand planning. So that can elevate your market growth rapidly. The success of Netflix's Money Heist is one of the crazes blasting on social media platforms. The National Observance day can be utilized as a trend to upgrade the business. Influencer marketing or niche bloggers bring out the universality and transparency of your brand's marketing campaign.
9. Go Live Stream
Social media's new hype is to go live, whether you've launched or showcased your product or services. The Livestream video tool gives a more precise concept to your audience. Facebook and Instagram live tools enable reach and engagement.
Small marketers might face difficulty going live streaming at its early stage, but it's not prohibited. You can surely get a few engagements if you come up with some intriguing live stream content ideas and share them with most of the groups and pages.
The spontaneous session of Q&As can be good to start with and done once every few weeks to get potential viewers.
A product demonstration on live must be an interesting and effective idea if you want to launch your products or just showcase them.
Come up live and share tutorials like makeup, cooking, baking, and crafting that can surely grow your engagement.
The disclosure of a new product or service on a live and everyday countdown post must create curiosity in the audience's mind.
Sharing behind the scenes is always thrilling for viewers. Then, people started to think, "What's cooking there?" and even their eyes are getting ready to see.
Are you planning a flash sale? Choose your desired social media sites, go live and share details about flash sales that can create excitement in the audience.
10. Start a Giveaway Contest
It can be speculative to think, "How do giveaway contests increase your revenues and brand recognition?" But it actually can.
Giveaways with prizes can generate more participation than just throwing an offer or discount sale. Even If you are able to achieve your goal at this moment, you must offer some conditions to follow if they participate in this giveaway contest.
Follow your page or business profile,
Add likes and comments to your photos,
Share this contest post with your social media profile friends or tag some of their friends.
Share details about how and when the winners will be announced and claim a prize.
With the participation of your potential customers in the giveaway contest, you will be sure to hold on for a long time.
11. Create Interactive Audience Polls
Polls are one of the most underestimated but most engaging types of content on social media. It assists you with market research within a given period of time. It assesses audience insights and perceptions.
You can be used on your websites, social media handles, email newsletters, and Instagram, Facebook, Twitter, and WhatsApp stories. These are so intriguing and add value to the audience's perceptions, visions, and opinions and give them a sense of importance.
12. Preparing and Conducting Effective Interviews
How much of your brand is fundamental to its audience? It is only when conducting the interview, which showcases your expertise, issues you go through, and how to tackle those frontal challenges, that they are disclosed to the audience.
Make yourself a brand with an interview on social media, so you should effectively show your attributes, body language, and communication skills. Keep in mind that trivial acts might attract the attention directed toward you and release your confidence and professionalism.
Let's share with you some reasons for interviews that help to uplift your brand.
13. Monitoring Progress and Evaluating Results
Social media platforms are a treasure for lead generation. Here you can identify your target market, launch a campaign, use marketing tools to increase sales, and use analytical tools to determine the position of your market reach and growth stand.
All social media platforms features and business tools that assist you in monitoring and evaluating results are given below-
Facebook, a social brand of Meta, is the powerhouse platform for advertising and has an enormous active user base. 93% of marketers used Facebook as an advertising tool. This allows you to generate leads, drive website traffic, improve customer support, boost customer engagement, and increase conversions and revenues. Basically, it is a combination of a variety of marketing channels and adds some various features. such as:
Facebook Messenger chatbots
Click to Messenger Ads
Add CTA buttons
Pages to Watch.
Publishing tools
Facebook Insights
Instagram is the second leading social network with over 1 billion MAUs in the USA and worldwide. Whether you want to market your product will help you be more accessible to potential customers. Instagram introduced its business tools,
Shopping tags
An ad with product tags
View Insights
Filter metric-based posts
Switching catalogs
Twitter introduces May 2022, Twitter Create, a marketers and creators hub. This is being done in order to support established or startup companies, content creators, and public figures in their efforts to increase audience engagement and sales. Take a look at Twitter's business and monetization tools.
TweetDeck
Embedded Tweets
Super Follows
Amplify Sponsorship
Amplify Pre-roll
Twitter Analytics
Pinterest is one of the visual content-sharing platforms. Whether you're a content creator, a small marketer, or a merchant, you need to build a community of large audiences if you want to increase sales on Pinterest. There, Pinterest provides business and advertising tools that can help you to get more reach, engagement, and a large number of leads.
Shoppable idea pins
Shopping Adds
Rich and Promote pins
Targeting tools
Pinterest trends
Audience Insight
Analytics
LinkedIn is the central hub of potential B2B brands. This professional social network maximizes revenue through the use of LinkedIn Ads. About 50% of marketers run an ad based on their projections. You can increase your shares to get twice the engagement of employee-shared content. Some of the given LinkedIn management, marketing, and analytic tools help to elevate. These are:
LinkedIn Sales Navigator
Campaign management tool
Sales Insights
Hoot Suite is one of the best social media management, scheduling, analytical, and marketing tools. This versatile tool tracks your insights and schedules your content at the busiest hour for marketers who want to expand their businesses on social media and achieve success with such accuracy. If any gaps are discovered, they immediately try to fill them by researching and accurately repairing them.
Buffer focuses on building a community and on marketers' personal growth along their business journey. Their diverse team establishes social media management, publishing, and analytical tools. It can draft and schedule those social networking site posts for sharing across numerous social networking sites, such as Instagram, Facebook, Twitter, LinkedIn, and Pinterest.
Besides these tools, if you need more authenticity in your business growth, you can hire a freelance ghostwriter, a freelance social media expert, or a social media agency like RankUpper.
A social media agency or ghostwriter can help you manage your multiple social media handles, schedule your posts, publish them, and conduct research on analytics.
What to Post on Social Media for Small Business?
Every platform has its own audience. Not all content is shared, so social media post ideas must consider some facts. It's about finding the right place to determine where your targeted audience is most engaged and what to post on social media for business to get the best results. But how do you find your suitable social media platform? So there you'll find your answers.
Social Media Platforms & What to post
Facebook
---
Targeted Audience: 25-35 age group and 71% of users belong to the USA.
Sharing image sizes: 1200 x 630
Sharing video sizes: 16:9 or 1:1 and 240 minutes (max length).
Recommended caption size: 5 up to 50 characters
Industry impact: B2C
Mostly video and live streaming content,
UGC content,
Promote event or webinar posts
Sneak peeks
Product testimonials
Instagram
---
Targeted Audience: Gen Z & Millennials and 41% Instagrammers from the USA
Sharing image sizes: 1080 x 1080; 1080 x1920(Insta story)
Sharing Video sizes: 1080px wide.
Recommended caption size: 2 or 3 lines
Industry impact: B2C
Influencers' promotional posts
Memes or GIFs
Live streaming
UGC content
Inspiring messages
products' high-resolution photos or videos
YouTube
---
Targeted Audience: 15 to 35 age group
and 81% only belong to the USA.
Sharing video sizes: 1920 x 1080 (max res)and 12 hours (max. length)
Industry impact: both B2B and B2C
Product reviews
Product Description content
Travel, food, or daily life vlog
DIY video
Tutorial (product, Tech, cooking, Makeup)
Infographic video
Shopping Haul
LinkedIn
---
Targeted Audience: between 25 to 55 years age group and almost a third of adults from the USA.
Sharing image sizes: 350px wide
Recommended caption size: Not more than 600 characters.
Industry impact: B2B
Professional experience long content
Business financial or marketing-related news
Hiring job posts
Pinterest
---
Targeted Audience: 18 to 50 years old age group and 50% pinners from USA
Sharing image sizes: 440x 220
Sharing video sizes: 1:1 or 9:16 and 15 minutes (max length).
Recommended caption size: 100 to 200 characters
Industry impact: B2C
How-to-related
step-by-step guides
Tutorial,
Infographics
Snapchat
---
Targeted Audience: 18 to 34 years and 48% of USA snapchatters
Sharing image story sizes: 1080 x 1920 px
Sharing video story sizes: 1080 x 1920 and 60 seconds (maximum length).
Industry impact: B2B
Create a poll
Snapchat video reels
update coupons
Contests,
Behind-the-scene video
Fun tidbits
Twitter
---
Targeted Audience: 25 to 34 years age group and 23% of US adults.
Sharing image sizes: 1600 x 900 (max)
Recommended caption size: up to 280 characters.
Industry impact: B2C
Pop culture trends
Thought-provoking content
Offer discounts and coupons
Ask for feedback
Tiktok
---
Targeted Audience: Baby boomers, Gen Z, and about 80 million monthly US users.
Sharing video sizes: 1080 x 1920 standard res and 10 minutes (max length).
Recommended caption size: up to 300 characters
Industry impact: both B2B and B2C
Educative content
product campaigns
product demonstrations
tutorials
UGC content
Product review
Best-selling services
Announce a sale
Stock updates
Reddit
---
Targeted Audience: 20 to 30years age group and ⅔ of users from USA
Sharing image sizes: 1920 x 384 (max res.)
Industry impact: B2C
Blogpost
GIFs
AMAs
News
Ads
Q&As
Having the best social media content ideas for small businesses can take your brand to the next level. Hopefully, you'll get the best small business post ideas that expand your journey on social media, reliable and successful.
FAQ on Social Media Ideas for Small Businesses
What are the types of social media marketing?
Brand awareness can increase with the help of the most popular types of social media marketing. These are:
a) Photo Ads
b) Video Ads
c) Stories Ads
d) Messenger ads
What metrics should I measure in social media?
Social media metrics show how well social media strategy works. The most important metrics to pay attention to in social media:
a) Engagement impressions
b) The share of voice (SOV)
c) Referrals
d) Conversion and response rate
e) Reach
How do you attract customers on social media?
Social media is one of the most powerful marketing tools. Keep in mind that your leads or potential consumers will not come to you, so you must make an effort to attract them by:
a) Scheduling content
b) Quick response to their queries
c) Encouragement of social recommendations.
d) Host social media contests
e) Create funny video reels
f) Run an ad campaign
What are the most popular giveaways?
Giveaways are the oldest and most effective tool to market your brand, increase traffic, and grow your customer base. The most popular giveaways are:
a) Exclusive discount codes
b) A digital ticket to an event
c) Jewelry pieces
d) Branded T-shirt or sweatshirt
e) Stationery items(pen, notepad)
f) Promotional audio products.
g) Branded drink bottle
h) Promotional umbrellas
How do you get your customers involved and engaged?
Building customer engagement can be a crucial marketing strategy. Increasing customer engagement can be a key marketing tactic. To get customers involved and engaged through dedication, you have to meet their requirements properly. If customers feel valued, they tend to be your most engaged and loyal customers.
Conclusion
Social media is similar to a game where you want to win or lose depending on your strategy, but that choice is entirely up to you. Does everyone reach the peak of success? Probably most of them. However, keep in mind that you must capture a large audience by tossing out a metal hook just once because other new players are already waiting for the audience to be nabbed in their nets.
If you've got a small business or just started, figure out the issues and solve them as soon as possible. After your turn in this game, you don't have time to reflect. Take a dive after making a ground-breaking strategy that will surely take your small business to its zenith one day. Utilize the above-given social media marketing ideas for small businesses. Good luck!