SHOPIFY- the biggest and most popular e-commerce platform to create and grow a business. At present, over 1.59 million live websites use Shopify.
The popularity is decided not only by merchants' views but also by smooth user experience. Sellers can ensure uninterrupted product supply and make happy customers, all thanks to their product suppliers and store management.
If you have a website or looking to set up a Shopify store, product import is the 2nd factor to consider after setup.
In this article, we will cover different methods on how to import products to Shopify stores. So, let's get started.
What does import products mean on Shopify?
Product import on Shopify or any other platform means uploading product details considering the balance among demand, order, and inventory management.
You want to operate and generate revenue for your business, so you need a consistent supply flow. You balance the inventory every time the products have been sold out.
After you have received your products, you find there can be much information that has changed, such as price, material, or design. Then how can you let the potential buyer know about this?
Product import plays this role. When you import products in your store, you update every information, systematically upload those, and then your Shopify store adjusts these.
How Do You Import Products to Your Shopify Store?
Importing products into a Shopify store takes time (sometimes several days) to finish. To cut down that much time, there are 4 options.
A. Using CSV file
B. Store Importer app
C. Installing extension
D. Using migration app
Let's get to know these processes in detail.
A. Import Products to Shopify Via CSV File
Are you shifting your store to Shopify? Or do you want to upgrade/change your inventory? This is where a CSV file works best.
A CSV (Comma Separated Values) is a specially formatted spreadsheet file that divides the listed information by a comma.
In a CSV file, you can include many entities like products, customers, and inventory with other details, except for the product images (use image URL instead, up to 250).
Every platform that uses CSV files has its unique structure and guideline, and so does Shopify, which you will find in their importing and exporting section.
To promote products in a Shopify store, you have to make sure of the following requirements:
The CSV file must be in Shopify format.
The file size will be a maximum of 15 MB.
How to import a CSV file in Shopify?
Go to the Shopify admin section.
Then go to products.
Click Import and a panel will open up.
Choose file. It will lead you to the file directory. Go where your CSV file is.
Then, choose the file and click open. Then click upload.
You will see a product preview. Check it; if there's any mistake, then cancel the process and correct the main CSV file. Then start importing again.
If everything is all right, click start import.
Once the process is done, Shopify will send you a mail notification.
Note:
Keep extra CSV file copies as a backup while updating products.
If you already have CSV files from another platform, restructure it for Shopify so your importing process doesn't fail.
Avoid using CSV files to import products if you have a dropshipping app. Otherwise, you might face broken product links, inconsistent inventory, pricing mismatch, etc.
B. Import Products Through Store Importer App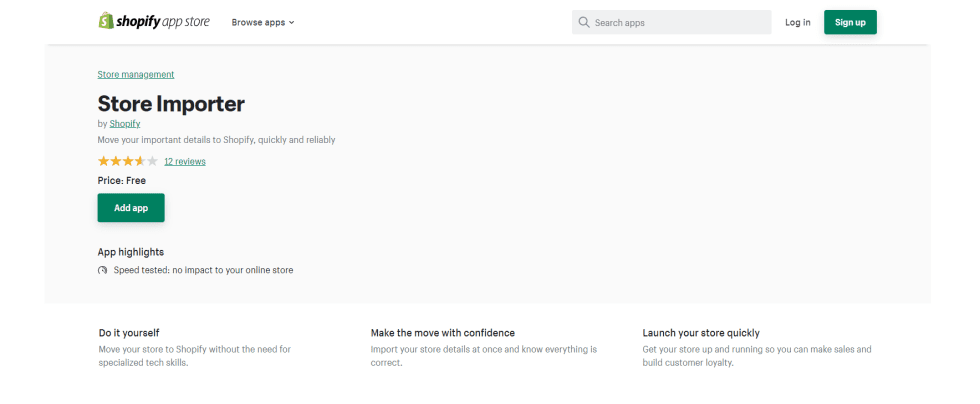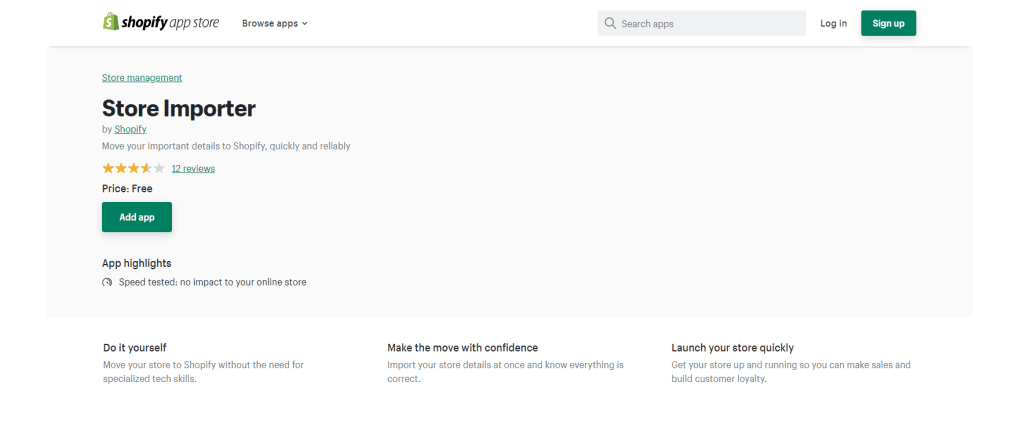 Store Importer is a Shopify app for free that allows migrating between Shopify stores or Shopify to other platforms (that the importer app supports).
You still need to use CSV files to import data through the importer app.
1. Import between 2 Shopify stores
If you are importing from one Shopify store to another, then you have to export the products, customers, and inventory data from the previous Shopify store to a CSV file. Then use the Store Importer app to import data to your new Shopify store.
2. Import from another platform to Shopify
If you are importing products from another platform to your Shopify store, export that platform's store data and organize those data in the Shopify formatted CSV file. Once done, use the importer app to import the CSV file to your Shopify store.
The Store Importer app supports the most popular and renowned platforms, including BigCommerce, WooCommerce, Etsy, Squarespace, Mailchimp, and many more.
How to import with the Store Importer in Shopify?
From the Shopify admin, go to the apps.
From there, go to the import store.
Then click the upload file option.
A panel will open up; click add file.
Then choose the file you will export.
Click continue import and then import.
Note: If your platform is some other than the mentioned ones, you can still use the importer app; for detailed guidelines, visit Shopify's help center. 
C. Use Extension to Extract product information
You can use extensions to extract product information from your Shopify store in CSV/Excel files. Extensions like Shopify Scraper and Shopify SHARK are built to fulfill that purpose.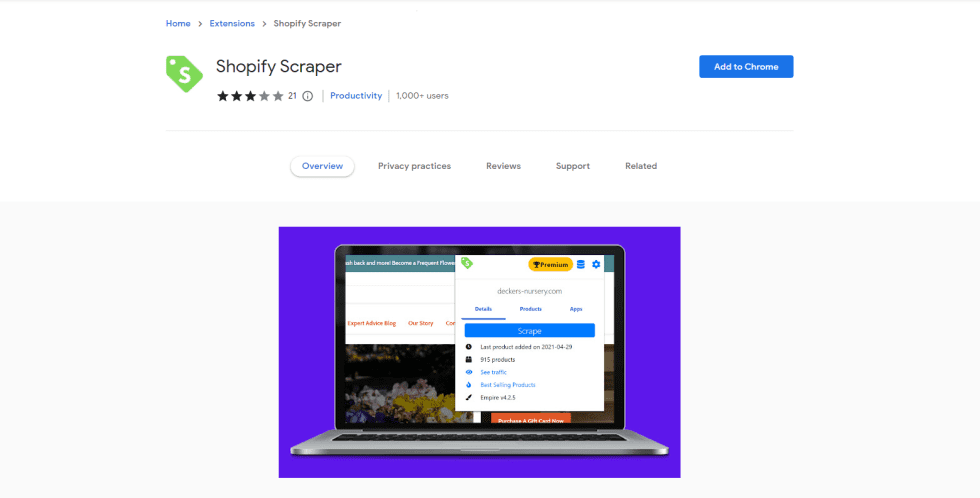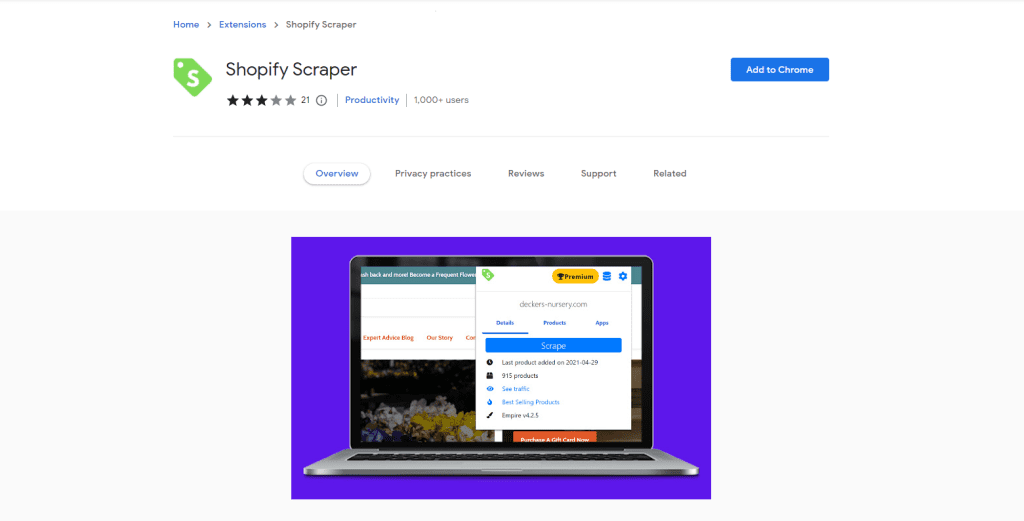 To describe how to use an extension to extract data from Shopify, we are using Shopify Scraper as an example.
Visit your store with chrome and click the extension icon of Spy Scraper.
Select your file type and preferred information to extract. To scrape all products, keep it default.
Then click scrape. You will see the real-time data transfer.
Once done, click the newly downloaded file to check.
D. Import Product to Shopify Store with Migration Platform
Are you planning to migrate your online store from another platform to Shopify completely? Then, consider the following factors for a smooth migration.
Protocol-independent assets. Allow removing specific protocols to your store assets all the time.
URL redirects. To avoid losing customers, create URL directories they bookmarked.
Customer passwords. Passwords remain encrypted; thus, customer accounts can't be migrated, only the records.
Blog posts and articles. Use the Shopify tool to migrate blogs, articles, and embedded images.
We are describing LitExtension here as an example.
1. LitExtension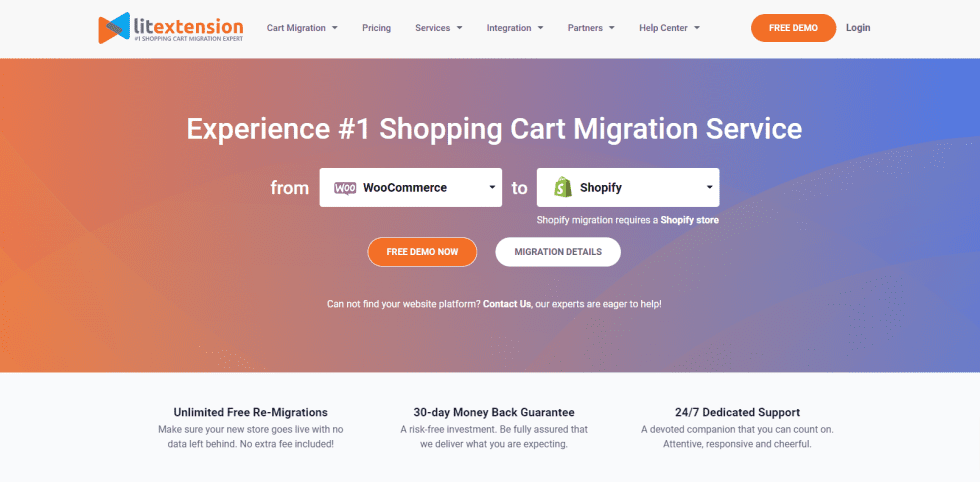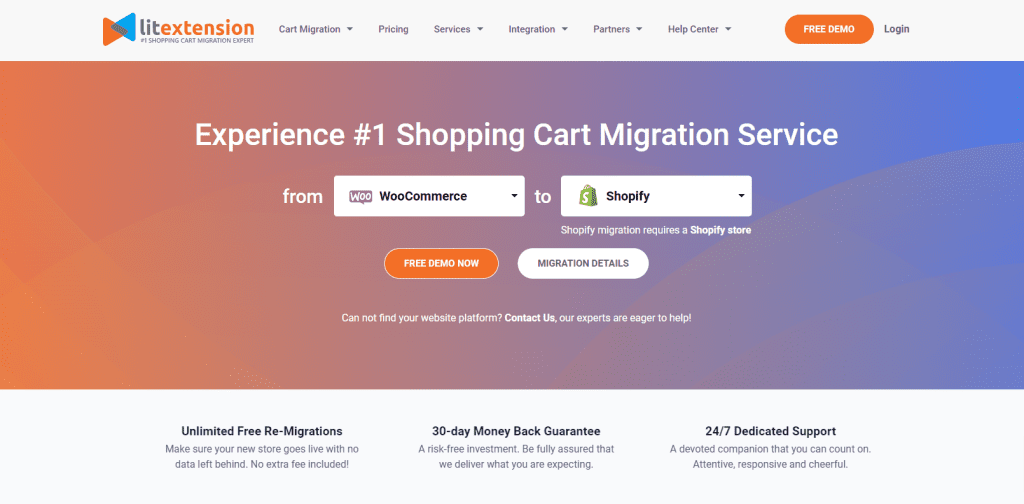 LitExtension helps accurate and automatic data transfer from one e-commerce store to another. It supports over 140 platforms. Therefore, you can import products from your Shopify store or any other store to your Shopify store.
How to import with LitExtension in Shopify?
Register to create your account.
Then, click create a new migration to start.
A panel requiring information will open up.
Select your source cart (from where you will import) and put the URL.
Then select the target cart (to your Shopify store) and paste the URL.
Click configure your migration to proceed next step.
Now, select the entities you want to import.
Now, you can click the free demo migration to check everything is okay. Or, tick the box and then click start full migration.
Once the process is complete, you will get a notification. So, closing the browser or shutting down the pc won't affect your product migrating process.
Note:
If your store isn't on their list, you can contact them to sort this out.
If your store is from an open-source cart, download LitExtension Connector. It links the cart database with the LitExtension app.
The migration process with LitExtension doesn't affect the old stores. So your old store will remain intact alongside your new store.
To maintain SEO and ranking, click create the 301 Redirects on your target store after the migration option.
Import Products from Another Website to Shopify
If you already have a website, then there are 3 ways to import products from there to your Shopify store.
A. Using a CSV file
B. Using saas tools
C. Using Extension
A. Through a CSV file
As mentioned above, just follow Shopify's CSV file structure and upload it to your store there.
B. Using SaaS tools
There are many SaaS tools you can use for seamless product importing.
1. Cart2Cart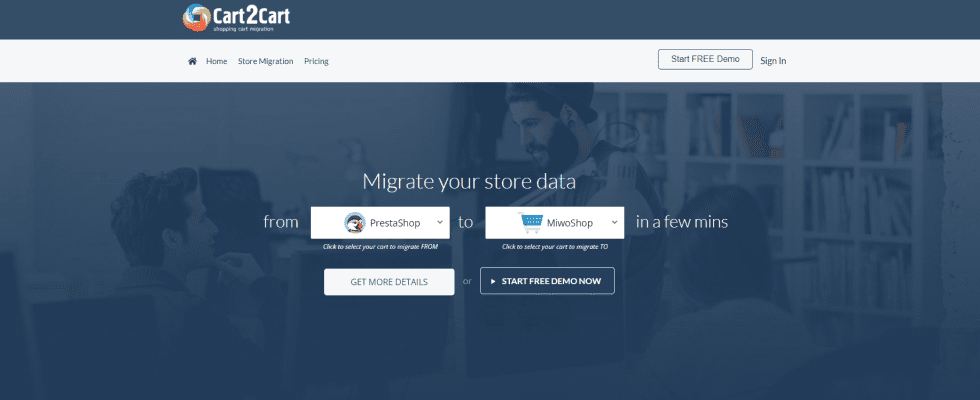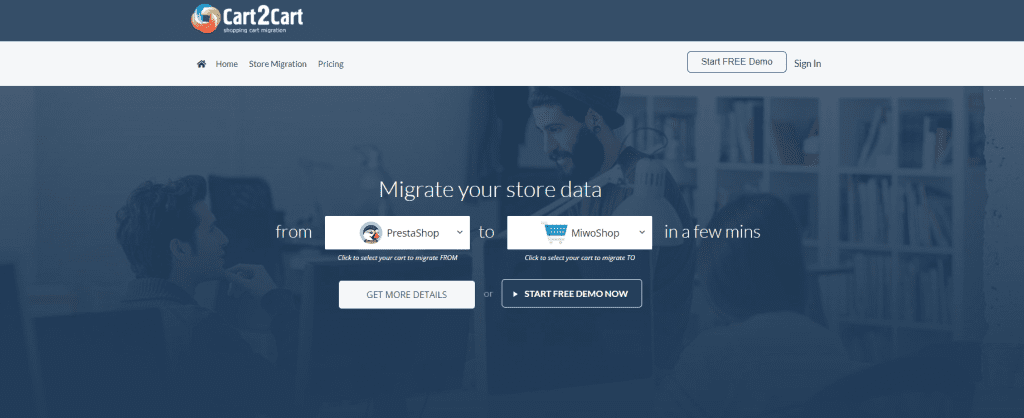 Cart2Cart is another seamless product migration platform. It allows easy migration of customers, product categories, and order-like data.
How to import with Cart2Cart in Shopify?
Install the app from the Shopify app store.
Select your current and new (Shopify) platforms and provide URLs.
Then, tick the option try migration using the Cart2Cart test store.
Once done, you can launch the demo migration results for free.
Then, launch full migration.
Note: While migrating, change your settings to move all data. It will transfer all the data to your new Shopify store. 
C. Using Extension
There are many extensions that are used to extract product information from your existing store (from any platform) and transfer it to the Shopify store. Such as Chrome Parsers, and Robo Product Importer.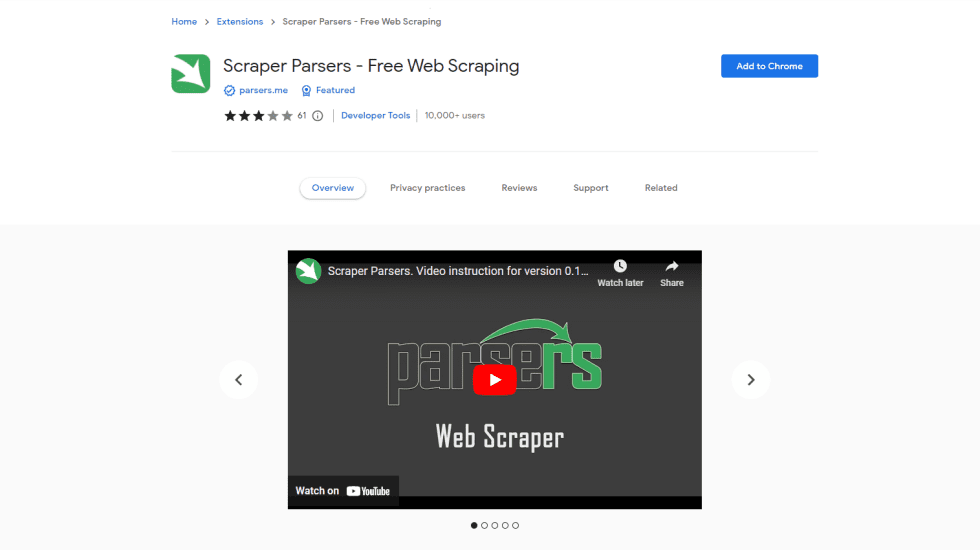 To elaborate on how to use the chrome extension to extract product information, here's an example of Chrome Parsers.
How to import with Chrome Parsers in Shopify?
Add the extension.
Open your required product pages. Then, open the Parser extension.
You will see the required field option; fill it in Shopify format. Click start.
The extraction process will begin. Then go to your account on Paresers.me website.
Then copy the link from the API field and add the value 'dataFormat = Shopify at the end.
That's the extracting process through Parsers. Now, to import products to your Shopify store
Download Persers app from Shopify.
Paste the copied link and click apply.
Then, click to run import to Shopify.
Reimporting Products from Shopify Store
You would likely re-import products for the following situations:
If you're re-organizing or restarting your products
There are some errors or other cases that need some amendments to the bulk amount of product information.
A CSV file is commonly used for re-importing products. You export the products into the CSV file and import them again to your store.
How to re-import in the Shopify store with a CSV file?
Go to Shopify admin, then products.
Then click on all products, and from there, click import.
A window will pop up; you will see import products by CSV file option. From there, click choose file.
From your computer, select the CSV file you updated and click open.
Enable the option to overwrite any current products that have the same handle. Then upload the file.
Note: The process won't affect the data that aren't present in the CSV file. Let's say you updated the CSV file with all product descriptions but 10. The reimporting will be finalized except for those 10 descriptions. 
Where to Get Services for Importing Products to Shopify Store?
If you are struggling with importing products to your Shopify store, you should hire an e-commerce expert. S/he will ensure a hassle-free working procedure for your store.
Hence, you can contact RankUpper Ecommerce Management Services. Enterprise-grade experts will directly work on your store to generate more traffic and increase sales. 


What Rankupper does for you:
Product research, import, listing
Inventory and store management
Creating banner/product images
Social media integrating & managing
In-detail excel sheet reporting, etc.
You can hire your virtual assistant who will ensure high-quality work and on-time delivery.
What is the cost of importing products on Shopify?
At Rankupper, we perform product importing in the following ways.
Simple Product Import
Variation Product Import
Manual Product Import
The pricing range is noted in detail below:
| | | | |
| --- | --- | --- | --- |
| Ways to Import | How We Do It | Number of Products | Pricing |
| Simple Product Import | Using Extension | 1-500 | $100 |
| Simple Product Import | Using Extension | 500-10,000 | $500 |
| Simple Product Import | Using Extension | 10,000-20,000 | $800 |
| Variation Product Import | Using Extension | 1-500 | $200 |
| Variation Product Import | Using Extension | 500-3,000 | $500 |
| Variation Product Import | Using Extension | 3,000-5,000 | $800 |
| Variation Product Import | Using Extension | 5,000-10,000 | $1,200 |
| Manual Product Import | Import products 1 by 1 | Per 100 | $40 |
FAQ on Import Products from Any Website to Shopify
What is a CSV file in Shopify? 
A CSV file is an excel file that separates items through commas. It is one of the product importing methods in a Shopify store. 
How long does it take to import products to Shopify? 
Importing products to a Shopify store takes a couple of minutes with a CSV file or other software. But the manual process takes time, even days in some cases. 
Can you download the CSV file from Shopify? 
Yes, Shopify has enabled to download of a sample product CSV file. Users can just paste their product details onto that. 
How to import competitors' products to your Shopify? 
You can just contact the manufacturer or the supplier. Then import it to your store in any of the ways mentioned earlier. 
Conclusion
Importing products directly or from any website to Shopify is an essential process for a Shopify store.
It takes skill and precaution for one to perform the job flawlessly; because slight differences will stop the import process.
Hope our guidelines will assist you in getting the job done without any hitch.
Even so, if you are doing this for the first time or still not getting used to the process, contact professionals for assistance and to avoid any problems.
Wishing you luck in your Shopify journey.