Online stores are on a roll. Shopify alone has umbrellaed 1.7 million merchants.
How do the Shopify store owners manage their stores? Well, they have an effective Shopify inventory management system installed for an organized workflow!
If you want a successful store there, run daily activities without trouble and ensure cash flow from time to timeㅡyour inventory management is the key.
On that note, this article is all about inventory management with Shopify. Its benefits, strategies, the 11 best Shopify inventory apps, and more.
Let's dive right in.
What is Inventory in Shopify?
The organizing and tracking system of product inventory or stock on a Shopify store is called inventory in Shopify.
A stock management system helps merchants to manage their items in-store from setting up to the sale.
It includes the whole process of collecting goods from manufacturers, stocking them to fulfill orders, and preparing them for selling. It can be any item, from raw products to finished ones.
What Does an Inventory Management System Do?
For the supply chain, inventory management is an essential part. After setting up the store in Shopify, inventory management integration should be your primary concern.
Strong inventory management leads to more organized business & seamless client service.
So, what does an inventory management system do for your online store are:
Tracks product in inventory: Track your inventory quantity, how many items are left, how many you should have in order to prevent stock out etc.
Handles client orders: It streamlines client handling. You can set custom prices, manage clients' orders, etc.
Continuous reporting: Check and review every transaction and make evaluations for the upcoming strategy.
Automate the whole process: Fast processing from purchasing from the manufacturer to selling to the consumers.
What are the Benefits of Shopify Inventory Management?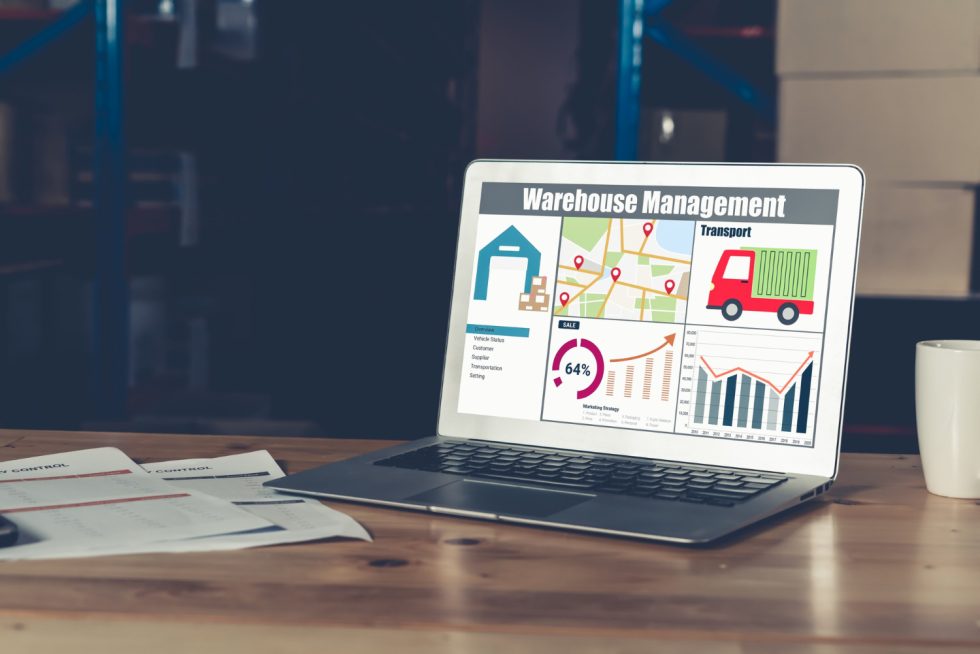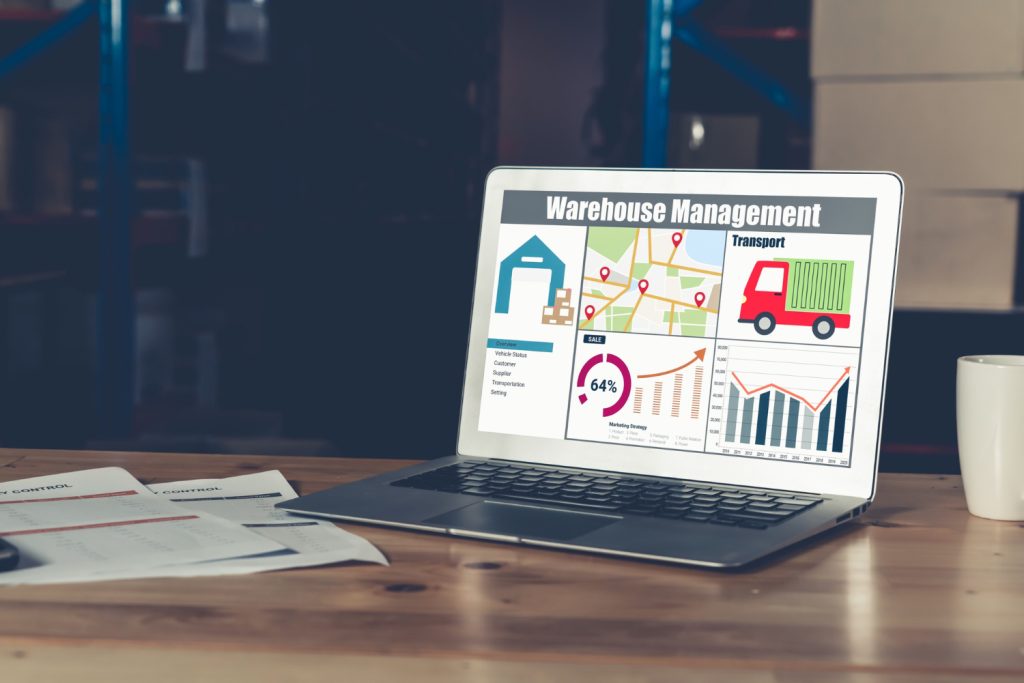 1. Prevents uncertain situation
Situations like overselling, backorder, and high demand but low supply- create dissatisfaction among the buyers and ruin the store's reputation. Here, a precise inventory management system of a Shopify store will help you avoid these occurrences.
2. Tracking and managing stock
Shopify inventory helps connect warehouses in different locations and track the latest situation of the stock. You don't have to overstock your items. You'll have a fair amount of items on your hand so that there won't be a stockout.
3. Reduces spoilage & dead stock
Goods that go bad after time or become out of fashion/season need to follow fast and systematic selling orders. Having an inventory management system can assist you in finishing the job effectively.
4. Sales across multiple channels
As your Shopify store grows, the number of stock and order placements will increase as well. If you are running the store on multiple channels, inventory management will unify all your processes from one source store.
5. Improves order fulfillment
Online inventory management allows you many options to choose from. You can have multiple centres for inventory distribution, which will reduce cost and accelerate customers' getting the product on time.
6. Business-specific benefits
Here're the business benefits that tag along with Shopify inventory integration.
Maximize productivity: Systematic stock saves time and reduces costs.
Organize stocks efficiently: Organized stocks propel speedy order fulfilments.
Increase profit amount: Seamless inventory turnover ensures more profits to come.
Ensure customer satisfaction: Customers get the products on time. No chance of mismatching.
13 Shopify Inventory Management Strategies to Follow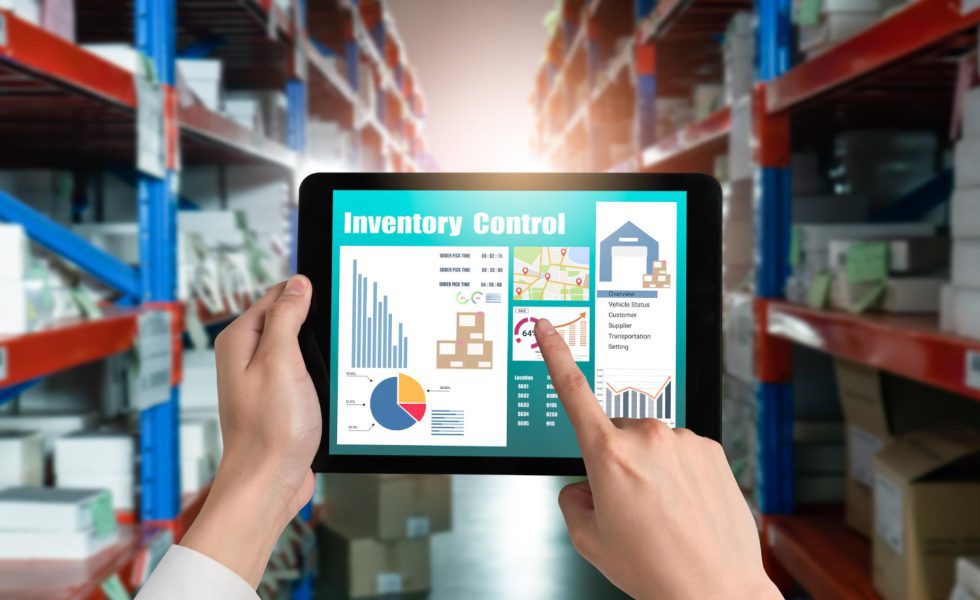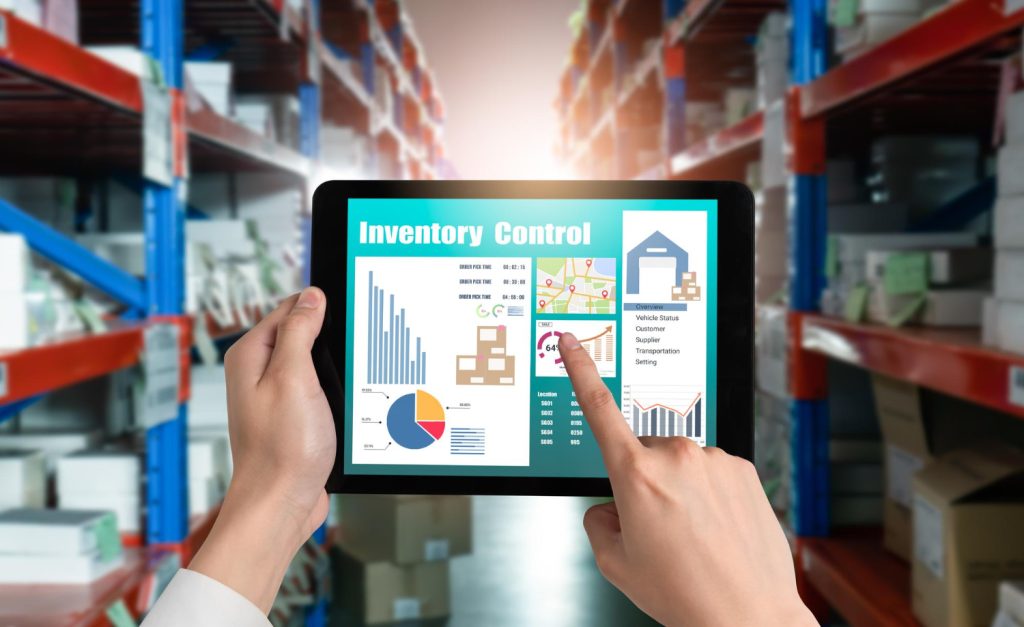 Accurate inventory ensures your store stays ahead while business and making satisfying clients. To make your store perform well without any hassle, let's take a look at the top 13 strategies that major Shopify brands choose to follow.
Strategy 1: Audit your inventory
REGULARLY check your Shopify inventory. It's easier to track products and get reports through the best inventory management software/app for the Shopify store. But you must make sure that the actual calculation matches up.
You can use stock alerts for any updates. This way, you will know the condition your inventory is in, how much adjustment you need, figure out any potential issues, and get the solution prepared ahead.
Strategy 2: Check and list down products
Your inventory might be full of products in different statuses like raw, partly done, finished, and ready to deliver. So, while checking, consider all those categories. It'll be easier to work every step of the way.
Also, be proactive with your data storage. Your store will have data like available SKUs, price, description, and inventory levels. If you have a Shopify inventory integration installed in your store, information will be automatically updated regardless of your sales channel.
Strategy 3: Have an organized order management
You will get orders placed from different locations. Not managing those properly will be troublesome at some point. Normally, buyers prefer interactive sellers and want to receive their products fast. So, focus on the ordering process by tracking the number of orders and order cancellation, discount price, shipping or delivery, and returning. This will lead you to more simplifying inventory.
Strategy 4: Get inventory managed by the Shopify app
There are many cloud-based software and apps available for Shopify and Shopify plus inventory management. Those integrate well with the store and offer effective solutions. They are easily accessible, offer real-time information across different warehouses, adjust the instant updates and ensure efficient working procedures.
Strategy 5: Use well-integrated & updated technology
There are some other technologies a Shopify store needs apart from your Shopify inventory tracking system, for example, POS systems. You installed a technology that isn't serving you as it was supposed to; it's going to cost you time and resources!
So, it's better to pay heed to them individually. Make ample research on them, and ask the other Shopify store owners; hopefully, you'll find a compatible system for your store.
Strategy 6: Be on good terms with suppliers
You may need to return items that aren't selling well, need urgent restock, or some other causes, so your ordering process from the suppliers might fluctuate. If your relationship with suppliers is a good one, they are likely to adapt.
It doesn't only mean behavior; it also means that you stay clear of your deal. Your inventory totally depends on your suppliers. Your harmonious relationship will benefit you long-term in different ways.
Strategy 7: Accurate sales prediction
By projecting your sales, you can have an inventory of just quantity. To do that, consider factors like yearly growth rate, last year's sales, number of sales from the existing clients, etc.
There's no surefire way to tell which prediction will come true. But such a prediction will help you from overstock or understock and come up with a good solution or figure out which way works best for you.
Strategy 8: Have a contingency plan
Sales spike, shortage of cash flow, storage shortage, sudden product supplying problem, stock miscalculation- issues like these can occur anytime. You might fall into dire trouble if you don't think these through.
Such a situation may not be prevented but can be handled. So, to be safe, have a plan B for your plan A. So, when any trouble pops up, you can always solve it smoothly.
Strategy 9: ABC analysis
A strategy to differentiate products from most valuable to least. Based on metrics like demand, cost, etc., the products are divided into these 3:
A. Contributes most to revenue.
B. Stays between A & C.
C. Doesn't matter much, might be sold at a discount.
Strategy 10: FIFO & LIFO
FIFO (First In First Out) is an effective strategy for products that may not last long. A product that has been 1st to purchase should be first disposed of. Here, 1st products will be sold first instead of the latest arrival.
In the LIFO (Last In First Out), the last buying products get sold first. This strategy goes well with non-damaging products. But this strategy is only used in the US.
Strategy 11: PAR Levels
PAR (Periodic Automatic Replacement) is an inventory system of having a minimum number of items at hand. This varies from product to product and over time. Implementing this strategy ensures fast decision-making and tracking of products.
Strategy 12: Six Sigma (6σ)
Every inventory undergoes product damage, theft, waste, or selling product at a low price- ultimately costing more to the store owners. Adopting the six sigma management technique will help you solve such cases, reduce defects and escalate inventory efficiency.
Strategy 13: Adopt inventory strategies that fit your business
These are some of the most used stock techniques you can check:
Just In Time (JIT). JIT is a strategy to keep the lowest amount of inventory yet manage to fulfill clients' orders. This method helps prevent dead stock, as there won't be bulk orders. But the purchase will be made as soon as any buyer orders for it.
Economic Order Quantity (EOQ). EOQ is known as Economic Purchase Quantity (EPQ). It's the process of ordering the ideal quantity of products to reduce the cost of ordering, receiving, and stocking. This process helps businesses to control overspending.
Minimum Order Quantity (MOQ). As the name explains, it's the minimum number of products a buyer has to purchase. Generally, products that cost more to manufacture have a small MOQ. Hence, this strategy suits the items that are low in price.
Safety Stock Inventory. It is the strategy of pre-storing additional goods to prevent stockout. This policy works more like Buffer Stock. For example- sales cross target or supply has unexpected delay; this strategy will cover for those.
Bulk Shipment. This is a strategy assuming that bulk buying and shipping are cost-effective. It is mainly suitable for products that have high demand when the seller is sure all the products will be sold but isn't a good option for unstable demand.
Cycle Counting. It's a method of calculating a certain quantity of stock at a specific time rather than counting the whole inventory. This technique is relatively easy to work with in inventory management software.
The 11 Best Inventory Management Apps for Shopify
If you are yet to pick a Shopify inventory management integration system for your online store, here's a list of 11 recommendations for you. The list is made through market research, compatibility and functionality.
The best 11 Shopify Inventory Management apps are:
1. Katana
2. Stock Sync
3. Back in Stock + Restock Alerts
4. Syncio Multi Store Sync
5. Veeqo ‑ Inventory & Shipping
6. Thrive by Shopventory
7. Stocky
8. Realtime Stock Sync & Bundling
9. Connected Inventory
10. Simple Purchase Orders
11. QuickBooks Online + Commerce
1. Katana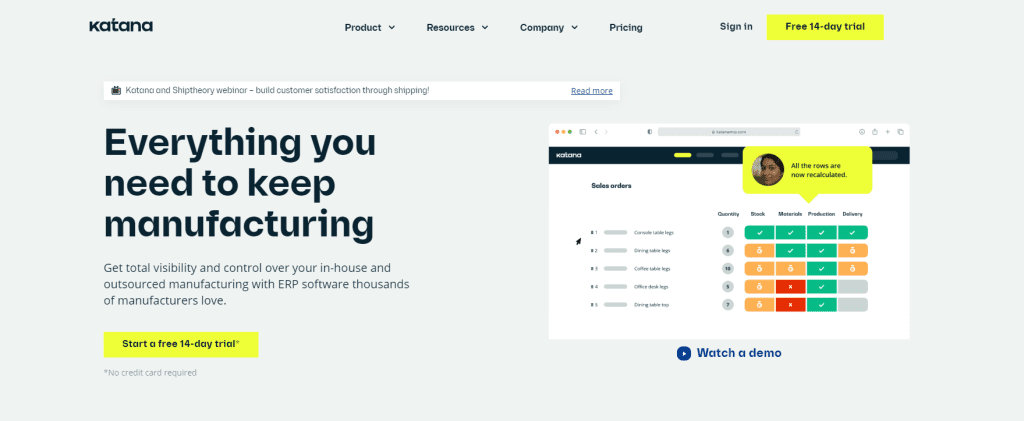 The 1st one on our list is Katana, a cloud-based manufacturing software. It receives sales orders in 2 ways- a. integration with e-com platform (here Shopify), b. including sales orders manually.
Developer: Katana Manufacturing ERP
It integrates with:
Native: Shopify, WooCommerce, Xero & more.
Third-party: Amazon, eBay, BigCommerce & so on.
Some of the Features are:
Live inventory management. It offers the latest stock status and immediately notifies if products run short or need restock. Also, you can check and control your product lots from different storages.
Omnichannel order management. It has a unified process under a common dashboard and integrates across various sales channels to streamline order fulfillment.
End-to-end traceability. It traces every move of your items. You track goods' condition, stay informed about the expiry date of your goods, locate warehouses, and more.
Purchase order management. Katana makes your raw goods purchasing easier. You can make purchases on time, track order receipt or delay reports, use different currencies, and so on.
Total shop floor control. It advances your floor-level working process. Monitor every move from creating, setting up, removing operators, time-tracking, distributing work orders, and more.
How much does the Katana inventory management app cost?


14-day free trial. It has 3 pricing packages- Essential ($99/month), Advanced ($299/month) & Professional ($799/month) with distinguished features.
| | |
| --- | --- |
| Pros | Cons |
| User-friendly & functional | Lacks backup |
| Can track batch products | |
| Responsive & clear process | |
2. Stock Sync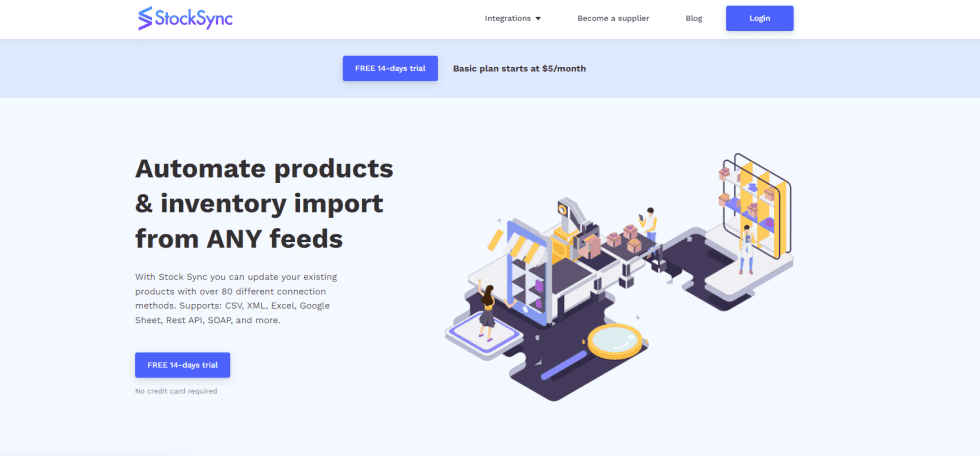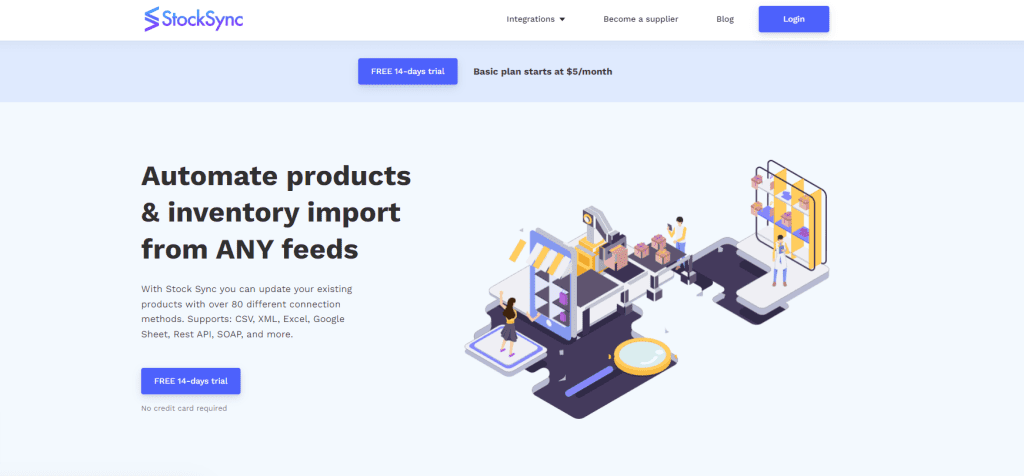 Stock Sync is a powerful stock management tool. It offers a centralized inventory solution. So, your inventory management for the Shopify store is in control and process by syncing with it. This app is available as a Saas. So, you can connect with the vendor's website and check their inventories.
Developer: Stock Sync
It integrates with:
Ecommerce: Shopify, Wix, BigCommerce, WooCommerce, etc.
Other: QuickBooks, Google Drive, One Drive, Email, FTP, Dropbox, and more.
Some of the Features are:
Supports all file formats. Stock Sync supports different file formats like XML, XLS, XLSX, CSV, EDI, HTML, .TXT and JSON. Also, it supports Walmart feed files, and compressed files like .gz, .zip, etc.
Adjustable product listing fees. It simplifies the process of setting up new feeds, including and excluding products. With the Stock Sync Credit, users can pay for the listing anytime and then list the items.
Automatic scheduling. This app syncs your stock level precisely. You can add and remove any products. And once you refresh the feed, it automatically updates.
Set own pricing. Stock Sync ensures you get the best value in exchange for your money. Here, you can customize the pricing as you want and set several pricing conditions for a single product.
Product Organizing. Arrange your store based on product category, description, sizes, cost and images. Including metadata, you can create a grouping.
No overselling. Following the quantity rules method, this app allows you to fixate specific numbers of sales so that you can avoid risking overselling.
How much does the Stock Sync inventory management app cost?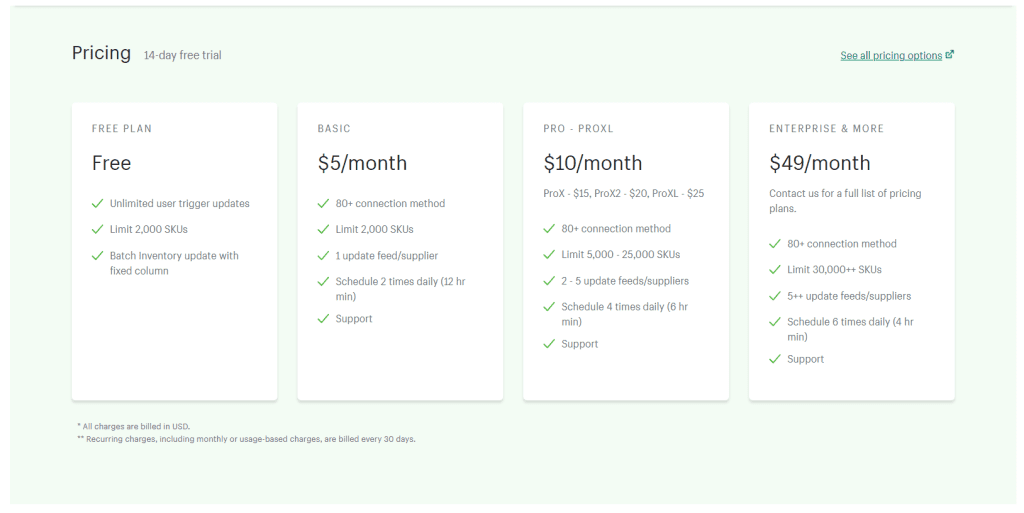 14-day free trial & free plan. The premium versions are offered in 3 categories- Basic ($5/month), Pro-proxl ($10/month) and Enterprise & more ($49/month).
| | |
| --- | --- |
| Pros | Cons |
| Fast & efficient | Integrating API & XML takes time |
| Offers many feeds & API | |
| Allows custom adjustment | |
3. Back In Stock + Restock Alerts


Back in stock+restock alerts app is pretty self-explanatory! It notifies the customers when the inventory is back in stock so that they can order fast and get their desired products in hand.
Developer: Restock Rocket
It integrates with – Shopify stores.
Some of the Features are:
Automatic notification to customers. No losing customers due to stock out. This app sends a purchase link through Email or SMS when your product is restocked.
Auto-sync with Shopify. Once you sync it with your Shopify store, it will automatically update all the information of your customers when they subscribe.
Supports all themes. This app supports all file formats. Without a hitch, it integrates with any theme that the merchants are using. Also, it doesn't require any coding.
Live preview complete customization. Users can exclusively design their own sign-up forms, email & SMS templates that include a brand's logo, buttons like 'Email me when available, 'Notify Me', and how the changes look
How much does the Restock Rocket inventory management app cost?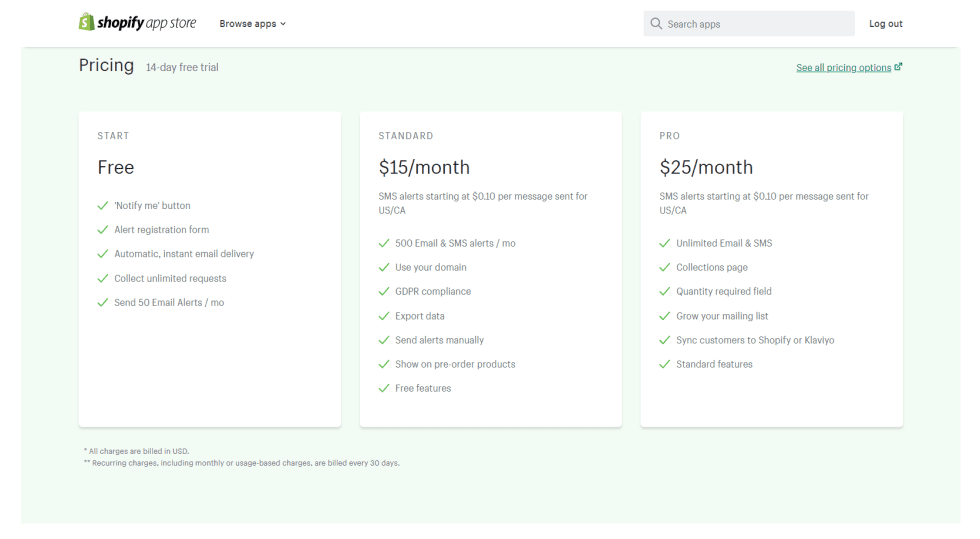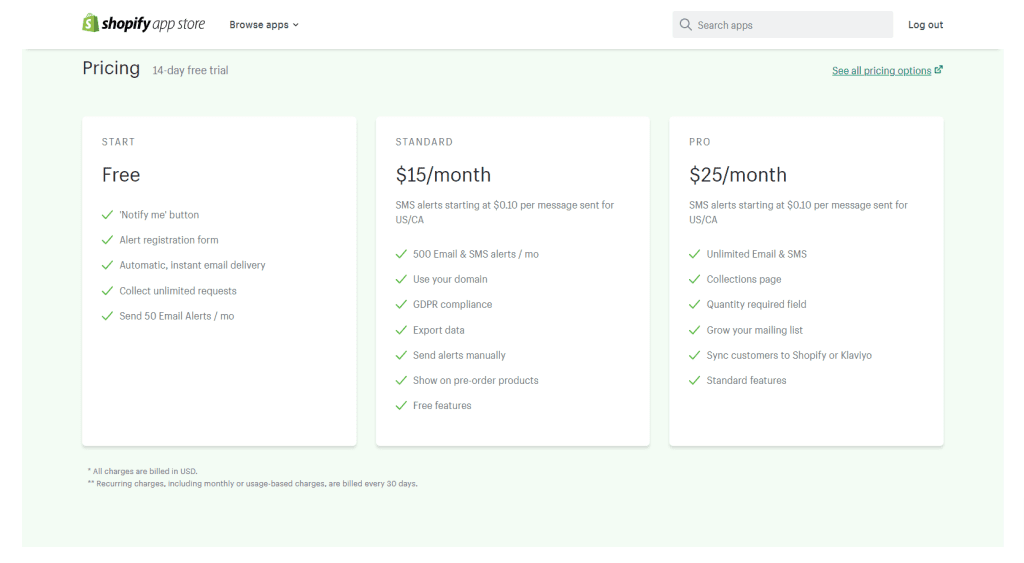 This app has a 14-day free trial option and includes the free version as well. The premium packages include 2 formats named- Standard ($15/month) and Pro ($25/month).
| | |
| --- | --- |
| Pros | Cons |
| Easy and simple user interface | Found no cons |
| Smooth process of working | |
| Seamless and satisfactory customer support | |
4. Syncio Multi Store Sync


This is another go-to app for your Shopify inventory. However, it works best with affiliate websites and dropshipping businesses. It connects the webstore owners with multiple websites at a time and constantly checks product inventory numbers.
Developer: Syncio
It integrates with – Shopify stores.
Some of the Features are:
Multi-store as a channel. This app allows you to get connected with a wide range of Shopify stores. The inventory gets connected across different Shopify stores in an organized way, with no overselling.
Product synchronization. Installing this inventory managing app allows you to update your product's status within minutes. Every variant gets updated based on product description, image, price tags, and more.
Inventory synchronization. This app connects you with different stores in approx real-time. It connects and updates the latest inventory situation within seconds and uploads a bulk amount of products within minutes.
Multi-inventory sync support. By installing this app, online store owners can synchronize their inventory locations with their product stock.
Order synchronization. This app unites your partner stores with the source stores. Also, when an order is made via other stores, it forwards back to the source store and ensures central fulfillment.
How much does the Syncio inventory management app cost?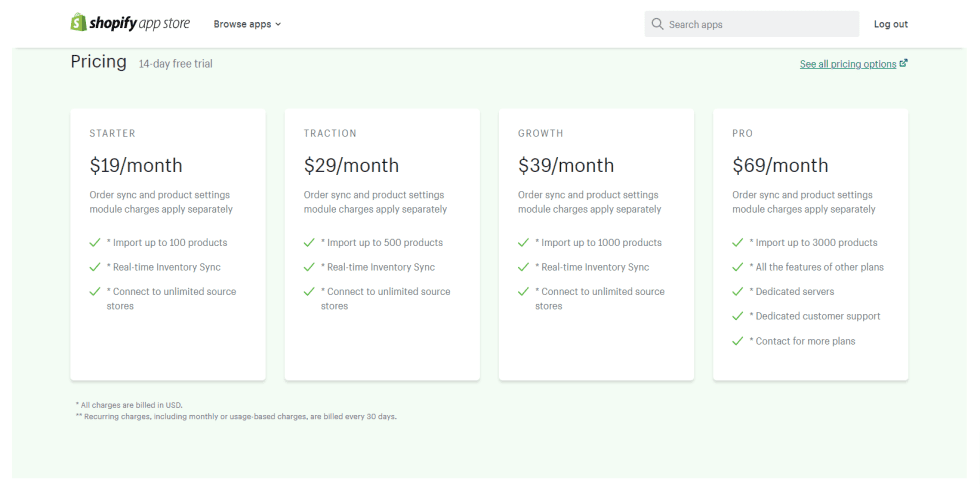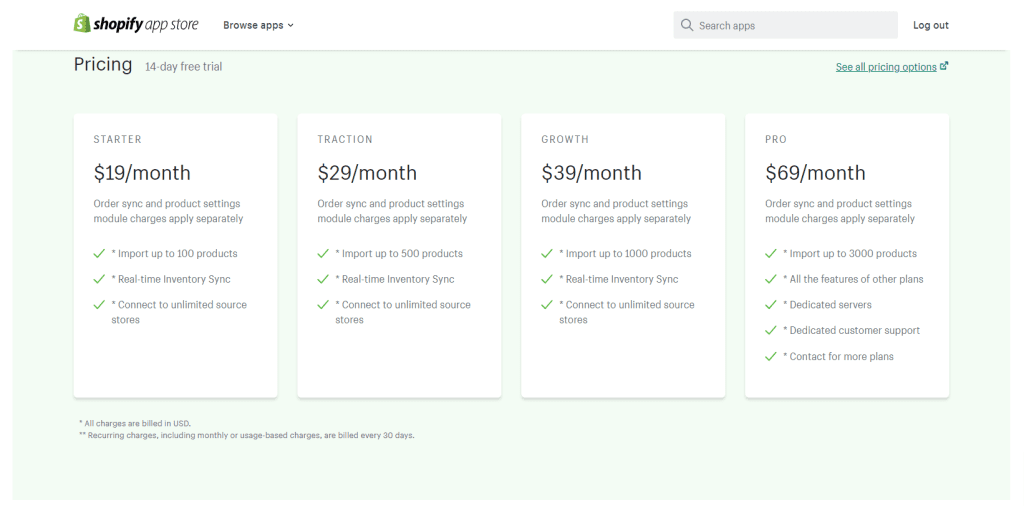 14-day free trial. There are 4 premium packages named: Starter ($19/month), Traction (&29/month), Growth ($39/month) and Pro ($69/month).
| | |
| --- | --- |
| Pros | Cons |
| Responsive & user-friendly | Stores coordination mismatching is reported |
| Offers fast customer service | |
| Works wonder for dropshipping | |
5. Veeqo ‑ Inventory & Shipping


Looking for one app for inventory on Shopify? Veeqo is equipped with different functionalities ready to assist your growth. Your inventory, number of orders, quick dispatch, multichannel reporting- this app syncs all to your store.
Developer: Veeqo
It integrates with:
Ecommerce: Shopify, Shopify plus
Marketplaces: Amazon, Etsy
Shipping: FedEx, DHL & many more
Some of the Features are:
Available with 30+ integrations. Veeqo has broadened up the opportunities for integration options for online store owners. It syncs with ecommerce platforms, marketplaces, Shipping platforms, 3rd party logistics, and more platforms.
Inventory management adjustment. This app connects your inventory in real time, no matter where your warehouse is or how many stores you have. From managing and adjusting stocks, refunding, stock audit & more- you are in control of your e-store.
Order management and WMS. By installing this app, you can merge your warehouse with other channels and ensure product dispatch from a single order source. So, when you get multiple orders, this will automate your workflow.
Shipping management. This app opens the option for you to enjoy international shipping features. Either you can choose the Veeqo shipping options or switch to your already-using shipping platform.
How much does the Veeqo inventory management app cost?


Veeqo is completely free of cost. To assist sellers with the best inventory support, it has made its feature accessible to everyone.
| | |
| --- | --- |
| Pros | Cons |
| Responsive & easy to use | Lack of flexibility is reported |
| Manages order fulfillment across different platform | |
| Synced channels have 2-way communication | |
6. Thrive by Shopventory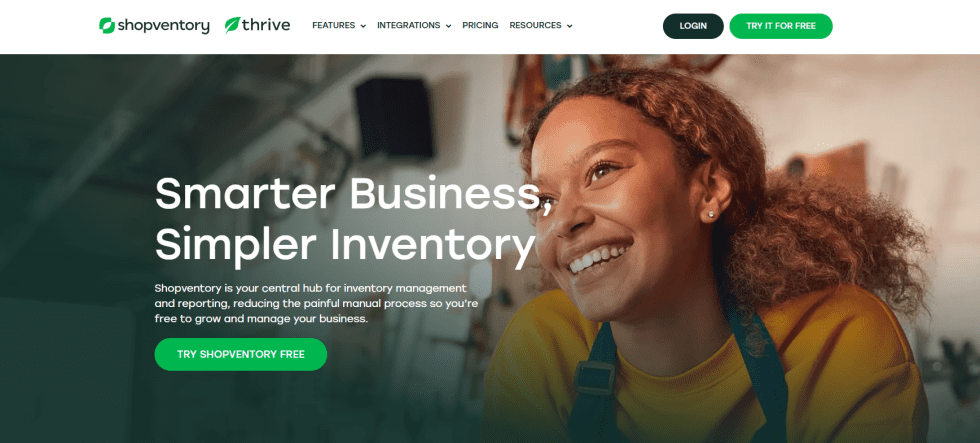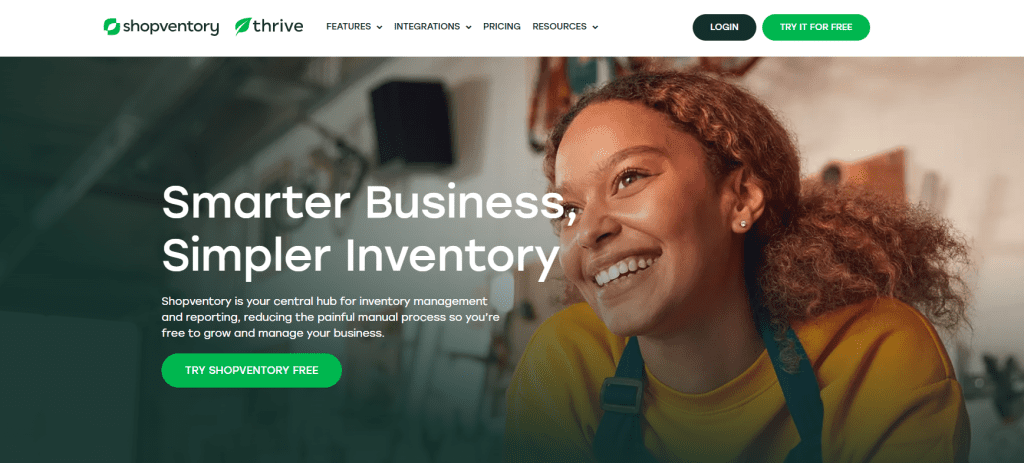 Here's another real-time app for managing your inventory in Shopify. It helps organize products as per description, images, pricing, assesses your inventory status, and many more. Also, you can build advanced-level reports with it.
Developer: Shopventory Inc
It integrates with:
Shopify, BigCommerce, Point of Sale (POS), Clover, Square, Paypal Here, Quickbooks, Amazon Alexa etc.
Some of the Features are:
A 360° View of your Business by Location. This app offers a streamlined inventory management system. For your ecommerce store in multiple locations, you get centralized information on inventory and reporting.
Systematize and optimize workflows. This app seamlessly connects you with different platforms. Thus, all the data remain in one place. This saves your time and cuts the cost of additional functions.
Informative reporting by location and channel. This app has made reporting specified. Shopify store owners get in-detail reporting of inventory, sales, profit, vendor sales, dead inventory, and a custom reporting system.
Automate purchase orders. By syncing this app with your online store, you can create a location-specific purchase order, inventory more trans, have a moderate stock amount always, and many more.
Direct invoices to customers. This app has an easy ordering and payment system. You can customize orders, receive payments, and keep a record of inventory and orders that isn't linked with your Shopify website or POS system.
How much does the Thrive by Shopventory inventory management app cost?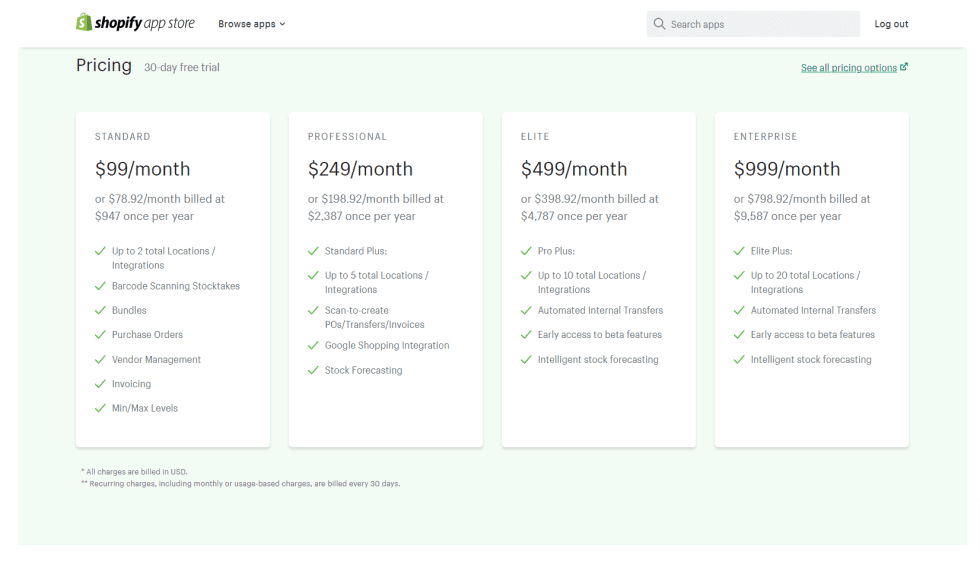 It includes a 30-day free trial. The premium options are offered in 4 sectors: Standard ($99/month), Professional ($249/month), Elite ($499/month) and Enterprise ($999/month).
| | |
| --- | --- |
| Pros | Cons |
| Simple and intuitive | Syncing issues have been reported |
| Responds immediately | |
| Manages inventory across multiple platforms | |
7. Stocky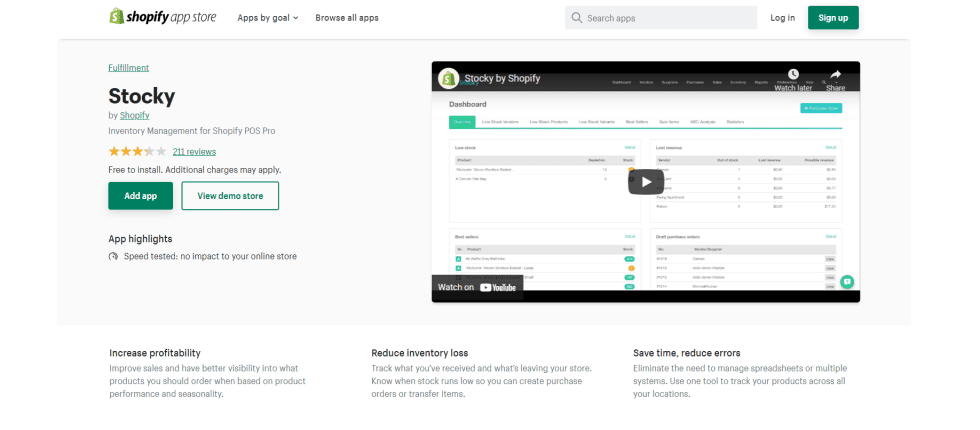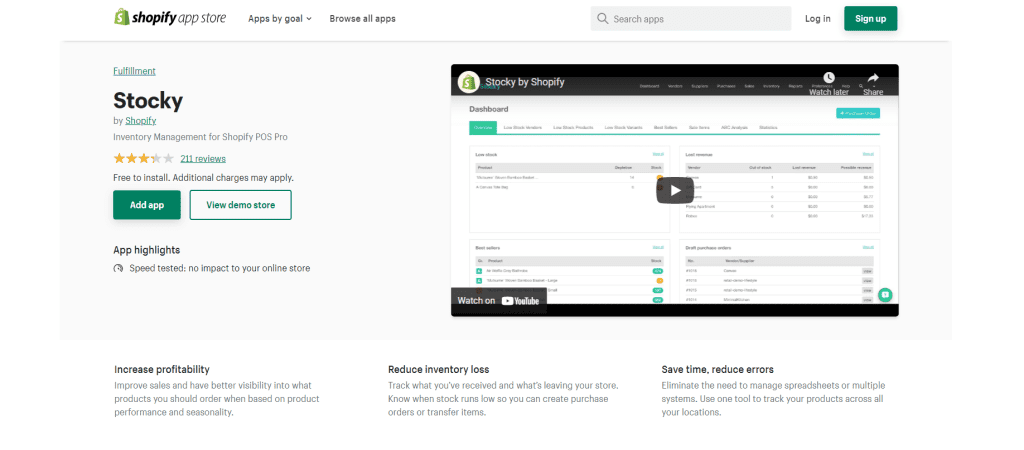 This is another best inventory app for Shopify, built by Shopify. It offers top-of-the-line inventory solutions and precise analytics to help decide and optimize inventory strategy to maximize profit.
Developer: Shopify
It integrates with – Shopify POS Pro.
Some of the Features are:
Purchase orders. The stock has unified the purchasing process. All purchases can be made and managed under one dashboard. Also, users can maintain effective communication with their suppliers and vendors.
Demand forecasting. It helps you track sales rates, so you know which products are selling the most. Also, based on such information, you get an advanced recommendation.
Allow staff access. Got a team? You can allow your team to receive inventory accurately. Just by using a barcode scanner, they can perform their job fast, and you can manage everything from a single place.
Stock transfer. Restock your products in Shopify or Shopify POS. You can transfer those even though you need to change location.
Stocktakes. Need information on your stocktakes across different warehouses? Your staff can do that by just scanning the barcode on each product.
Analytics & insights. Making a decision for your business based on inventory is easy. You can get an in-detail report of when the inventory is running short, best-selling products, SKU reports, ABC analysis, and many more.
How much does the Stocky inventory management app cost?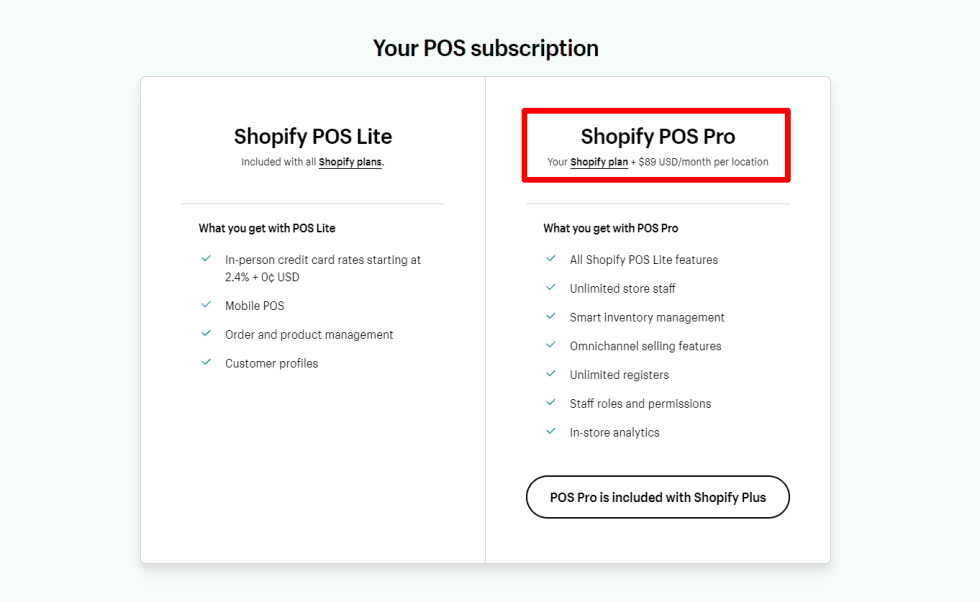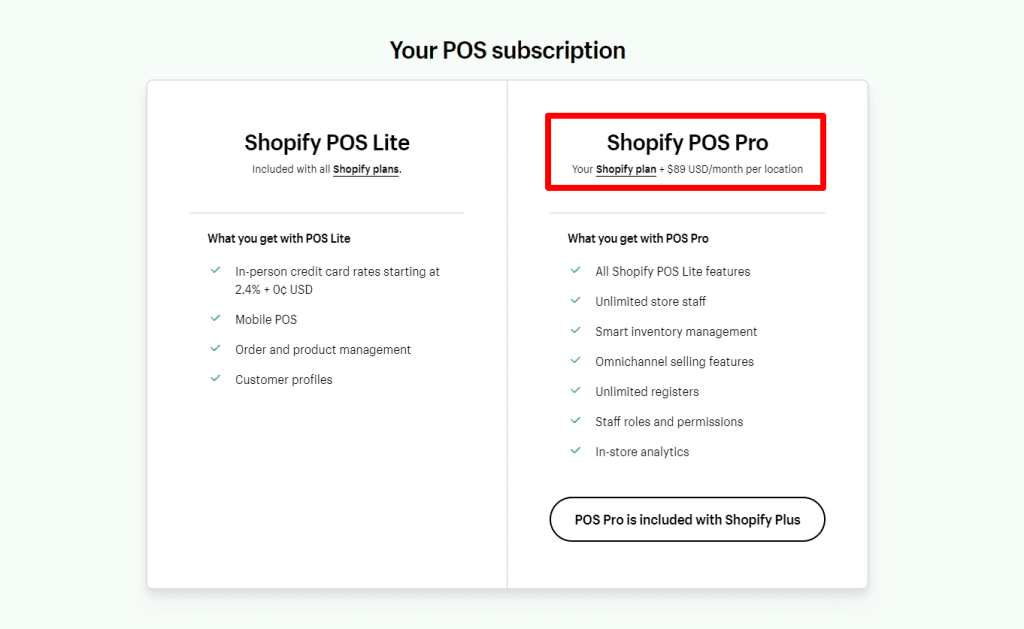 It's free of cost to use. However, with the Shopify POS, it has 2 premium packages: Shopify POS Lite and Shopify POS Pro ($89/month).
| | |
| --- | --- |
| Pros | Cons |
| Easy ordering process | Lacks some forecasting tools |
| Inventory transferring | |
| In-depth analytical reports | |
8. Realtime Stock Sync & Bundling


This Shopify SKU management is cloud-based. It allows product listing and managing by connecting with multiple selling channels. It provides real-time SKU-based inventory updates.
Developer: Trunk
It integrates with – Shopify, Amazon, WooCommerce, eBay, Etsy, Quickbooks, Square, Squarespace, etc.
Some of the Features are:
Expand your business. It made business expansion easier and complied well with any business. Now users can get connected with numerous platforms and with an unlimited number of sales channels.
Automate inventory and prevent oversell. Once you configure this software with your store, it will real-time update the inventory every time any changes occur. It syncs and tracks the stock perfectly, with no chance of overselling.
Get synchronized quickly. When you connect multiple sales channels, it will create a centralized inventory and continue to monitor and manage. Items having similar SKU will be synced, and any new adjustments will be updated.
Seamless sync and adjustment. It allows the creation of powerful configurations. You can build bundles and kits that are connected in real-time. So, any change in inventory will run through other packs and components, making them change as well.
How much does the Trunk inventory management app cost?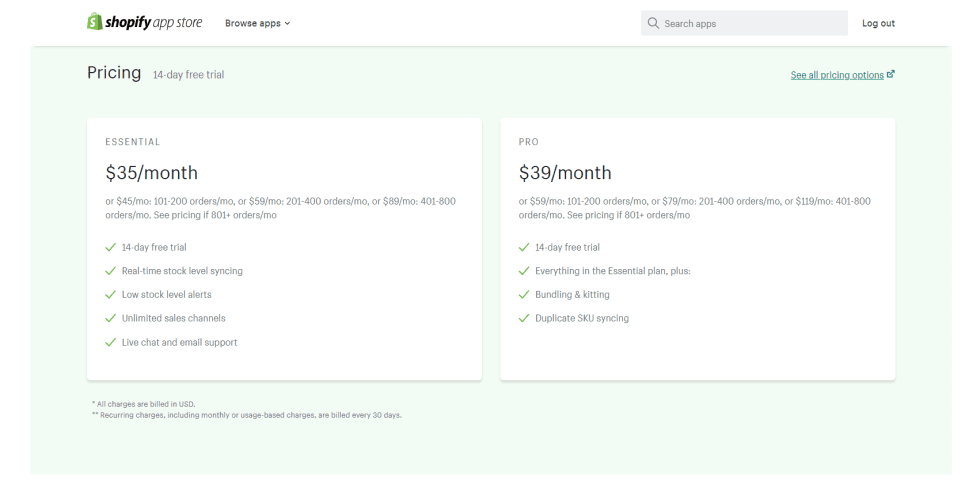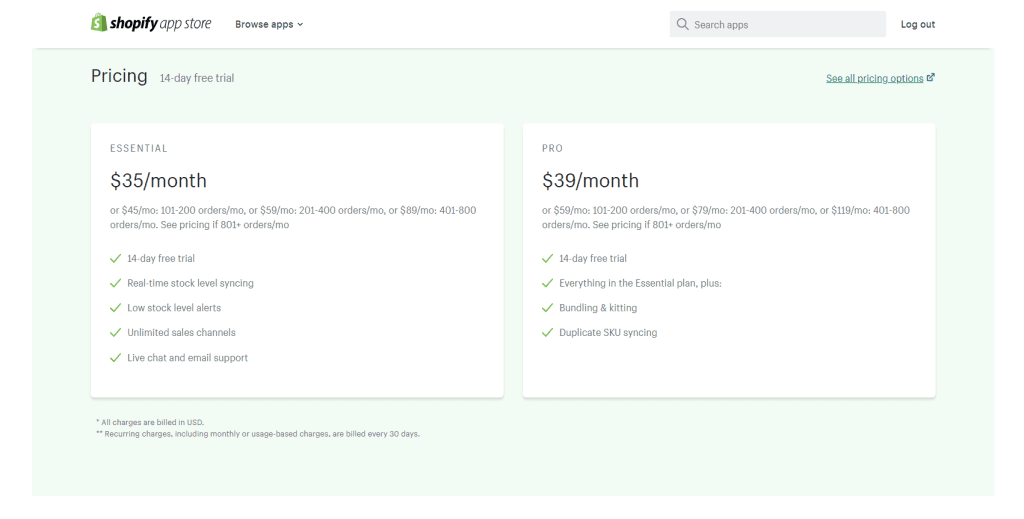 14-day free trial. The premium packages include Essential ($35/month) and Pro ($39/month).
| | |
| --- | --- |
| Pros | Cons |
| User-friendly and easy to set up | Lacking some features is reported |
| Syncs duplicate SKUs with variation | |
| Connects with different sales channels | |
9. Connected Inventory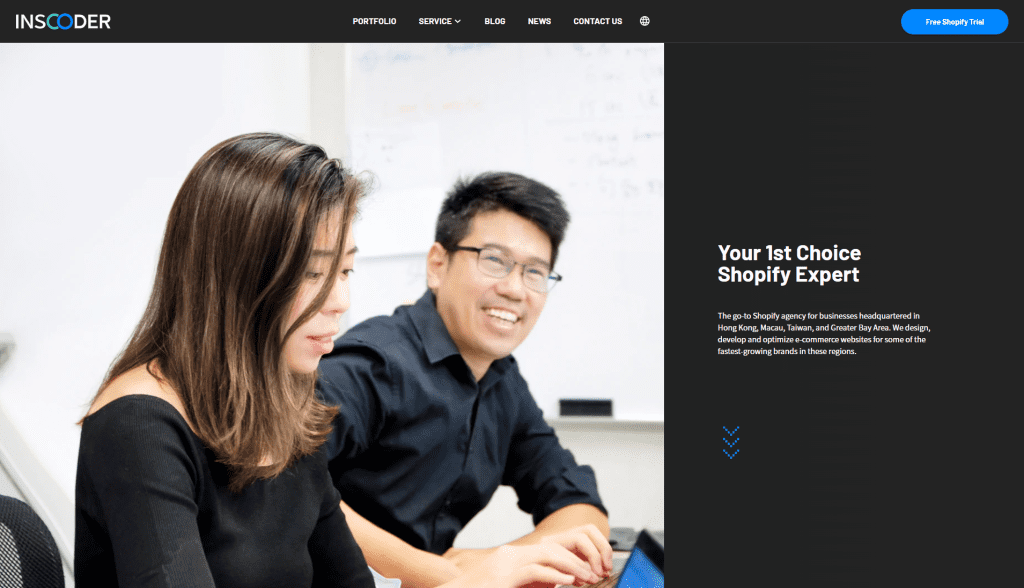 Connect Inventory analyzes and manages the inventory. It allows editing and adjusting the bulk amount of items, making the selling process in bundle easier. It syncs well with goods along with their variants.
Developer: InsCoder Limited
It integrates with – Shopify stores.
Some of the Features are:
Tracks inventory. This app allows product collection depending on the same SKU. Thus admins can change similar items in the group. Also, it tracks your inventory adjustments and copies all the changes made to the inventory.
Create a manual or smart connected group. In the manual connected group, you choose specific products; they remain the same unless you make any changes. In a Smart connected group, groups are formed through the SKU, and the app automatically creates it.
Bundle selling. If selling products in the bundle is more convenient for you, this is your platform. Instead of selling single products, you can make a set of relevant products and sell those in a bundle.
Bulk editing. It allows website store management from multiple locations. Admins have access to make any adjustments to the inventory, even if it consists of large quantities.
Best suited for. It is known best to work for selling tickets, unisex clothing or variants, and spaces having the same base quantity.
How much does the InsCoder inventory management app cost?


7-day free trial. The only premium pack costs $9.99/month.
| | |
| --- | --- |
| Pros | Cons |
| Easy to configure and use | Inconsistent syncing is reported |
| Track, sync, and link inventory | |
| Manages bulk amount of items | |
10. Simple Purchase Orders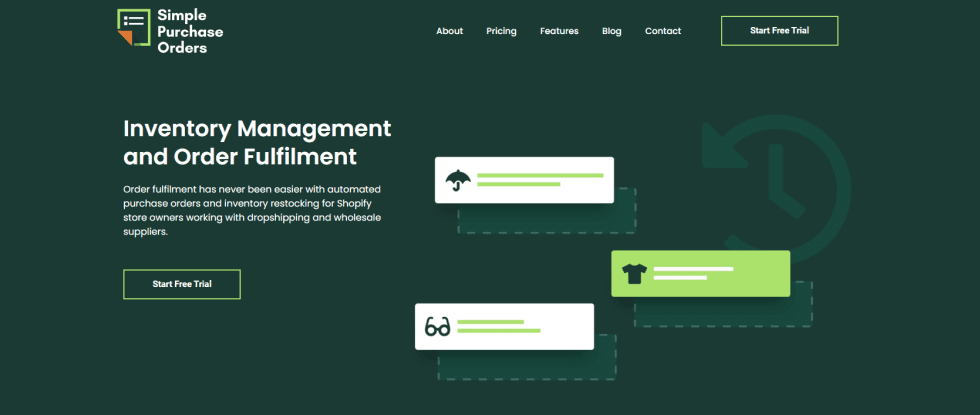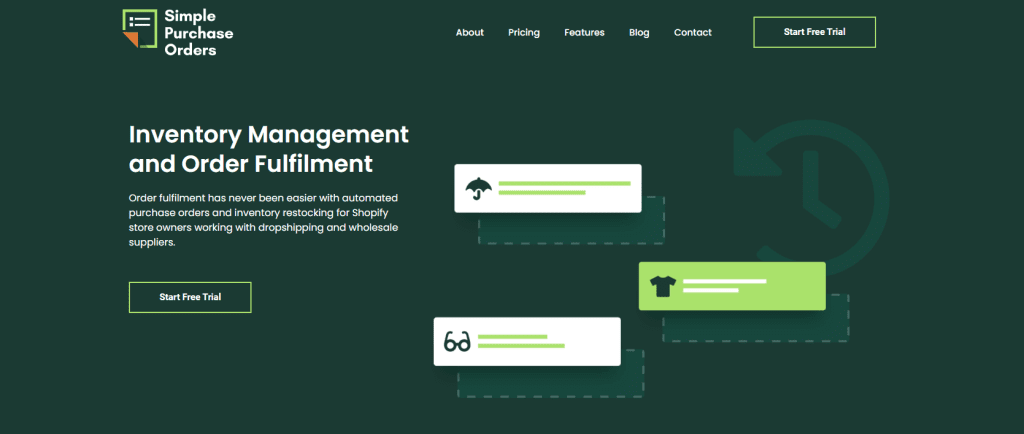 This is another cloud-based inventory management software for Shopify. What's special about it is it tracks purchase orders. You can create purchase orders, set suppliers, and import & reorder goods.
Developer: Simple Purchase Orders
It integrates with – Shopify stores.
Some of the Features are:
Create a custom PO. You can generate purchase orders with the logo within minutes. You can directly forward the orders to the supplier or split them automatically, send pdf through email, and more.
Automate order fulfillment. Once the order is paid, this app will automatically generate a purchase order and packing slip (upon necessary). Then it'll send those to the suppliers.
Reordering and transferring. It has made the inventory management process easier. Once your suppliers send you the items, you update them on your inventory with just a click, even if those are from different locations.
Customize your purchase orders. By installing this app, you can bring professionalism to your ordersㅡ and add thanks message, signature, extra rows, tax, notes, and more.
Easy setup. With this app installed, receiving the purchase order and ordering products has been easier. All you have to do is to fill up the supplier's information cost of the items. Also, you can bulk import products with it.
How much does the Simple Purchase Orders inventory management app cost?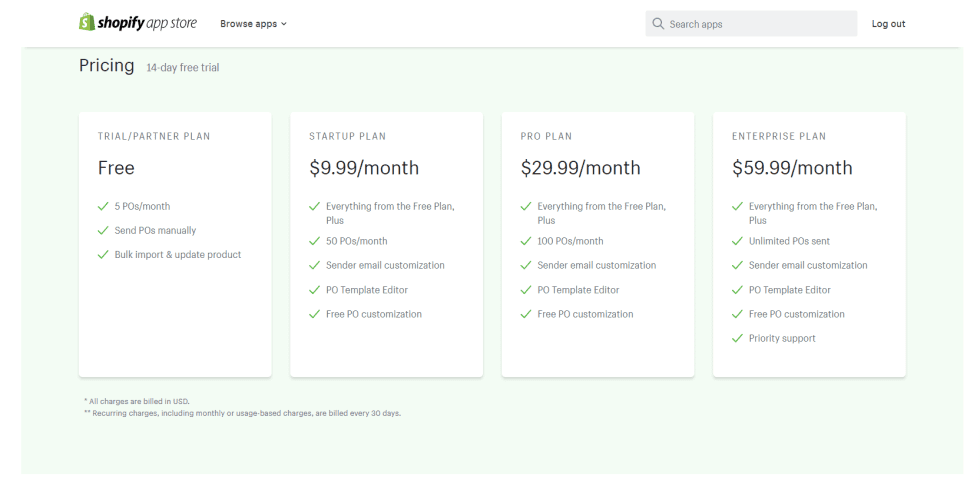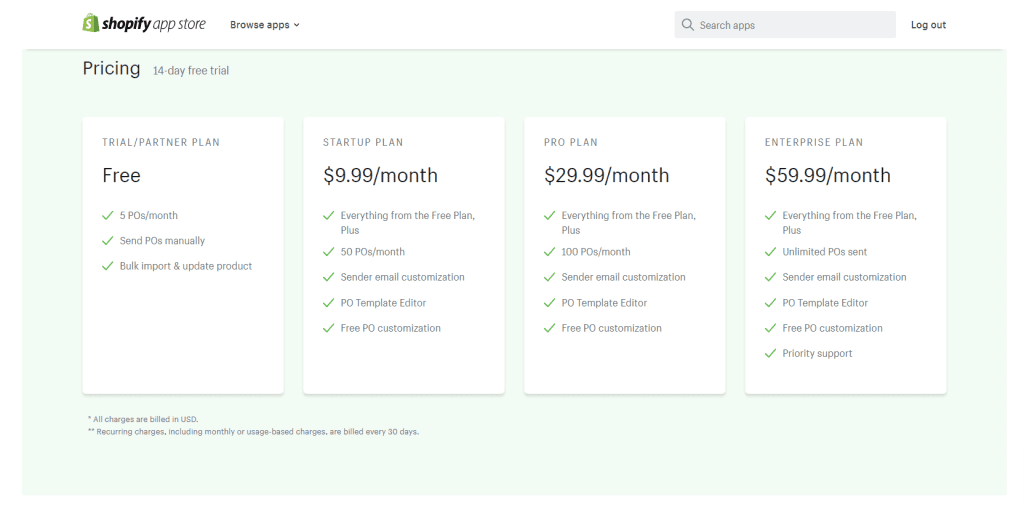 It has a 14-day free trial. The free plan is known as the Trial or Partner Plan. The premium plans are divided into 3 categories Startup Plan ($9.99/month), Pro Plan ($29.99/month), and Enterprise Plan ($59.99/month).
| | |
| --- | --- |
| Pros | Cons |
| Very intuitive | Slowers client response is reported |
| Handle purchase orders | |
| Tracks inventory restocking | |
11. QuickBooks Online + Commerce


This one is the last one to take a position in our Shopify inventory app. This inventory management system offers plenty of inventory features. However, it is a strong accounting tool and has yielded positive reviews from small businesses.
Developer: Intuit
It integrates with – Amazon Business Purchases, Shopify for QuickBooks, SOS Inventory, Ecommerce Sync by Webgility, BigTime, and more. Also, it connects with over 650 business apps.
Some of the Features are:
Precise calculation of your business. Quickbooks online has the accounting options available for Shopify store owners. You can track how much income you generate and how much cost you are having during a certain period.
Organizing order system. Managing orders in the queue, how much your inventory can support- you can track all these at once without worrying much about cross-referencing. Time saved!
Inventory integration. By installing this app, you can integrate with different sales channels and list your product there. It won't affect the sales channel you are already using; rather, it opens the door for multi-channel sales.
How much does the Intuit inventory management app cost?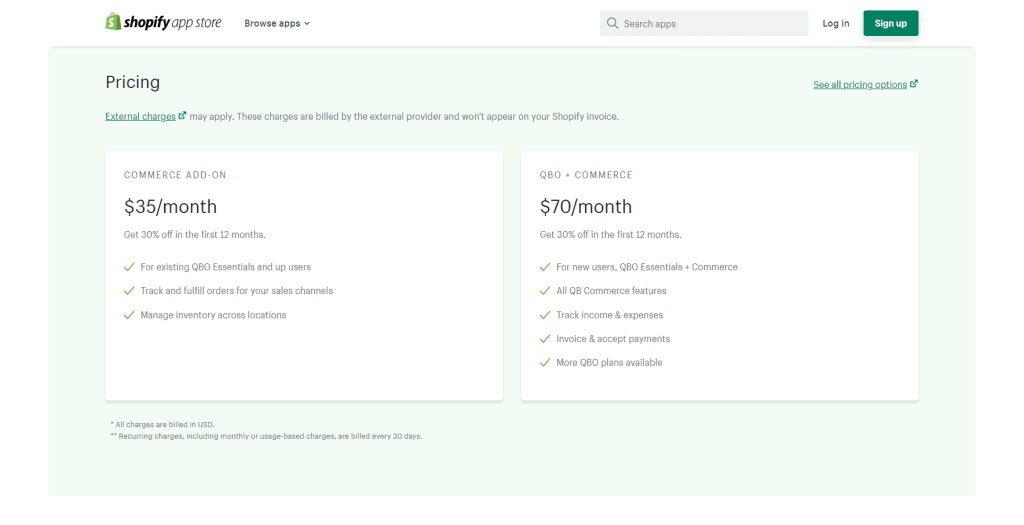 Quickbooks premium options are available in Commerce Add-on ($35/month) and QBO+Commerce ($70/month).
| | |
| --- | --- |
| Pros | Cons |
| User-friendly and navigational | Lacks barcode scanning |
| Easy setup of native integration | |
| Tracks every changes inside the store | |
Final Thought
Every app we mentioned offers a set of perks that comply well with Shopify stores. But it's wise to do your math.
Before choosing a Shopify inventory management app, make sure to check reviews, integration, facilities, and package pricing.
Hope you find the most compatible app for your Shopify store and run it in full swing. Good luck with your businessing there!