While running an e-commerce store, which part of work feels satisfactory? It is getting an order, which translates to a confirmed sale.
To make a sale confirmation and ensure no return, an online store owner has to have a 360-view of order management.
If you are a Shopify store owner looking for detail on the Shopify Order Management system, you are at the right place.
In this article, we will discuss,
Importance of order management for e-commerce
How the Shopify order system works
7 best apps to use for order management
where to get Shopify to order fulfillment service, and many more.
So without further ado, let's dive in.
What Is Shopify Order Management System?
In simple terms, Shopify Order Management System (OMS) is the managing process of Shopify store orders.
To elaborate, Shopify Order Management System is the process of tracking customers' orders, inventory, and order fulfillment of a Shopify store that starts from buyers' ordering and lasts till the after-delivery services.
Store owners use Shopify order management apps or tools for tracking orders. With this system, Shopify store owners can collect customers' data.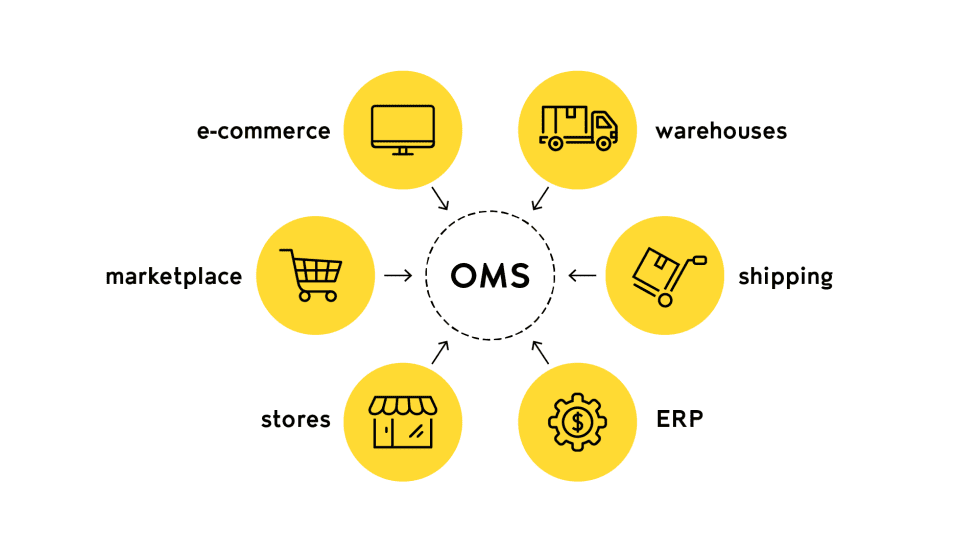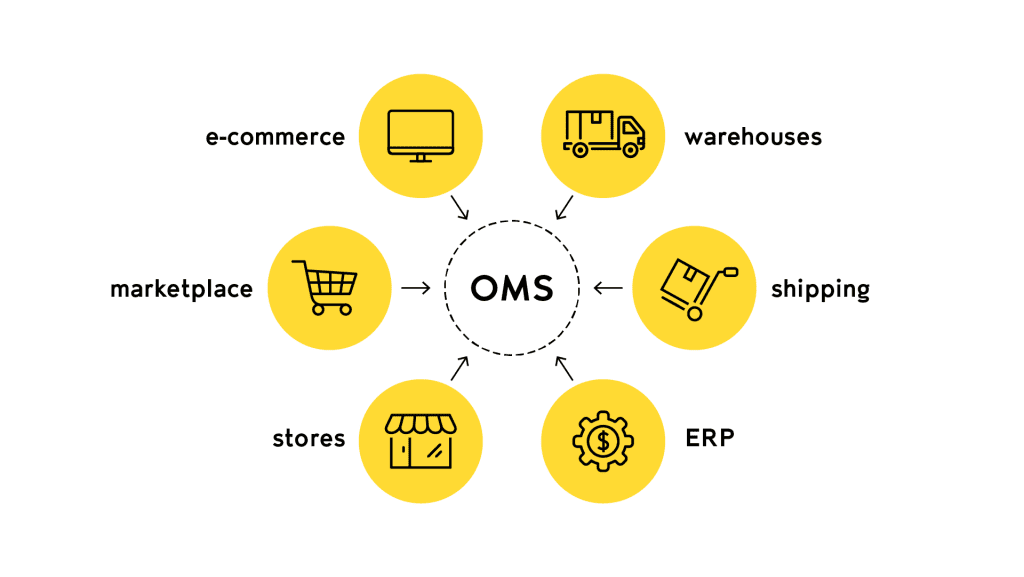 Why Is Order Management System (OMS) for E-commerce Important?
An Order Management System (OMS) is important for e-commerce because it allows businesses to efficiently and accurately manage their orders from start to finish, including order processing, inventory management, shipping, and tracking. OMS helps to streamline operations, reduce errors, improve customer satisfaction, and increase sales.
An e-commerce OMS is essential for generating successful sales. The importance of e-commerce OMS is noted below.
Orders Tracking
It is the first and foremost duty of an OMS. For e-commerce, one ordering issue can cause severe mismanagement. So, order fulfillment needs close supervision to prevent occurring that situation. OMS keeps records of every order-related information an eCommerce users need to process and fulfill an order, payment, delivery, etc.
Inventory Management
You can have better control over your inventory management with OMS. It keeps your inventory level in check continuously. So, when there is an order fulfillment in the process, and you need an inventory check, your OMS works as the bridge.
Multi-Channel Ecommerce Support
OMS enables e-commerce store owners to do business in different locations worldwide, no matter where the store's origin is. It accumulates information from sources like online, points of sale, in-store, etc. This information helps e-commerce work on multi-channel sales.
Automation Process
OMS is a fast and efficient process of managing orders. It automates the manual process, such as push orders, receiving payments, shipping, informing suppliers, or Third-Party Logistics (3PL) about order information, etc. These processes being automatic helps save time, speed up work, and minimize errors.
Data Synchronization
E-commerce store owners have to organize and manage data of inventory, sales, etc., frequently, which is repetitive in most cases. An order management system gets across all information and synchronizes those to use as needed. Users can check those data and statistics clearly and prepare for the next action.
Conversion Rate Improvement
OMS aids in increasing e-commerce conversion rates. You can administer the store seamlessly from both the front end and the back end. You can manage and run your business smoothly, resulting in boosting more website traffic.
Customers' Trust Retention
Customers become happy when they receive their ordered products without hassle. E-commerce store owners who can hold onto that can manage to create a loyal customer base. As statistic says that e-commerce stores get 28.2% of repeat customers on average.
Does Shopify Do Order Management?
Traditional order management system offers extensive and robust support and solution from inventory to delivery, a complete order fulfillment service. It automatically and systematically updates orders, sales, inventory, & customer information, analyzes reports, and much more.
Shopify does order management work, but less elaborate than the available order management systems.
Shopify manages orders in its own way. The Shopify OMS feature allows store owners to track inventory & orders, check data, report & analytics, and access customer information. 
Shopify OMS suits newly launched online stores that don't need to keep tabs on their business (i.e., multiple sales channel stores). To track and manage orders, Shopify has a separate system. The system allows merchants to see customers' orders, print labels, dispatch information, etc.
How Do Orders Work on Shopify?
When any customer purchases something from your Shopify store, you receive an email notification of the product order. At the same time, the new order is shown on the Shopify Orders Page. If you receive orders from channels other than Shopify, you can manually create orders at Shopify admin.
What Does a Shopify Order Management System Do?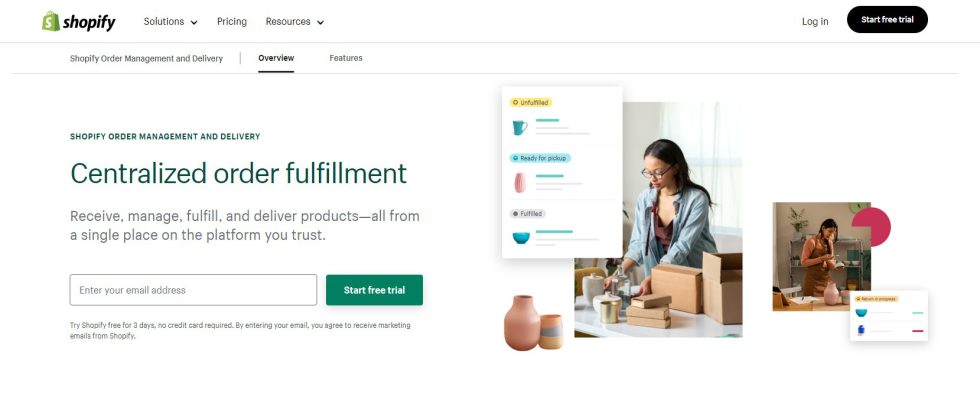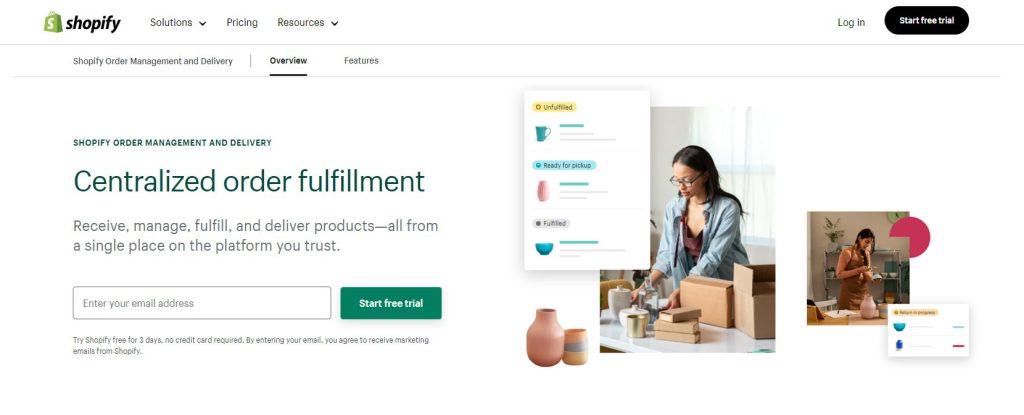 An OMS for Shopify doesn't only manage the order; rather it eases the store's performance and functionality. Having a Shopify order management system for your Shopify store streamlines the order and the purchasing process in a systematic way. So that you get much time growing your business.
Here are what a Shopify Order Management System does for your store.
Track Inventory Levels by Channel
With your Shopify store, you can reach customers through various channels. And when you receive orders from them, keeping up with the inventory will be challenging as you have to track stock volume, supply procedures, fulfillment methods, etc.
An integrated OMS system keeps track of the inventory, best-selling SKUs restocking requirements for your e-commerce sales channels and updates that information in real time. This helps reduce errors like overselling, and customers can know the availability of their preferred products.
Automate the Order Process
With OMS integrated with your Shopify store can advance with orders from a wide range of points of sale. The system automates your ordering process resulting in saving time.
Such as, when your store receives an order, the OMS system automates the process of merging it with your warehouse, transferring the order information to distributors or 3PL (third-party logistics) for order fulfillment, printing the shipping labels, proceeding with the payment procedures no matter where the shipping destination is, sending email confirmation, etc.
Manage Order Logistics
Logistics is the process of an order being received, processed, shipped, and delivered to the customers. The fast and accuracy in this stage is a must to retain customer satisfaction in the long run. The less hassle the logistic process is, the more customers are inclined to shop from there, and you can reduce product return rates.
Having order management integrated with your Shopify store, you can complete the whole process in the shortest possible time. In case of mistakes, you can take charge of the situation by offering customer service ASAP.
Manage Store & Customer Data
OMS system has access to your store from the front end to the back end and informs you of the best-selling products and selling prospects. You learn all the details of the order and related materials that are necessary to run your store and manage your customers.
It also informs you about customers- previous orders, products that never got returned, customer's location, etc. which impacts forming the next marketing plan. So, you get insights both about your store and customers assisting you to take further deciding the next plan about your inventory and sale.
Merge Order and Financial Data
Shopify OMS has the ability to merge orders coming through different platforms and combine the financial data that occur on a daily basis with the month-end data. It integrates with software that keeps track of your account and collects financial information on your pay, receives, and profits from purchases.
It also informs you about customers- previous orders, products that never got returned, customer's location, etc. which impacts forming the next marketing plan. So, you get insights both about your store and customers, assisting you to take further deciding the next plan about your inventory and sale.
Manage Shopify Order Status
When your Shopify store is getting orders, you need to sort those out; differentiate those orders from one another. Like which one is pending or yet to be fulfilled, which one has been processed, which orders are in their shipping process, and which orders are fulfilled.
The ordering process has its recurring way of hassles. But what can be done is making the process smooth. A Shopify order management system helps you understand which stage your orders are in, making the ordering process simpler and easier for you.
Keep Orders Organized
Order management systems are precise in keeping track of every order that your stores get, be it peak hour, off-peak hour, or holidays. Shopify's order management system systematizes the order details across different platforms. For example, if you integrate an omnichannel OMS with your Shopify store, you are to receive orders from multiple channels and keep those organized.
A vital benefit is that by reaching targeted customers of different platforms, this system scales up your business sales. However, this doesn't affect your regular activities. Rather all order fulfillment processes are done through the centralized store.
Manage and Edit Shopify Orders
While running an e-commerce store, every merchant wants to make the order workflow manageable and fulfilled on time. If you are running a Shopify store, Shopify OMS is the solution for them to manage and track the orders you get in the store.
It allows not only freedom to both store owners and customers. For example, OMS allows you to edit the order information and let customers edit, cancel or reorder. Such flexibility doesn't affect the reporting.
How to Manage Orders on Shopify? Pro Tips Over Shopify OMS
Here is how you can manage orders and perform different tasks on your Shopify store.
View your Shopify order
To check orders in your Shopify store, follow this.
Go to Shopify admin, then click Order.
You will see the orders are queuing serially.
View an order detail
To go view any particular order details, follow this.
From your order page, click on any particular order.
At the order's Timeline, you can add or remove notes, tags, comments, set emojis, attach files, and like products, orders, etc. You can also print, refund, edit orders, duplicate, archive, cancel and view the order status page as well.
Attach internal notes
Click the 3 dots (…) button, then Add a note.
Input your order note and click Save.
Attach a tag
Click Add tag from the order details page.
Input a tag name. As you type, Shopify will suggest you some. Click the one that matches your tag.
Then click Done.
Note: You can communicate with staff in the Timeline, and this works both ways. All the communication will remain within your store, and customers can't see it.
Edit shipping details
You can edit the shipping address as per order requirements. Here's how you can do that.
From your Shopify order page, go to the Shipping Address section.
Click Edit. Then input the customer information such as

First name, last name
Shipping details
Phone number and email, etc.

Click Save. The new information will be updated.
Check Shopify order currency
Generally, the order currency is shown in your store currency at Shopify admin, even if you are selling products in a different currency. But you can preview the order in your customer's currency.
Go to the payment section from the order details page.
Then click View order in customers' currency.
Check Shopify order payments
When you receive the payment from an order, you can see the info details in the timeline section.
From the Timeline section, click payment event.
To view details, click Information from the gateway.
Contacting a customer
You can contact customers directly from your Shopify store anytime Edit the contact details as well. Here's how you can contact a customer.
From the Orders page, click the order number of the customer whom you want to contact.
Then go to the Contact section. Click the email address.
You will see the Contact Customer dialogue box. Input your message.
You can send a mail copy to yourself/ the store owner by clicking the box beside the address.
Click Review email.
Click Send notification.
Or click Back to edit.
Note: From iPhone & Android, tap the order of the customer from the Orders page. Then tap the customer's name to see profile details. In the Contact section, you will see the icon for email, phone, and message; select the one you need. 
Resend an email
From the order Timeline, click Resend email of the mail you want to send.
Then go to Resend order confirmation. And click Send.
Push notification & badge activation
With the Shopify app, you can activate the push notification and Shopify app option to get order alerts of orders and the number of orders.
From your Shopify app, tap Store.
Then, tap Settings; from there App settings.
You will see the Notification.
Then tap Orders, and tap the Push notification toggle button to activate it.
Once it is done, then enable the Badge app icon.
Note: Ensure the notifications are activated in the main settings as well. 
Preview order status page
When a customer completes his/her checkout, they get an URL of the order status page. From this page, they can check the status of orders and shipments in real-time, re-order, subscribe to Shopify, contact you, and more.
Click Orders from Shopify admin.
Then, go to the search box and find information through

Customer name
Email address
Receipt number
Order number

Click the order number to view order details.
Click More actions and then View order status page.
7 Best Shopify Order Management Apps to Use
At the Shopify App Store, there are 1,200+ order management apps, all of which serve functionality suitable for managing orders. You can choose any of those you see fit.
However, here is a list of the 7 best order management apps by Shopify, based on usability across different stores.


Track123 is a productivity-boosting and efficient work-ensuring Shopify order management app. You can use it for dropshipping, upselling, and cross-selling. It integrates with a wide range of platforms which effectively aids your store. For example, Loox, Klaviyo, OrderlyEmails, Weglot, etc.
Features
Integrates with 800+ global carriers for worldwide shipment tracking.
Automatically tracks order details in real-time.
Generate a tracking page under the store domain.
Supports Shopify SMS notifications and emails.
Allows complete customization as per users' needs. Such as, you can add order status on the shipping progress bar so that the customers can check.
To remove the language barrier, there is an automatic translation and option of Google Translate extension usage.
Price
This is a free app. However, there are Professional (¥ 0.0067) and Enterprise (custom) named premium options available.
Pros
Cons
– Easily tracks all the order information
– Allows filtering by date, status, carriers, etc
– Allows customers to check shipment methods
– Shows precise dates of order delivery
– Free version includes 100 trackings.


Matrixify (formerly Exelify) is one of the popular Shopify fulfillment apps that manage your store data. This app allows you to have complete control over your by managing store information.
You can migrate platforms, transfer data from any data sources, update stores without re-importing products back up your store, and export store data to Google Shopping like marketplaces and whatnot.
Features
Bulk amount data update
Data storing to Excel or CSV files
Data copying through Excel or zip files
Option for editing, adding, or removing meta field
Store updation by SEO fields, product variants, etc
Store migration from BigCommerce, WooCommerce, Magento, etc
Data Importing from uploaded files, G Drive, Dropbox, URL, FTP/SFTP, etc
Price
Apart from the Free version, Matrixify offers Basic ($20/month), Big ($50/month), and Enterprise ($200/month) pricing plans.
Pros
Cons
– Update product price, inventory (by location), etc.
– Schedule & automate import-export
– Excel allows correct data transfer of different languages
– A bit on the pricey side


The next on our list is the Suite For Google Shopping Fee. The specialty of this Shopify order tracking app is that it is designed to support Google's every platform.
It uses Google Content API to update product information and price. Users can get their products displayed on Shopify or Shopify plus products across multiple platforms, resulting in improved visibility, and generating more traffic and sales.
Features
Show products on Google search for free
Products displayed on Google Shopping, & Assistant
Lists products singly or in bulk on Google Merchange Center
Update inventory information and price within 15 minutes
Set goals, track conversion, and your business performance
Conversion increase with Google PMax campaign, with full report
Price
This app has a 21-day free trial also a free plan available. The premium versions are categorized as Bronze ($4/month), Silver ($13/month), and Gold ($19/month).
Pros
Cons
– Collects orders from
– Google Shopping and create them on
– Shopify List and sell directly from
– Google Instant checkout without commission
– Buyers reported that product stocking out or stock in aren't refreshed


Optimize your store order and automate the shipping process with the Paklink PRO Shipping Platform. It has incorporated the world's best carriers for ensuring worldwide shipping.
It offers a tailored solution the way you need for your Shopify store. Store owners can streamline the checkout, shipping, and delivery process including home delivery, same-day delivery, evening delivery, or your custom delivery method.
Features
Integrates with 350+ carrier services
Syncs with Shopify seller account
Custom workflow creation
Order tracking & print shipping labels
Shipping pricing configuring
Available automation tools
Single point of contact for shipping needs
Price
This app is completely free to install.
Pros
Cons
– Auto order update in real-time
– Offer fast shipping solution globally
– Time-saving & streamlined shipping
– Order cancellation trouble is reported


To reduce manual efforts and make the ordering process automated, here comes our next app Etsy Marketplace Integration, offering a complete order management solution.
This is an advanced-level personalized order management app. It allows you to profile features for quality product listing. Also, during the process of syncing or uploading listings, if there is any error noticed, the app will notify you right away.
Features
Realtime inventory management
Enhanced Dashboard with product management
Shifts and connect product listing between Shopify and Etsy stores
Allows creating inventory, shipping, and pricing templates
Permits managing location-based inventories and fulfilling orders
Fetches production partner (POD items) from Etsy to integration app
Price
The app offers 7 days free trial. Aside from that, there is a free version available. Users can also get the premium packages in 3 categories: Starter ($25/month), Basic ($39/month), and Standard ($59/month).
Pros
Cons
– Offers bulk product upload
– Fetches existing
– Etsy shipping templates
– Location-specific tax imposing
– Customer services can be improved


This is another efficient and seamless order management tool for sellers on Shopify. One of the positive aspects of the Customer Order Management app is that it has way more options for customers.
Shopify store owners have full control over requests customers make and management that needs to be done from the admin panel.
Feature
Integrates with multi-vendor marketplace app
Has auto-inject codes option available with a single click
Allows lots of flexibility and options for customers to order
Benefits merchants not having an account on the merchant's store
Price
This app has a 10-day free trial. The premium version is available at Basic Plan ($15/month) with US-based charges every 30 days.
Pros
Cons
– Provides exchanging, refunding, etc, options
– Allows customers to manage or cancel orders
– Advanced filtering options on RMA requests, reorder, invoice, etc.
– Yet to work on some features to function satisfactorily


Last on our list is the AfterShip Order Tracking & SMS which offers complete delivery and secure package protection service at a time. It offers multiple shipping solutions including UPS, DHL, China Post, and more.
You can set clear and accurate delivery dates as part of managing orders, gather insights on shipments, transit time, tracking pages, etc and take further action based on that information.
Feature
Access to admin in different languages (German, French, Spanish & Italian)
Tracking number import automatically
Shipment filtering by status, dates, couriers, destinations, etc
Allows configure notification for every step, such as receiving, transit, delivery, pickup failed attempt, etc
Permits schedule to deliver SMS as per customer's timezone
Message customization with brand logo, URL, and recommended product
Price
A 7-day free trial and a free plan are available. The paid versions are categorized into Essentials ($11/month), Pro ($119/month), and Premium ($239/month).
Pros
Cons
– Has a track button for order tracking
– Has a drag-and-drop email editor
– Delivery notification through email and SMS
– The pricing plans are expensive
How Does Order Management System Help Small Businesses?
An order management system helps small businesses in a wide array. As small businesses don't have a lavish investment or large capital to manage multiple expense sources, hence a unified platform to manage varieties of work helps them organize their business work as well as manage their cost.
The more systematic an order managing system is, the more that business can gain sales. So, here are how the OMS helps small and newly launched business.
Responding and managing orders
Tracking, checking, and adjusting inventory
Order processing and shipping arrangement
Overseas returning management
Payment processing
Sales data analysis and report generating
Offers better customer experience
Provides order fulfillment and inventory solution,
In short, integrated OMS helps businesses process important works automatically. As a result, it helps boost business efficiency and drive sales.
How to Get Shopify Store Management Service or Shopify Order Fulfillment Service?
Do you need a Shopify store manager for your store?
Both managing a store and proceeding to growth need your complete attention. But many store owner falls behind because they lack give their undivided attention to both.
This is very different from smart and wise store owners, who don't gamble with sensitive and strategic matters. What they do is divide the work among experts.
If you want to step ahead, choosing experts is the best solution you need to do. You can outsource E-commerce Management Services from RankUpper to manage your Shopify stores or any Shopify store managing-related services.
A team of professional and experienced experts is ready for your aid, no matter when and how you need them. Feel free to reach us at your convenience.
FAQs
Q: What Is an e-commerce Order Management System?
A: An E-commerce order management system is software that tracks, manages, and processes. It automates the order fulfillment process for an e-commerce store. 
Q: Does Shopify have OMS?
A: Shopify doesn't have an extensive order management system but does track orders in a way suitable for new Shopify store owners. 
Q: What happens when someone buys your item on Shopify? 
A: Once a buyer buys your product from a Shopify store, you will be directly notified about that order, and the order will be listed in the order section of your Shopify admin. 
Q: How to track Shopify orders? 
A: There are many order management systems that help track orders on a Shopify store. 
Q: How to change your Shopify order number? 
A: Here's how you can change your Shopify order number. 
– From Shopify admin, go to Orders. 
– Then, click the order number you need to edit. 
– Once the order page opens, click More actions from the top of the right corner. 
– Click Change order number. A box will appear. 
– Enter the new number, and click Save. 
Q: How to process orders on Shopify? 
A: An order passes 3 stages in Shopify, and every stage has a specific task you need to perform. Those are: 

Final Thoughts
So, there you go- a detailed guideline about how a Shopify order management system works, what apps you can consider, how you can proceed, and where you should reach out to outsource.
To achieve your sales target and bring remarkable results, you need to ensure your orders are all queuing up and getting discharged methodically.
That will help you cut your hassle and ensure a satisfactory procedure till customers receive the product.
Hope this guide helps you proceed further with your work.
Good luck with your work on Shopify!