Recent years have seen a rise in the practice of "ghostwriting," which entails writing content for someone else without receiving credit or recognition. While it is considered unethical for academic purposes, it is considered a valuable service for writing business content.
Now the question is: Is ghostwriting worth it?
In this article, we'll discuss the offerings of ghostwriting, and help you determine if it's a viable investment for your business.
What Does a Business Ghostwriting Mean?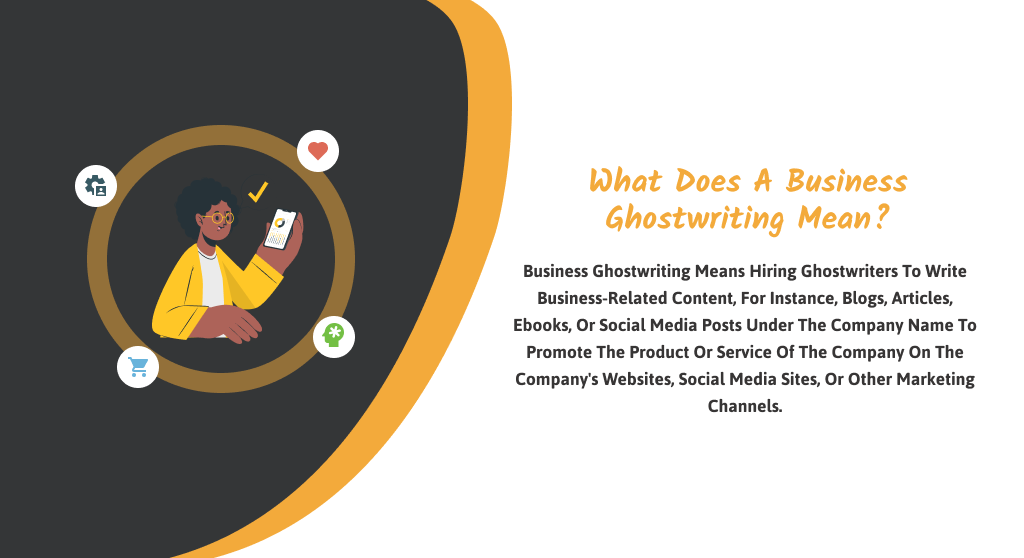 Business ghostwriting is a common practice in the corporate world, as ghostwriters help business leaders and executives communicate their thoughts, ideas, and perspectives to the target audience.
Business ghostwriting means hiring ghostwriters to write business-related content, for instance, blogs, articles, ebooks, or social media posts under the company name to promote the product or service of the company on the company's websites, social media sites, or other marketing channels.
Basically, all types of written content produced by ghostwriters in the name of an individual client, brand, or organization and reflecting their vision, objectives, and goals for content marketing purposes fall under business ghostwriting.
Why is Ghostwriting Worth it for Your Content Writing Project?
Let's look at some of the key offerings of ghostwriters that prove the worth of ghostwriting for your content writing project:
1. Establish your brand voice with Ghostwriting
Establishing a brand voice is essential for forming a unique brand identity. If you want to create your unique brand voice, hiring a ghostwriter can be a good option.
Brand voice is not only about representing a brand's identity but also showing the brand's personality and a way of fostering relationships with the customers. Some brands prefer fun, while others may prefer a confident or sassy brand voice.
Want to know how ghostwriters can help build your brand voice?
Here's how they do it:
Choose distinct descriptors for your business
Identify the target audience
Carefully craft content considering the expectations of the target audience
Maintain the tones and style in the content that aligns with the brand's unique characteristics, and more!
The distinctive brand voice makes the brand stand out from the hundreds of competitors and helps it develop a recognizable image among consumers across all channels.
2. Creating an effective content marketing plan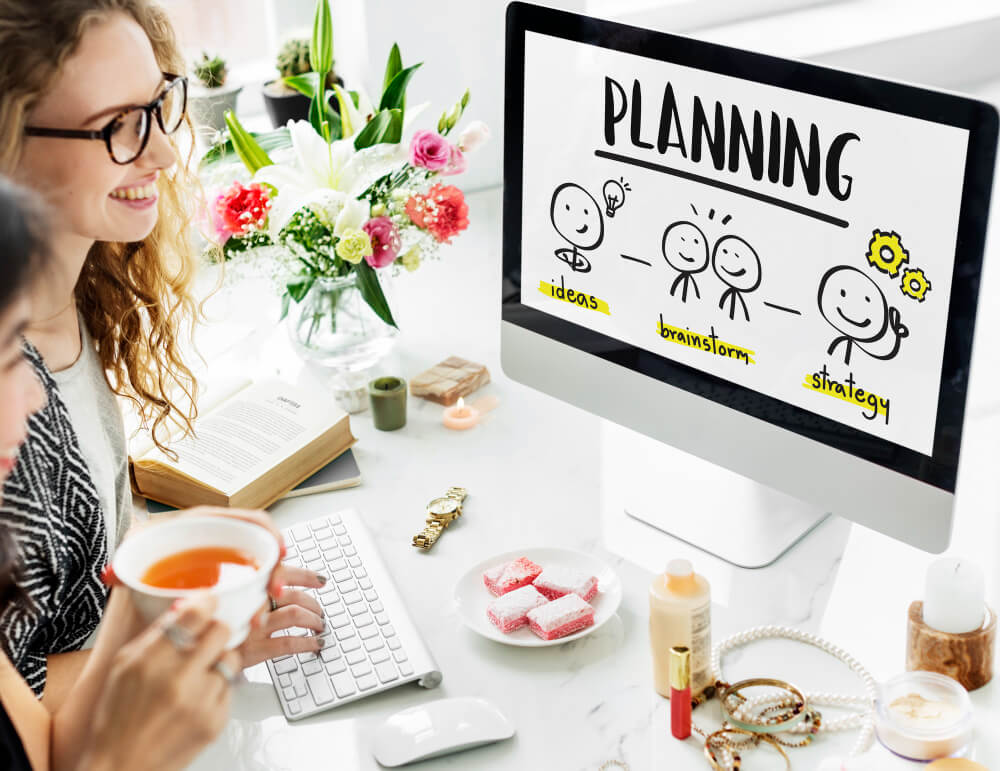 A ghostwriter is not only competent at writing content but also helps with creating content marketing plans.
For creating effective plans, ghostwriters:
Identify the goals of the business
Identify the target audience
Conduct keyword research
Research trends
Run a content audit
Figure out customers' pain points and more.
Based on these factors, they develop topic ideas, decide on the types of content, create content schedules, choose sharing channels, and more to design an effective content marketing plan.
3. Help you develop a content style
Every business follows a consistent tone for its content marketing, which they refer to as its brand voice. Ghostwriters, as skilled professionals, can help brands develop a consistent and engaging content style that resonates with their audience.
Ghostwriters work closely with their clients, conduct research, and analyze existing content to gain valuable insights into the client's target audience and industry. Consequently, they catch up on their voice, tone, and style preferences and produce content that aligns with the consistent brand message.
4. Getting a better conversion rate and ROI
Ghostwriters are skilled at creating high-converting content. As professional content writers, they are well aware of the factors that create an impact on the conversion rate and ROI.
For instance, their content always has killer headlines, intriguing introductions, and cohesive ideas that convince readers to scroll and read the next passage. Moreover, they use charts, graphs, screenshots, images, and videos to add interesting visuals.
In addition to that, they put emphasis on the writing format to make the content easy to read. Also, they use a powerful CTA (Call-To-Action) that drives conversion. With all these techniques followed, content is bound to have a better conversion rate and ROI, without a doubt.
5. Ghostwriter helps you to build a social business platform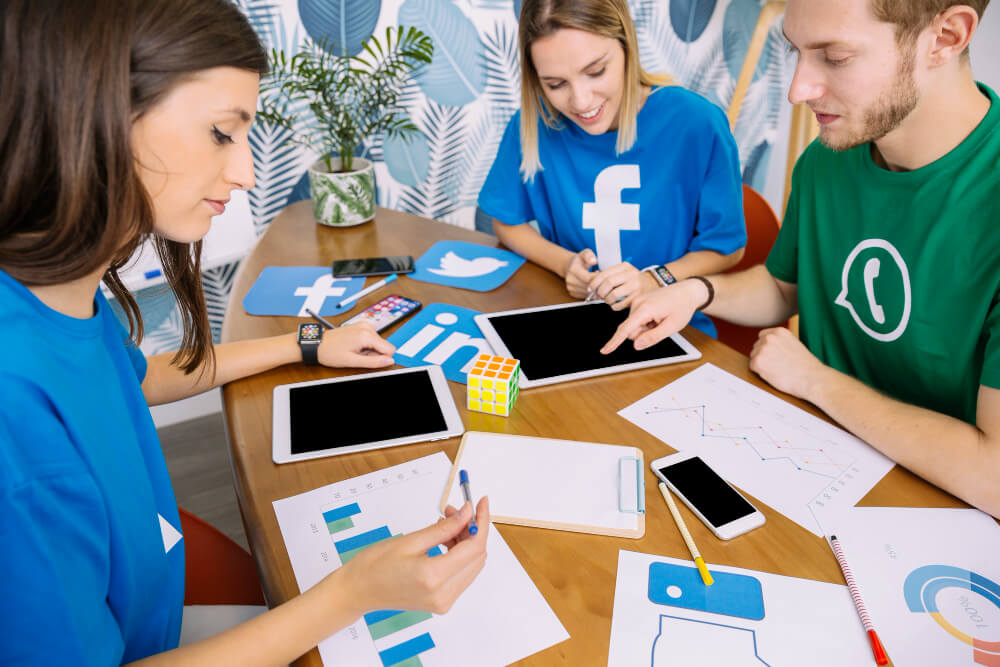 Ghostwriters can help you create a robust social media content marketing plan. For a strong social business platform, you need content that attracts customers, engages them, and persuades them to purchase your product or service.
Let's see how they can help you build your social business platform:
Identify the platform's goal. They pinpoint the goal, target audience, and content strategy to align with the platform's objectives.
Develop a content calendar. To make sure that the content is relevant, consistent, and meets the objectives of the platform, they develop an organized content calendar mentioning the topics, formats, and publishing schedule.
Create compelling content: They create short but impactful social media content that is highly engaging, persuasive, informative, and shareable.
Promote content. Their task also includes sharing the content on social media and carrying out promotional activities that increase the engagement of the followers.
Analyze and optimize. Last but not least, they analyze the content performance using the metrics, such as traffic, engagement, conversion, etc. This help to optimize the content and the content strategy and improve the overall performance criteria.
6. It's a way to tell stories
You can use ghostwriting to share your business stories. They can design your content marketing strategy with content such as biographies, case studies, brand stories, customer testimonials, etc., and create compelling stories that resonate with the target audience.
These types of content boost audience engagement and help them get to know the real person behind the brand.
Moreover, customers' problem-solving stories and testimonials act as social proof, which builds up a sense of trust, authenticity, and credibility.
7. Time-saving features and getting things done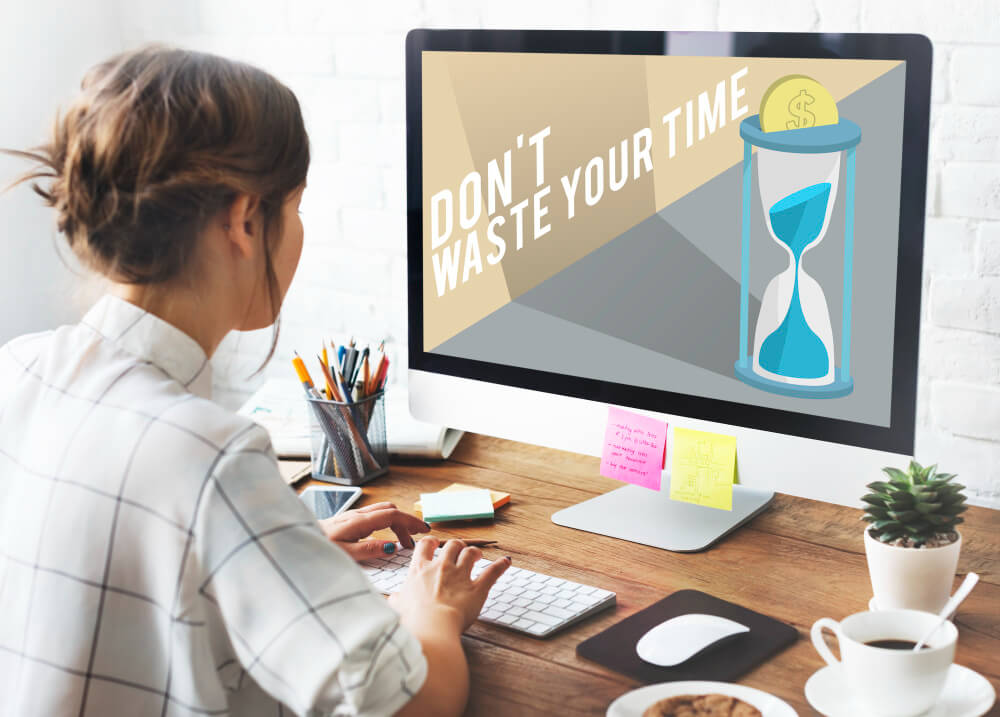 Usually, CEOs and entrepreneurs have many things to focus on while running a business. Especially for bigger companies, tasks get multiplied every day, resulting in many tasks piling up at the desk that waits for clearance.
Since it's challenging for the owners or other executives to deal with content writing amidst the hectic work schedule, ghostwriters can be of great help. They can handle the content marketing sector with their writing skills.
Besides writing blog articles or other marketing content, ghostwriters save a lot of time by managing email queries. They respond to client emails on behalf of the company owners, saving the business executives a ton of time.
8. Desire for a professional finish
A ghostwriter can fulfill your desire for professional quality content. Their expertise in working in different fields has developed their creativity pretty well. Besides, they write content while maintaining the SEO guidelines and following other techniques and strategies that add value to the content.
In addition, they do a lot of research to make sure the content is well-organized, engaging, informative, easy to read, unique, and free of any grammatical errors.
What Factors to Consider When Looking for a Ghostwriter?
Let's learn about the factors that should be considered when looking for a ghostwriter:
Research ability and potential
Do you know what the fundamental requirement for writing engaging content is? Research!
Research ability is a must-have skill for a ghostwriter, whether they need to study the market, identify the needs of the target audience, design a content plan, or have insights about the topics they are going to write about.
Besides, research skills help a writer:
Identify authentic information
Highlight the key points
Identify the gaps in the competitor's information
Organize thoughts in a systematic way, and much more!
So, one of the essential factors in determining a ghostwriter's ability to create successful content is to consider their research ability.
Educated 'Ghost' Content writer
Educational qualification is a significant factor to consider when you find a good ghostwriter. An educated writer is proficient in both language and writing skills. It's better to hire someone with at least a Bachelor's degree in marketing, journalism, English, or communication.
The major reason for putting so much emphasis on the educational background is that the academic journey helps the writers develop their lexical resources and literary devices.
Besides, they learn the techniques for using creativity in writing a coherent and original piece of writing.
Experienced in ghostwriting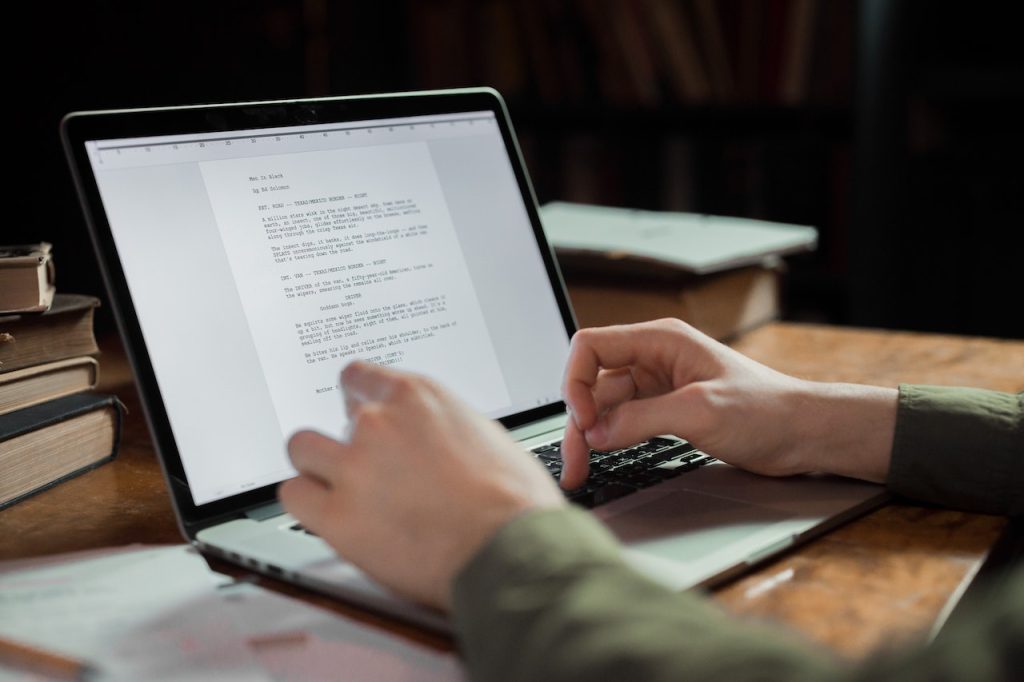 Writing experience is another crucial factor that distinguishes a professional writer from an amateur. A ghostwriter with at least one to two years of writing experience knows the techniques of writing customer-oriented content, as they have dealt with quite a number of clients during that period.
Moreover, writing experience proves that ghostwriters have enough knowledge regarding content marketing, various categories of content, research techniques, customer-inviting language, Microsoft Office application, etc.
Significantly higher content quality
Content quality is the game changer in this highly competitive content marketing industry. For your business to survive in this highly competitive world, average content is not going to help in any way. Rather, you need high-quality content that can give you an upper hand over your competitors.
While reviewing the writing sample, ensure that it maintains the following qualities:
Easy to read
Consistent
Engaging
Credible
Call to action
When a writer uses proper formatting in his or her writing, such as bite-size paragraphs with headers, bullet points, and other tools, it improves readability and quality for both readers and search engines.
Besides, SEO practices such as using appropriate keywords, backlinks, etc., ensure the content is high quality.
Ability to incorporate feedback and edits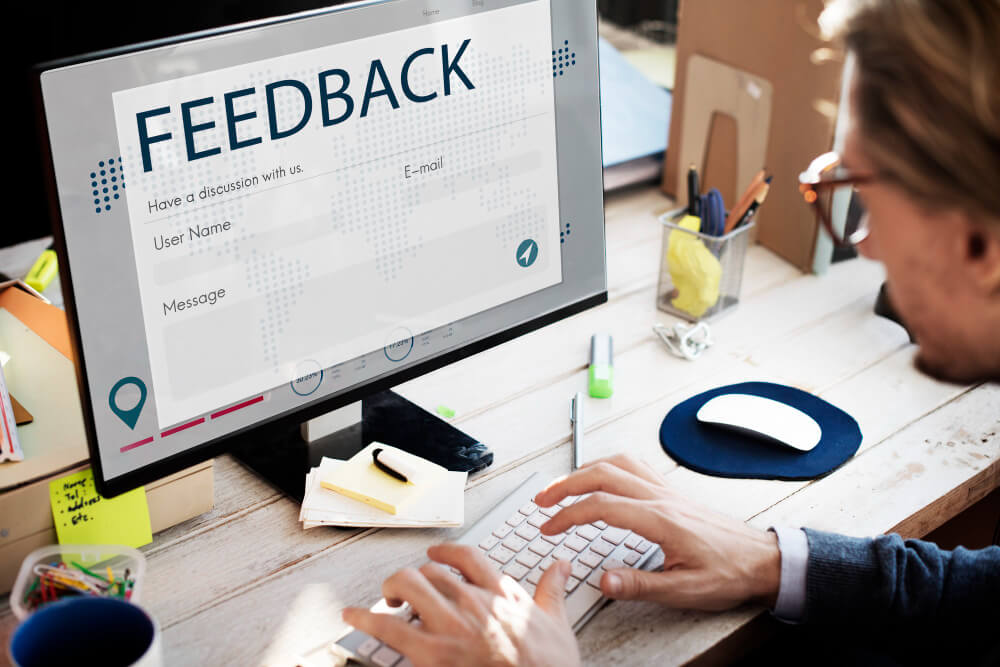 Editing and proofreading are significant parts of polishing a piece of content. Content must be edited based on feedback to improve its effectiveness and clarity or to meet the needs of the client.
So, while looking for a ghostwriter, make sure they have the ability to think from different perspectives and deal with feedback and edit professionally.
Open to discussion
Regular communication between the writer and the client is crucial for working on projects. While working, a number of issues will unavoidably arise that need to be thoroughly discussed to ensure that both parties are moving in the same direction.
For instance, while designing the content marketing plan or the social media marketing strategy, the writing style, content type, tone, etc., are key topics that you need to discuss with the writer.
Not only this, but your budget and the writer's payment method are also important factors that need to be clarified to avoid an unpleasant situation in the middle of the project.
Besides, you may need to provide them with suggestions and recommendations to incorporate your views and ideas into the content.
As the ghostwriter is writing on your behalf, the writer must be available for discussion all the time to avoid any kind of miscommunication or misinterpretation of instructions.
Using the right tools
The proper use of tools is essential for maximizing the quality of content and content strategy. Whether it is for planning, drafting, editing, or increasing productivity, operating content writing tools is a must-have skill.
Ghostwriters should have a grasp of using planning tools such as Google Trends, Semrush, etc., to carry out market research, keyword research, competitor analysis, and more. This can help them create content that is specifically tailored to the needs of the audience.
They must also be familiar with the use of tools like Canva for creating interesting infographics that make the content visually appealing.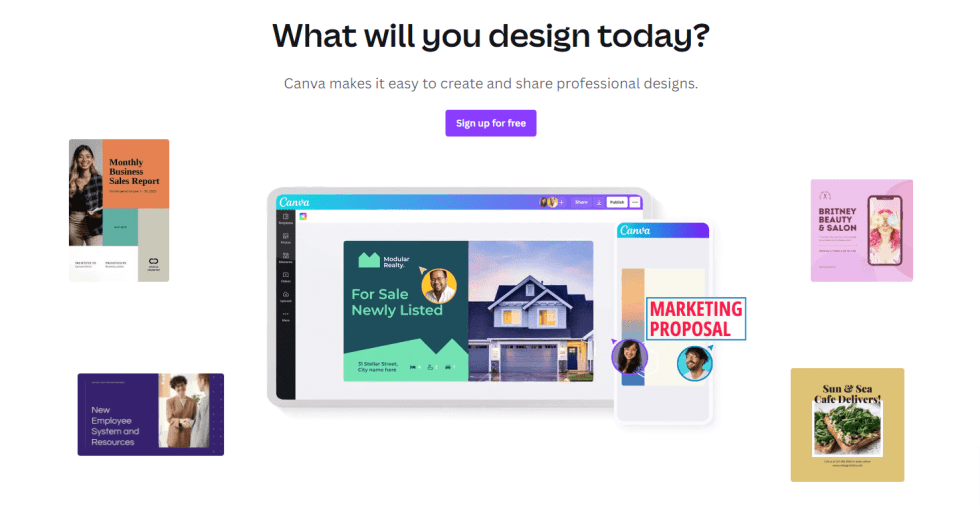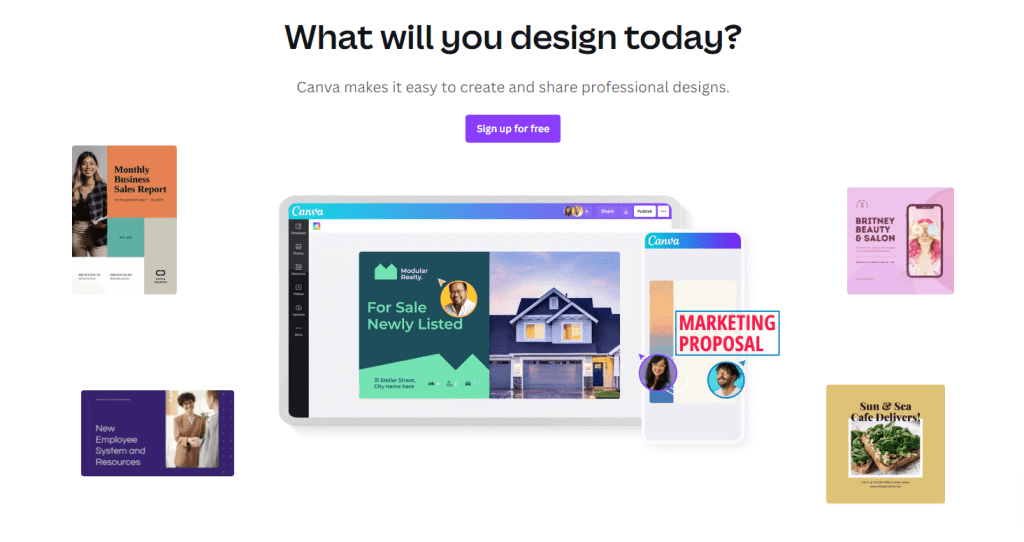 Moreover, to ensure the content is grammatically correct, tools like Grammarly is also necessary. Hence, to ensure you receive high-quality content, make sure the ghost blog writer you hire is skilled in using all these tools.
Fastest delivery time
The turnaround time of the ghostwriter should be compatible with your content schedule. If your requirement is two pieces of content per week, ensure that the writer will be able to meet the deadlines.
You definitely wouldn't prefer to let the writer's delay affect your content marketing schedule.
Protect your digital privacy and security
Ghostwriters are obligated to keep their work and other information regarding the company or client completely confidential. Every company has its own individual and unique content marketing plan, which it doesn't share with anyone else.
However, due to the close collaboration between ghostwriters and clients, ghostwriters gain in-depth knowledge of business strategies, content marketing goals, privacy policies, and other important information. Disclosing these sensitive pieces of information can damage the company's marketing strategies.
Moreover, if the ghostwriters share their work somewhere else, it may make the company's reputation questionable as well as affect the impression in the search engines and SEO badly.
Therefore, it's essential that you select a writer who has high moral standards, strictly adheres to copyright laws, and protects your online privacy and security.
Who Needs a Business Ghostwriting Package?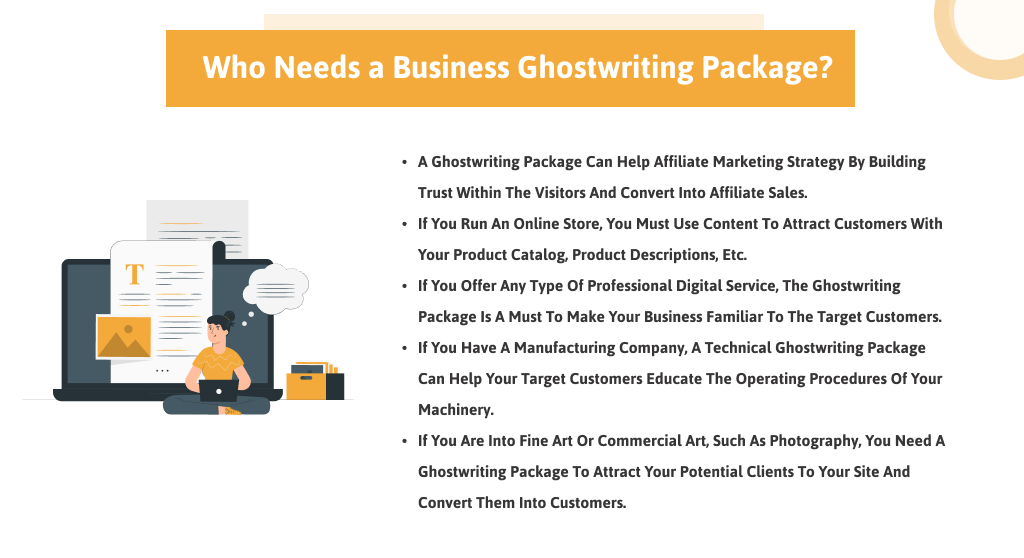 Content marketing is not limited to blog writing. A business needs content in various formats, including social media, videos, infographics, articles, email newsletters, product guides, and more. However, hiring web content writers for individual content categories can be a big hassle and cost a hefty sum of money.
No worries! A business ghostwriting package can be a great way to handle all the tasks, from content planning to execution to publication, at an affordable cost.
Wondering whether your company needs a business ghostwriting package?
Let's check out the following list to get a brief idea of who needs a business ghostwriting package:
A ghostwriting package can help affiliate marketing strategy by building trust within the visitors and convert into affiliate sales.
If you run an online store, you must use content to attract customers with your product catalog, product descriptions, etc.
If you offer any type of professional digital service, the ghostwriting package is a must to make your business familiar to the target customers.
If you have a manufacturing company, a technical ghostwriting package can help your target customers educate the operating procedures of your machinery.
If you are into fine art or commercial art, such as photography, you need a ghostwriting package to attract your potential clients to your site and convert them into customers.
What Questions to Ask an Online Ghostwriter?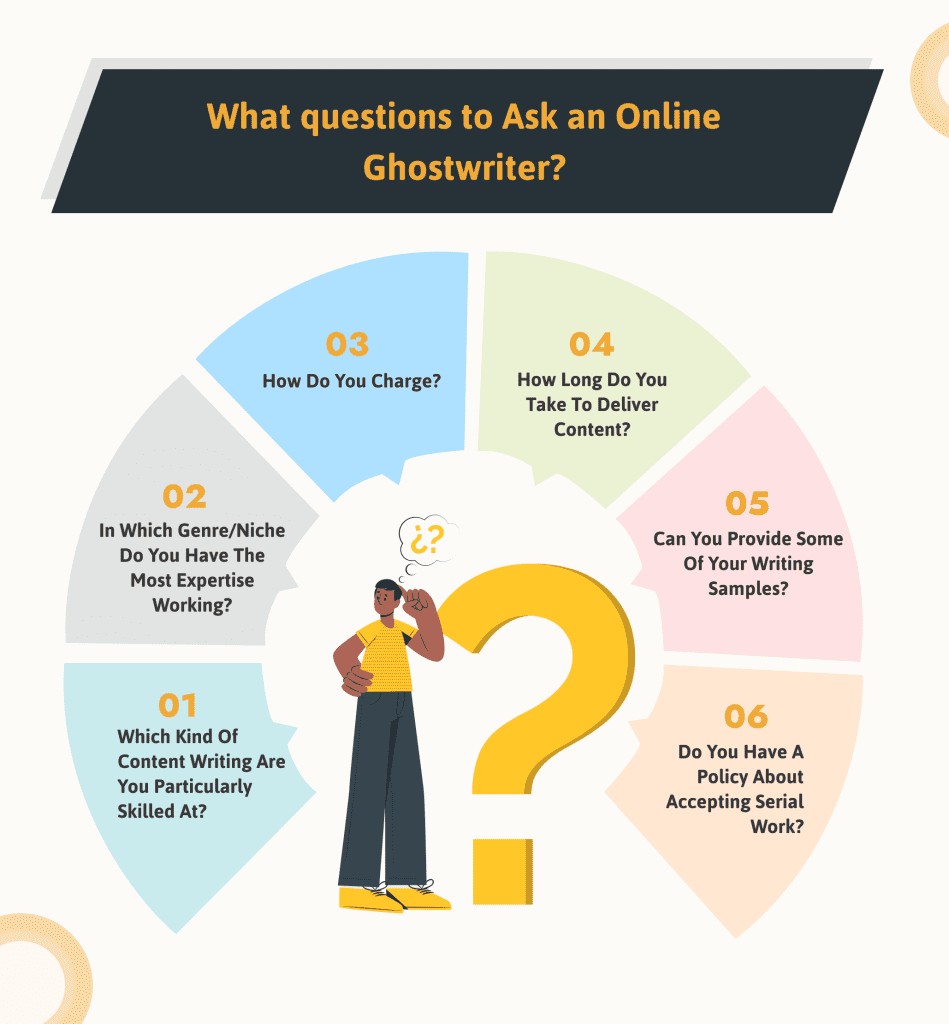 Asking questions to get a better understanding of the caliber of a ghostwriter is an important part of recruitment.
Let's learn about some of the basic questions to ask a ghostwriter:
1. Which kind of content writing are you particularly skilled at?
Some writers are better at copywriting. while others excel at email marketing, social media posts, affiliate articles, or blog posts.
For this reason, you must ask this question to determine whether the ghostwriter is suitable for the type of content writing you need for your business.
2. In which genre/niche do you have the most expertise working?
Most ghostwriters have experience writing in multiple niches. Although they write for different niches, the niches are usually somewhat similar to one another.
For instance, the fashion industry, makeup industry, or lifestyle brands work with different products but are a part of the same Ecommerce platform. On the other hand, medical tourism, healthcare, and the medical sector are different yet share certain similarities.
Most ghostwriters working in the healthcare industry wouldn't switch to Ecommerce and vice versa.
Therefore, whether using a ghostwriter is favorable for your business depends on the writer's experience and familiarity with your industry.
3. How do you charge for writing blog content?
Writers may charge based on words, pages, or hours. Besides, ask them when they prefer to take the payments. Some writers charge after completing a certain portion, while others charge after completing the work.
So, it's better to clear the charging criteria beforehand.
4. How long do you take to deliver content?
The delivery time is an important part of the discussion. Suppose, you need two pieces of content per week. If they take 2-4 days for each piece of content, you won't be able to publish content as per your plan.
So, it's better to know ahead of time whether they will be able to abide by your content plan.
5. Can you provide some of your writing samples?
As ghostwriters' work is completely confidential, it is tough for them to showcase their existing work. However, there are ghostwriters who create their own projects for reference. You can check out those projects as their writing samples.
If the writer doesn't have any personal collection, then you can either ask them for writing test content or judge their skill based on their proposal.
6. Do you have a policy about accepting serial work?
It's possible that you are impressed with the work of the ghostwriter and want to collaborate with them on other projects. For such cases, you should know their policy for accepting serial projects.
Some writers may work on multiple projects with the same contract, and some may prefer separate contracts for separate projects.
So, get a clear idea about their policies during the interview session.
Highlights
Throughout the blog, we have discussed different factors to find the answer to the question, "Is ghostwriting worth it?"
Now that we have reached the end of our article, let's have a quick review of what we have learned so far:
Business ghostwriting refers to all types of business-related content written by ghostwriters required for marketing a business.
Ghostwriters can help a business in many ways, such as building brand voice, designing marketing plans, improving ROI, saving time, and more.
When looking for ghostwriters, clients should consider certain factors to gauge the expertise of the ghostwriter.
Small or large businesses having online exposure need a business ghostwriting package.
Some basic questions should be asked to the ghostwriters to determine whether they are a good fit for your company's needs.
FAQs About Advantages of Ghostwriting
Are ghostwriters anonymous?
Yes, the work of ghostwriters is published under someone else's name, and often, many websites don't mention the author's identity in the content. So, you can say ghostwriters are anonymous as their identity never comes to light.
Is ghostwriting easy?
Writing is definitely not an easy task, be it written by a professional author or a ghostwriter. While crafting thoughts into words, both established authors and ghostwriters must cross the long road of researching, planning, organizing, and properly implementing the thoughts to make content into a well-crafted piece of work.
Do business owners hire ghostwriters?
Yes, business owners hire ghostwriters to help them with their content work. As they have quite a number of tasks to complete for running a company, it's difficult for them to make time and spend hours planning content strategies, researching topics, writing, and editing. So, ghostwriters come as a great help to them in handling content marketing.
Where can I get an affordable ghostwriter?
Freelance platforms such as Upwork, Fiverr, PeoplePerHour, etc., are great sources for finding an affordable ghostwriter online. You can also search for ghostwriters on employment-focused social media platforms like LinkedIn or on different writer's forums. Besides, there are different agencies that offer professional ghostwriting services at an affordable rate.
How long does it take a ghostwriter to write SEO blog content?
The time required for writing SEO blog content is not the same for every ghostwriter. Different factors, such as topic difficulty, availability of resources, the niche and expertise of the writer, etc., influence the time variations. However, a skilled ghostwriter may take around 6 to 8 hours to research, write, edit, and optimize a 1000-word blog.
Conclusion
Content marketing is an essential part of converting potential clients into actual customers. However, for business owners and entrepreneurs, it is difficult to invest time in content marketing along with managing other hurdles of the business.
Think about the factors mentioned above rationally to decide whether investing in ghostwriting would be a smart move for your business content.