Have piles of writing materials to finish?
You may have writing materials that need to finish within the timeframe, and you don't have enough time or skill to manage the writing.
Writing is undoubtedly challenging; you require proper training and knowledge to maintain overall writing quality.
Ghostwriters write different types of content such as Blog posts, Landing Page Content, or speech writing. That's the reason executives, companies, or businesses hire ghostwriters.
Let's find out how to hire a ghostwriter and the hiring process.
Is Hiring a GhostWriter Worth It for Your Business?
Simply, yes.
Hiring a content writer always saves your cost and time. Ghostwriters can deliver your work within your time limit, whereas you may need more than a week or month to finish a piece of writing. Ghostwriters are well-trained to write your business books as well.
Do you know?
In 2021, there were almost 50 thousand writers and authors across the United States.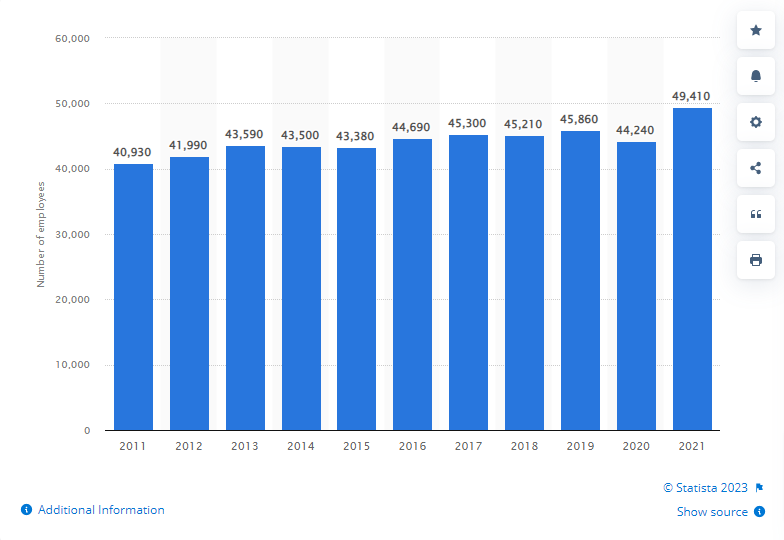 Generally, you can write a content piece without any doubt, but you need to maintain grammar and spelling and grasp the rules of writing.
That's what a Ghostwriter can do on your paper; they are skilled at correcting grammar, spelling, or plagiarism to deliver the highest level of writing piece.
How Do You Hire a Freelance GhostWriter: 7 Essential Tips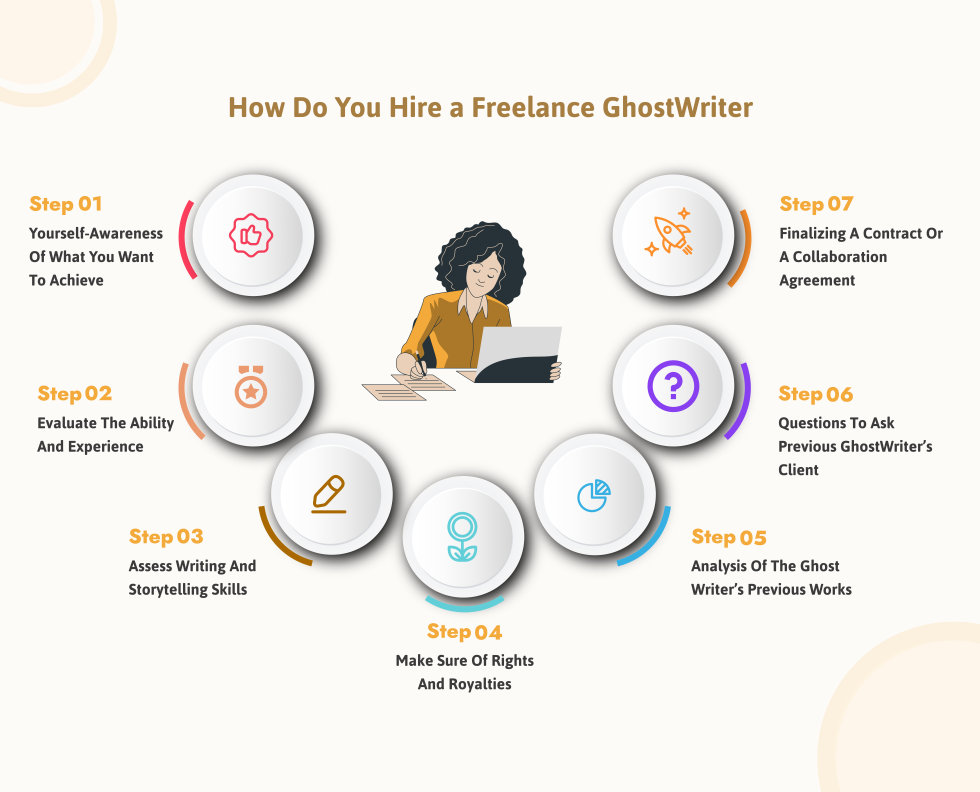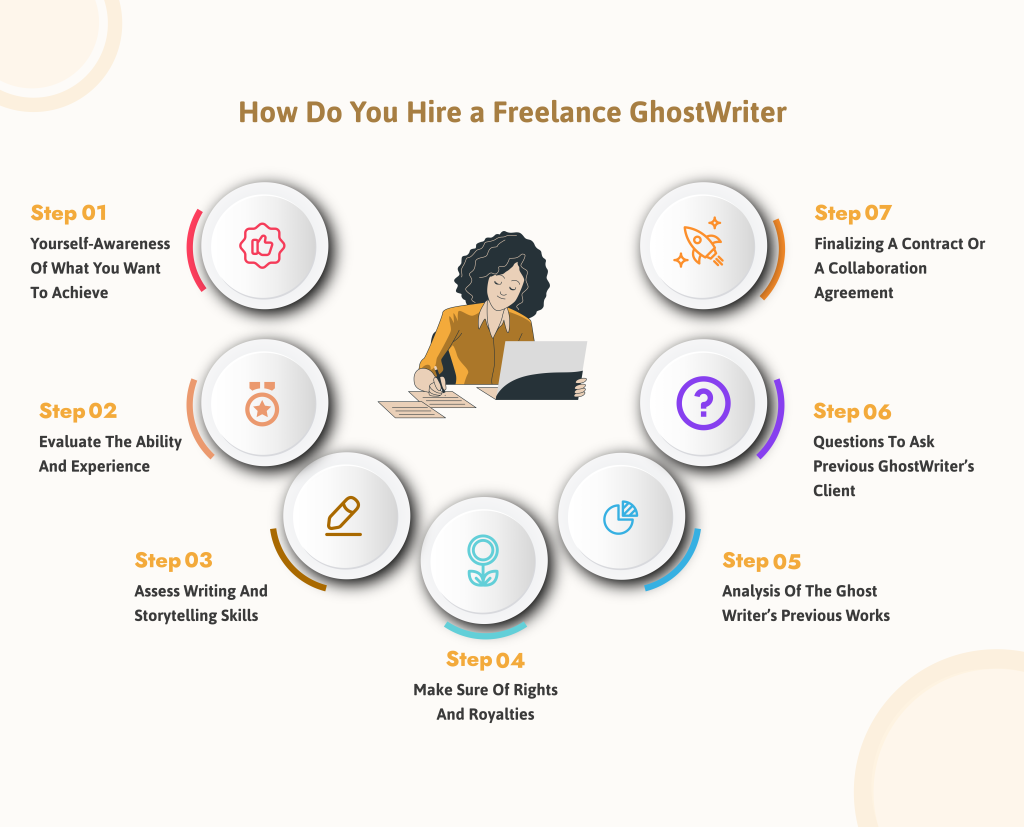 Despite the channel you use to find ghostwriters, you need to follow some rules and tips to find the better one.
Let's find out some information on hiring ghostwriters in the following:
1. Yourself-Awareness of What You Want to Achieve
Ask yourself what your primary focuses are and what are you trying to achieve from the project?
As you put time, money, and effort into finding a successful ghostwriter, you need to know what you want to achieve in the first place.
So, determine what your goals and objectives are. Think about the outcome, your self-awareness, and the reach you want to achieve through ghostwriting.
Pro-Tip: By observing the awareness and objectives, you can predict or figure out the potential outcome of your work.
2. Evaluate The Ability and Experience
While selecting candidates for any position, you keep in mind some particular criteria of the candidate.
Moreover, an experienced campaigner would be a great choice, but make sure they have quality writing, voice, style, tone, and rhythm and see their portfolio if they have prior experience.
Pro-Tip: Ghostwriters should have the style to engage the readers like they are talking to the readers.
3. Assess Writing and Storytelling Skills
When hiring ghostwriters, remember that you should look for multiple skills in a ghostwriter:
Are they good storytellers?
Can they write content that conveys a clear message to the readers? Or
Are they good researchers to add valuable information to the writing?
These are just the basic requirements of a ghostwriter when you want to select a candidate.
Some candidates have different skills in writing, such as business, memo or novel writing, or writing fictional stories. Assess their storytelling, structuring, or how creative they are to examine their skills.
Pro-Tip: Assess their technical skills and excellent hand-eye coordination to see if they can produce quality writing.
4. Make Sure of Rights and Royalties
Some ghostwriters provide a reduced rate in exchange for credit or author's royalties. The author shares the right and mentions the ghostwriter's name on the cover page for the writer's contribution, which is worth a thousand dollars to ghostwriters.
On the other hand, remember that writer asks for credits only if they find the book will be a bestseller. Always ensure that you have the sole rights to the book, even if you share the credit.
Pro-Tip: While you share the credit with ghostwriters, ensure their fees are equally reduced, so they are motivated to work on future projects.
5. Analysis of The Ghost Writer's Previous works
Analyze the ghostwriters' work to see if they have previous work. Ask the ghostwriters if they have working experience. Ghostwriters don't take credit for their writing while working with clients.
So, they don't have the actual proof to show you if they have done the writing.
In this case, you can check their website or social accounts to see if they have any writing pieces. If they have professional experience as a deep ghostwriter, they may have some published acknowledgments to share.
Pro-Tip: Find ghostwriters with at least two books published by the publishing houses. Some may have self-publishing books, but ghostwriters from publishing houses are more skilled.
6. Questions to Ask Previous GhostWriter's Client
When you communicate with ghostwriters at an interview, they will try to impress you by any means. But you need to be tricky while the background check comes forth. Ask if they have previously written materials that they published collaborating with authors.
Check the published books and authors. Reach out to the author for the candidate's reliability in writing. This way, you can find out if they have experience with publishing books.
While you connect with the authors, ask simple questions like, what was your favorite thing while working with him? Or, what was your least favorite thing? Or, which thing should I look into while working with him? These are the basic questions you can ask the author.
Pro-Tip: When talking with the author, ask about the price point the ghostwriter asked while working with him. This way, you can find the accurate paying structure of the ghostwriter.
7. Finalizing a Contract or a Collaboration Agreement
After finalizing a ghostwriter, discuss the workflow you have. When discussing the workflow, ensure they are well aware of your writing rules.
A ghostwriter needs to know how to contribute to the business more. They need to clear up their purpose of working in the beginning to provide complete and compact service. Later, make sure the communication is much smoother with the ghostwriter.
Ghostwriters mainly work remotely, but you can arrange virtual meetings to discuss the work or even meet in person.
Where Do You Get a Professional GhostWriter for Hire?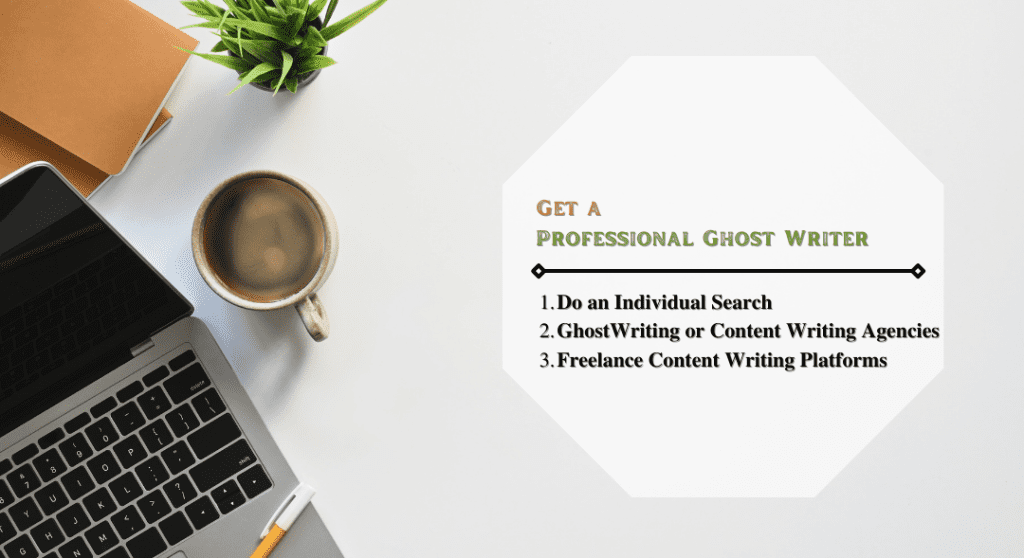 If you are about to search for professional ghostwriters, you need to know that there aren't any exact places or websites where you can hire a professional ghostwriter. But you can look for ghostwriters on some specific websites.
Here are some of my recommendations you can consider:
1. Do an Individual Search
Linkedin and Google are the best options when searching for an individual ghostwriter. I suggest Linkedin would be much valuable for finding individual ghostwriters. But the issue is that you need to read through their profiles and portfolios individually. So, it takes a lot of time.
On the other hand, if you look through the profound search results, Google can provide a significant ghostwriter list. The first page contains some professional writing agencies, but you need to dig deeper to find the individual ones.
But in this case, Linkedin would be the better choice as it provides more credibility to finding individual ghostwriters.
2. Ghostwriting or Content Writing Agencies
You can find many ghostwriters, and some content writing agencies provide the solution for content writing.
The problem is that most of them are scammers and these agencies recruit these writers for profit. Their writers are paid to create a connection with the client, no matter how the writing process goes.
So, if you are stepping out to hire a ghostwriter agency, opt for the reputed and more established ones with a long track record for success. These agencies are great to work with and care about providing better output.
3. Freelance Content Writing Platforms
Freelance platforms that are based on content writing can provide you with excellent service for finding ghostwriters. But the selection process is time-consuming as you need to search many profiles to find a better candidate.
There are many content writing platforms to hire high-quality ghostwriters. You can find many options such as filters, categories, types, and genres to search for specific writers.
The Final Step of Hiring a GhostWriter
When you've finished selecting ghostwriters, the final step is to hire them. The final steps of hiring ghostwriters are:
Settle the price and payments. Discuss your payment and when the payments will be due.
Delivering structures. Clear up on the writing structures, total length, word count, and the after-work ghostwriter deliver.
Have exclusive rights to your work. Make sure you have full rights to the book or project you give to the ghostwriter.
Have Contract Rights. If somehow you want to terminate the contract, take the absolute rights of the work and mention the rules in the instructions or guidelines and tell the ghostwriter to follow this.
Moreover, make guidelines or instructions to provide a clear concept of working with you when hiring ghostwriters.
Effective Interview Questions to Ask a Ghostwriter Before Hire
Ask them specific content writing questions and find out if they are a good fit for your project.
Let's get to know the Dos and Don'ts questions in the following:
| Do's | Don'ts |
| --- | --- |
| Ask questions like,' What time do you like to receive calls in a day? | Don't ask this type of question such as are you okay with early morning calls? |
| What's your way to work with clients? | Can you handle our clients? |
| Do you have any specific questions for me? | Do you have any special requests? |
When asking about 'what time do you like to receive a call in a day?', get their answer and know their preferences.
If they don't show interest in receiving a call in the morning and tell you their special preferences, then you can get an important insight about the candidate.
Pro-Tip: More you ask questions to the candidate more they will engage and cooperate with your interview process. Provide them with short and insightful topics to ghostwrite and see if they are suitable.
What are the Uses of Ghostwriters Beyond Book Writing?
Ghostwriters can write on multiple niches and topics, and most enjoy doing other people's work, enabling them to research and write about various topics.
Moreover, ghostwriters are just not booked writers; they can work on different projects and niches.
Look at some more of the ghostwriting projects that ghostwriters cover:
Blog content. Ghostwriters write blog content, but it's credited to the author or by whom the ghostwriter is appointed. The blog content usually shows an organization's activities, thoughts, and beliefs or a company's products and services.
Service page content. Service page content generally contains a website's signature offer, specific product, or services. Ghostwriters can cover all the service page-related content with much efficiency.
Technical content. Ghostwriters write various forms of specialized content such as blog posts, general articles, eBooks, product reviews, buying, and guides to reach goals. This type of content requires quality language and explanations.
Social media managing. Company or agency's updates, posts, and news can be published on Facebook, Twitter, Pinterest, or Linkedin. Ghostwriters can manage Social Media posting and updating of works.
Case studies. Case studies are also called success stories. Ghostwriters can cover this type of writing. Case studies define the company or brand's sharing experience that clients have with the agency or writers.
Besides, ghostwriters also write musical lyrics, toasts, white papers, email newsletters, articles, or Bios.
How Much Does it Cost to Hire a GhostWriter for Blog Posts?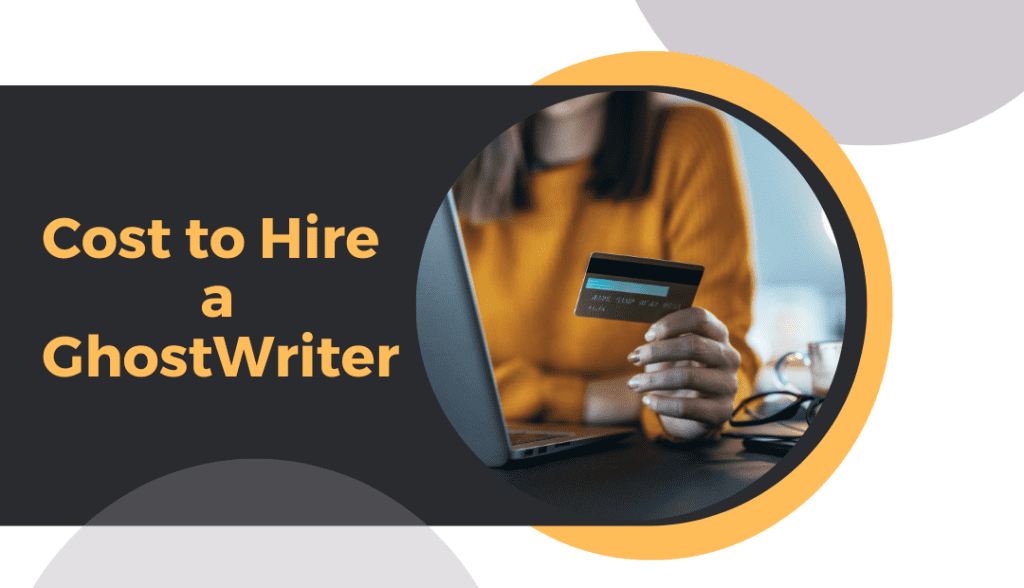 Ghostwriter costs depend on the type of writing and experience the ghostwriters have.
According to RankUpper, ghostwriters charge up to 0.06 to 20 cents per word while writing for any specific niche. Depending on the scenarios and work, writers will charge you significantly.
Let's find out the usual ghostwriter charges:
| Subjects | Per Word | Per Hour |
| --- | --- | --- |
| General Blog Content | $0.06 | $7.5 |
| Technical Content | $0.09 | $11.50 |
| Website's Service Page Content | $0.09 | $11.50 |
| eBook Content | $0.05 | $6.5 |
| Social Media Content | $0.13 | $16.50 |
| Product Description's Content | $0.07 | $9 |
| E-mail Copy Writing | $35 (per copy) | $35 (per copy) |
Besides, when your ghostwriters have all the materials to create Guest Post Content, they will charge you $0.06 per word.
FAQs on Hiring the Best GhostWriter
Is Hiring A Ghostwriter Legitimate?
Ghostwriting is widely popular and accepted as a legal practice. Although specific copyright law is made to ensure safe content, you don't need to worry about the law; instead, hire any ghostwriters of your choice.
Who Uses Ghost Writing Services?
Most authors or agencies use ghostwriters to help them write their books. Most nonfictional books are the products of ghostwriting. Also, many business owners use ghostwriters to write their website's content.
Why Would You Need a Ghost Writer?
While your agency can't provide valuable information and your executives may take longer than a week to publish an article, a ghostwriter makes it easier for you. They help your agency to produce and build awareness of your brand faster.
Do Most Authors Use Ghost Writers?
Yes, most authors use ghostwriters, and most nonfiction bestseller books have taken the help of ghostwriters.
What Are The Qualities of a GhostWriter?
Many agencies or companies find and recruit ghostwriters to manage the company's workload, website content, and social media activities. Ghostwriters searching on different topics can adapt to different topics, have storytelling ability, have a keen look at turnaround time, and are detail-oriented.
Conclusion
That's all for hiring Ghostwriters.
When an author hires ghostwriters, they think of their books published with more expected to reach more readers.
So, hiring ghostwriters are essential in this term. But as we mentioned, ghostwriters are not just entitled to publish and write books; they also have a chance of other projects to work on.
Our comprehensive guide on hiring a ghostwriter will help you get your project or book writing done effectively. But make sure ghostwriters have enough credibility to match and work on your project.