You may sometimes hear about the term ghostwriting. But do you really know what a ghostwriter is? Why the word ghost is mentioned to him?
The more inquisitive the questions, the much more interesting the answers.
A ghostwriter is simply an unnamed paid author who writes content for another person.
In this article, you will gain vast knowledge about ghostwriting, its meaning, 10 types of ghostwriters, their importance, the differences between a ghostwriter and a copywriter, and a lot more.
So, no more talk; let's dive in.
What is a Ghostwriter Mean?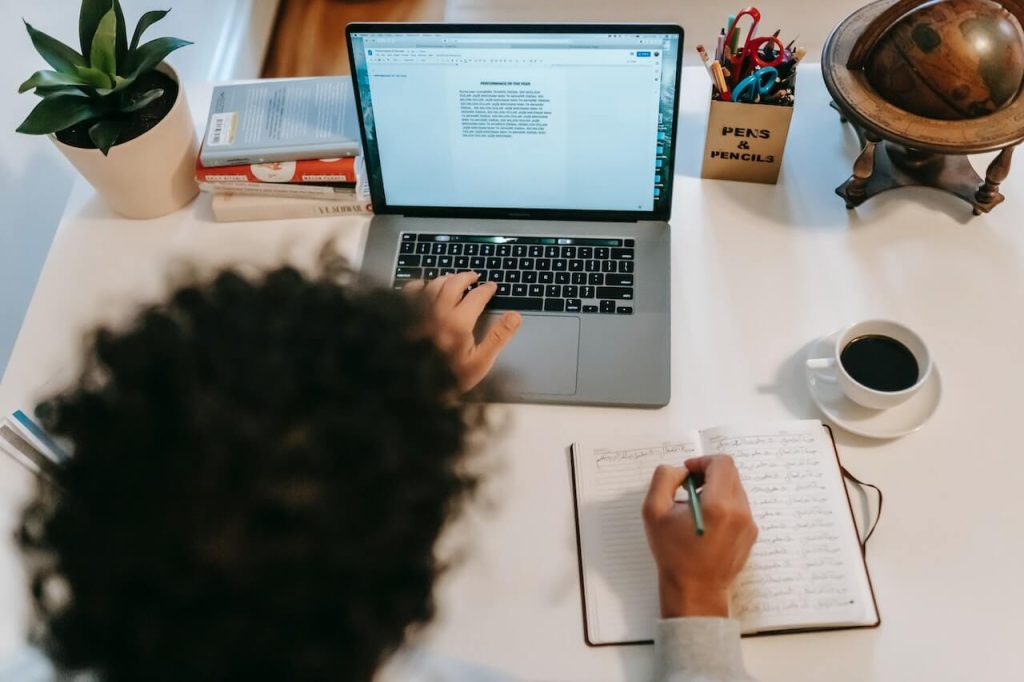 You may hear about numerous writers such as fiction, non-fiction, blog, article, biography, and more. But do you know what a ghostwriter is?
It's definitely an interesting character. Imagine you wrote a novel, but it was published by the name of another person because of a financial contract between you and him. That's the point; you are a ghostwriter then.
A ghostwriter is a professionally hired person who writes something, and the credit goes to someone else. He could be hired to write anything like literature, journals, research paper, speeches, scripts, content, blog posts, or other texts.
From celebrities to political leaders or businessmen, many other special persons frequently hire ghostwriters to write memoirs, autobiographies, articles, research papers, or any written materials for them.
Usually, there occurs a contract between the ghostwriter and the credited author where a ghostwriter remains anonymous to get payment from the author.
In some cases, a ghostwriter is acknowledged as a research assistant. But most of the time, he gets no credit.
Why is a Ghostwriter Called "Ghost" Writer?
Now you can ask, why is a ghostwriter called "ghost" writer? And what's the meaning of ghostwriting?
The question is totally relevant and real. But don't worry, I am clearing up.
The word "ghost" usually refers to something that is disappeared, and we cannot see that. A ghostwriter is also a person who is totally hidden and unknown. We don't see him and don't know about his name, address, personality, or anything.
They usually don't expose themselves. The hiring authors do not mention their names and don't give them any recognition of the written object.
For that, people call them "ghost' writers who are not seen by the people.
Ghostwriter vs. Copy Writer: Which One for Online Business?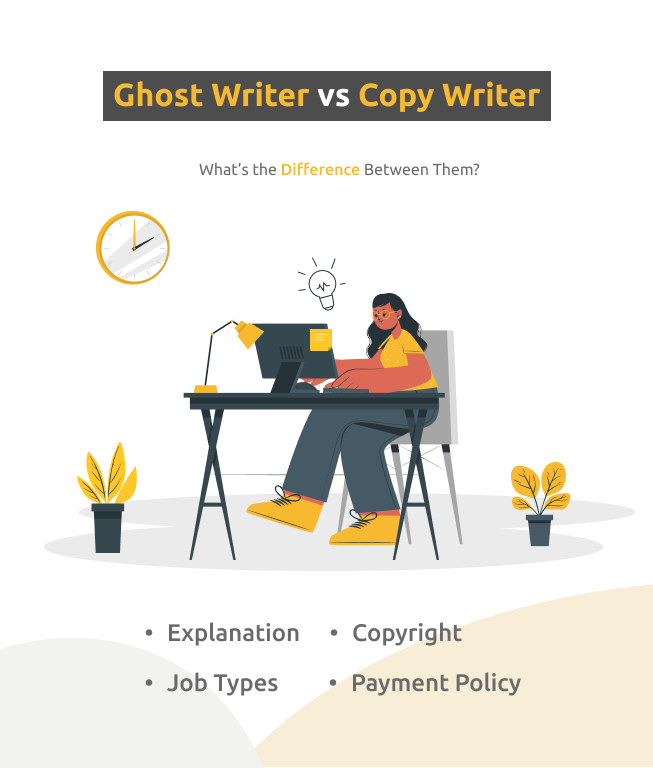 Most people use the words "ghostwriters and copywriters" synonymously because they both contain similar tasks and responsibilities. But there is a lot of difference between them.
Definition
A ghostwriter is a person who writes something credited to other people. He could be hired to write anything from research writing to autobiography, even mail writing.
A copywriter, on the other hand, usually writes blogs, web content, articles, emails, and social media posts for advertising purposes. His/her ultimate goal is to inform and engage clients about the products and persuade them to buy.
Job Types
A ghostwriter covers any writing job like articles, books, scripts, autobiographies, speeches, blogs, and content; even he can do everything that a copywriter does.
In contrast, a copywriter includes only advertising or brand-promoting writing jobs like content writing, email writing, product description, social media posts, etc.
Copyright
A ghostwriter mainly writes anonymously, and anything he writes will be published by the name of the person who hired him. The named author contains the copyright of the written material, and he can do anything with it.
In reverse, when a copywriter writes a blog or content, it goes publishing by his name. Though he does not copyright in most cases, his writing will be published only on a particular website he writes for.
Payment Policy
A ghostwriter is hired for a particular job, and he usually receives money for writing the materials and leaving copyrights simultaneously.
On the other hand, a copywriter can be employed permanently, and he only receives a salary for his writing job.
10 Types of Ghostwriters You Should Try to Grow The Business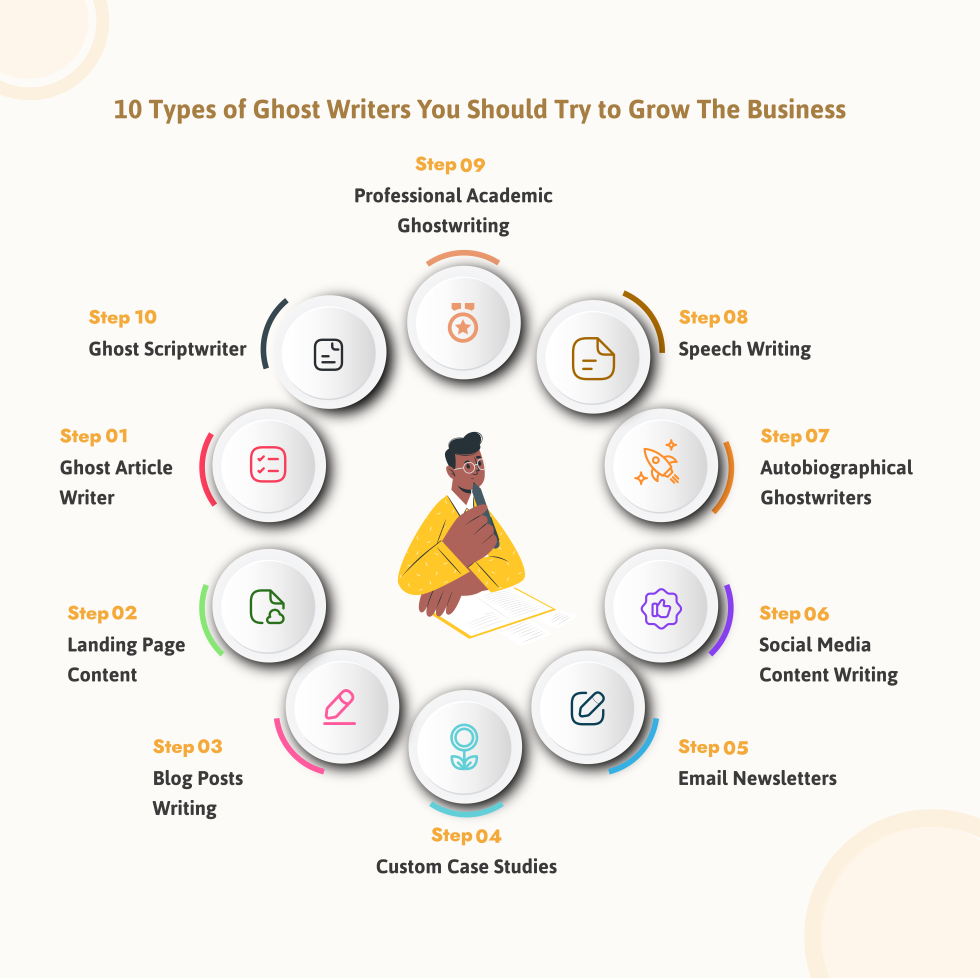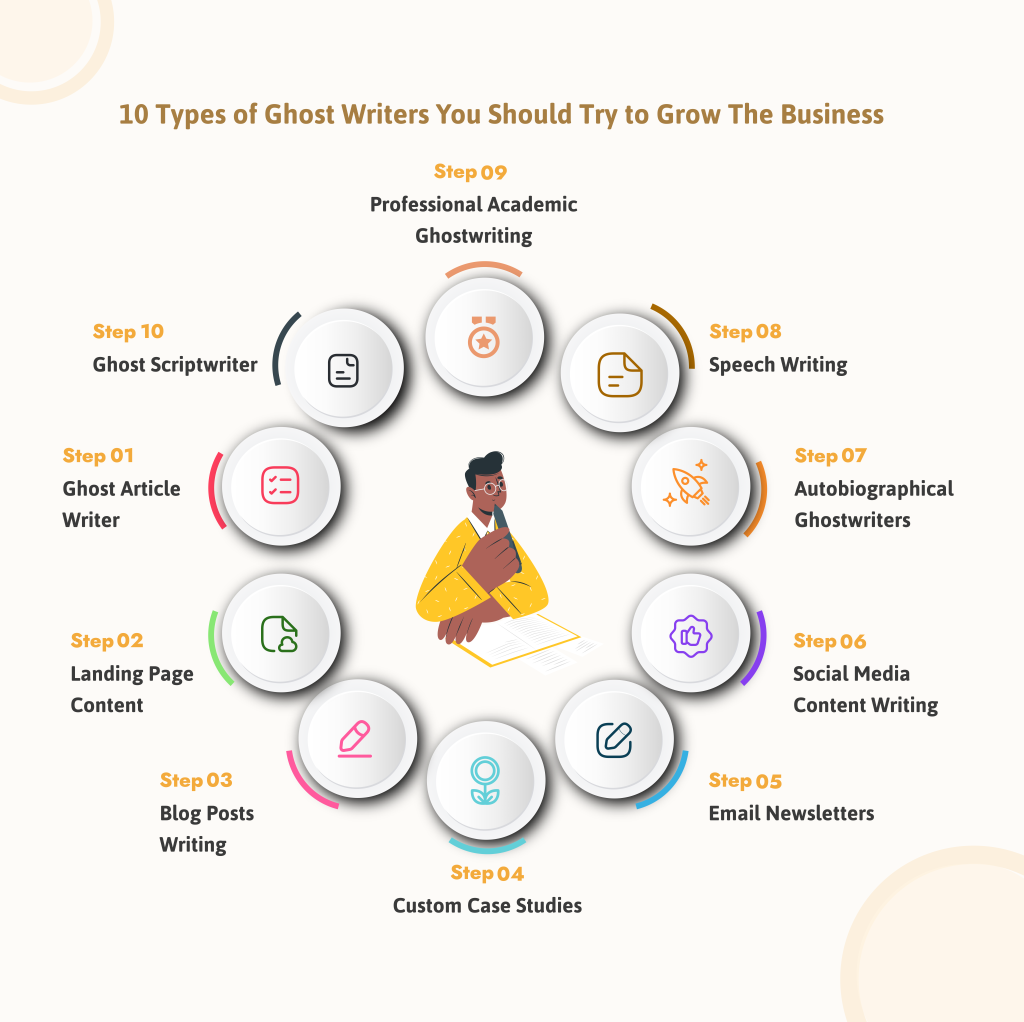 There is a classical trend of hiring ghostwriters from the ancient era. In the current world, most businessmen, celebrities, and other people hire ghostwriters for numerous purposes.
Here you can find a prominent idea about 10 types of ghostwriters who are deeply useful to growing your business or brand marketing.
1. Ghost Article Writer
An article is a written text that demonstrates a central theme of a subject. A writer portrays an article to provide readers with ideal information on a specific topic.
For a long time, article has been the most professional way to express any idea. It includes all the topics and facts that exist in the world. Blog content, Website service page content, Magazines, Books, Newspapers, business reports, and research papers require different types of articles.
You can hire a ghost article writer for any purpose like business projects, websites, advertising, magazine, newspaper, and more. Because it gives you the copyright of the article, that is important to have a long-run business and to use it in different sectors.
In addition, you may need copious articles on different topics that are hard to provide by a single writer.
For that, hiring different ghost article writers for different topics makes your business project or website more coherent and helpful.
2. Landing Page Content
On a website, a landing page is designed with some specific purpose. This page mainly converts visitors into leads where it contains a form that indicates to capture visitors' information, including their name, mail address, age, etc.
The landing page content is crucial for your website. It generates information for web visitors that helps you connect your business and product updates with potential customers. That's why you should manage your landing page perfectly.
You can find a ghostwriter for your landing page content writing. A lot of ghostwriters around the globe provide online ghostwriting services. They are highly professional and make your landing page so effective and trustworthy that the visitors never feel insecure to put their contact information on your page.
Moreover, while being ghostwriters, they never intervene in the future.
3. Blog Posts Writing
The Internet created a great opportunity for everyone to have their own blog site. We can see different blogs and websites like ecommerce business, health, education, and more that include copious articles and posts, which give us ideal information and knowledge in anything.
To put your website top-ranked on SERP, you must publish proficient articles and content on it. Because good content seems to be the heart of your website, and without it, your SEO process will totally fall down.
A ghostwriter can provide you with lots of effective articles for your website blogs. You can utilize them according to your wish due to having the full copyright. Even you don't have to give any credit to him or mention his name.
4. Custom Case Studies
A custom case study includes a comprehensive study of a person or group where he/they analyze every aspect of a subject's life and history, seeking patterns and causes of behavior.
Case studies are essentially used in pure and social science like biology, psychology, medicine, anthropology, social work, etc. Many students and researchers must submit or use case studies in their academic thesis.
But writing a case study might be hard, like a nightmare for you when you don't know how to do it proficiently. Because collecting and analyzing data decently is quite challenging.
In this case, a ghostwriter can help you perfectly. A lot of professionals provide case study services as ghostwriters.
Without facing any stress or anxiety, you can easily get a useful case study by hiring a ghostwriter. And you can use it anywhere you need for your research or study.
5. Email Newsletters
An email newsletter is a kind of mail that is frequently sent to your regular and potential customers to inform them about the latest products and brand updates of your company.
Depending on product updates and content types, your subscribers will expect different newsletters, and you have to send them regularly. There are lots of ghostwriters who serve professional email newsletters. You can hire them for your business promotion.
Because email newsletters have a useful effect in persuading them, research found that 81% of B2B marketers influence their clients via email newsletters.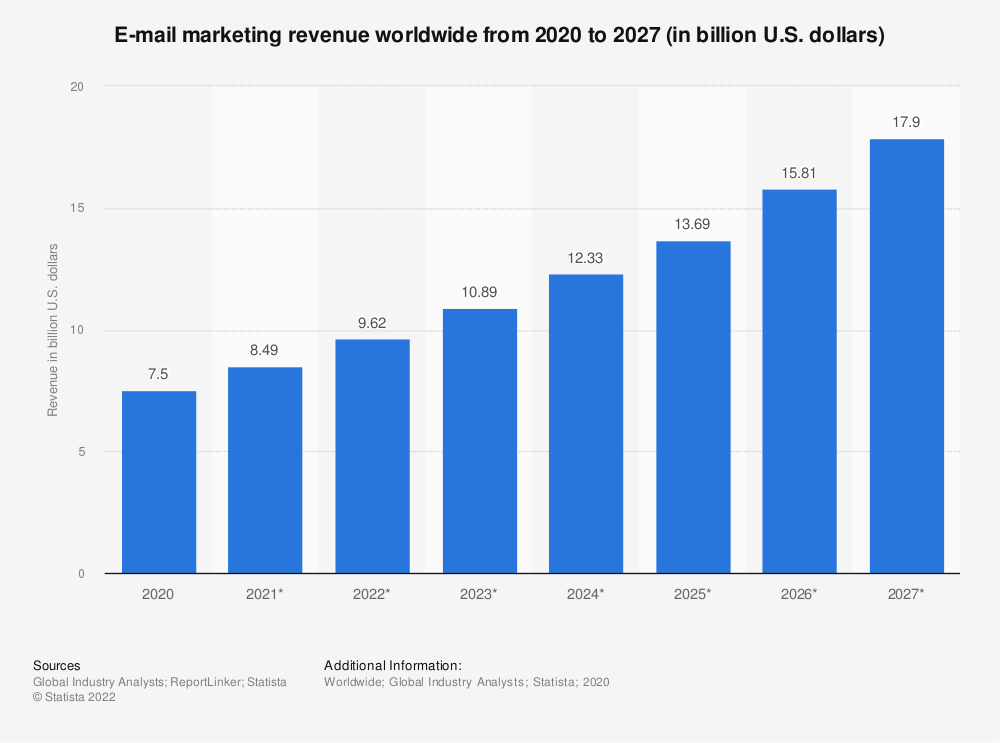 A newsletter is a stable source of constant traffic on your website. If you can do it perfectly, it can break your content advertising strategy.
6. Social Media Content Writing
A social media content writer mainly optimizes social media content and posts to promote a brand or company. He portrays the content in an amazing way that social media users get easily attracted to that.
Social media content writing is currently the most popular. Almost every company uses social media to reach a huge audience. Because millions of people are available here every day.
Hiring a ghostwriter can be effective for promoting your brand or company on social media. Because social media content has to be unique and creative, that is not easy for everyone.
7. Autobiographical Ghostwriters
An autobiography ghostwriter is someone who writes your life story credited to you as the author. He will help you to share your life story with a great number of people.
An autobiography ghostwriter usually has a strong fiction and non-fiction writing style. Because it ensures to express your story in the best way that gives the readers an amusing feel.
While writing your autobiography, a ghostwriter will listen to your life story passionately and note every important point carefully. He will write the entire book according to your guidance and prioritizes what and how you tell your story to the readers.
Celebrities, political leaders, and many people hire ghost autobiography writers to tell their life stories to the audience. It's the most popular nowadays.
8. Speech Writing
Whoever you are, a political leader, TV celebrity, Talk show maker, motivational speaker, online video creator, and so forth, without a perfect and engaging speech, your content is totally worthless.
Speech writing is such a collection of convincing and powerful words that amuses people, wins their hearts, and even motivates them to participate in kind of social movements, activities, and more.
To provide a powerful speech, at first you have to prepare it perfectly. For that, you need to initially write a speech. But all people are not capable of providing good speech writing. Because it's an art and creativity.
A professional ghostwriter can offer you volatile speech writing. Because he contains in-depth knowledge on the particular topic and human psychology.
9. Professional Academic Ghostwriting
Academic ghostwriters can assist you in writing a standard essay or thesis paper. Professional academic writing is a kind of hard process that takes a long time. Sometimes it can put you to struggle to submit the work timely.
That's why many students and academicians hire ghostwriters to complete their academic papers perfectly and timely. You can also get your academic paper by hiring a professional academic ghostwriter according to your subject.
Because a ghostwriter is a skilled expert who contains proficient knowledge and writing skills, s/he will assure you of effective and non-plagiarized academic writing services.
10. Ghost Scriptwriter
In the digital world, scripts became necessary for movie making, storytelling, reality show, YouTubing, and other online video creation. Without good scripts, no movie or film cannot attract people, and it will flop.
When criticizing a movie or story, people start with its scripts. That's why a filmmaker or video creator requires an expert scriptwriter. But in most cases, they have to credit scriptwriters. It can be harmful to some directors or movie creators.
This problem is easily solved when you hire a ghost scriptwriter. You just pay him, and he will give you a complete effective script, and the entire credit goes to you undoubtedly.
The 6 Importance of Ghostwriters To Make Great Online Content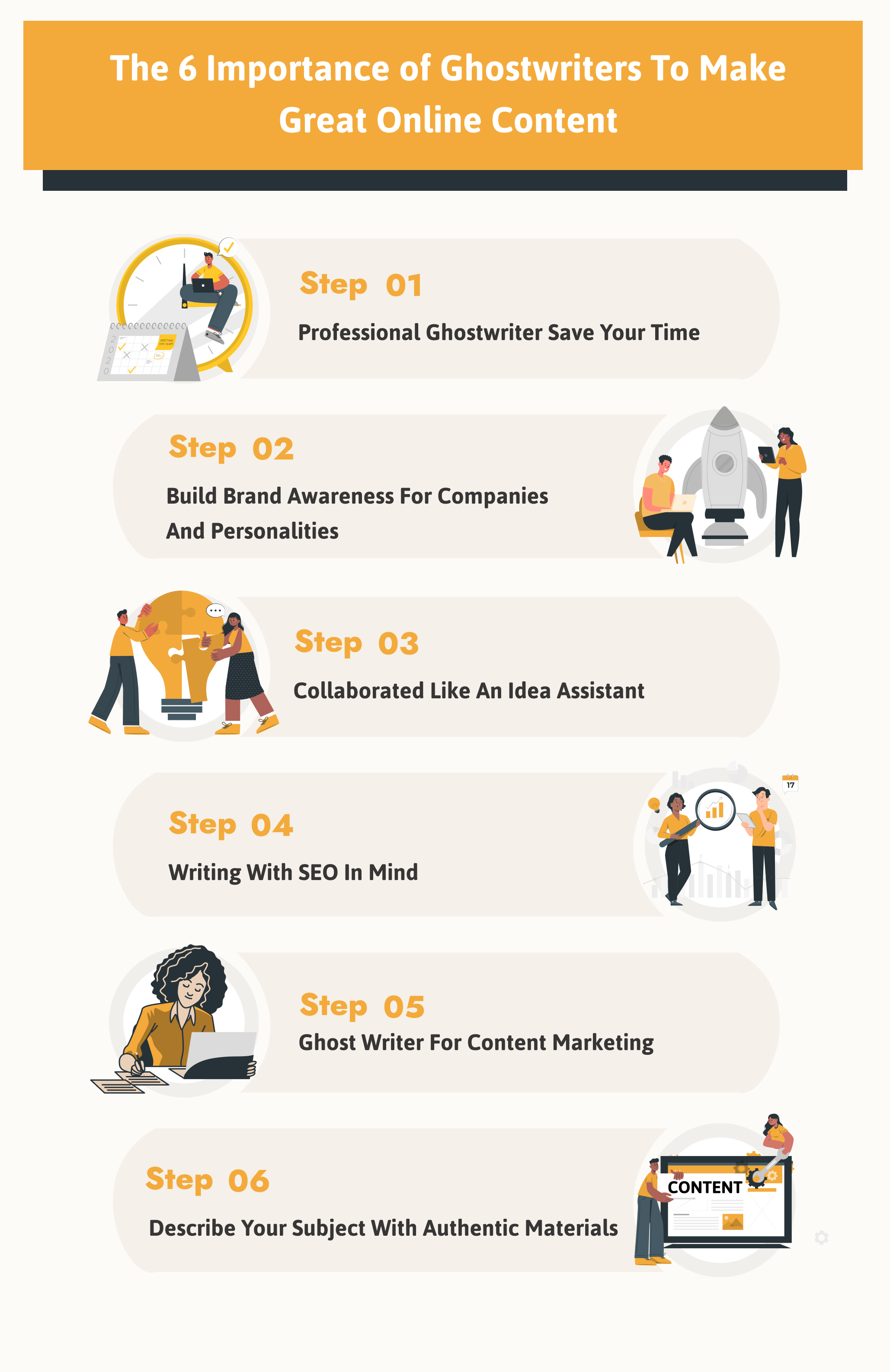 In the present world, ghostwriters are so essential to making great online content. Here you can get the 6 importance of hiring a ghostwriter.
Let's find it!
1. Professional Ghostwriter Save Your Time
Professional ghostwriters are always experts and fast in their writing activities. Whatever ghostwriters you hire like research, autobiography, or content marketing, they can produce it more quickly.
The most important fact is you don't have to spend time on it. The entire work you get completed by ghostwriters. And you can invest your time in the real business.
For instance, you need 10 or 15 articles for your website within 3 or 4 days, which is not possible to complete by yourself. Then ghostwriters can provide you with them before the turnaround time ends.
2. Build Brand Awareness for Companies and Personalities
You are maybe a businessman or a celebrity who wants to build brand awareness for your business or personal career. But you don't have much time or enough quality to write effective brand-promoting content.
A ghostwriter then can help you precisely. Because he has the proper knowledge about how to make good promoting content.
Ghostwriters are useful to create brand awareness for your company or personality. They are so fluent and professional that they deliver every content in a special way. It can have a positive impact on your audience about your brand or personality.
For that, you don't have to take extra responsibility to write any content. You will just manage your business, and the ghostwriters will build your brand awareness.
3. Collaborated Like an Idea Assistant
Professional ghostwriters usually belong to various backgrounds like business, technology, literature, science, and others. For that, they can contribute effective knowledge and ideas to develop your project's quality and substance.
When you hire a skilled professional content writer, he can collaborate with you, providing the latest ideas and project plans. It could seem that he is your research assistant.
Moreover, they can work according to your suggestion in a friendly way. In most cases, they will be the first readers of your content and can provide effective feedback to improve important points.
4. Writing with SEO in Mind
When talking about articles for websites, SEO will be the most important fact. Professional web ghostwriters are trained well in SEO, and they are not only experts in engaging and quality content writing but also in Search Engine Optimization.
During writing web articles, a ghostwriter designs them with SEO in mind. So when you outsource the content writing, he can provide you with SEO-based articles.
Apart from making quality and happy-reading articles, he can make perfect use of keywords, LSI (Latent Semantic Index), and so on. It can make the content top-ranked on SERP and improves your website optimization.
5. Ghostwriter for Content Marketing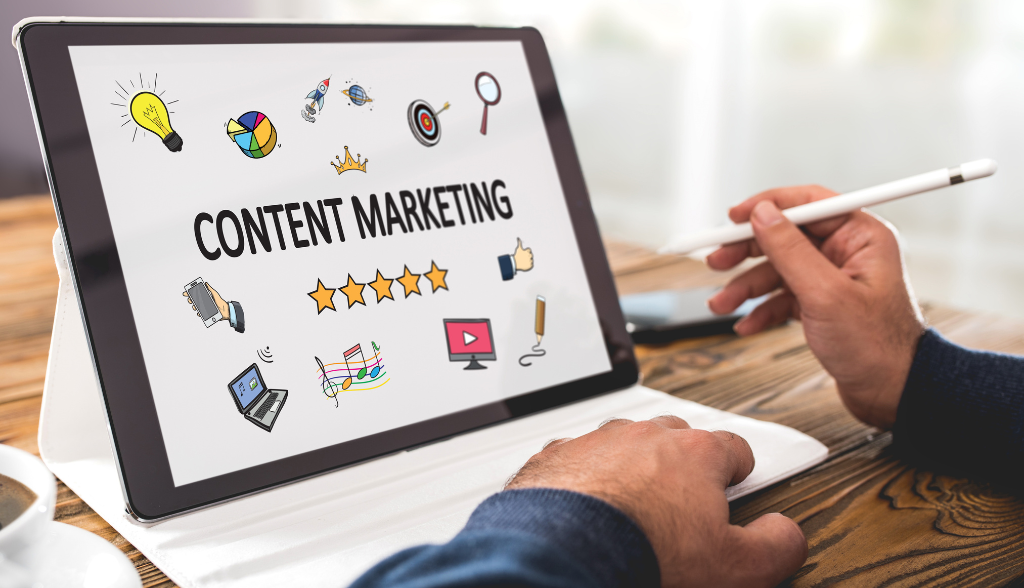 Every business company or organization needs different types of content like email, blog posts, and social media posts for marketing its brand or products. It's tough to write different types of successful content for a single person.
For that, you can hire different ghostwriters for different writing activities. It will make your content marketing successful and gain extraordinary acceptance from your clients.
Moreover, ghostwriters also develop the voice of a company or brand awareness utilizing content marketing policy.
6. Describe Your Subject with Authentic Materials
Every content or writing material needs authenticity and a prominent source that is not possible for everyone. Even some people write content without using any source.
However, Ghostwriters are professionals in real. Every article they write is quite based on authentic sources. They will design your content with relevant points and describe that with proper knowledge.
For that, your content looks so unique and proves plagiarism-free which is a real need in every writing sector.
How Much Does It Cost to Hire a Ghostwriter in the US?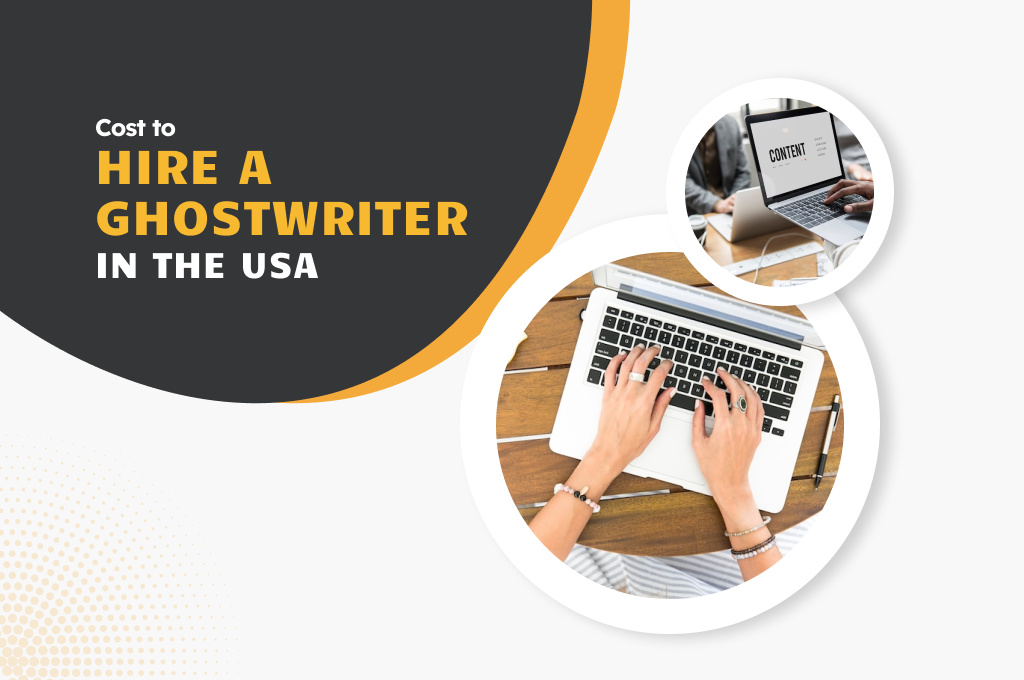 The hiring cost of a ghostwriter in the US typically varies depending on the writing types, writing skills, and pricing demands.
Here I articulate some ghostwriting pricing rates according to their categories that can help you get a coherent idea:
Ghost Article Writer
The hiring cost of a ghost article writer varies depending on article type [Editorial, Entertainment, Web Article, Arts] and writer experience.
A quality ghost article writer usually accepts $200 to $300 per article according to word count, required research, and defined topic. Even some of them receive 50 cents to $1 per word.
Here I am mentioning the average article writing cost for you:
Simple Article costs: $0.06 to $10.13 per words
Mid-Quality Article: $0.08 to $0.20 for 500 words
High-Quality Article: $0.10 to $0.25for 500 words
Landing Page Content
Landing page content writing cost also varies according to the writer's experience, page count, and word limitation.
Professional landing page writers usually receive $0.09 to $0.20 per word. The average cost of page landing content is about $150 to $500.
Blog Posts Writing Service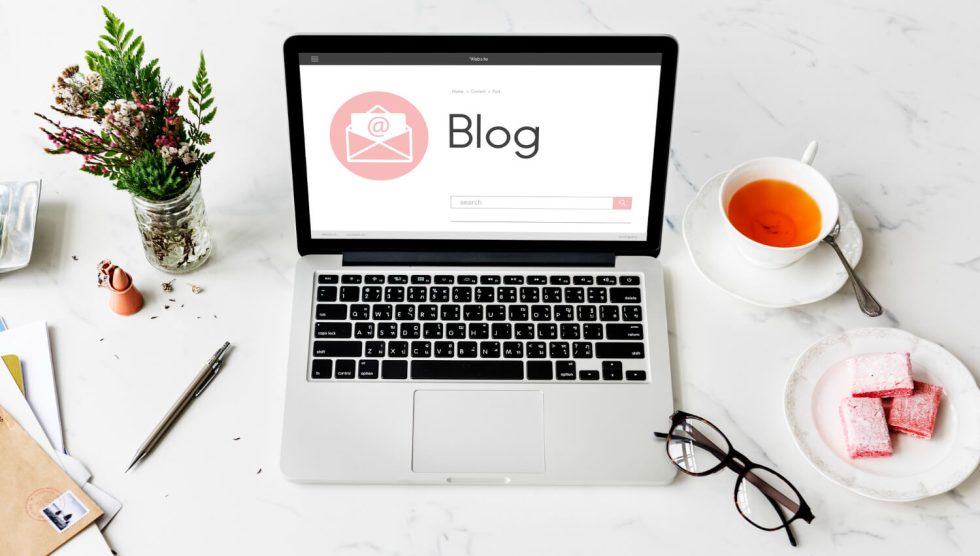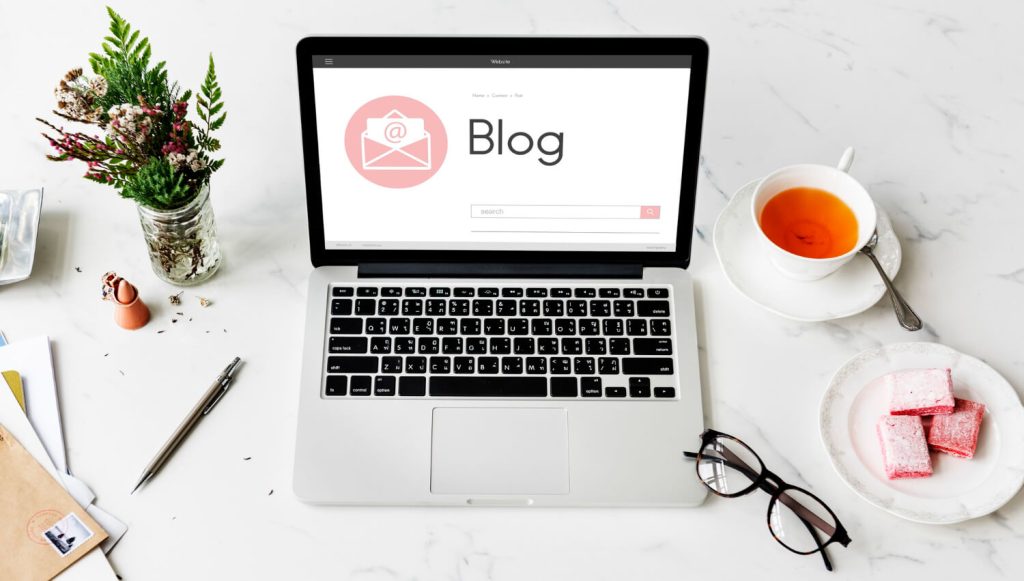 The hiring cost of a freelance ghostwriter for blog posts or web content usually varies per hour, per word, per content, etc.
Here are mentioned some average costs for you:
Per hour: $10 to $50
Per word: $0.06 to $3
Product Description's Content
Hiring a ghostwriter for Product Description Content may cost various amounts depending on the level of case study, turnaround time, page or word count, etc.
Here you can get an average pricing rate for different case studies:
Per Word: Starts from $0.07 to 0.10
Per Hour: Starts from $20 – $50
Email Newsletters
Email Newsletters cost varies depending on per mail, per week, per month, etc.
The average pricing rate for writing an email newsletter is about $35 to $55 per email.
Social Media Content Writing
You can hire several social media content writers or agencies who usually charge according to their skills, and content quality.
The average charge of social media content writing is between $0.13 and $0.20 per word.
Autobiographical Ghostwriters
Ghostwriters for writing an autobiography demand different prices according to their skills, writing quality, length, etc.
Per Word: They usually charge $1 to $5 per word.
For the entire service: Professional and high-quality ghostwriters usually receive between $30,000-$75,000. You can also find less than the above range, but it will affect the quality.
Speech Writing
In the US, Speech Writing typically costs depending on word count or hours.
The average hourly pricing rate for a speech writer is $68. Moreover, the range usually covers between $55 and $86.
Professional Academic Ghostwriting
Professional Academic Ghostwriters charge numerous pricing rates according to academic level, research quality, word or page count, and turnaround time.
Here are mentioned some average pricing costs:
PhD Level: Starts at $30 per page
Graduate Level: Starts at $25 per page
Undergraduate Level: Starts at $15-20 per page
Highschool Level: Starts at $10-$15 per page
Scripts ghostwriter Service
The hiring cost of a ghostwriter for writing a script also varies depending on page count or hours.
The average cost of writing a script is about $60 per screenplay page or per minute. According to that, a 120-page script writing will charge about $7,200.
FAQs on Freelance GhostWriter Definition
Conclusion
Ghostwriters are anonymous professionals who are hired to write many types of articles that go to credit another person. I hope this article provided you with proficient knowledge about a ghostwriter.
Now you can undoubtedly hire a ghostwriter for your business or website.
Moreover, when someone asks you what a ghostwriter is? You can definitely give him an accurate and vast idea about it.
So, go forth and conquer.