Ghostwriting is a fabulous way to introduce your eCommerce business to your target audience without doing all the hard work by yourself. But you may worried about thinking: Is ghostwriting legal?
As an eCommerce business owner or entrepreneur, your goal is to build a strong online presence to prove your brand or service loyalty. Here, a ghostwriter ensures your message is delivered to your target audiences perfectly and builds trust to rely on your service or brand.
Curious to explore ghostwriting legal issues? On this note, you'll explore all about ghostwriting ethical considerations, countries' laws, and many other factors.
So, without further ado, let's get started!
Is Ghostwriting Legal: Overview
The legality of ghostwriting is a major concern for those considering working with a ghostwriter for the first time.
Suppose you want to write your autobiography or any other type of book. But you don't have any writing knowledge. So, how can you make your dream of publishing a book a reality?
You can collaborate with professional ghostwriters.
Besides book writing, a professional ghostwriter can help you complete business projects. They can write blog posts, articles, and other writing projects that call for planning, research, or other SEO metrics to make the content search engine friendly and meet the client's goals.
What is Ghostwriting in Legal Terms?
Ghosting or ghostwriting, in legal terms, defines a practice where one person (ghostwriter) writes blogs, articles, social media posts, or others on behalf of another person (the client). Here, the client owns the content ownership produced by the ghostwriter.
Most business owners or brands hire professional and SEO expert ghostwriters to draft high-quality content. The ghostwriter's main role is to provide writing and research services without claiming ownership and responsibility for the draft.
Why is Ghostwriting Legal?
Writing is an intellectual property. And, like any other type of property, ghostwriting has its own set of legal standards.
Ghostwriting is a legal contract between a client and a writer, where:
The ghostwriter agrees to create content without claiming ownership of the content.
The client agrees to compensate the ghostwriter for the content and copyright of the content.
Ghostwriting in business is all about crafting a brand voice by creating content that draws customer attention to the company website and fulfills the content goal. The content can be anything from informative to how-to guides, tips and tricks, and so on, written with the purpose of educating readers, solving their pain points, or driving them through the sales funnel.
Several well-known eCommerce businesses, individuals, brands, chefs, and even authors hire ghostwriters to write for them. Not convinced yet?
Let's look at the key points below:
You (the client) have complete editorial control over the project.
All shared materials and research are original.
You (the client) get clarification about payment, book title credit, web blog, and others by adding clauses in the contract.
So, if all these guidelines are followed, the service is legal to fulfill your project.
Note: Ghostwriting is strictly illegal for writing academic papers and is subject to special regulations in the case of medical content and legal documents..
The Legality of Ghostwriting: What to Look for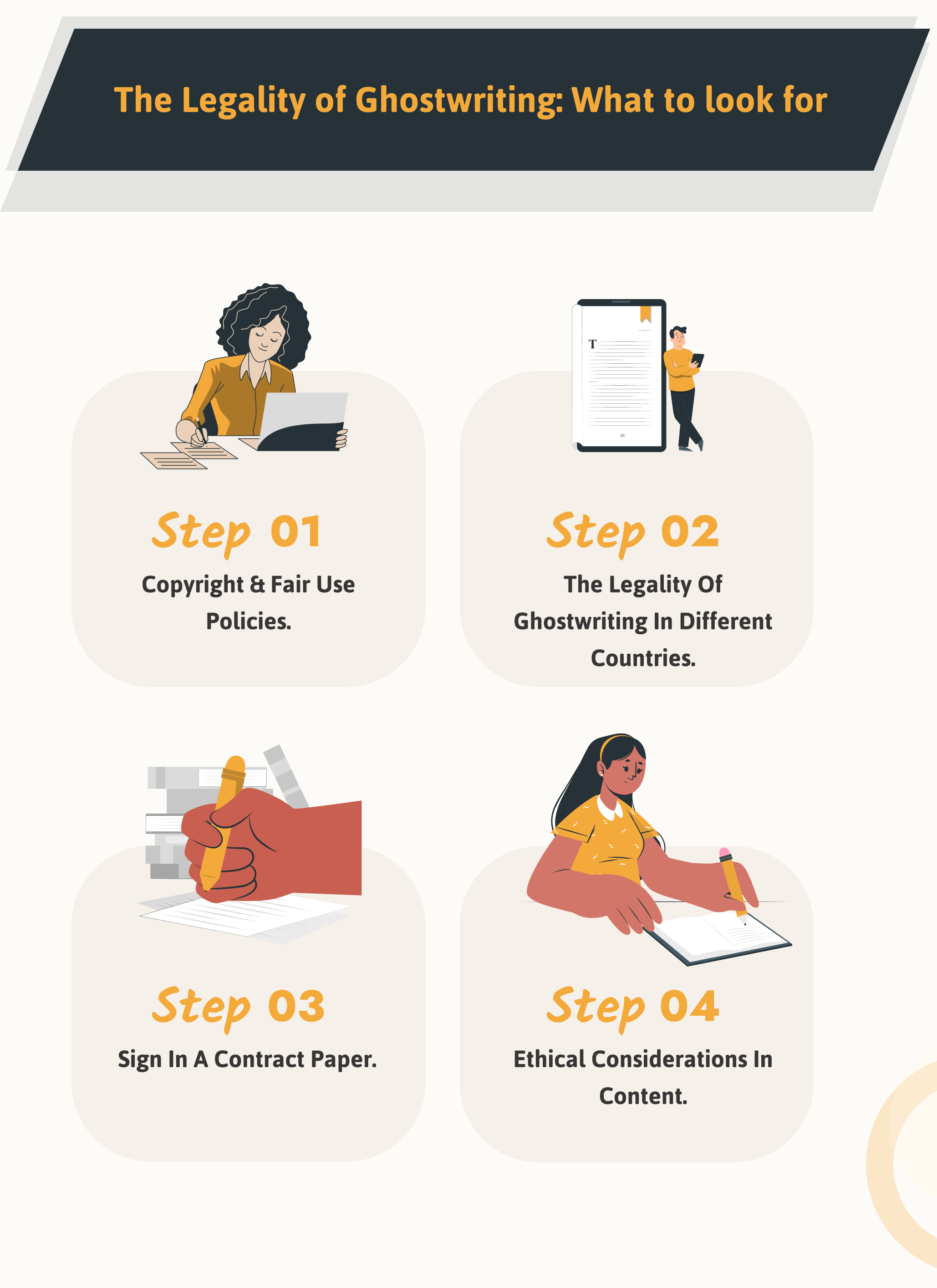 Do you want to hire a ghostwriter to boost your brand sales or complete your book? Or, want to outsource article writing by acknowledging ghostwriting laws?
Let's scroll down and grab all the legality factors of ghostwriting:
1. Copyright & fair use policies
High-quality content can rank your business website higher on Google SERPs and generate massive traffic with sales. Professional ghostwriters fulfill your desired goal by delivering content on time and helping companies establish strong content market strategies.
To ensure hiring a ghostwriter can add value to your service without any policy violation, you need to pay attention:
Ghostwriters generally don't take royalties; they transfer ownership through a contractual agreement and get payment for the draft.
If you run an eCommerce business of electric supplements or others. Ghostwriters have no right to use those product details on their site if they have any or share them with others.
Consumers love transparency, but when you don't pay attention to it, you will lose your brand authenticity and their trust, too. So, pay attention to attaching necessary disclosures like Amazon whenever needed.
When you want to hire ghostwriters for technical blogs, scientific research, or other creative purposes, pay attention to their up-to-date research sources to avoid law violations.
2. The legality of ghostwriting in different countries
The legality of ghostwriting depends on country-based copyrighting laws differences. For example, business owners and digital marketers have no restrictions on collaborating with ghostwriters to enrich their content marketing in the UK, USA, or Germany.
So, both the client and ghostwriter need to focus on their country-based legal laws and regulations.
Note: Plan to hire a book ghostwriter? You are free to hire one if you live in the United States, Georgia, Hawaii, Idaho, Texas, and the United Kingdom. But New York, Florida, and nine other states require full disclosure.
3. Sign in a contract paper
A well-drafted contract paper outlines several rights and responsibilities of client and ghostwriters, such as:
Payment terms
Deadlines
Content ownership
Attribution
Confidentiality, and many more.
Many business ghostwriting services clarify the terms of ghostwriting agreements to maintain laws. Also, it reduces the chances of transferring business confidential information or other intellectual property rights.
Note: When a journal article or book is published, a contract paper is signed between you (as the author) and the ghostwriter mentioning what they can and can't do to protect the royalty.
4. Ethical considerations in content
A professional and SEO-expert ghostwriter is known as a research assistant. By hiring one, your business will benefit from effective traffic and sales.
So, to ensure you're on the right track, you need to focus on key traits of ethical ghostwriting, such as:
Secure author or client data.
Submission deadline.
Plagiarism-free content.
Reliable & recent data in the content.
Avoid clickbait headlines.
Writers for Human readers without using AI tools.
Won't extend the article for the sake of words.
Doesn't overstate the content.
Now, it's time to look at ghostwriting popularity in online business in the next section!
What is the Future of Ghostwriting in your Ecommerce Business?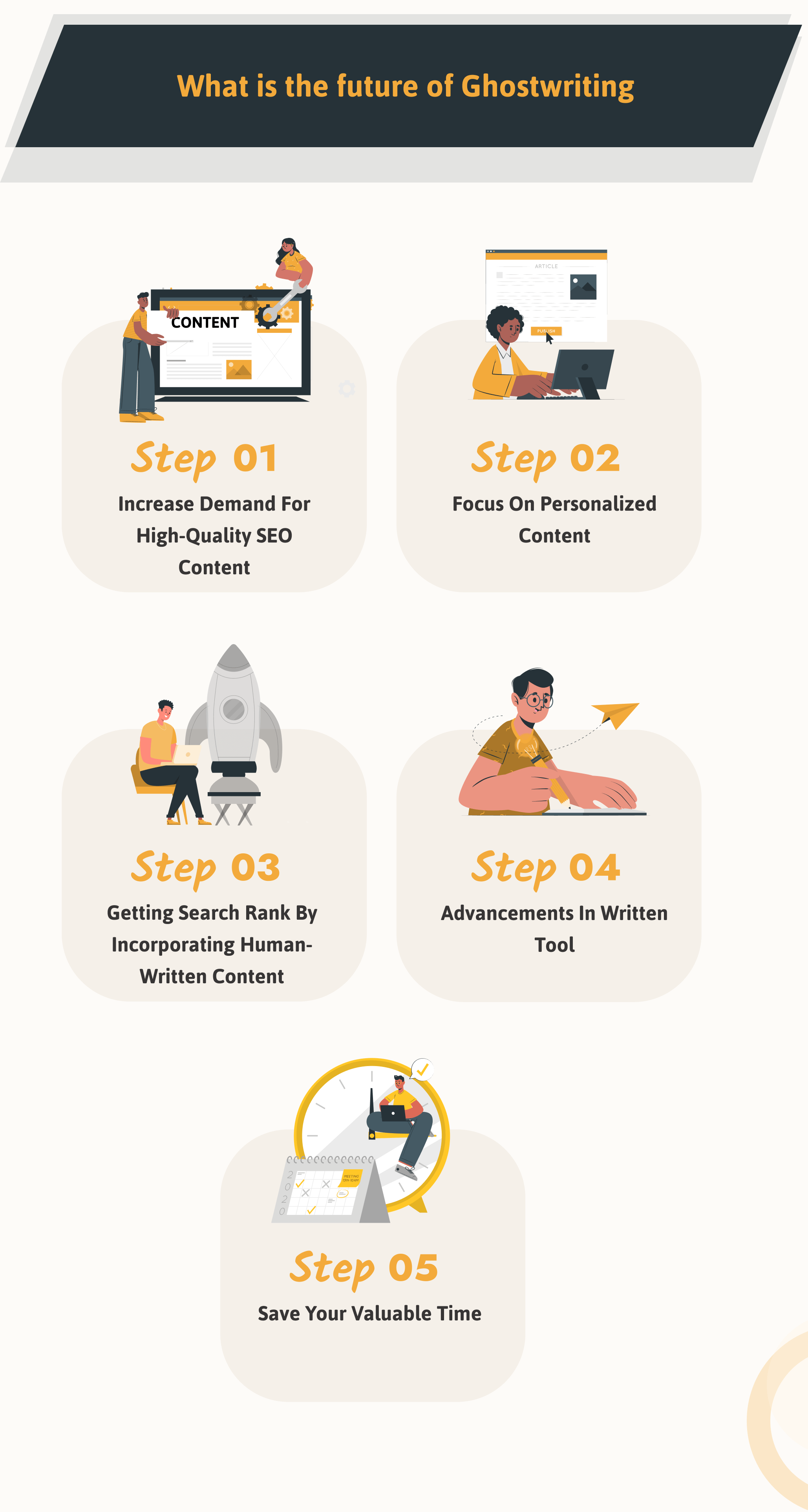 Picture this: you launch trendy and unique products to your eCommerce store by considering customers' preferences and needs. But without engaging content, you can't build emotional attachments and the necessity to buy products.
That's is the main reason companies hire ghostwriters to:
1. Increase demand for high-quality SEO content
Ghostwriters are professionals who have SEO expertise in their field or niches. They can highlight your audience's pain points and fulfill their demands by researching target audiences' insights. Also, to ensure the final draft is of high quality, they focus on the:
Niche-relevant keyword implementation (i.e., image alt text, meta titles, descriptions, etc.).
Backlinks, on-page SEO tactics (internal, external links, URL optimization, etc.), and many others.
2. Focus on personalized content
Professional ghostwriters have experience in several writing genres and styles. They can handle sensitive information and maintain client references like law, healthcare, or corporate sectors.
They maintain consistency from buyers' persona to the business sales funnel and clients' touchpoints.
3. Getting Search rank by incorporating human-written content
Industry-expert ghostwriters provide real and user-centric content compared to AI, which helps to rank on SERPs. They can easily build conversations, reveal a challenge, and beat competitors through:
Niche-based market research
Adding high-quality backlinks
On-page optimization and implementing other SEO tactics.
4. Advancements in written tool
Ghostwriters are tech-savvy and have advanced SEO and writing tools experience, including:
Ahrefs: SEO tools that provide all essential resources to grow your search traffic.
Surfer SEO: Help to research, write, optimize, and audit for better ranking.
Hemingway Editor: Writing tools provide necessary improvement to create user-centric content. 
Grammarly: professional or personal editor that provides sentence structure, complex grammar issues, and plagiarism. 
AnswerThePublic: Help to match content with the intent of real searchers by fulfilling their quest (what they want to know, how they ask, etc).
5. Save your valuable time
Ghostwriters help you to focus on important business factors like new product launches or book publication ideas, deliver products on time or schedule, etc. They help leaders and those who have personal brand-building missions.
Also, you don't need to spend hours on topic and keyword research, competitor analysis, etc., to boost sales. If you are an author or public figure, ghostwriters can increase your visibility by grabbing your target audience's attention.
What are the Ethical Principles of SEO Ghostwriting?
The ethical principles of SEO ghostwriting are transparency, quality, and fairness in content optimization and creation. As you know, AI-generated content gives you a robotic or formulaic tone in your articles or drafts. But human-written content has an engaging and unique tone to meet audience expectations.
For more in-depth details check out below:
The key role of a ghostwriter in the content creation process is to communicate clearly with clients or other relevant parties.
Another ethical principle of a ghostwriter is to ensure the draft is accurate and reliable without misleading headlines, clickbait, or false claims.
Ghostwriters must focus on meeting brand expectations and meet the audience's needs through well-researched.
As an ethical SEO writer, their goal is to enrich your website with effective traffic. Also, they are aware of your choice of language, images, and how to impact viewers.
Ghostwriters must obtain permission and rights to use brand images, graphics, or other media content to avoid violation of intellectual property.
Should You Credit Your Website Content Ghostwriter?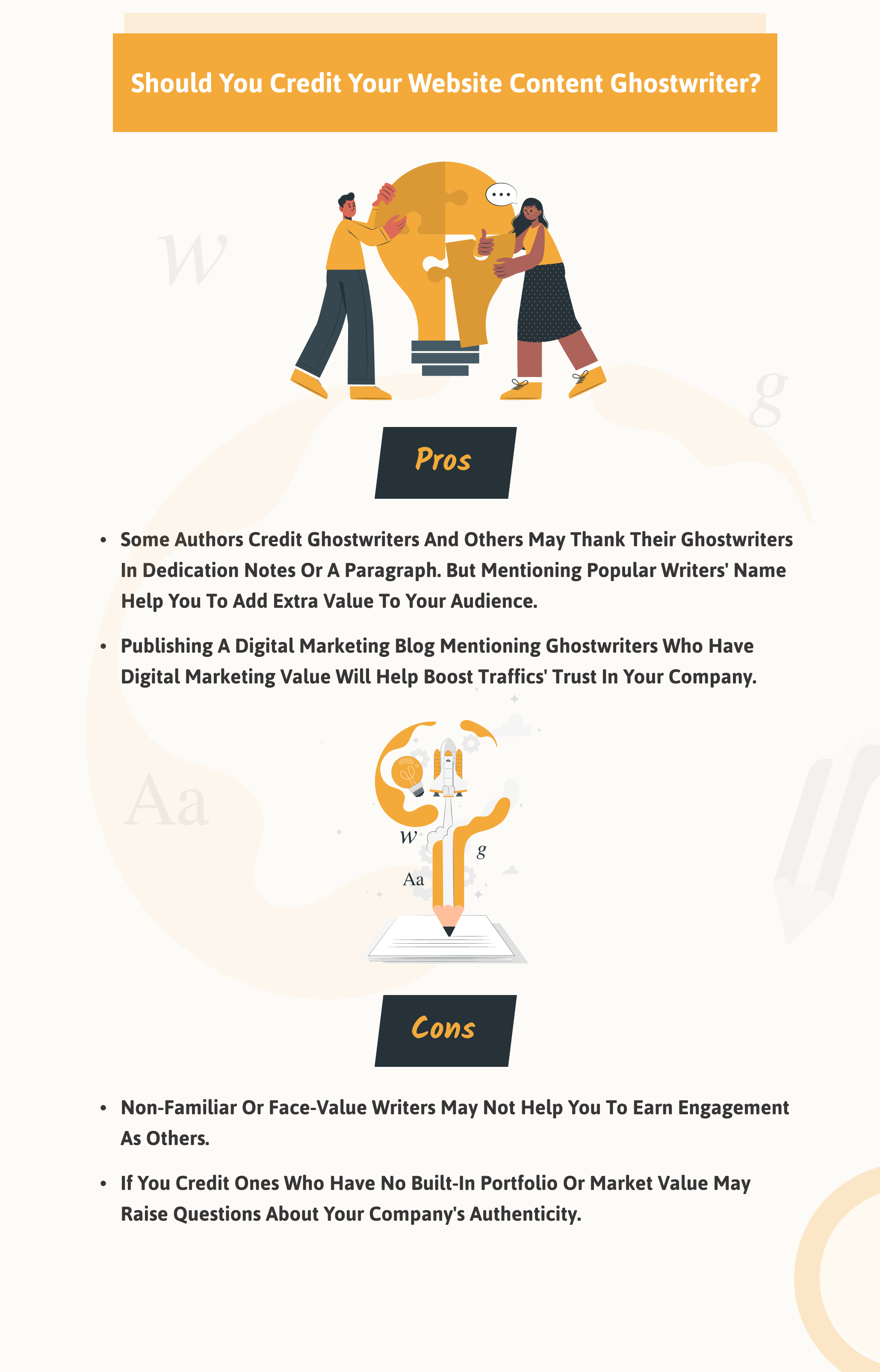 Do you credit your website content ghostwriters or not? Here, we've highlighted both positive and negative sites that help you make a choice:
Pros
Transparency: Sometimes, clients or authors credit ghostwriters to maintain the transparency and authenticity that audiences love most.
Establish Website's Authority: If a ghostwriter has your business niche or subject-based expertise, crediting them can enhance your website's credibility and authority.
Professional Collaboration: Crediting a professional and renowned ghostwriter can promote a sense of professionalism and teamwork to your audience.
Cons
Loss of Audience Trust: If you credit a non-familiar ghostwriter who has no face value, it may destroy your personal connection with your audience.
Diminish Brand Identity: When you credit a ghostwriter who has no built-in portfolio or market value, it may raise questions about your company's authenticity, potentiality, and identity.
Privacy Loss: If you work with multiple ghostwriters or contributors, crediting may lead to requests for direct communication, which can disrupt your privacy and workflow.
Highlights
Before going to the final verdict, we've created quick highlights of this article for you so that you can easily notice important facts:
Ghostwriting is the process of completing a draft under a client or someone else's name.
In the UK, USA, Germany, and many other countries, ghostwriting is legal.
Entrepreneurs, eCommerce business owners, and many others hire ghostwriters to gain more traffic and increase sales.
Pay attention to the ethical principles before hiring a ghostwriter and focus on contractual agreement rules.
Try hiring a professional ghostwriter with advanced SEO expertise, like highlighting the brand tone and buyers' persona to meet business sales funnel strategies.
Go through the pros and cons before crediting your website content ghostwriters.
FAQs About Ghostwriting Legality of Website Content
Is academic ghostwriting ethical?
No. Academic ghostwriting is not ethical. It is considered academic misconduct when you submit your assessment via ghostwriters (paid or unpaid).
What information does a blog ghostwriter need?
Plan to hire a blog ghostwriter? Let's look at below what information they need to complete your projects:
● Your site or book's voice.
● Your vision.
● Who is your targeted audience?
● Do you have any preferences or competitors?
● How much time do you schedule to complete the draft?
● What keywords are you targeting to rank?
● And so on.
Is AI the future of Ghostwriting?
AI won't replace the creative thoughts and emotions of expert-level ghostwriters. But AI tools can contribute to better content through other tasks:
● Research
● Editing, or
● Rewriting.
Will technical ghostwriters be replaced by AI?
No automation or AI can replace a technical ghostwriter. Strategic thinking, planning, and understanding the best ways to explain things in a user-centric way, subject-matter experts are needed.
Will I get to review the ghostwriter's content throughout the project? 
Yes, you can. Suppose you assign a ghostwriter for 6 months to do several blog posts, social media, etc. You can review their content after submitting it one by one to clarify your brand tone, idea implementation, and other factors.
Conclusion
After completing this article, "Is ghostwriting legal?" we hope you get all the necessary details before hiring one for your brand promotion.
Remember to follow the right ghost-hunting process to get industry-expert ghostwriters.
Best of luck!