Ghostwriters are the unsung hero behind many of today's leading brands, founders, and others. They invest their time and skills to boost your business or brands.
To this day, some face difficulties in hiring ghostwriters, such as – Is ghostwriting legal? Or, what is the legality of ghostwriting?
In this article, we'll talk about the legal issues of ghostwriting, country or state rules, do you credit ghostwriters or not, and so on.
But before getting started, let us introduce you to the overview of ghostwriting legality.
Is Ghostwriting Legal: Overview
The most asked question online is, "Is ghostwriting legal or illegal?"
Picture this, your book or project has lots of segments to complete, like planning, topic research, etc. Needless to say, it's not easy to complete the entire task by yourself. But with professional ghostwriters, you can get an amazing collaborator.
Your product or services gets more visibility for their SEO knowledge, and next, you've earned authentic customers. How can they achieve it?
Don't worry. In this article, we'll go through all the legal terms, ethical factors, and credit-related issues you'll need to know before hiring a ghostwriter to boost your brand.
Let's get started!
What is Ghostwriting in Legal Terms?
Ghostwriting or ghosting involves a contractual assignment between the author or brand owner and the ghostwriter. The writer is paid for his work and never claims ownership and copyright of the submitted drafts. In return, an author or brand owner uses it as his own.
But in some cases, the ghostwriter may sell a license so the author can use the written materials in his/her name. It depends on the state's low and professional level of personnel. However, hiring a ghostwriter can add benefits to your research, creative web copies, blogging, book publishing, and so on.
Are you curious whether ghostwriting is legal or why you need to hire one?
Let's scroll down to the next section!
Why is Ghostwriting Legal?
Some people think that it is a gray area, but there are legal and ethical standards between you and the writer. At its core, ghostwriting creates a creative way to craft a brand voice and specialty without any credits or royalties. It's all about representing your ideas, knowledge, and thoughts.
Several well-known eCommerce businesses, individuals, brands, chefs, and even authors hire ghostwriters to write for them. Not convinced yet?
Let's look at the key points below:
You have complete editorial control over the project.
All shared materials and research are original.
You get clarification about payment, book title credit, web blog, and others by adding clauses in the contract.
So, if all these guidelines are followed, the service is legal to fulfill your project.
Note: Ghostwriting is illegal when it violates education institutions' policies.
The Legality of Ghostwriting: What to Look for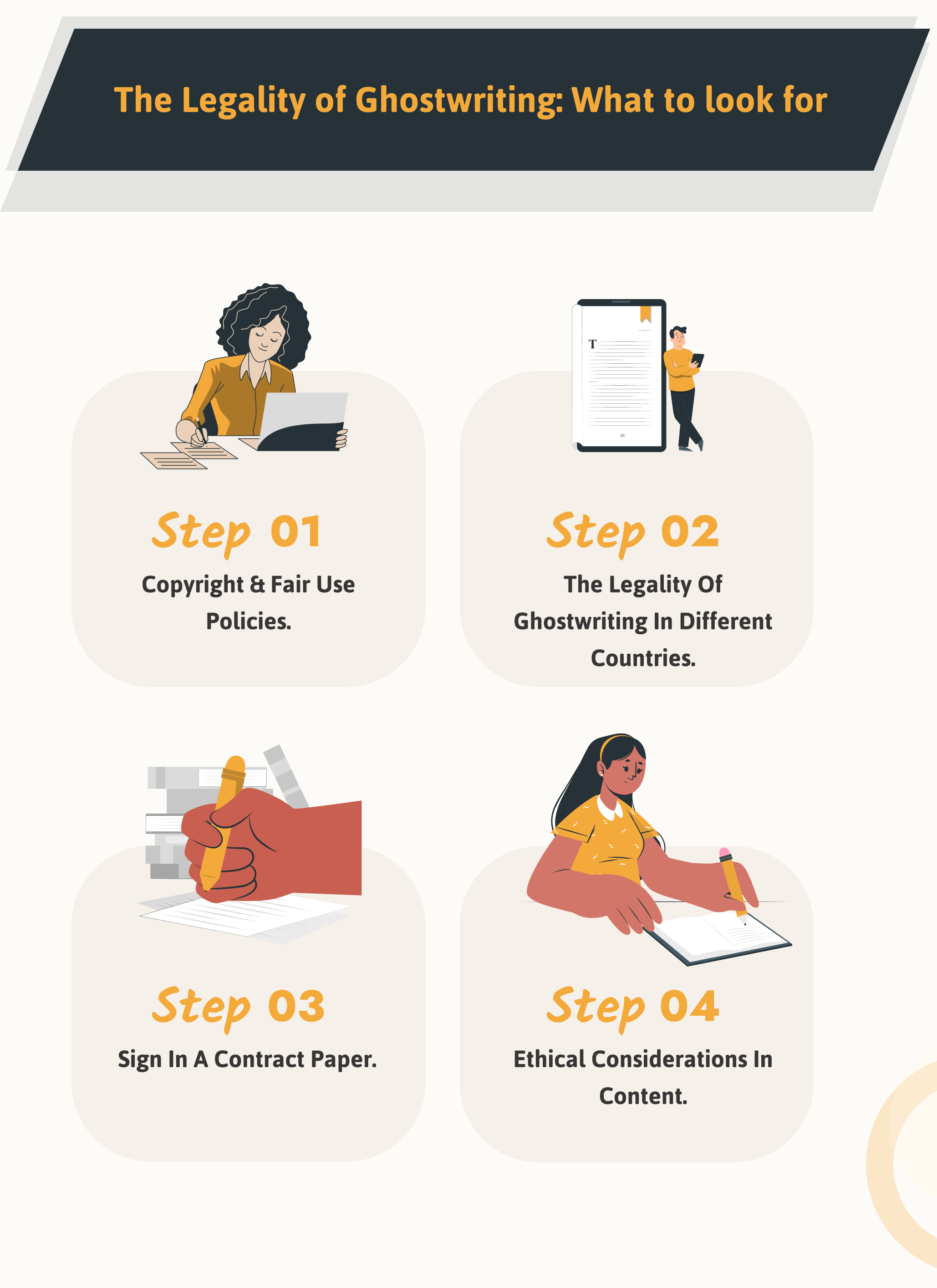 Do you want to hire a ghostwriter to boost your brand sales or complete your book? Or, want to outsource article writing by acknowledging ghostwriting laws?
Let's scroll down and grab all the legality factors of ghostwriting:
1. Copyright & fair use policies
Ethical content is honest and transparent with authentic, creative, and accurate information. As a brand owner or author, your concern point is to use ethical content marketing to build trust and grow sales.
And for this, you need to go through several factors, including:
Ghostwriters won't take royalties; they only charge for their creative pieces. That's why before hiring one, you need to confirm it.
If your company specializes in ethical travel or tourism guides, the ghostwriters will never feature travel content on their site that Google judges as plagiarism content.
Consumers prefer transparency and lack it; you can lose your brand authenticity. If you sell devices or services that require to include necessary disclosures, make sure disclosures are added.
Ghostwriters for medical or scientific research drafts require ethical research and up-to-date communication so that any information won't violate the law.
2. The legality of ghostwriting in different countries
Website, blogging, social media, and other brand-promotional ghostwriters have no restrictions worldwide. UK, USA, Germany, and other countries, business owners and digital marketers willingly collaborate with ghostwriters to enrich their content marketing.
If the agreement between you and the ghostwriters is maintained perfectly without any violation, the service will provide long-term value.
However, don't blindly go with ghostwriting scandals; pay attention to its core before judging. In the present era, federal and many state courts' ethical committees have changed their view of ghostwriting.
Note: Book ghostwriters may face restrictions in some states of the United States, Georgia, Hawaii, Idaho, Texas, and the United Kingdom have no rules or objections to ghostwriting. But New York, Florida, and nine other states require full disclosure.
3. Sign in a contract paper
You may give ghostwriters access to product details, company vision, and other important factors to highlight your brand tone and achieve your business goal.
In that case, brand or eCommerce store owners may wish to apply ghostwriter agreement policies to protect their service or product authenticity.
All these criteria ensure you have genuine content resources that the writers have no rights to reuse. The service also helps you to reduce the workload and balance your schedules with on-time submissions.
Note: When a journal article or book is published, a contract paper is signed between you (as the author) and the ghostwriter mentioning what they can and can't do to protect the royalty.
4. Ethical considerations in content
Just like SEO, content marketing is also considered a white, gray, and black hat. But by hiring professionals who have working experience, you don't need to bother about it.
So, to ensure you're on the right track, you need to focus on key traits of ethical ghostwriting, such as:
Secure author or client data.
Submission deadline.
Plagiarism-free content.
Reliable & recent data in the content.
Avoid clickbait headlines.
Writers for Human readers without using AI tools.
Won't extend the article for the sake of words.
Doesn't overstate the content.
So, before hiring one, goes through these legal issues and hope you get the best professional ghostwriters who help to craft your draft.
Now, it's time to look at ghostwriting popularity in online business in the next section!
What is the Future of Ghostwriting in your Ecommerce Business?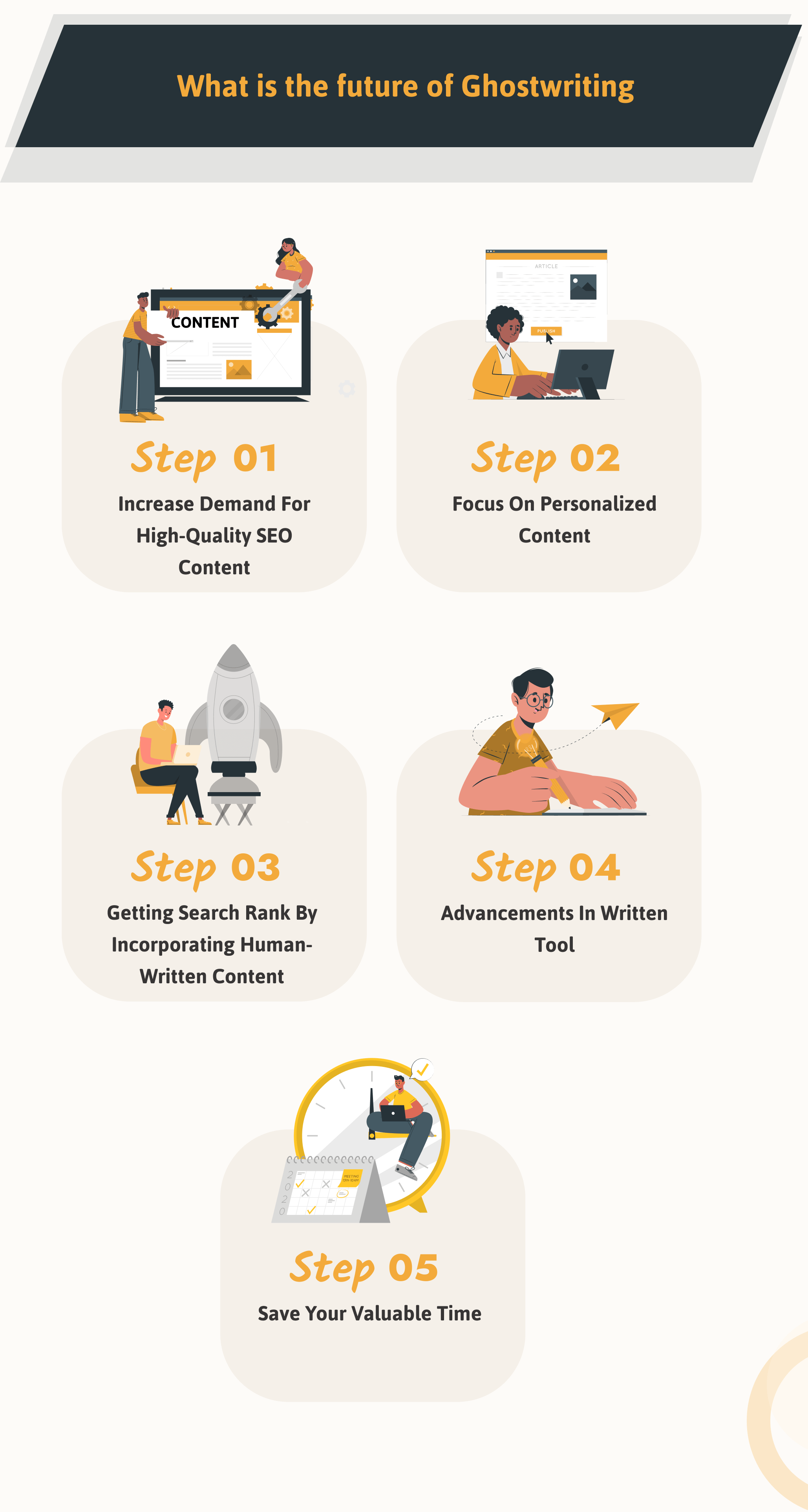 Picture this; you launch new products in your eCommerce business chain. But without engaging content, you can't be able to build emotional attachments and the necessity to buy. And more importantly, without brand voice, you can't differentiate from your competitors and build loyalty.
When the messages come directly from the upper-tier members, it gains authority. Also, ghostwriting helps you to:
1. Increase demand for high-quality SEO content
Ghostwriters are professionals who can highlight your audience's languages with SEO and help to gain insights. Search engine optimization is all about focusing on niche-relevant keyword implementation (i.e., image alt text, meta titles, descriptions, etc.).
The expert ones also pay attention to backlinks and apply on-page SEO tactics to rank your site on Google's #1 page. That means the more keywords in blog content can rank, the more you get traffic and engagement.
2. Focus on personalized content
The key role of ghostwriters is to highlight your brand voice, pinpoint audiences' demands, and serve the perfect draft that encourages them to rely on you. From buyers' persona to the business sales funnel and clients' touchpoints, they maintain consistency.
In short, a ghostwriter's goal is to enhance a person or organization's brand by promoting their creative or unique tactics to grab the target audience.
By collaborating with you time-to-time, they can narrow down all in one piece in an authentic way.
3. Getting Search rank by incorporating human-written content
Industry-expert ghostwriters provide real and user-centric content compared to AI. Building emotional attachments to rank on SERPs require creative content, relevant & high-quality backlinks, external & internal links, on-page optimization, etc.
A ghostwriter can build conversations, reveal a challenge, and beat competitors through market research. On the other hand, AI's content has lackings to provide real-world experience to your audiences.
4. Advancements in written tool
Ghostwriters are tech-savvy and love to implement trendy written tools to improve content quality and effectively manage deadlines. Blogging, ebook, book, eCommerce product, or website content, whatever it is, making the investment content is their key.
And for this, they have sound knowledge of online writing and editing assistants, like:
Ahrefs. SEO tools that provide all essential resources to grow your search traffic.
Surfer SEO. Help to research, write, optimize, and audit for better ranking.
Hemingway Editor. Writing tools provide necessary improvement to create user-centric content.
Grammarly. professional or personal editor that provides sentence structure, complex grammar issues, and plagiarism.
AnswerThePublic. Help to match content with the intent of real searchers by fulfilling their quest (what they want to know, how they ask, etc).
5. Save your valuable time
Ghostwriters help you to focus on important business factors like new product launches or book publication ideas, deliver products on time or schedule, etc. They help leaders and those who have personal brand-building missions. 
You don't need to spend hours on topic and keyword research, competitor analysis, etc., to boost sales. If you are an author or public figure, ghostwriting can increase your visibility and reach your targeted audience within an estimated time.
What are the Ethical Principles of SEO Ghostwriting?
As we all know, in this digitalization era, AI-generated writing has become more trendy. But it comes with a robotic or formulaic tone in your articles or drafts. Also, it detracts consumers from your service.
That means human-written content is the pillar to boost sales and engage people in your brand. For this, ethical issues are required in content marketing to achieve the goal.
Here are key ethical principles of SEO ghostwriting:
Branded content, sponsored content, native advertising, book, eBooks, and other writing need to maintain transparency. In this way, there is no legal issues arise between ghostwriters and you. Also, you can get up-to-date information and check the drafts so that the outcomes will reach your desired level.
Everything they write reminding your objectives and users' requirements to influence them. As an ethical SEO writer, their goal is to enrich your website with effective traffic. Also, they are aware of your choice of language, images, and how to impact viewers.
By using a wide range of sources, they serve a creative and accurate piece that informs consumers about your product or service's uniqueness. Remember: the originality of content stands out from competitors.
Should You Credit Your Website Content Ghostwriter?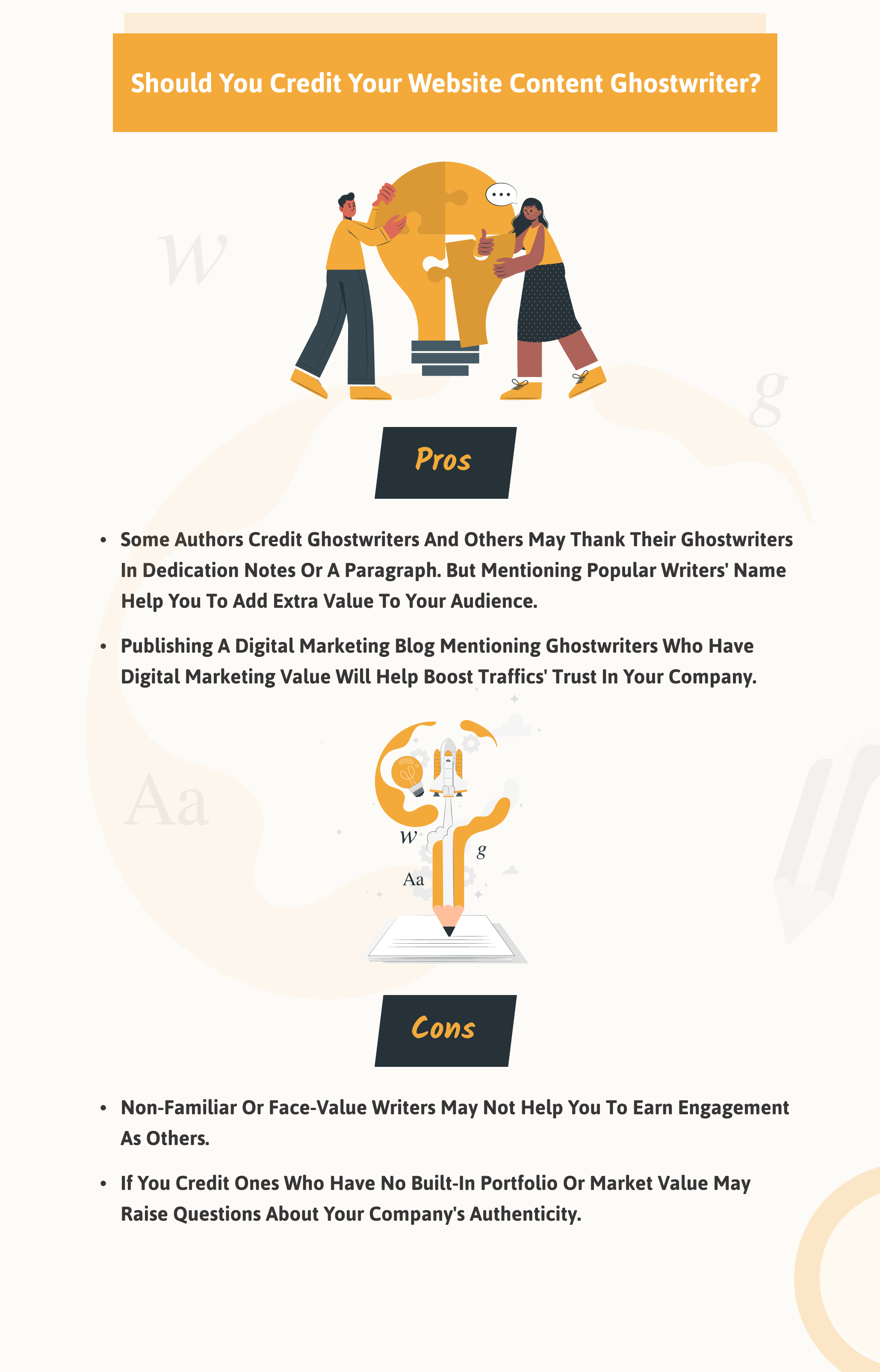 One of the most popular questions is: are ghostwriters credited?
Well, some ghostwriters may ask for credit when it comes to writing, blogging, website content, or other writing niches to enhance their portfolio. In other cases, they will ask that as a reference for a future job. The contract between you and a ghostwriter will define the rights and ownership of the piece.
However, let's take a closer look at some pros and cons when it comes to giving credit:
Pros
Some authors credit ghostwriters and others may thank their ghostwriters in dedication notes or a paragraph. But mentioning popular writers' name help you to add extra value to your audience.
Publishing a digital marketing blog mentioning ghostwriters who have digital marketing value will help boost traffics' trust in your company.
Cons
Non-familiar or face-value writers may not help you to earn engagement as others.
If you credit ones who have no built-in portfolio or market value may raise questions about your company's authenticity.
However, professional ghostwriters have industry-level experience in several writing niches; but to build loyalty audience seeks marketing expert references.
So, before giving credit to ghostwriters though they won't ask for it, consider these points.
Highlights
Before going to the final verdict, we've created quick highlights of this article for you so that you can easily notice important facts:
Ghostwriters won't demand credits. You pay for each draft and get royalties.
It is a contractual agreement between you and the ghostwriters.
You need to pay attention to the legality of ghostwriting, i.e., copyright, ethical considerations, and so on, before hiring.
Professional ones have SEO knowledge, how to narrow down the brand tone, highlight buyers' persona, and meet sales funnel strategies.
You can credit authority ghostwriting or personas that are popular in your marketplace.
FAQs About Ghostwriting Legality of Website Content
Is academic ghostwriting ethical?
No. Academic ghostwriting is not ethical. It is considered academic misconduct when you submit your assessment via ghostwriters (paid or unpaid).
What information does a blog ghostwriter need?
Plan to hire a blog ghostwriter? Let's look at below what information they need to complete your projects:
● Your site or book's voice.
● Your vision.
● Who is your targeted audience?
● Do you have any preferences or competitors?
● How much time do you schedule to complete the draft?
● What keywords are you targeting to rank?
● And so on.
Is AI the future of Ghostwriting?
AI won't replace the creative thoughts and emotions of expert-level ghostwriters. But AI tools can contribute to better content through other tasks:
● Research,
● Editing, or
● Rewriting.
Will technical ghostwriters be replaced by AI?
No automation or AI can replace a technical ghostwriter. Strategic thinking, planning, and understanding the best ways to explain things in a user-centric way, subject-matter experts are needed.
Will I get to review the ghostwriter's content throughout the project? 
Yes, you can. Suppose you assign a ghostwriter for 6 months to do several blog posts, social media, etc. You can review their content after submitting it one by one to clarify your brand tone, idea implementation, and other factors.
Conclusion
After completing this article, "Is ghostwriting legal?" we hope you get all the necessary details before hiring one for your brand promotion.
Remember to follow the right ghost-hunting process to get industry-expert ghostwriters.
Best of luck!