Planning to outsource content writing?
There's no doubt that content is the king of crafting your brand. Without resourceful content, your website fails to generate a decent amount of traffic.
So, it's important to add resourceful content to increase your website's impression.
Content creation helps you reach hundreds of thousands of visitors if there's a fair amount of content. In order to get huge traffic, you need to handle huge content-producing tasks.
On the other hand, if you hand over the task to professionals, you save time and stress.
Whether you're a small business owner or a marketer looking to outsource your content, this post will provide valuable insights to help you successfully outsource your content writing needs.
Still unsure of content outsourcing?
In this blog content, we'll provide a step-by-step guide on how to outsource content writing, from finding the right freelance content writer to managing the writing process.
What is Outsource Content Writing?
Outsourced content writing is the action that is done by any professional content writer who works under the guidance of your organization. They are highly skilled professionals and work as outhouse writers outside your organization.
Outsourcing content writing is a common practice for businesses and individuals who lack the time or expertise to create high-quality content themselves.
This content can include blog posts, service page content, website copy, social media posts, email newsletters, and more.
By outsourcing content writing, companies can leverage the expertise of skilled writers and focus on other aspects of their business, such as sales, marketing, and customer service.
Why Should You Outsource Your Content Writing?
Wondering why you should outsource content writing?
Simply, writing is a hard and long task and takes a lot of time to complete. Your organization may not have free time to handle the task.
Moreover, operating an organization requires a lot of work, and it consists of different sections such as finance, marketing, and human resource department where you need to utilize your thoughts.
At this time, you need content that is properly optimized for search engines, which can convert visitors to potential customers.
So, it's pretty impossible to manage and handle the tasks by the managers or entrepreneurs due to their busy schedules.
Still not convinced about content outsourcing?
Here are some other factors behind outsourcing your content writing you may find interesting:
Busy schedule and loads of work. You run an organization, and you have less time for writing, editing, and providing good-quality content. Would you remove yourself from running business operations for content handling? You don't want to do that!
Inefficiency in writing content. Content experts know their way of forming good quality content. You may be an entrepreneur or industry expert, but you have lackings in writing high-quality content. Professional content writers have the skills and experience to create compelling, informative, and engaging SEO content that resonates with your audience.
SEO-optimized content. Search engines are constantly updating each month, and they are updating to bring a new formation of content for their visitors. Content writers can help you create and develop content that is optimized for search engines, helping your website rank higher in search results. Otherwise, you would waste a lot of time on SEO-optimized content.
Overall, outsourcing content writing can effectively create high-quality content that supports your business goals, saves you time and money, and enhances your online presence.
Got the reasons behind outsourcing content?
If so, let's get to the advantages of outsourcing content creation this time.
8 Advantages of Outsourcing Content Creation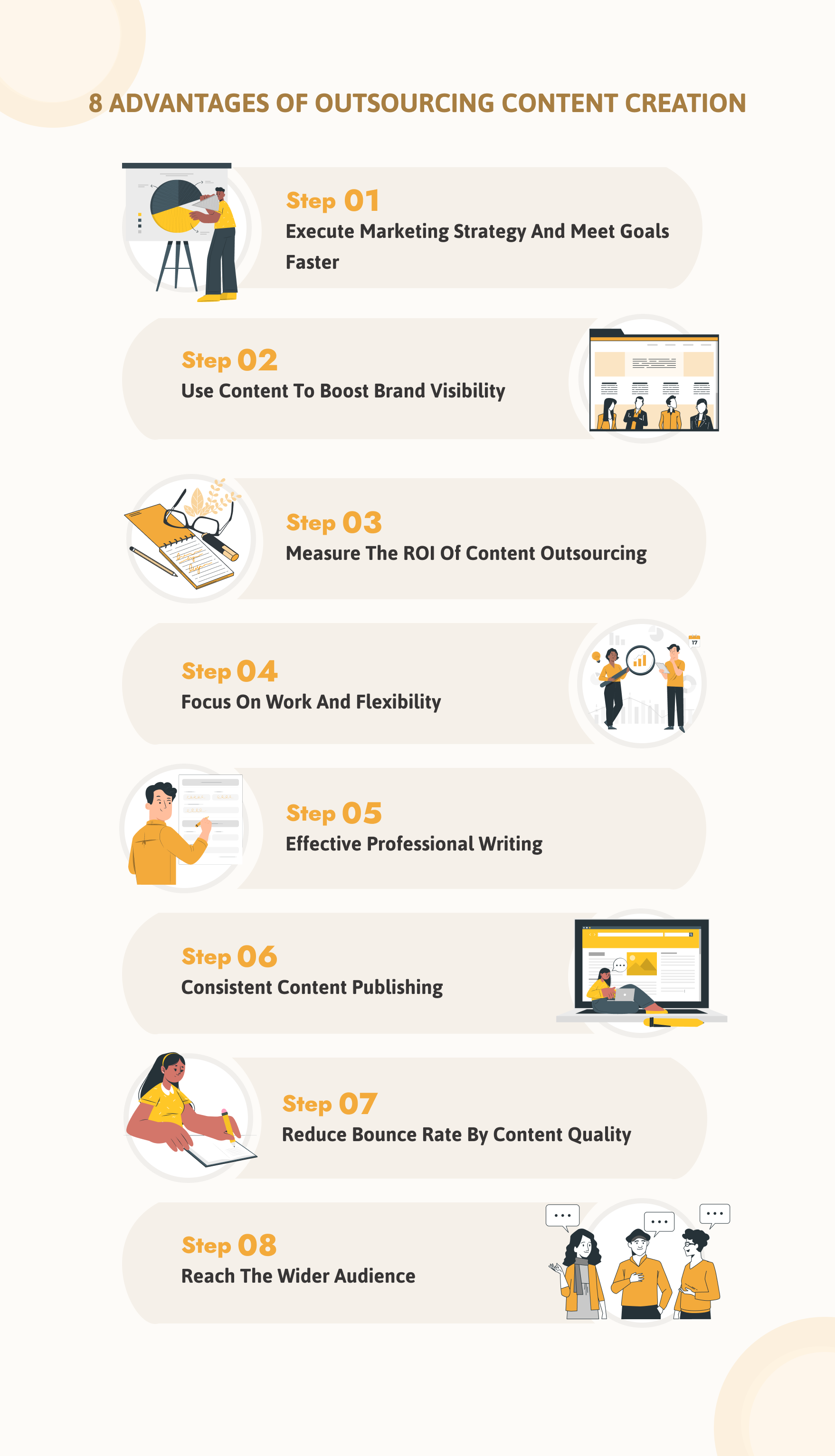 If you lack time and expertise, you can consider taking content creation outsourcing. In 2022, a survey showed that about 37% of marketing professionals use content outsourcing. These days it has become more affluent with numbers.
Pretty impressive, right?
You can realize the significance of outsourcing content creation.
So, here are some advantages of having outsourced content creation:
1. Execute marketing strategy and meet goals faster
Content marketing strategy or agency helps elevate your business and provides you with the marketing expertise that sets your own skill.
When you invest in marketing, it helps you to grow, and the results make you hugely benefit.
You can get a standard content writer who makes your content according to your instructions, or you can contact a marketing expert who works to ensure your marketing strategy keeps pace with your business goals.
2. Use content to boost brand visibility
You can use your content to increase brand visibility.
As you provide content to the creators, they can promote it on their networks and social media. This way, you get a new audience and publicity for your blog or website.
This is the same as different agencies and ghostwriting basis. You provide the content to an agency or ghostwriting freelance content marketing professionals; they will help you promote the content on their own social media or company blog.
3. Measure the ROI of content outsourcing
ROI or return on investment is the expected subject for every agency or company. You can make enough out of your outsourced content to make it worth your investment.
Also, you can easily track the ROI of your outsourced content. In fact, outsourcing content makes the ROI more worthwhile.
ROI formula,"ROI= profit ÷ investment x 100″Or ''ROI = (Revenue – Investment) ÷ Investment x 100'' 
Take a look at the subjects you can consider counting:
Take the note of views and conversions you made on the content
Observe the social media sharing, following, and engagements
Observe the sales and revenue after utilizing the content marketing plan
These are the things you can follow to elevate your business and if you are ready to publish your highly optimized content, then increased leads, conversion, and engagement are the major things you can follow.
4. Focus on work and flexibility
When you have a full-time writer, you're kind of stuck, and you also need to change the writer to bring a new formation to your content.
Outsourcing is the only flexible option that enables you to hire more writers when you want to produce more content.
You can change your track of work by opting for different writers. So, when you want to try different tones of voice, you can change the route and hire different ghostwriters for your work.
5. Effective professional writing
Outsourcing content allows you to use the expertise of professionals. While you have vague knowledge about writing content in different subjects or mediums, a professional can deliver your piece efficiently.
You may not have adequate knowledge of SEO optimization, blogging, or writing reviews.
Professional writers use their expertise to write effective SEO-optimized content to rank your website in search engines. Once you get the hang of your professional writers, you can also develop your expertise.
6. Consistent content publishing
Consistent content is qualitative content publishing that is posted frequently. These content types will be more precise, attractive, and interesting than your competition.
So, while you outsource content, your content publishing becomes more random and faster.
A knowledgeable content writer takes less time for content publishing, and they can deliver you the task within your suggested timeframe.
7. Reduce bounce rate by content quality
Bounce rate is the entrance and leaves of the visitors that counts the %age of website engagement. You can reduce the bounce rate if you have quality content on your website.
So, in this sense, you need to have professional writers who can optimize the content quality.
While you cannot write content, professional writers can provide you with quality content that helps you stand out, reduce the bounce rate and increase the readers' engagement.
8. Reach the wider audience
Quality content helps you reach a wider audience and improves your reach.
Outsourcing content to professional writers provides you with SEO-optimized and thoroughly researched content that enables you to get a wider audience.
7 Things to Consider Before Outsource Content Writing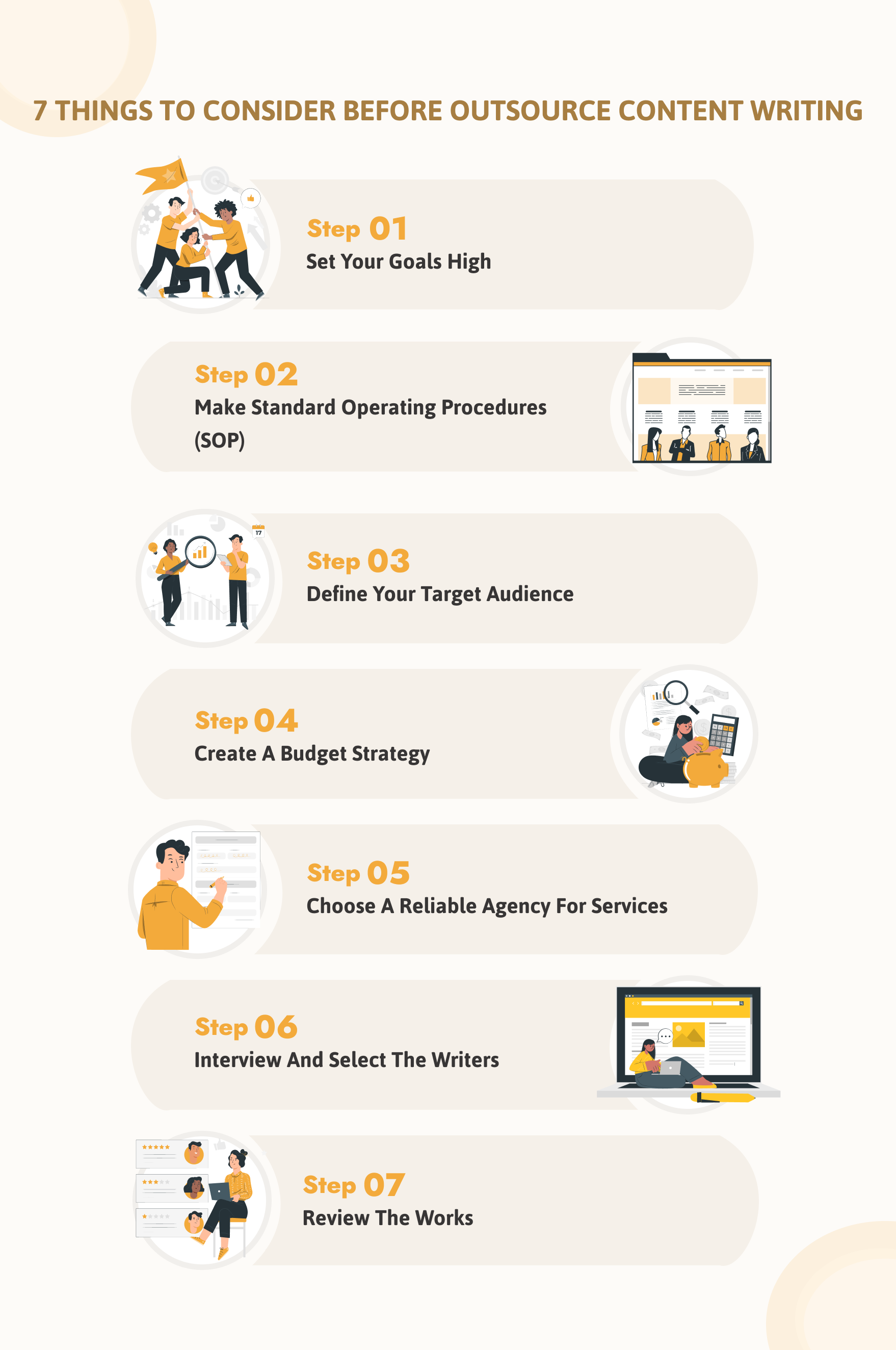 Most companies these days outsource their content in order to reach the expected audience.
A statistic from 2011 shows the significance of outsourcing content marketing, about 58% of companies used content marketing services.
So, you can understand the importance of outsourcing content writing.
Here are some recommendations before you set out to get an SEO content writing service:
1. Set your goals high
First of all, you need to set your goals and convey information to the readers. Make sure the content writers or agency you work with can provide you with the content within your suggested timeframe.
Also, you can give instructions on the writing procedure, such as image formatting or link placing.
Moreover, you can follow some points to set your guidelines:
Use three lines or less to a paragraph
Use a conversational tone in all of your blog content
Edit images and screenshots with border
Get real data points and screenshots
2. Make Standard Operating Procedures (SOP)
An SOP is a process that describes the activities to finish the task with the industry rules or just strengthen your standard for running a business. SOP mainly defines the practices in various businesses where better standards exist.
When outsourcing content to an agency, flowchart-based SOP instructions will play an important part in giving your client clear instructions. The flowchart contains the step-by-step procedure to create content.
Moreover, you can also set guidelines for font type, size, and paragraph structure.
The SOP helps you speed up the whole content delivery process and makes your final blog and articles meet the quality you expect.
Once all set, you will be able to outsource content more confidently and better way.
Pro-Tip: SOP is mainly used when hiring and training new employees. So, set the whole workarounds in a flowchart to make them understand your whole process conveniently.
3. Define your target audience
If you want to produce high-quality content for your audience, it's fine, but the surprising fact is that it will somehow fail to attract the best audience.
In fact, your content is based on a topic that involves a specific audience. You need to target these specific audiences in the first place.
Make sure your content is creating real value for your audience. Creating valued content doesn't only mean the topic that creates great interest, but also it helps to reach a wide audience according to your content topic.
4. Create a budget strategy
Depending on the content creators' expertise, the price range varies.
Also, you can find a professional freelancer who writes for your business topic. When you start with the budget in mind, it helps you understand which options are worthwhile for you.
Some agencies claim more to produce quality content; for example, the legal content writers charge $1.00 per word for writing legal copies. Also, some companies spend $100,000 per year on content marketing.
According to a survey in 2018, 85% of companies use content marketing, and 62% of these companies have a content marketing budget.
So, here you can follow these tips to create an effective budget strategy for outsourcing content creation:
Know the value of content marketing strategy
Observe past budgets and competitors' budgets for effective marketing
Consider 25 to 30% of the content marketing budget for your work
Have a look at the competitor's spendings time to time on content marketing
Have the flexibility to allow new trends and technologies
Pro-Tip: Paying content writers on a project basis saves your cost more than paying them hourly.
5. Choose a reliable agency for services
Many content marketing agencies are out there, but choosing the appropriate one is challenging. You need to screen out the untrusted ones based on some criteria.
Here are some points you need to consider to find out a reliable content marketing agency:
Strategically improved approach. According to a recent marketing survey, most brands do not follow a properly documented content strategy, which will ultimately fail to generate ROI on content marketing. You need to find a reliable agency with strategic capabilities, a permanent approach, a strong will to serve, and a better track record.
Inquiry about their credibility. Find out which tools they offer and how they provide outcomes and results. Look at their data and measurement tools, indicators, and how they find out problems and manage all the work.
Deeply analyze their operation. Tell them about your insights and will they be the right fit for your business. Ask if they have values, business goals, or motivations or if they have skill sets.
Find out their potency in marketing technology. Find out their experience in this field and if they have the proper experience. Even if they have experience and proper tools, find out if they can provide quality content.
6. Interview and select the writers
Once you select the writers, you can send them a set of content writing questions to write the answer, and also see and inspect their writing capability through question papers. As you're hiring writers, you can check their writing through the answers.
Check the following criteria while choosing writers:
Find out about the writers' skills and processes for researching
Reach out to their accuracy for providing content
Find out how much workload they can take
Ask them if they can accomplish additional tasks
Ask about the rate and if they can accept it
Consider hiring the writers and examining their specialties
Give them a test job to examine if they are the right choice
Pro-Tip: Select the writers who are proficient in different niches; if possible, test them out from two niches to examine if they are competent enough.
7. Review the works
This time review the writer's work, and the first pass of their writing part should go through you. Review the whole content, check them by your editor, and provide feedback to the writer.
Check the quality of the content. Check the overall quality of the content, if the writer has followed the instructions, if all the information provided is accurate and correct, also if it matches brand tones and styles.
Editor review of the content. You may be an editor here, and your goal is to review the whole content, edit the grammar, syntax, and keywords, and optimize and refine the entire content.
Give feedback to the writers. Make sure you provide feedback to your writers. If they have done a great job, appreciate it. This will create motivation for the writers. If you want the writers to revise it, ask them to do it. On the other hand, if someone does badly, give feedback or choose another writer.
Best Places to Outsource Content Writing Service That Gets Results
Are you thinking of outsourcing SEO content right now?
If so, you need to find the perfect one who will do the job efficiently. You can hire freelance content writers through any agency or freelancers.
Here's how agencies and Freelancers provide content works:
Content writing agency
When you submit your instructions for writing, the agency provides the instructions to their specialized writers. These writers are specialized in different niches. The agency includes project managers, editors, technical staff, and designers who contribute to your content.
You can get engaging and SEO-friendly content writing services with RankUpper as we can assure the best quality content with a short turnaround time.
Freelance content writer
Freelancers are quite the opposite of an agency. Freelancers work independently, and they are not on the expensive side.
Although Freelancers specialize in many niches, they have limited knowledge compared to agency services.
How Much Do Content Outsource Services Cost in The US?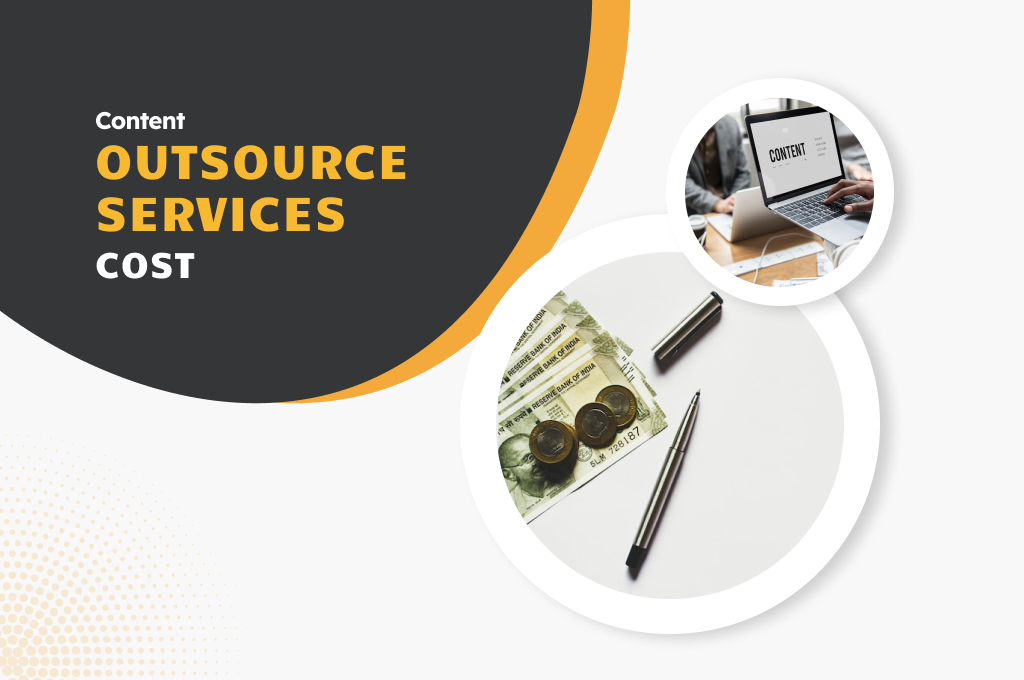 Your business needs a lot of reach and an improved marketing strategy; then, it's time to start the blogs and article writing.
Blogs and articles bring conversion to your websites, so you may think about writing content. But you can think about outsourcing content creation if you're on a busy schedule, have enough budget, and are not interested in writing content.
Outsourcing marketing content requires various pricing structures for different types of content and writers. See the usual pricing structure that content writing services cost in the US. Freelancers can set their own pricing structures based on per hour or word count.
We're providing a per-word basis bare minimum content pricing structure below:
Blog content. $0.06 per word
Website service page content. $0.09 per word
Technical content. $0.09 per word
eBook content. $0.05 per word
Product descriptions. $0.07 per word
Social Media content. $0.13 per word
E-mail copywriting. $35 (per copy)
Guest post content writing. $0.06
Moreover, the pricing structure varies among different tiers of writers.
FAQs About Content Creation Outsourcing
What is the role of a content writer?
Generally, content writers create content for the web. Also, they produce various types and different niches of content that include blogs, buyers' guides, product descriptions, social media posts, and more.
They research the topic while maintaining the overall tone and structure of the content.
Do you require a generalist or a specialist writer?
There is a fine line between generalist and specialist writers. A specialist writer includes more advanced skill sets than a generalist, while generalists are more like intermediate writers.
Also, specialist writers cost more, while generalists don't cost much. So, choose one according to your needs.
How involved in the writing process do You want to be?
A writer requires involvement in the writing procedure to provide an outstanding piece. The writing process involves quite a few steps to complete; some of the mentionable steps: are prewriting, researching, revising, drafting, proofreading, and publishing.
This could all be a recursive stage for reviewing the content.
Do you charge differently for online copywriting and content writing?
What will be the payment system?
The payment system includes PayPal, debit card, or wire transfers. Some websites allow cryptocurrencies as well.
Conclusion
Content writing offers enormous benefits for content marketing, but you may not have enough time to manage and prepare the content on your own.
So, you step out to find the content outsourcing solution in the first place.
Hiring writers or services of a content marketing agency saves your time and provides you with a return on your investment. Despite all the disadvantages of content outsourcing, outsourcing includes several benefits that overshadow the disadvantages.
With the right approach and mindset, outsourcing content writing can be a valuable investment in your business's success