Are you having trouble deciding whether to hire a copywriter or content writer for your business?
Well, you are not the only one who is uncertain about who is the best fit to handle the content marking needs.
Although both a content writer and copywriter have expertise in writing content, they have distinctive skills, challenges, and purposes in writing that make them different from one another.
If you want to implement your marketing thoughts in outsourcing content writing, you need to know the subtle differences between these two.
We will explore the differences between content writers and copywriters and help you determine which one is best suited for your business needs.
So, without wasting any more time, let's dive straight into our discussion.
Content Writer vs. CopyWriter: Overview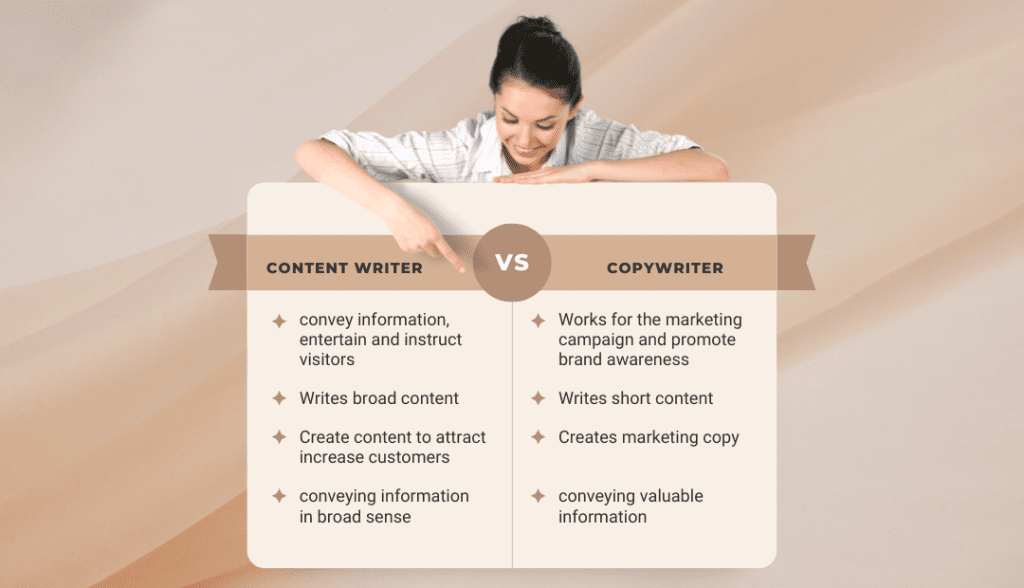 Although both content writers and copywriters are writers, their specialties differ in many aspects, such as content purpose, genre, content format, style, tone, and so on.
Before we dive deep into our discussion, let's have a quick overview of content writer vs. copywriter:
| | |
| --- | --- |
| Content Writer | CopyWriter |
| a) Content writers convey information, entertain and instruct visitors | a) Copywriter works for the marketing campaign and promotes brand awareness |
| b) Content writers deliver broad content | b) Copywriter writes short content |
| c) Create attractive or informative content to draw customers to the website | c) Creates marketing copy for selling business |
| d) Content writing is conveying information in a broad sense | d) Copywriting is conveying valuable information for promotional purposes |
| e) Content writing demonstrates what a company does, shares tips, or makes suggestions to address customer pain points | e) Copywriting shows what your business is all about, promotes services, or offers to encourage customers to take the service or make a purchase. |
To learn more about content vs. copywriting, head to the next section.
What is a Professional Content Writer?
Professional Content writers are planners, researchers, editors, and writers who develop formal and professional content for the purpose of digital marketing. The content they create includes blog posts, articles, scripts, or writing for specific platforms.
Content writers generally work with businesses or individuals who want to establish an online presence or improve their online marketing efforts.
Professional content writers research plans and create outlines to complete any type of digital marketing content. Later, they need to edit the whole content to improve readability or fix any grammatical errors, plagiarism, or AI issues. This ensures a clear copy of the writing materials.
Content writing is all about
Brainstorming new ideas for content
Conducting research on various topics and providing broad information
Keyword research and use SEO-related practices to improve web traffic
Editing and proofreading their own work
Collaborating with other team members to create a cohesive marketing strategy
All over, create content that attracts your audience
What is a Professional CopyWriter?
Professional CopyWriters create persuasive copy using their special marketing skills to advertise and promote a business, product, or service. The content a professional copywriter creates includes ads, social media posts, emails, posters, and more to persuade the audience to take a specific action.
Copywriters write persuasive words to make the audience purchase a product or service, fill out a form, subscribe to a newsletter, or any other action that the business wants the audience to take.
Also, copywriters brainstorm the audience's needs and demands to execute a clear-cut marketing copy.
A CopyWriter is all about
Conducting research on the target audience
Developing a brand voice and tone
Business copywriter usually works for marketing campaigns, writing short advertising copy, taglines, and landing page content.
Content copywriter assists the marketing team in selling your company's brand and works closely with the brand.
Copywriters write promotional materials, mail campaigns, social media posts, video scripts, and more.
Get ready to be blown away by the incredible information in our visually stunning infographic below: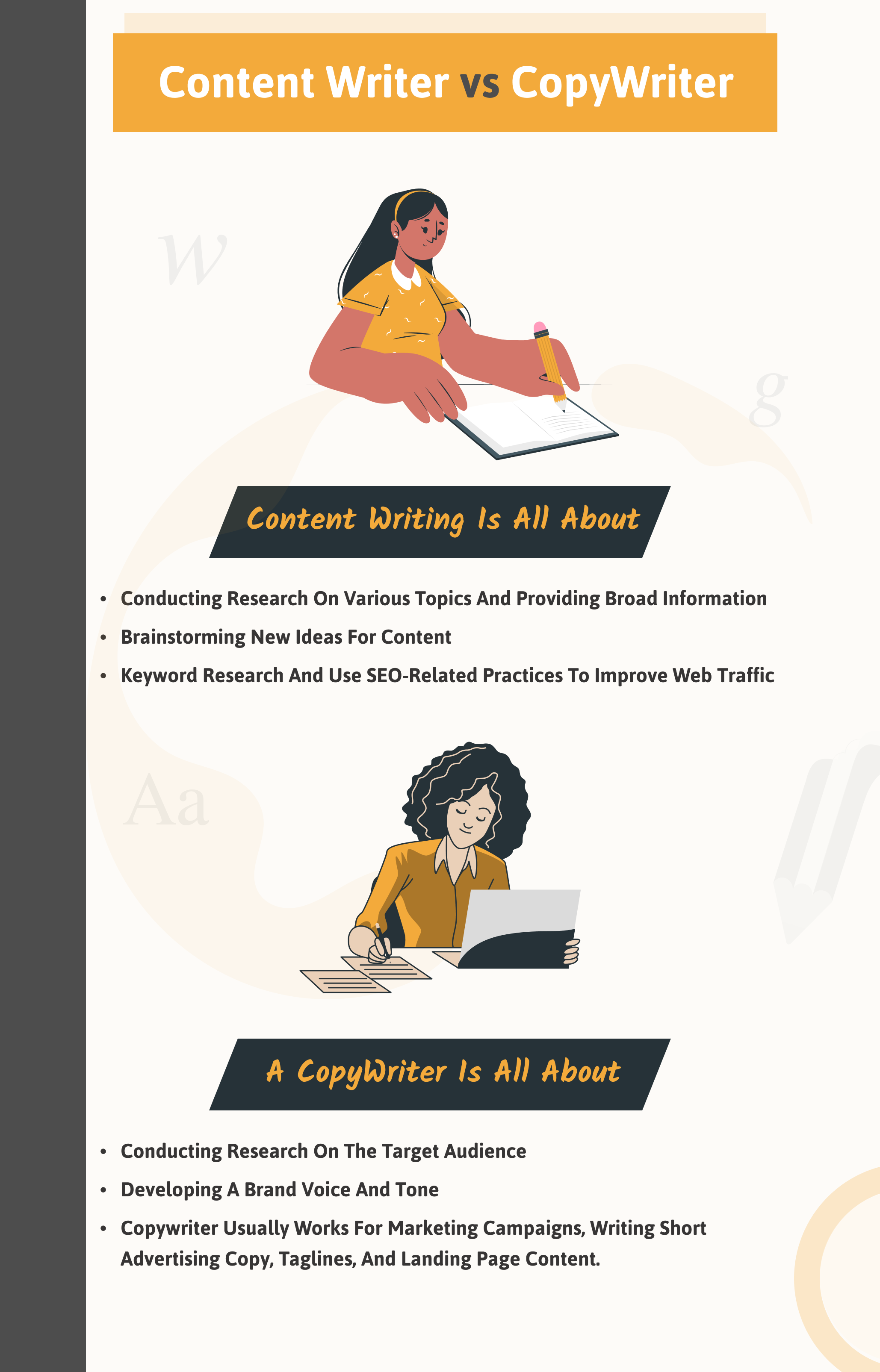 Is Content Writing and Copywriting the Same Thing?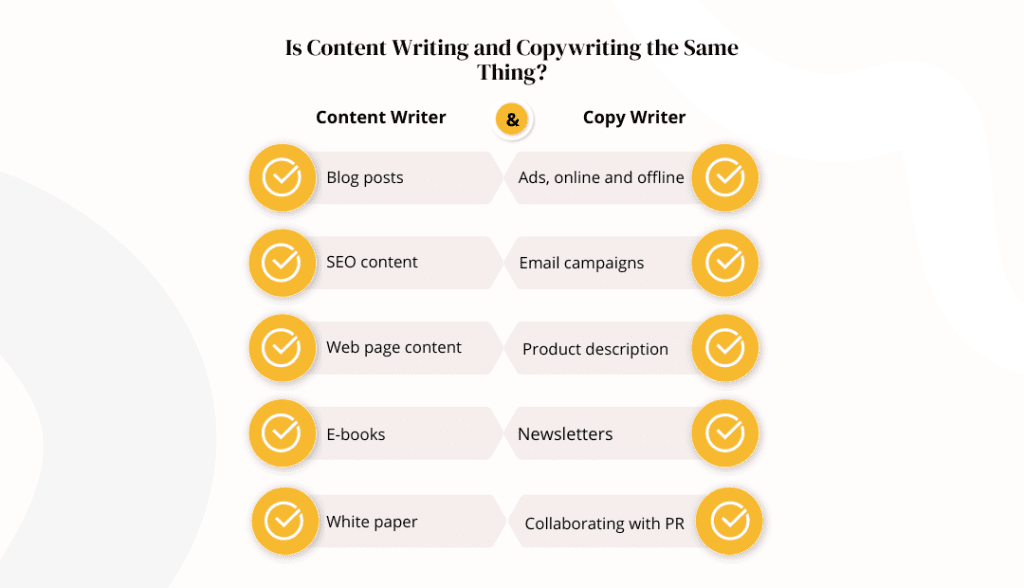 Content writing vs. copywriting can be pretty puzzling since their content-producing structures are identical. However, there are some differences between these marketing genres that produce different materials.
They are pretty much the same since both of these writing genres have a similar category for writing, and their write-ups are used online and offline. The following example will help to clarify your understanding.
If content writers and copywriters are two sisters, they have the same parents and share 50% of their DNA, but their tastes, choices, and perspectives are different here. Content and copywriting are the same, but they have different roles in their fields.
While both business content writing and copywriting involve writing, they require different skill sets and approaches. Content writing focuses on creating informative, educational, and engaging content that is meant to inform or entertain the audience.
On the other hand, SEO copywriters focus on persuasion, call-to-actions, and conversion optimization.
Let's compile a list of topics that content writers and copywriters usually cover:
| | |
| --- | --- |
| Content Writer | CopyWriter |
| Blog Posts | Ads, Online and Offline |
| SEO Content | Email Campaigns |
| Web Page Content | Product Description |
| eBook | Newsletter |
| White Papers | Collaborating with PR |
5 Major Differences Between A Content Writer and A CopyWriter
Although content writing is an elaborated writing piece, copywriting contains the marketing material that is used for advertising the elaborated writing piece.
The following are 5 major distinctions that will help you understand the differences between a content writer and copywriter better:
1. Purposes of writing
Content and copywriting sound similar, but they have different purposes and responsibilities in their own ways.
A copywriter mainly produces brief marketing material used for advertising the business, and the content writer elaborately expresses the whole idea of the business to introduce it to the visitors.
Copywriter uses marketing ideas for conversion, whereas content writer informs the readers.
Copywriters use a call-to-action strategy for selling services or products, whereas readers get to know those products or services through content writers.
Content writers have more advanced knowledge of how to educate visitors about a product, service, or business, on the other hand, copywriters use the content to sell the products and convert the visitors into buyers.
2. Types of writing
Copywriters and content writers use different tones of writing styles to express and convey information to the readers.
SEO copywriters use marketing strategies, so they need to be more conversational, and content writers are more formal but informative writers.
Professional copywriters use the conversational style and tone like they are speaking to the viewers
Content writers are more informative writers to convey their writing pieces with the formal tone
3. Roles and responsibilities within a company
Copywriters solve issues and urgency of work within time parameters. Content writers build trust among readers to reach out more in the future.
So, companies and businesses hire freelance ghostwriters for web copywriting and content writing to introduce their business in the virtual world.
Copywriters mainly write clear, concise, grammatically correct copy, and content writers write broad marketing copy to represent the business.
Copywriters create a clear and consistent brand voice to develop marketing copy, whereas content writers create well-structured drafts with the content management system.
Copywriters are self-motivated and boldly organized; content writers collaborate with other teams to build content.
Copywriters promote content on social media, and content writers create the content to establish the business on a strong base.
4. Focused on SEO strategy
Content writers mainly play a great role in creating Search Engine Optimization (SEO) strategies on a specific topic. They are hired primarily to drive traffic to the specific company they work for.
On the other hand, copywriters use SEO content strategy on their marketing materials, but their content is short and precise, so they don't need to follow that much of an SEO strategy compared to content writers.
SEO Content writers use simple SEO strategy and keyword research guidelines to amplify business traffic on their website; copywriters use the conversational style, so they often don't need to follow SEO strategy.
Content writers often follow SEO strategies given by the company; on the other hand, copywriters turn that SEO content into sales or leads.
5. Content length matters
You can observe by now that the content length is much higher for content writers as they must provide extensive explanations; on the other hand, the copywriter has a lower content length as they must provide concise explanations.
Here is a brief idea of the length of the content that content writers and copywriters produces:
The usual content production for content writers is 700 words or more, depending on the writing type, and copywriters may write as low as 15 to 200 words.
Usually, the word count for content writers exceeds a thousand words depending on the topic given, and copywriters write short content.
Several Skills of Freelance Content Writer and Copy Writer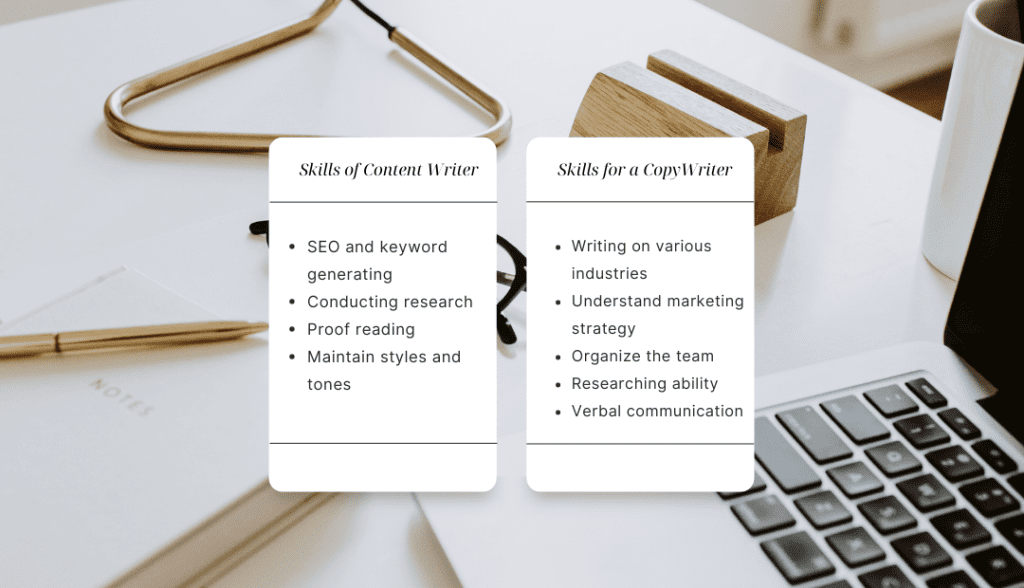 Content writers and copywriters must possess special skills to be content players. Their skills vary in terms of industry needs or the company they work for.
So, here are the freelance content writer and copywriter skills required to become an excellent contributor to a specific business.
Important skills for a Creative content writer
Are you curious about the important skills of a website content writer? Let me share with you some of the most important skills that can help your business:
SEO and keyword generating. Content writers are more knowledgeable about SEO metrics and keyword research methods. They use these skills extensively to direct users and generate traffic for your business website.
Conducting research. Content writers carry out research from different sources to back up their claims and facts in their content. They conduct thorough research on a specific topic to write any particular topic.
Proof-reading. Overall proofreading is required to ensure the content is ready to submit without any errors. Content writers require reducing the number of errors, grammatical mistakes, redundancy, or overused words. Later, they need to revise the entire content for other errors to maintain the clarity and readability of the content.
Maintain styles and tones. One of the important skills that content writers should adapt is their styles and tones. Writers need to format their classes in their own way according to the content type. If the content is focused on increasing sales, the content perspective would be different than a tech blog.
Important skills for a freelance copywriter
Are you aspiring to know more about a copywriter or want to know what skills they have? 
Look no further! Here is the list of essential skills of a copywriter:
Writing on various industries. Copywriters have a vast knowledge of different fields. So, they can seamlessly work for any company that has a demand for social media content or advertising materials for TV commercials, billboards, brochures, flyers, etc.
Understand marketing strategy. Copywriters have an excellent understanding of marketing strategies. They understand how to write marketing copy by implementing various strategies that can convert a visitor into a repeat customer and influence their purchasing decision.
Organize the team. Copywriters collaborate with the marketing team and create a good team players while working with others.
Verbal communication. Apart from the skills for writing, copywriters need to have verbal communication skills to attend meetings and communicate with the company or business staff, colleagues, and clients.
Researching ability. Copywriters must have the research ability to successfully write about any complex topic, such as a white paper, a technical guide, or a short blog topic. 
Cost to Hire a Creative Content Writer & a Marketing Copywriter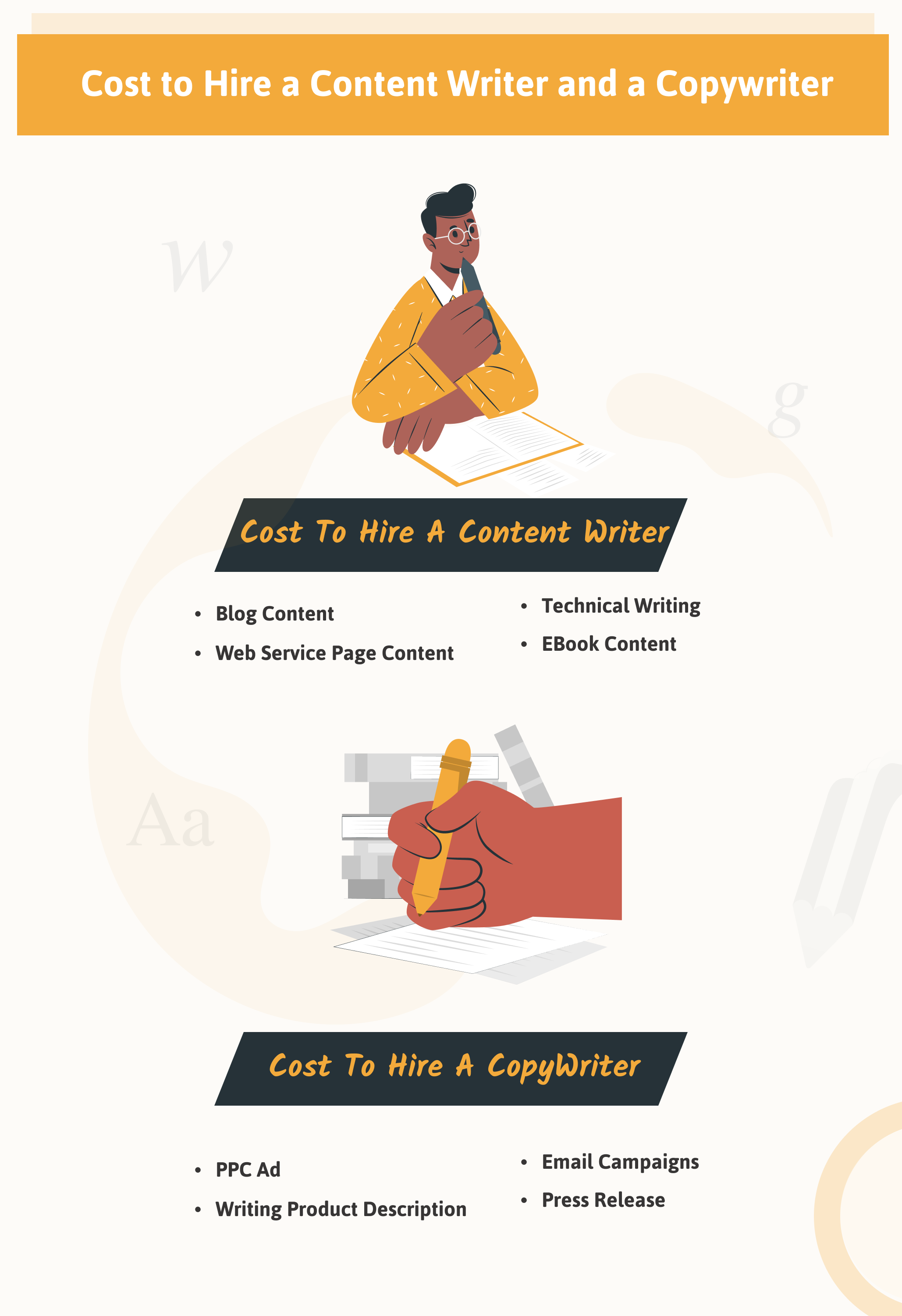 Creative Content writers and marketing copywriters both have quite similar costs in terms of the amount of work they need to do and the time they need to invest. The cost is determined depending on per word, per hour, or per project. 
It's worth mentioning that, copywriters earn much more than content writers, as expressing a broad idea in short words is way more challenging than anyone can imagine.
Here's the cost to hire a content writer and copywriter explained:
Cost to hire a website content writer
According to content writers' demand and ability to provide content within a specific time frame, they might charge as per word, hour, or a project basis.
Here's the professional content writer hiring cost in the following section:
| | |
| --- | --- |
| Writer Type | Per Word |
| Experienced Writer | $0.06 to $0.13 or more |
| Intermediate Writers | $0.10 to $0.20 |
| Beginner Writer | $0.06 to $0.13 |
| | |
| --- | --- |
| Content Type | Per Hour |
| Blog Content | $7.5 |
| Web Service page Content | $11.50 |
| Technical Writing | $11.50 |
| eBook Content | $6.5 |
Cost to hire a website copywriter
A copywriter charges per word, per hour, or per project basis. You need to be careful when choosing per-word basis writers as they may use unnecessary words that lead to low-key writing.
Let's see the table below for copywriter costing:
| | |
| --- | --- |
| Content type | Cost (Per Word) |
| PPC Ad | $12 (per copy) |
| Writing Product Description | $0.07 |
| Email Campaigns | $35 (per copy) |
| Press Release | $0.06 |
SEO Content Writing vs. SEO CopyWriting: Which One to Pick?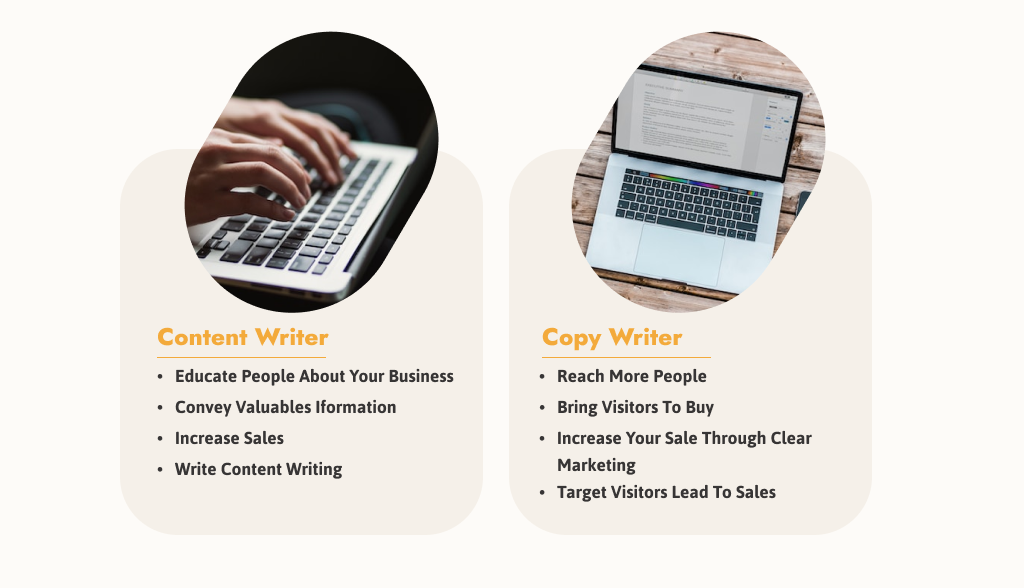 Generally, the whole idea of choosing SEO content writing or SEO copywriting depends on the goals you're chasing. You can see that many websites get higher ranks in Google, Bing, Yahoo, or other SERPs. But how do they get here?
They create Search Engine Optimized content with the goal of converting searchers into visitors or customers.
If your goal is to:
Educate people about your business
Convey valuable information to the visitors
Increase sales for your business
Write content for your website
Bring more traffic to your website
You can hire a professional content writer to fill your website with more content and attract more visitors to your business; this is a clear-cut and straightforward idea to bring traffic to your website.
If your goal is to:
Reach more people through call-to-action
Bring visitors through purchase buttons and encourage them to buy
Increase your sale through clear marketing or social media copy
Keep raising the interest among visitors to lead them to click and sale
You can hire a copywriter who can learn about all your services, understand your target customers, and create content that will bring potential clients through the sales funnel.
Where Do You Get Content Writing and Copy Writing Services?
There are lots of content writing agencies and companies that deal with content writing projects. They have many hard-working content writers and copywriters who work all day long to provide reliable services to their clients.
One of the reliable content writing services is RankUpper. They provide professional content writing services with different types of content and copywriting services that include a wide range of niches.
They have content services with blog content, long-form content, copywriting, ghostwriting, technical writing, full-stack content writing, and more.
So, why is RankUpper better at content writing or copywriting:
Industry-related efficiency. RankUpper includes a team that consists of experienced content planners, writers, editors, and proofreaders.
Excellency at content producing. Develop content with well-planned thoughts for your service with no compromise.
Following timely delivery. Projects are given and will be delivered within the time parameter.
Revising content. The content writer revises the content until the client approves the write-ups.
FAQs on Comparison Between CopyWriter and Content Writer
Can a content writer be a copywriter?
Yes, a content writer can be a copywriter. But they need to acquire vast knowledge of crafting, trading, and producing marketing copy to be a copywriter.
Is copywriting a type of content marketing?
Yes, copywriting is a part of content marketing. Copywriting generally helps in converting a reader into a potential customer who might purchase your product or service, subscribe to your email listing and call you for information.
Do copywriters write blogs?
Generally, copywriters write posts with the selling idea in mind. If your blog has selling purpose, then you can definitely hire a copywriter to write it.
Does a business need both content writing and copywriting?
It depends on your business and the strategy you want the writers to maintain. If you need more promotional activity, go for copywriters, and if you need more content for your business, go for content writers.
What charges more, Copywriting or Content Writing?
Content writing undoubtedly makes a great living, but copywriting generally charges more. As copywriting directly contributes to increasing sales and revenue for the company.
How long will it take to write my copy?
Content writing generally takes longer as they need to provide detailed information and take 2 to 3 days to complete a draft. Depending on the content structure, copywriters usually take around 3-5 hours to complete their tasks.
Conclusion
All kinds of brands these days need both content writing and marketing services to stay ahead of the competition.
Hopefully, our comprehensive content writer vs. copywriter guide has helped you learn the difference between the roles, skills, and purposes of a content writer and copywriter. Analyze the insights you have received to identify whom to choose for your business needs.