Are you thinking of taking your business to the next level using a content marketing strategy but are not sure whether to hire a copywriter or a ghostwriter?
Then you have come to the right spot!
A digital marketing strategy, especially content marketing, is the best way to get noticed by your target audience. Whatever your business or service type is, having a strong online presence increases brand loyalty, visibility, and sales.
For creating effective content, be it short social media posts or long blog posts, it's important to select a professional writer who has the potential to meet your business demands.
However, the question is, which one is better for your business niche? Copywriter or Ghostwriter?
To answer all your queries, we have designed this copywriter vs. ghostwriter: a comparison guideline where you will get to know about their key differences, hiring benefits, hiring process, and a lot more.
So, without wasting any more time, let's dive into the discussion.
Copywriter vs. Ghostwriter: Overview
Looking for a quick answer to your question: Copywriter vs. Ghostwriter?
Before diving deep into our discussion, let's check out a summary of the benefits and drawbacks of a ghostwriter and a copywriter.
| | | | |
| --- | --- | --- | --- |
| CopyWriter | | GhostWriter | |
| Pros | Cons | Pros | Cons |
| 1. Flexible and work for reaching your targets | 1. Experienced ones  have high demand | 1. Works without claiming credit | 1. Hard to find a professional one |
| 2. Saves time and reduces your workload | 2. Hard to find the right one | 2. Offer enough time to do your business work | 2. Charges a higher price |
| 3. Have versatile content creation skills | – | 3. Offer promotional writing to build brand awareness | – |
| 4. Have SEO expertise | – | 4. SEO expert | – |
What is a Freelance Copywriter?
A freelance copywriter is a writer who creates persuasive marketing and advertising content (also known as 'Copy') to promote a brand, product, or service based on a contract or project for one or multiple companies. 
Freelance copywriters write copies for websites, promotional offers, emails, catalogs, and other content types. The goal of such content includes driving sales, increasing brand awareness, driving traffic, generating conversions and sales, engaging customers, and so on.
In short:
Copywriting is like writing creative content with a call-to-action, but on a bigger scale, by informing, inspiring, or persuading people.
Freelance copywriters' or professional copywriters' goal is to create meaningful experiences for your business's target audience and move them to the sales funnel (i.e., make a purchase).
Apart from outbound advertising strategies, copywriting is an effective one.
Benefits of an SEO Copywriter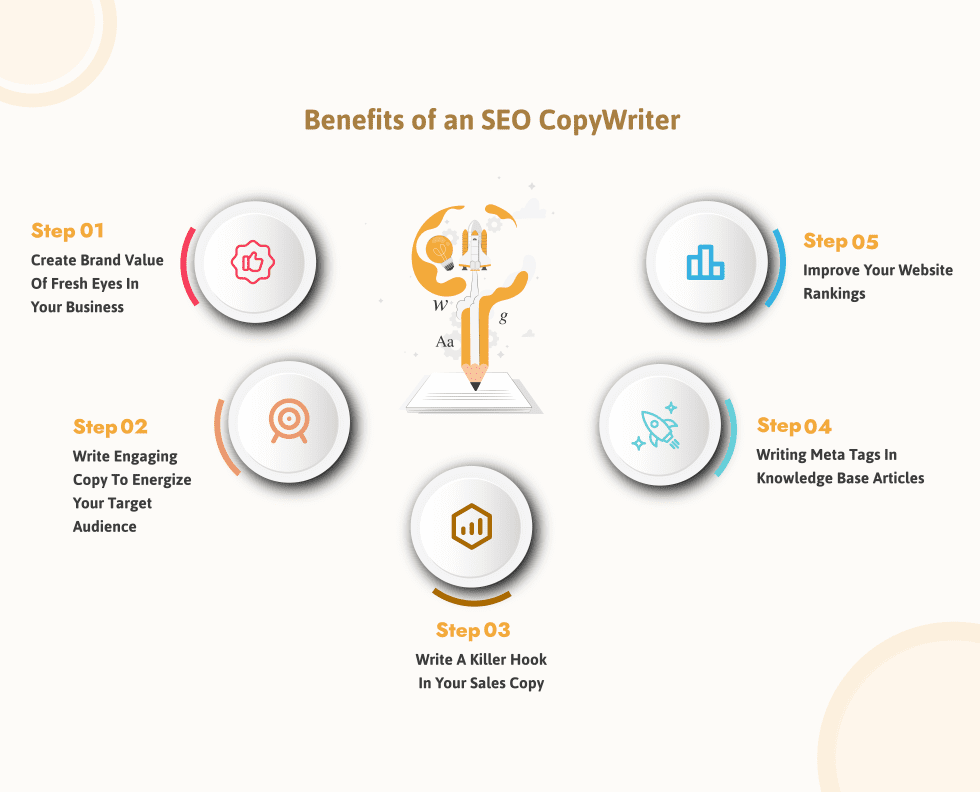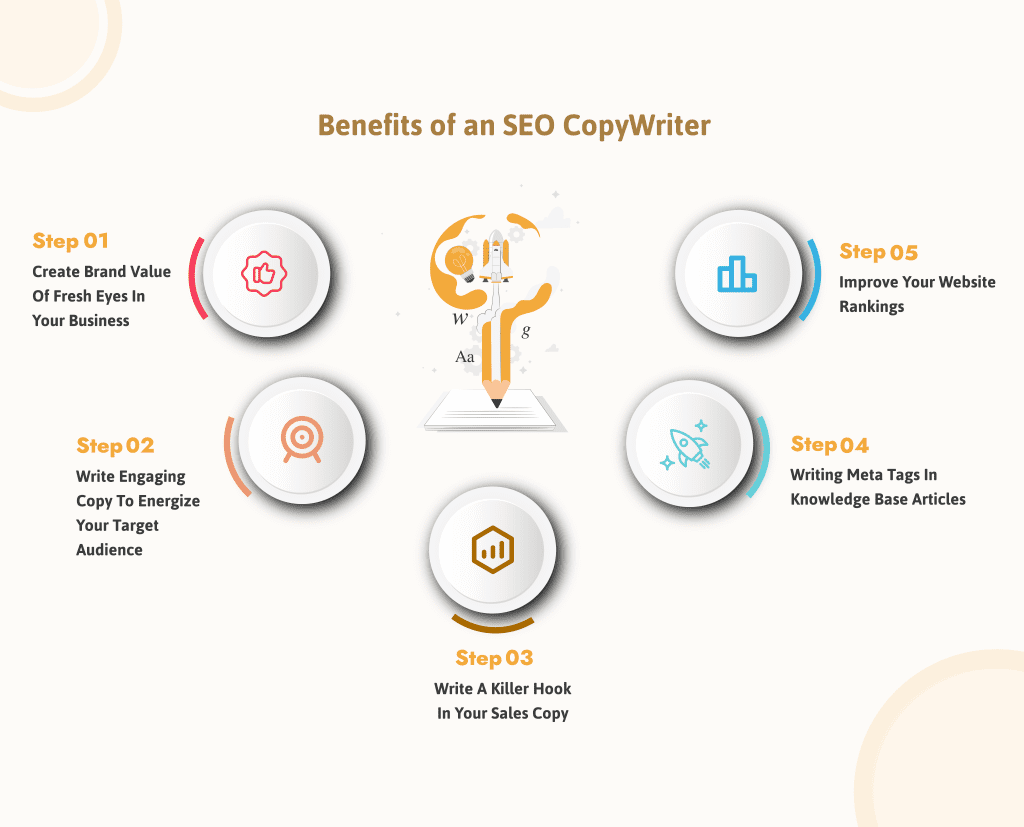 As you know, SEO copywriting is all about creating SEO-optimized content that encourages audiences to read, purchase, link to, and share. It's not only for ads purposes or long-form sales letters; it helps to reach higher Google rankings. 
According to a study conducted by Google in collaboration with Motista and CEB, 50% of B2B buyers confirm purchases from a brand if they form an emotional connection. So, hiring an SEO copywriter who is an expert in building the emotional bond between customers and brands is a smart decision to take your business to the next level.
The following are the top 5 reasons that will help you understand how hiring an SEO copywriter can be advantageous:
1. Create brand value of fresh eyes in your business
Creating the right tone on your website and maintaining the flow across all your site content offers the best customer experience.
An SEO copywriter's goal is to align your brand tone and image to create actionable content from blogs to social media posts (i.e., Facebook, LinkedIn, etc.).
Why do your audience and potential customers rely on your services, or what sets you apart from your competitors? The credit goes to the SEO copywriter, who crafts all informative materials that help to gain trust of the customers and build the authenticity of the brand. 
2. Write engaging copy to energize your target audience
Understanding the target audience is the key part of copywriting. The audience prefers informative copy to get the best solutions or services to overcome their problems.
You can use the PPC (pay-per-click) strategy on social media, i.e., Instagram. But with copywriting, you can easily entice your new, loyal, and potential consumers to go through the sales funnel without any investment.
3. Write a killer hook in your sales copy
"Every product has a unique personality and it is your job to find it."
– Joe Sugarman
The same line goes to different stages of the buyer's journey. Some customers intend to look for relevant information rather than make a purchase. And others might be ready to buy a product if the copy influences them with useful information.
SEO copywriter's in-depth knowledge of particular niches and product research helps them craft sales-oriented content. From small to eCommerce businesses, they help to attract new leads and convert one-time buyers into lifelong ones.
4. Writing meta tags in knowledge-base articles
Meta tags are snippets of HTML code that help to increase the website's visibility on search engines.
However, to achieve that, your writing must be original, distinct, and include an optimized main keyword.
To avoid keyword stuffing, an SEO copywriter accurately implements the tags and gives a compelling reason to click the page link.
5. Improve your website rankings
No matter how optimized your webpage is, without quality content, you can't achieve higher rankings on different SERPs. A tech-rich SEO copywriter ensures a rich index of content by fulfilling audiences' queries.
Google counts users' activity on your site, including the average time on a page and the number of pages per session.
Also, organic traffic adds extra value to your site. With informative and sales-oriented content, your site will be able to get effective traffic.
After discussing copywriter strategies, let us explore ghostwriting and what it means to be a ghostwriter.
What is a Freelance Ghostwriter?
A freelance ghostwriter is a professional writer hired by clients to write content for them without having the right to claim credit for their work. From business content, like blog posts, website copy, or social media content, to personal brand-building content, they help to build your unique voice using their creative writing skills.
In short:
Ghostwriters write content for companies for payment but won't claim any official copyright for their work.
The ghostwriter has SEO knowledge, working experience in several industries, and various writing formats.
Work as a professional blogger aiming to draft technical business content by developing clients' ideas.
After understanding what a ghostwriter means, you must be wondering why you should hire one.
Go through the next section and get your answer.
Benefits of a Professional Ghostwriter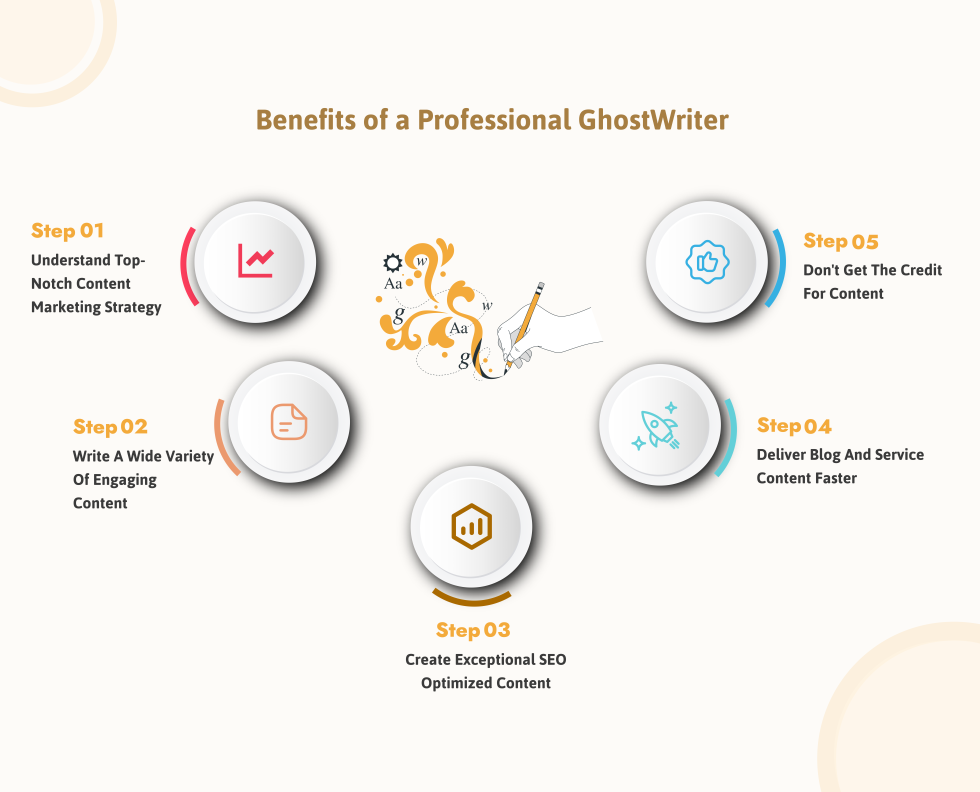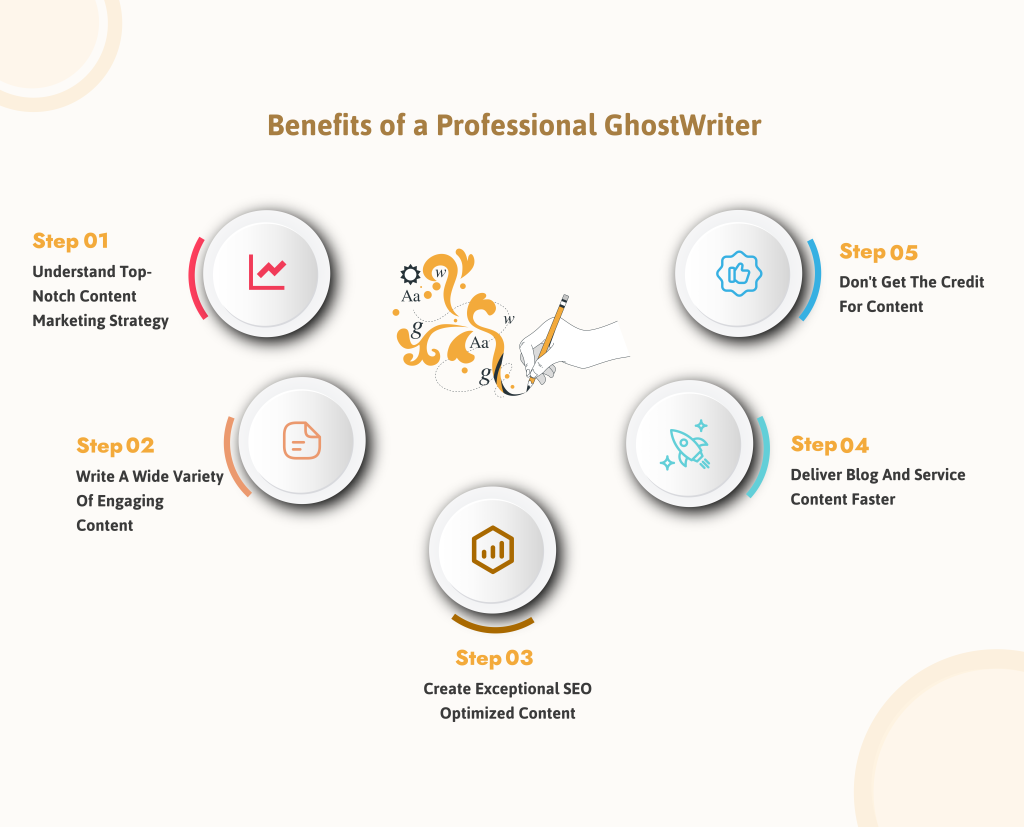 Apart from AI ghostwriters, professional ones have the power to create a strong marketing strategy both online and offline. As you know, consumers rely on services or products that provide in-depth knowledge.
For more details, let's check out the following:
1. Understand top-notch content marketing strategy
A content marketing strategy is about developing and creating engaging content to grow traffic. A ghostwriter understands your business mission and audience personas to generate the right message that addresses the pain points of current and potential users.
This way, they execute the brand story effectively.
2. Write a wide variety of engaging content
As per Hubspot's marketing report, around 82% of companies use content marketing to achieve their targeted goals. And for content marketing, you need a huge collection of diverse, engaging content.
While having excellent content can help you reach your goal, how you present it determines whether it is successful in the end.
And this is where hiring a ghostwriter comes into play because a professional ghostwriter aims to deliver a higher ROI with better engagement. They perform everything from creating authority content to the how-to guides, research pieces, and others.
Note: Professional ghostwriters are capable of writing on several topics, so it depends on your business niche. 
3. Create exceptional SEO-optimized content
Do you want to rank in search engines like Google, Bing, Yahoo, Baidu, and others? SEO-optimized content builds a route between searchers and search engines to fulfill your desired goal. It could be a blog post, product, landing page, or others.
The ghostwriter crafts unique SEO content by placing target and long-tail keywords in the title, header tags, and body text in a natural way. SEO-optimized content meets searchers' queries by providing readers with effective information and draws more visitors to the website.
4. Deliver blog and service content faster
Whatever your business niche and demands are, from one-site content creation to third-party guest blogging, a ghostwriter has the potential to meet the deadline. As a time saver, they allow you to devote your valuable time to other business work. From leaders to personal brand-building missions, they help you at every stage.
5. Don't get the credit for content
Ghostwriters help companies and personalities achieve their business goals by highlighting brand specialties without credit.
They work closely to get an idea of your targeted traffic, pinpoint the brand voice, and unify it across all writing. Your task is to share your ideas, and the ghostwriter implements those ideas coherently and concisely.
So now that we know the basics and importance of these two scribers, let's identify the core difference in the next section.
Copywriter vs. Ghostwriter: What are The Major Differences?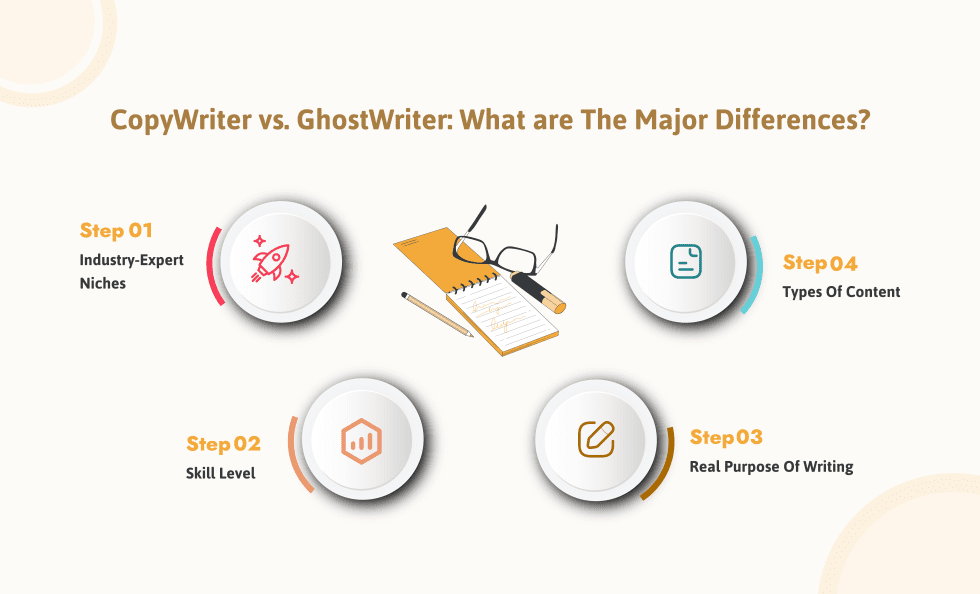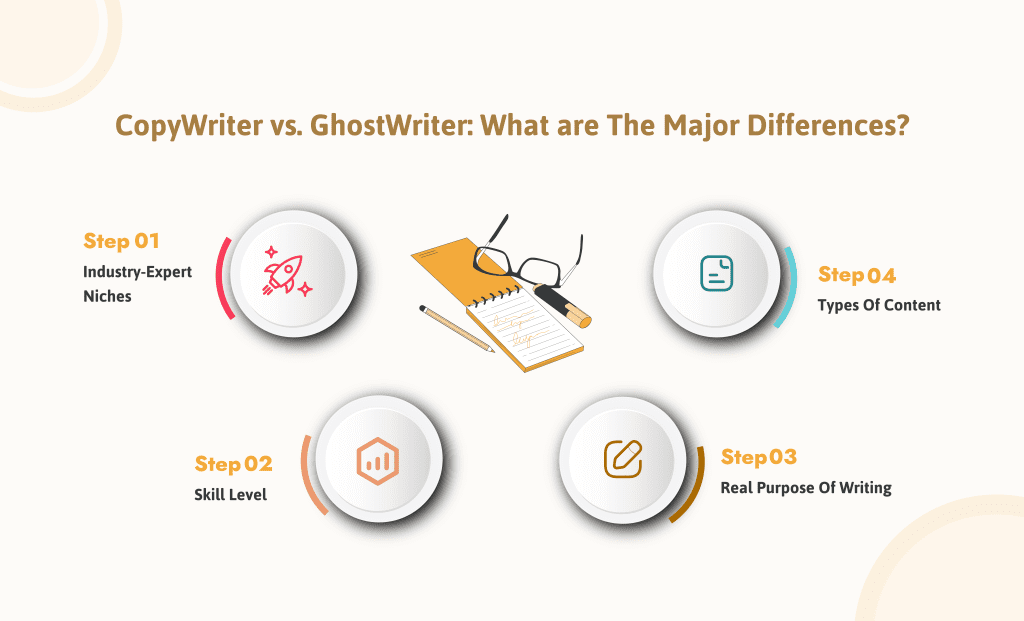 The major difference between copywriters and ghostwriters is the ownership of content credit. Apart from this, they have other distinctions.
Let's check them out in the following:
1. Industry-expert Niches
Copywriters know the trick of writing compelling pieces to connect with the target audience and convert them into regular ones.
On the contrary, Ghostwriter's specialty lies in educating users about your brand or service.
2. Skill Level
Copywriters have problem-solving, interpersonal, research, technical skills, and other core skills to make masterpiece content.
On the other hand, ghostwriters have flexibility, organizing ability, creativity, and other content-writing skills.
3. Real Purpose of Writing
Copywriters convince people to take action (i,e, Buy Now) to ensure a successful customer buying journey.
However, a ghostwriter establishes an authentic brand value in consumers' minds that encourages them to rely on your service.
4. Types of Content
Ad copy, email, technical copywriting, SEO, and creative or direct response copywriting are made by copywriters for advertising and marketing purposes. On the other hand, books (fiction or nonfiction), memoirs, speeches, blog posts, and others are crafted by ghostwriters.
After going through differences, it's time to make a decision about which one suits your business.
Copywriter or Ghostwriter: Which One is the Best for Business?
As you know, professional copywriters and ghostwriters both have SEO knowledge that helps your content or website rank higher. But the question is: which one meets your business demands?
The following are some key points to consider:
You have great ideas for your eBook but have no time to write them.
In this case, as an author, you can hire a ghostwriter. Why? The ghostwriter is the perfect editor for eBooks or literature. Also, you do not have to be concerned about missing a deadline.
Your business goal is to focus on higher ROI.
As we all know, Return on Investment (ROI) is a calculation that identifies how well an investment performs. It can be advertising, campaigning, or others methods to reach targeted audiences and increase sales.
To fulfill your goal, a copywriter has the ability to create actionable copy that fulfills your targeted ROI.
You need SEO-friendly content to rank higher for certain target keywords.
Both copywriters and ghostwriters have the potential to serve you SEO-optimized content for blog posts, web pages, and others.
And with this craft, you can easily rank higher on search engines for your targeted keywords.
Aim to implement social media marketing strategy perfectly.
Social media marketing strategies for small businesses or enterprises help you achieve your branding and marketing goals. For this, you can hire either ghostwriters or copywriters, but you need to ensure their experience level.
Here, you can hire ghostwriters or copywriters, but you need to ensure their experience level.
So, what's your business goal? Decide first and then hire one. But how do you find a freelance ghostwriter or copywriter?
Go through the next section to adopt in-depth hiring procedures.
4 Advanced Steps to Find a Copywriter or a Ghostwriter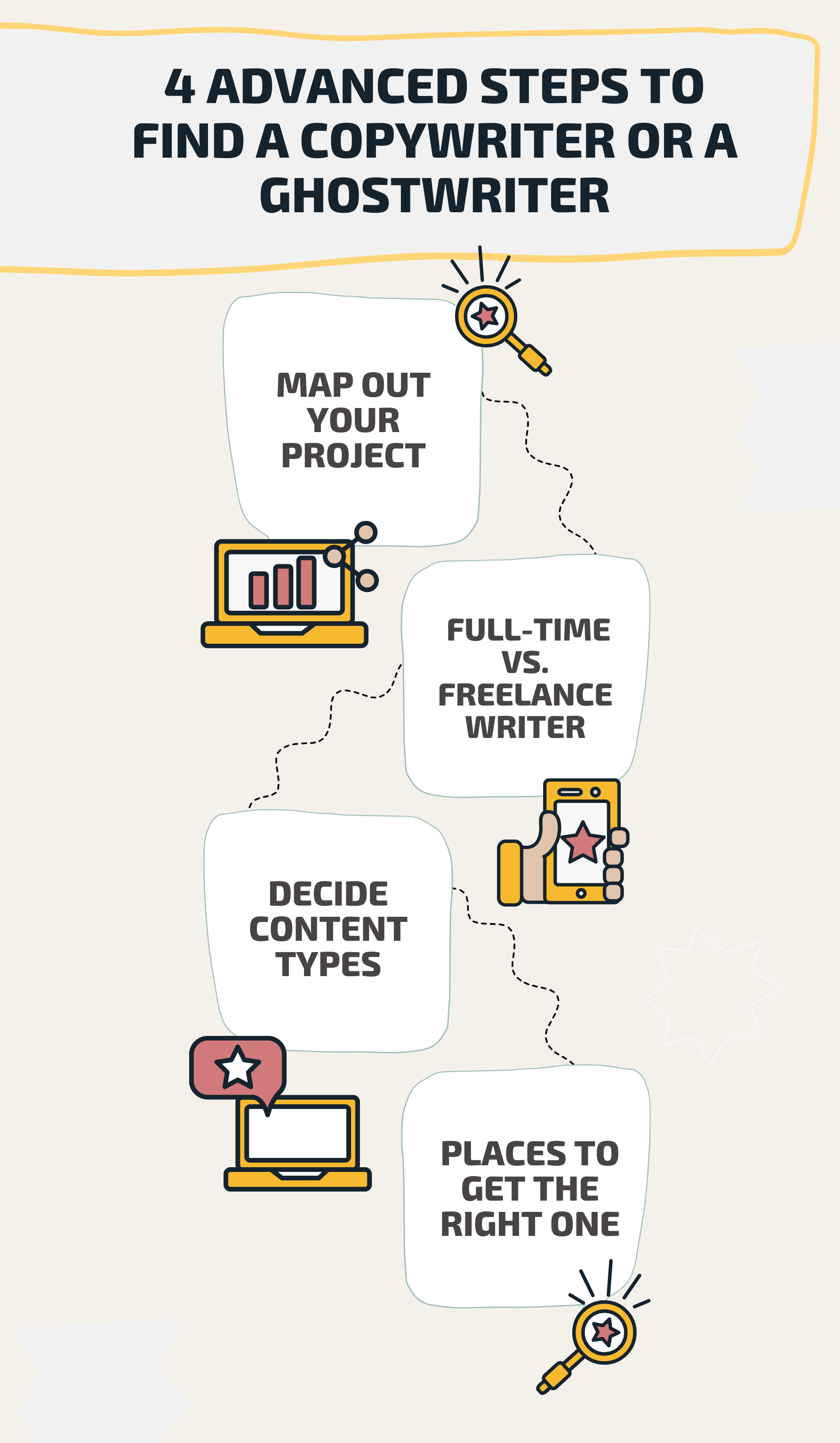 Whether you are searching for a copywriter or a ghostwriter, the following guidelines will help you find the right one.
Step 1: Map out your project to choose the right one
Does your business need to outsource web content writing? Who is your targeted customer? What are the needs and pain points of your business?
First, identify your content creation goal, which can be anything. For example, your goal can be to expand outreach, increase credibility, or build brand value. Choose the type of project you want to work on based on your business objectives and the needs of your target customers.
Step 2: Decide between a full-time vs. freelance writer
Suppose your business or service is to launch new products of jewelry, fashionable items, or others but you have a limited budget to hire one. Then it would be best for you to hire a freelance writer.
But for creating consistent content to hold your company's position and have the budget, then a full-time writer would be the best fit.
Step 3: Decide content types to fulfill your business goal
Now that you've set your business objectives, it's time to note down which type of content you need.
For example:
(a) Social media content for Facebook, Twitter, Instagram, or others to serve an engaging copy. Or
(b) Blog posts to educate audiences and provide solutions to overcome their difficulties.
Every content type has its own way of drawing visitors. If you need engaging promotional or social media content, then a copywriter is the right fit. On the contrary, if you need blog posts, informative or ecommerce content, then you can hire a ghostwriter.
Step 4: Places to get the right one for your project or business
In digital marketing, finding an expert copywriter or ghostwriter is the most challenging task. Also, it may be tempting to go with the low cost inexperienced one. But in the end, you won't get satisfactory results.
Hence, it's ideal to start your search for writers using trusted networks, like:
Google Search
You can start your search through Google by specifying the type of copywriter or ghostwriter price, location, and other information in your search prompt.
As a giant search engine, a simple query like "copywriter" will give you millions of results. So, it is ideal to use your main keyword to find the specific one.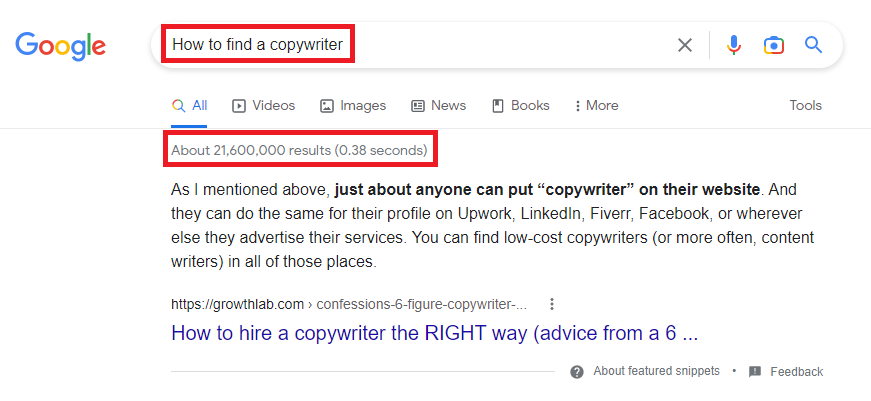 Social media
There are different social media marketplaces, but the most trusted and professional one is:
LinkedIn
The next best place to find freelance writers is LinkedIn. It is the world's largest professional network with a record of advanced to beginner levels. Education, work experience, connections, testimonials, and others are available.
You can search for people by filtering industries, service categories, keywords, and others.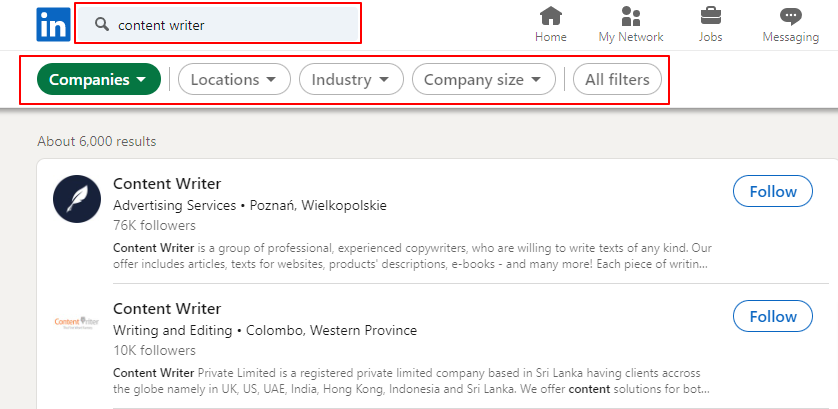 You now have everything to find one; it's time to meet and confirm one.
What to Look for When Hiring a Ghostwriter or Copywriter?
Finding a professional and creative copywriter or ghostwriter is time-consuming as well as challenging. You can't hire anyone without identifying their skill set, experience, and prior work samples (if they have any). So, it's natural to wonder what qualities or features one should look for while hiring a copywriter or ghostwriter.
Here we mentioned the top 5 tips that will make your hiring process simple and effective. 
Make Sure the Candidate Has Qualifications
The first thing that you should consider is the qualifications of the writer. Reviewing their qualifications will give you an idea of whether their skills, knowledge, and experience will contribute to meeting your business needs.
You can take the following relevant qualifications into consideration:
Educational degrees, such as Bachelor's or Master's in marketing, English, journalism, or other field relevant to your business niche
Diploma or other certificate in copywriting, marketing, literature writing, etc.
Strong written communication skills (grammar, punctuation, tone, style, etc.)
Knowledge or experience about different writing formats
Check Their Persuasive Writing Style
Copywriter or ghostwriter both represent you and your business to the audience. And to engage your readers or buyers with your message, you need someone who can write in both informative and convincing writing styles.
So, before selecting one, take a test or review their previous projects (if they have any) to justify their writing skills.
Check Out if They are Reliable, Professional, and Passionate
Whatever your hiring goal—freelancers or experts, you need to pay attention to their passion, working experience, and dedication to meet the deadline.
Also, you can consider asking them various questions that will help you understand, whether they are relevant to the work you want them to perform, your business or services information, and others.
Pay Attention to their SEO Content Techniques or Knowledge
Some candidates have prior knowledge about Search Engine Optimization content strategies like keyword placement times, meta description, structure (H-tags), and others.
If you want to see your page on Google's 1st page, these strategies will help you achieve it. So, keep the candidates on your priority list if they have SEO knowledge, even if they lack other non-significant requirements.
Check Out Their Availability
Remote or in-office availability is an important part of a copywriter or ghostwriter.
So, make sure the candidate maintains the office schedule. For remote candidates, you need to confirm that they have a computer and well-performed internet connection to complete the assigned work on time.
What Questions to Ask a Copywriter and Ghostwriter?
Now, it's time to complete the recruitment process and hire a suitable candidate for your business. 
However, you must conduct their interviews, which is the last yet most important step in the recruitment process.
Let's take a look at some important interview questions below:
Copywriting Interview Questions to Ask
Here we have enlisted 5 must-asked copywriter interview questions. To fulfill your brand goal, you can add more in your interview session. For now, let's take a look at the following:
What types of copywriting have you done in the past?
The question is important to justify the freelance copywriter's experience and versatility so that you can compare them with your business goal.
For example, landing website page sales need a different set of skills. Also, copy for creative ads, product descriptions, and others requires a persuasive approach.
What strategies do you follow before writing a piece of copy?
By asking this question, you can get an idea about the copywriter's research procedure to reach the target audience and plan to adopt the company's voice.
How do you compose Search Engine Optimized content?
Search volume, related keywords, and checking out top-performing similar pieces are the main thing to create SEO content. Check out how must SEO knowledge they have using this question. Also, some may have knowledge of different copywriting software, like Yoast SEO.
What is your content writing style and tone?
Content writing tone and style vary depending on audience preferences or brand tone. For example, web content copywriter, focus on your service or brand tone. But social media content is different. It is more about persuading or encouraging the audience to take an action. So the content should be made focusing on their interests. This question will help you identify their knowledge and expertise in writing style and tone.
How would you handle multiple copy updates of services?
If you want to hire an experienced one for your business, you need to justify their time management, tasks, and deadlines meeting abilities.
Also, you can identify their potential to make a decision on which work is important and how to manage the workload.
Ghostwriting Interview Questions to Ask
Are you thinking about how to hire a professional ghostwriter for the blog? Here we enlisted some important interview questions you can ask before recruiting one.
What genres/niches do you love most in writing?
Most ghostwriters have experience in multiple genres. With this question, you get an idea about their favorite or experienced genre so that you can look forward to your business needs.
How do you plan or research to complete an article?
You can ask this question to justify ghostwriters' research process, skills, and experience of prior works.
They can give you an overview of their writing process if they track up-to-date content marketing and digital marketing trends.
How do you manage multiple projects at once?
You must be seeking an employee who has the ability to manage time and make instant decisions based on emergency work.
By asking this question, you get an idea about their workload managing power.
Which writing software do you prefer to justify your content?
Well, a professional ghostwriter has experience working on different writing software to ensure high-quality and SEO-friendly content.
For example, Grammarly, Hemingway App Editor, Surfer SEO (for SEO writing), Headline Analyzer, and so on.
Do you have any writing portfolios or experience?
A portfolio plays an important role in getting an idea about how ghostwriters engage audiences with their content and writing skills.
So, before hiring one, you can go through their previous work or ask about their working experience with other clients.
After going through several interview sessions, you must consider hiring a freelance content writer between a copywriter and a ghostwriter. Curious to explore: Copywriter's or Ghostwriter's fees and how they charge?
Scroll down to the next section!
How Much Do A CopyWriting and GhostWriting Cost?
The most important information you need to observe before hiring a suitable candidate for your business or brand. Professional and expert writers demand high as per their working experiences, skills, niche, and industry expertise.
Let's check out below to explore more:
| | | |
| --- | --- | --- |
| Content-Type | Copywriter | Ghostwriter |
| 1. General Blog Content | – | $0.06 Per-Word |
| 2. Technical Content | – | $0.09 Per-Word |
| 3. Website's Service Page Content | $0.09 Per-Word | – |
| 4. Social Media Content | $0.013 Per-Word | – |
| 5. Product Description's Writing | $0.07 Per-Word | – |
| 6. Email CopyWriting | $35 Per Copy | – |
| 7. Press Release | – | $0.06 Per-Word |
| 8. Case Studies | – | $0.013 Per-Word |
| 9. Google Ads Content Writing | $12 Per Copy | – |
| 10. Guest Post Content Writing | – | $0.06 Per-Word |
| 11. eBook Content | – | $0.05 Per-word |
Compare with Other Content Writers for Getting the Best One
Still deciding between ghostwriter and copywriter, which is the best fit? As mentioned earlier, they work in similar niches apart from eBooks, autobiographies, or other books.
In the hope of helping you, we enlisted other comparison articles below:
Do you want to explore more about writing services more? Check out the professional Ghostwriting service section!
Highlights
Before heading to the conclusion part, we've crafted quick highlights of this article for you that help you to remember the topic easily:
The copywriter is a professional scribe aiming to drive customers into the sales funnel through convincing articles. Hiring one is the best choice if you use writing for marketing and promotional purposes.
The ghostwriter is a creative person hired to write under someone else's as the author. You can hire one if your business aims to create brand value and educate people about services.
Both writers have their pros and cons, so it is ideal to read those factors before hiring one to boost your sales and conversions.
FAQs on CopyWriting and GhostWriting Differences
Why do some clients choose a ghostwriter?
Ghostwriters aim to serve engaging content without claiming ownership. Also, their SEO expertise helps to create a strong brand value. That's the main reason why clients choose a ghostwriter.
What are the responsibilities of a copywriter?
Let's check out the core responsibilities of a copywriter below:
● Writing engaging, clear, and error-free content reflects the brand's voice.
● Collaborate with clients to acknowledge their target audience, business tone, and message. 
● Collaborate with PR and marketing departments for brainstorming or formulating ideas.
● Have the ability to develop several marketing materials.
● Edit and proofread copy as needed. 
● Apply SEO principles to ensure copy's reach.
Why should I hire a Copywriting and GhostWriting Agency?
You get a professional in-house content writing team, SEO expert, and digital expert team under the same roof by hiring a copywriting and ghostwriting agency.
Also, you don't need to be worried about time management and the quality of writing.
How long are turnaround times? 
The turnaround times may take a week or more depending on project challenges, the expert level of the wordsmith, and follow-up editing. 
Who owns the copyright of content?
The copyright of content depends on project criteria and discussion.
A freelance ghostwriter does not claim authorship. So the copyright stays with the client. However, in case of a copywriter, they may or may not claim copyright.
So, the matter of copyright depends on the negotiation and contract between the copywriter and the client.
Conclusion
We have uncovered all possible differences between copywriters vs. ghostwriters for your business.
Now, the decision is yours to choose the best one and increase your bottom line.
Feel free to share your thoughts about this comparison guideline.