Content is the key to ranking your website on the first page of Google SERP and generating more traffic to grow your business.
You may be searching for a content writer for outsourcing but don't know where and how to find him.
Well. This article will provide the best guideline for hiring a content writer. The major topics you can cover by reading this article are:
Benefits of hiring a professional content writer
10 content writing skills required for a content writer
How do you find a digital content writer for hire
How much does it cost to hire an SEO content writer?
So, no more talking; let's get started.
What are The Benefits of Hiring a Professional Content Writer?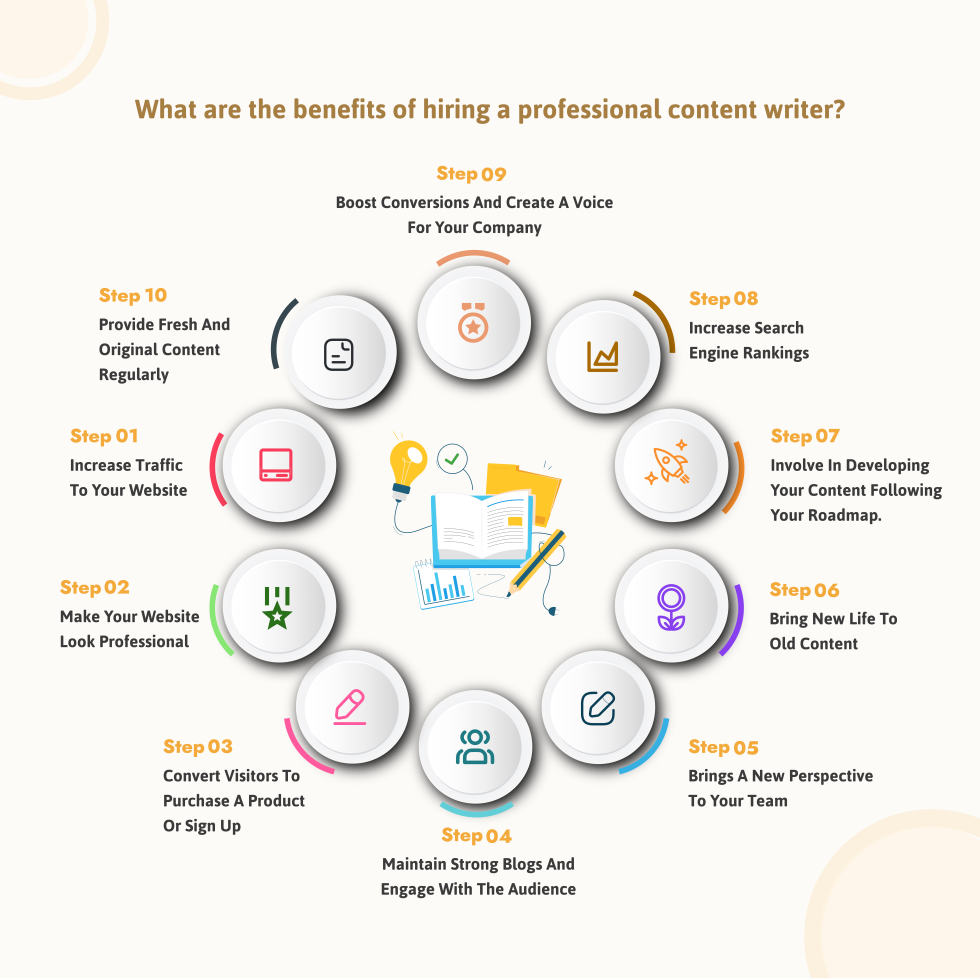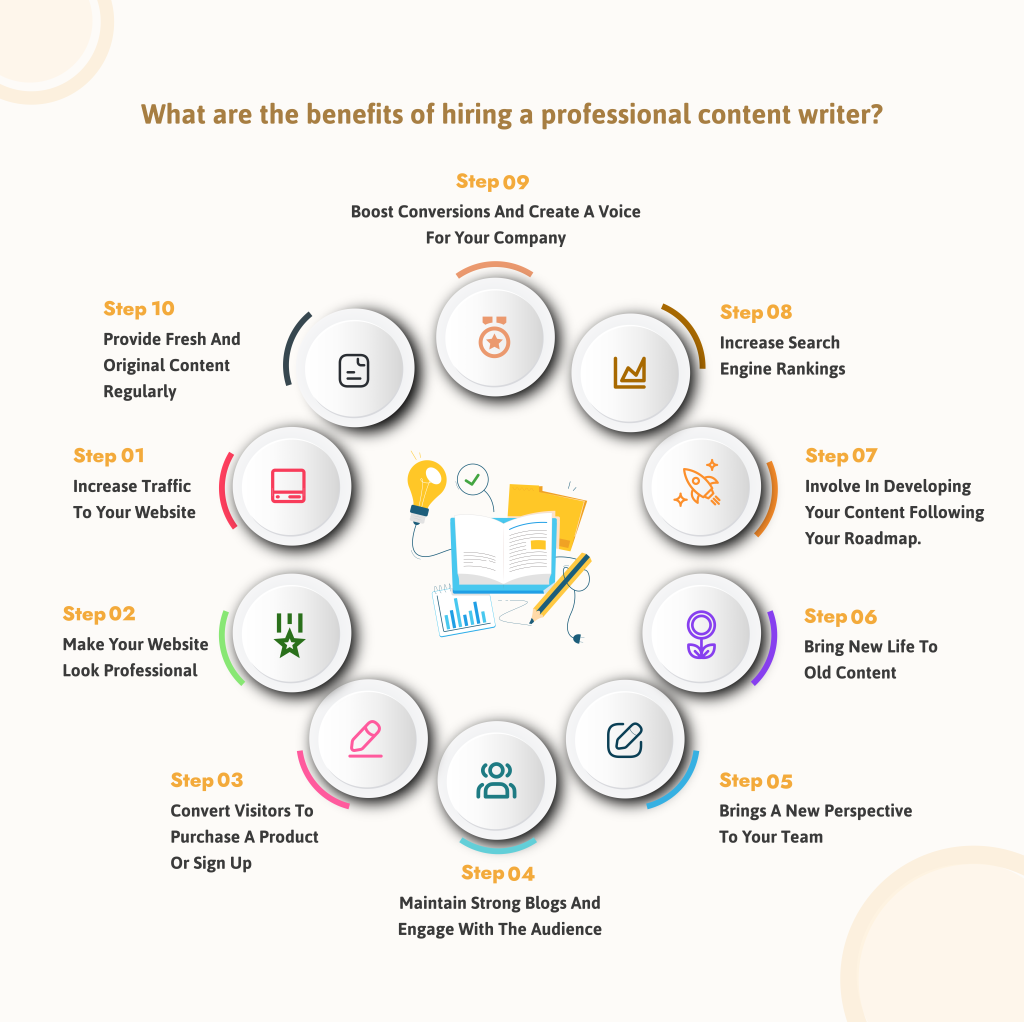 A professional content writer is essential to reach your business goal faster and earn more profits by implementing incredible marketing policies.
Here are the top benefits that you will get by hiring a professional content writer for your business:
Increase traffic to your website
Make your website look professional
Convert visitors to purchase a product or sign up
Maintain strong blogs and engage with the audience
Brings a new perspective to your team
Bring new life to old content
Involve in developing your content following your Roadmap.
Boost conversions and create a voice for your company
Provide fresh and original content regularly
What Should I Look for When Hiring a Content Writing Agency?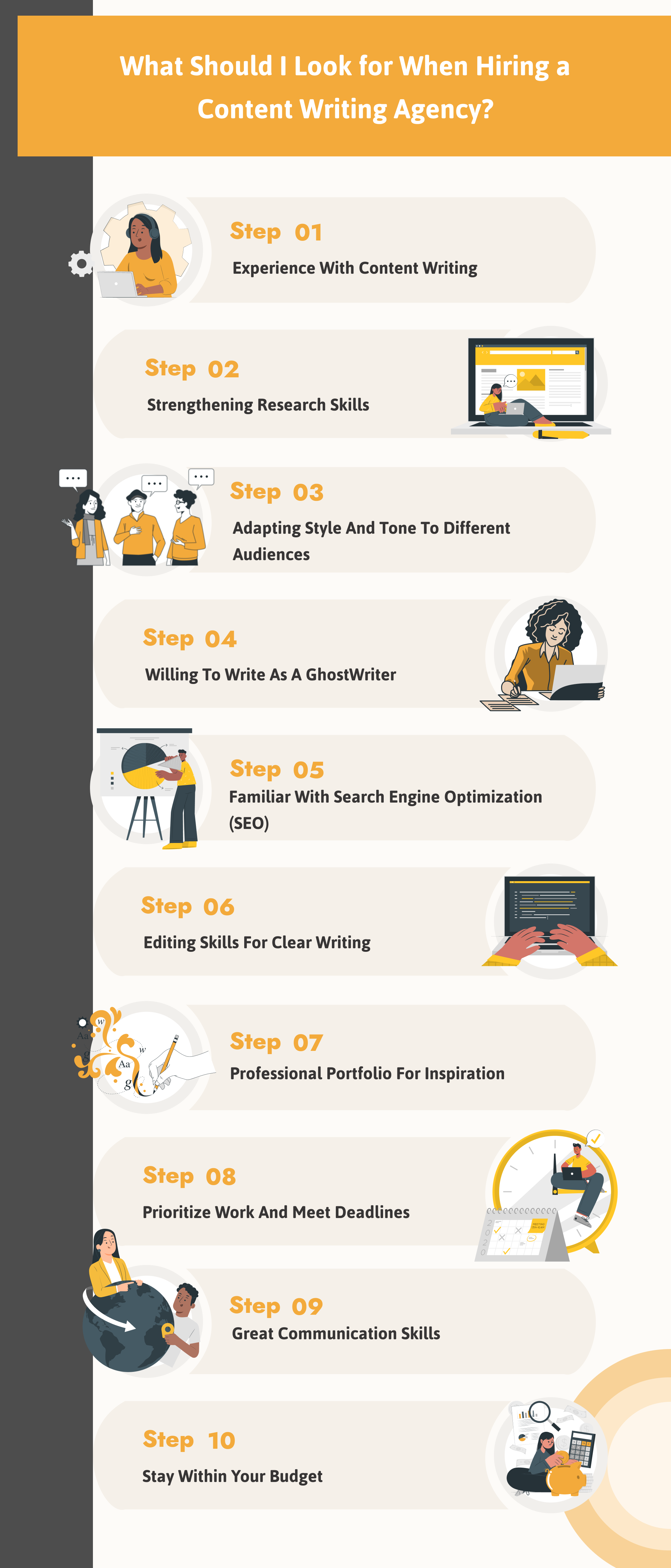 A content writer can bring your website ranked top and generate massive traffic to grow your company. It implies that you should choose the perfect content writer for marketing your brand and business.
Here are 10 required content writing skills that you must know to communicate with a content writer for hire:
1. Experience with content writing
When hiring a content writer, first, you must consider his experience with content writing.
To do it precisely, you have to identify whether the writer has the expertise and skills required for content writing or not.
Here are some tricks you can apply:
Figure out his content versatility
Get a detailed picture of how many articles he wrote in his career, including in the last five or six months.
Also, you need to know what type of content writing expertise he has, such as web blog posts, social media, ecommerce content, e-mail content, video scripts, and product description.
It helps you figure out his versatility in the content writing sector.
Notify his profession's longevity
Try to know how many years he has been providing content writing services, especially for web content and blog posts. It gives you a decent idea of his actual durability and proficiency in content writing.
Moreover, it also brings his SEO and keyword expertise to light.
Match your Niche/Subject to his specialization
You will find millions of content writers who provide content writing services in different niches. But one thing you should know is they are actually specialized in some limited sectors. You must match your business content niche to the writer's specialized field.
For instance, if you need content for your photography website, you should hire a content writer who is an expert in photography writing.
A professional content writing agency can create persuasive content for any particular project as it contains many content writers specialized in different niches.
Note: A writer's little or no experience in your business content does not imply that he cannot make excellent content in that niche. He may just need some time to get adapted to the subject.
2. Strengthening research skills
A content writer must be an expert in strengthening research skills to make his content engaging.
Of course, it's essential to make blog content and articles interesting to grab the readers more attractively. It comes to life and value when a writer uses proper resources and authentic references in his content. That's why it's crucial to have comprehensive research skills.
Here are some key research points that a content writer must know and apply:
He must be skilled in research using the appropriate keywords
He needs to find authentic sources and reliable references
He must craft the article thinking of the readers' knowledge level
Note: As an employer, you can expect the content writing agency has substantial knowledge and ideas about your niche. But they don't need to be always familiar with the subject matter as they have extraordinary research skills to add credibility to your project.
3. Adapting style and tone to different audiences
Adapting style and tone to different audiences is innate for a content writer.
When you hire a content writer, you can guide him through your brand's strategies and content niche.
In this context, a content writer needs to be able to adapt to your marketing and persuasion techniques. It helps to deliver creative and engaging content.
Some facts that you should know:
Choose a writer who can adapt to different forms of writing and has the flexibility to learn new things because every project is different and demands different styles and tones.
Try to find a ghostwriter who is passionate and committed to what they write. It helps to reach the goal more precisely. Though talent doesn't hurt, passion can go a long way.
Note: Hire a writer whose work is interesting, funny, and compelling.
4. Willing to write as a GhostWriter
Copyright is one of the most critical facts for hiring a content writer. Because copyright gives you the freedom to use the content anywhere according to your choices.
Otherwise, you cannot publish it wherever you want. That's why you should hire a content writer willing to write as a GhostWriter.
Here are some benefits of hiring a ghostwriter for your blog content:
A ghost content writer does not contain the copyright of the article.
You can publish the article on numerous websites and blogs.
You can publish the content by your name; no need to give credit to him.
Note: Avoid hiring a writer who doesn't want to leave his copyright.
5. Familiar with Search Engine Optimization (SEO)
SEO is vital for making your content successful and getting massive traffic.
You should hire a content writer who has good SEO knowledge. A content writer doesn't need to become an SEO expert, but he should have at least a basic idea.
Here are some facts you can consider when hiring an SEO content writer:
Check out the writer's keyword sense. A content writer must know how to optimize targeted and LSI keywords naturally in the article.
Figure out how much engaging meta descriptions, meta titles, and tags he can write.
A content writer must know how to make internal and external links.
The content requires a perfect title tag, headings, and subheadings.
The content length, word limitation, sentences, and paragraphs must be appropriate and crawler friendly.
He must have proper skills to make content valuable and answer related questions from the audience.
Note: Avoid a writer who intends to overuse targeted and LSI keywords forcefully.
6. Editing skills for clear Writing
Editing skill is vital for making any writing material clear and flawless.
When hiring a content writer, you should check out his editing skills and try to know how often he revises content and edits it. Because every article needs more and more editing to be polished and attractive.
Here are some facts that indicate the excellent editing skills of a writer:
Free from grammatical and punctuation errors
Aware of irrelevant points and paragraphs
Overuse of particular words and stories
Good proofreading, style, and strong vocabulary
Free from spelling mistakes and sentence redundancy
Can remove uncertain language and repetitive phrases
Note: Don't hire a content writer with no proper editing skills.
7. Professional portfolio for inspiration
A professional portfolio is essential to know a writer's past work and achievements.
When you decide to hire a freelance content writer or a content writing agency, make sure that both contain engaging portfolios on their website, social media accounts, and freelance platforms.
Because a professional portfolio is a natural source of his past activities and achievements, here are some facts you can keep in mind to check a writer's portfolio:
Check referrals and past clients' feedback. For this, you can see his testimonials and client reviews.
Make sure his content can make you proud to showcase on your website because of his lots of research skills and multiple voices to different audiences.
Try to read his past articles and understand what type of content he writes best. Because it will ensure whether you should contact him or not.
Note: Before hiring a content writer, you must check out his portfolio cautiously.
8. Prioritize work and meet deadlines
A writer's good tendency to prioritize your work and meet deadlines can do your online marketing fast.
You may have a strict deadline or need a writer who can provide the content within one day or 48 hours. That's why you should hire a digital content writer who can meet the deadline and deliver the content at the right time.
Here are some facts you should keep in mind:
Make sure he is not busy with other projects and intends to prioritize your work.
Ask him straight how much time he needs to complete your tasks.
Try to understand whether his turnaround time matches your plan or not.
Note: Don't hire a content writer who cannot deliver the articles timely.
9. Great communication skills
Great communication skill is vital for a freelance content writer. Because most of the contracts happen via digital platforms like Skype, email, zoom app, and any other media, that's why a content writer must have expertise in both Writing and speaking content.
Here are some facts that you should keep in mind:
Ensure the writer can ask pertinent questions to understand the content task and strategy.
He needs to make you understand his writing proficiency and expertise in particular fields.
He should ask you more and more questions until the instruction gets clear to him.
It would be nice when your writer makes good suggestions for you to correct your content strategy if he finds anything wrong or less beneficiary.
Note: A content writer with low communication skills will face trouble perceiving your content strategy.
10. Stay within your budget
When you are going to hire a content writer, you should keep your budget in mind. Because there are lots of content writers who demand different amounts of money from the lower to the higher range for their writing services.
Choose a content writer who you can afford. But here are some facts you should consider:
Find out what type of rate he demands, such as hourly rate, per word rate, or project rate.
Match your budget with his demands. If it doesn't match, try to accommodate.
How Do I Find a Digital Content Writer for Hire?
Hiring a professional content writer is essential for growing your online business quickly. You can find several digital platforms where you can get lots of freelance content writers for hire. But it would be best if you chose a content writer who can feel suitable for you and your brand.
For this purpose, a content writing agency like RankUpper will be the best.
Why should you choose RankUpper?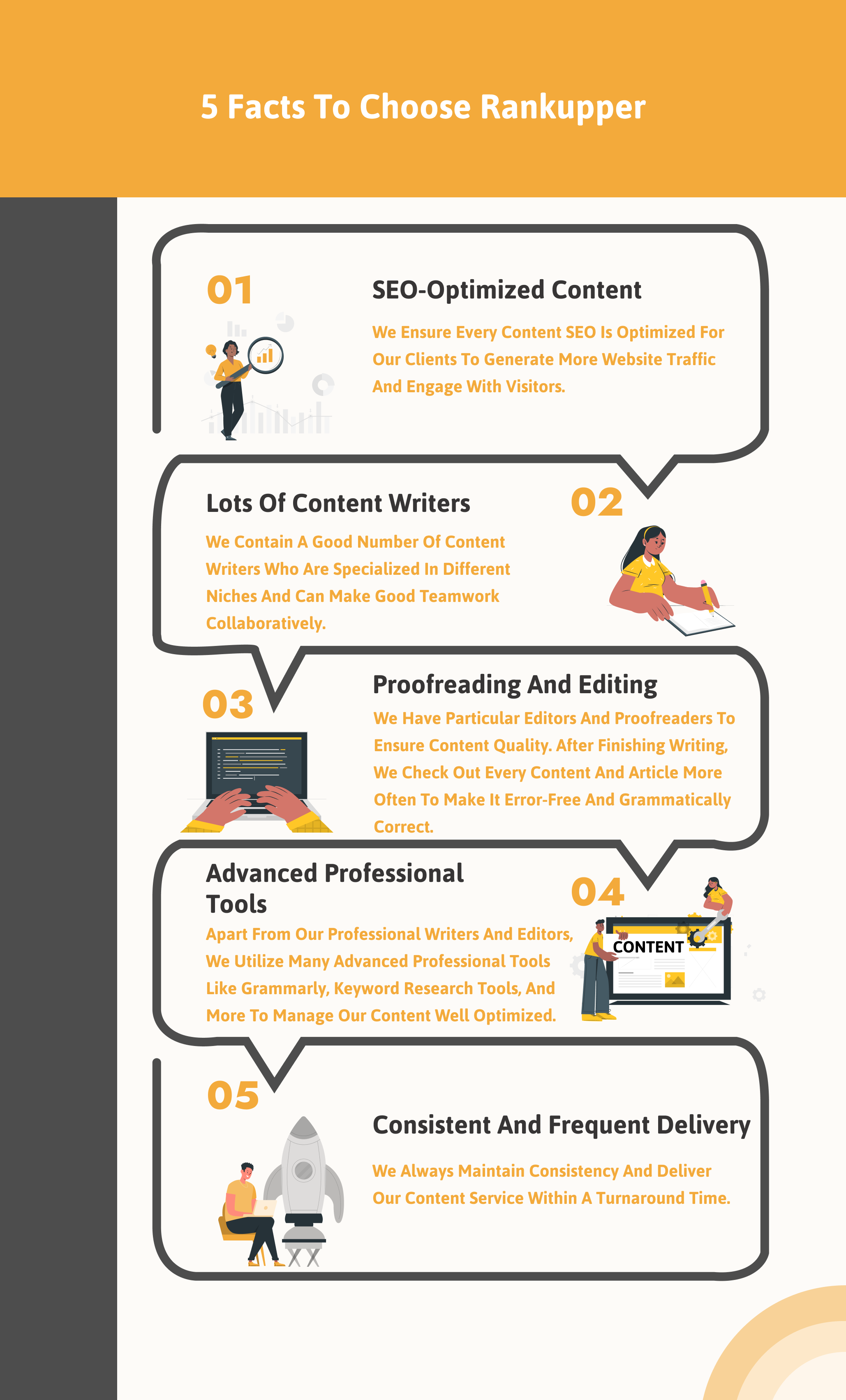 RankUpper is the top-rated content writing agency to help you reach your business goal. Here is some specialty of RankUpper that make you hire it.  
SEO-optimized content. We ensure every content SEO is optimized for our clients to generate more website traffic and engage with visitors.
Lots of content writers. We contain a good number of content writers who are specialized in different niches and can make good teamwork collaboratively.
Proofreading and editing. We have particular editors and proofreaders to ensure content quality. After finishing writing, we check out every content and article more often to make it error-free and grammatically correct.
Advanced professional tools. Apart from our professional writers and editors, we utilize many advanced professional tools like Grammarly, keyword research tools, and more to manage our content well optimized.
Consistent and frequent delivery. We always maintain consistency and deliver our content service within a turnaround time.
Ask in an Interview Before Hiring a Content Writer
An interview is vital before hiring a content writer. It helps to make a good relationship and understanding between the writer and you and bring out the best outcome.
Because an interview is such a communication way where you can ask and answer each other to clear up queries.
Here I provided some tips to make perfect content writer interview questions:
Ask the writer to tell his research process for writing blog posts or product descriptions.
Ask the writer about content writing and the revision process.
Ask him how to optimize SEO and keywords in the content.
Figure out how long it takes to clear the deadline for writing content.
Ask him how many times he tends to edit the content.
Find out if he uses tools like Grammarly to make the content error-free.
Remember to ask questions about his specialized niches.
Cost to Hire an SEO Content Writer: Content Writing Prices
In the digital marketplace, you can get a number of content writers who demand distinctive price amounts.
The content writing cost mainly depends on some facts such as:
Writers' skills and expertise
Content types and quality
Word quantity
However, here is a pricing list of quality content writing services of RankUpper according to content types and word quantity: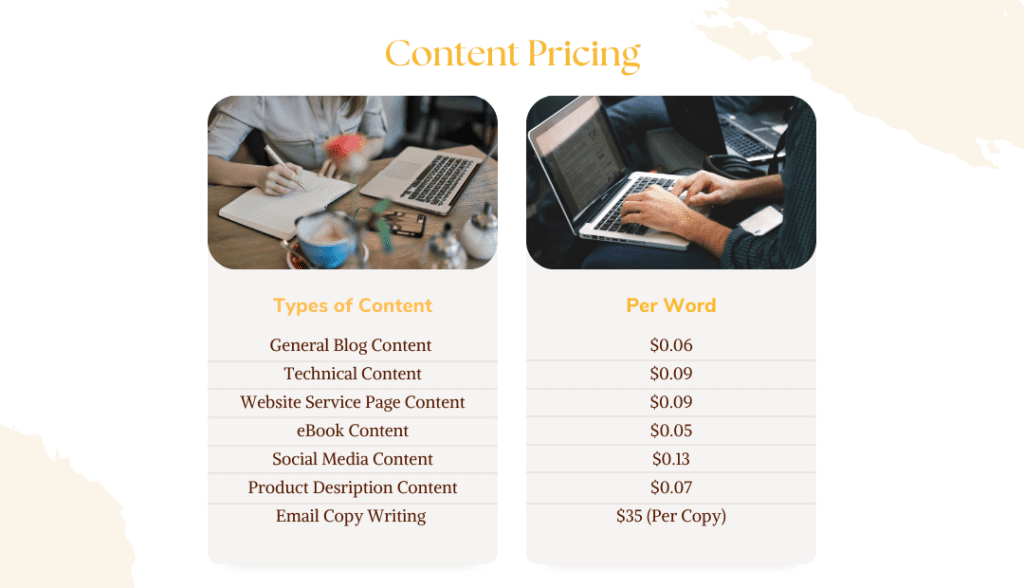 1. General blog content
Blog content is essential to distribute your business ideas and knowledge. Also, it helps to bring your website to the first page of SERP.
RankUpper is a customer-friendly content writing service that offers any blog content at $0.06 per word. For instance, if you need a blog article of 1000 words, it will cost only $60.
2. Technical content
Technical content is tricky to write and describe, which generally costs high compared to other content.
We have many content writers expertized in technical content writing, so we offer quality technical content at $0.09 per word. In this case, you can get any technical content of 1000 words at $90.
3. Website service page content
The website service page is mandatory when you aim to provide business service and earn profits. And it must look professional and engaging to persuade customers.
We are here to help you with winsome website service page content only at $0.09 per word. So, if you need a service page content of 1000 words, it will take $90 only.
4. eBook content
eBooks gained massive importance and admissibility everywhere from general readers to premium users. People hire eBook content writers at higher costs.
But we offer it only at $0.05 per word. So, if you need any eBook content of 1000 words, it will cost $50.
5. Social media content
Social media content is the most persuasive to bring the audience to your website and ecommerce store.
We provide winning social media content at the cost of $0.13 per word.
6. Product description content
When comes ecommerce website, it must optimize appealing product description content.
Our ecommerce content specialists will write successful product descriptions for your online store for only $0.07 per word.
7. E-mail copywriting
The world's most business companies reach their customers via email marketing.
We provide E-mail copywriting services to reach your potential clients successfully and inform them about your business updates and offers. For that, we charge only $35 per copy.
FAQs about Hiring a Website Content Writing Agency
What is SEO content writing?
SEO content writing is the writing process that makes the content rank on the first page of SERP.
Basically, SEO content writers follow SEO rules in their writing by implementing targeted and LSI keywords and answering related questions to make the readers satisfied.
What does a freelance content writer do?
A freelance content writer is a professional person who has expertise in numerous fields.
He can write and edit numerous types of content for blog posts, ecommerce, and social media and can optimize them with SEO. 
What services are included in content writing?
A content writing agency provides several content writing services like blog articles, ecommerce product descriptions, social media posts, landing page content, email marketing content, and more.
How do you analyze your content performance?
Here are some key techniques to analyze content performance: 
● Site traffic
● On-site time
● Engagement
● SEO Performance
● Sales or Conversions rates
● Ease of customer journey
● Returning visitors
● Brand awareness or reputation
● Social shares of your content
What company hires content writers?
Any company with a website and online marketing policy hires content writers for numerous purposes like blog posts, email marketing, and social media content.
How long does a content writer take to Write an article?
It depends on the content type, word quantity, and research policy.
For instance, content within 1000 words based on less research may take a few hours, while broad content over 3000 to 5000 words with good research can take 2 or 3 days. 
Conclusion
A content writer is essential to get massive visitors to your website and engage them with your content.
This article gave you proper guidelines on what things you should consider before hiring a content writer, including its benefits.
I hope now it's clear why a content writing agency is specialized in getting engaging content writing services.
So, hire a content writing agency and reach your goal.