There are thousands of available professional writers in different content marketing marketplaces. That means you can hire an experienced content writer anyone anytime.
But to ensure your company's growth, you must choose the right one.
And then you may face many difficulties, like:
How to interview someone for an article?
What are the best copywriting interview questions?
How do you determine expertise level and other skills when hiring a writer?
Do you need to set a budget that fulfills the hiring cost?
Look no forth! In the hope of helping you, we enlisted the top most asked 26 content writing interview questions when hiring a content writer.
Why delay? Let's get started!
Tips for Interviewing a Professional Content Writer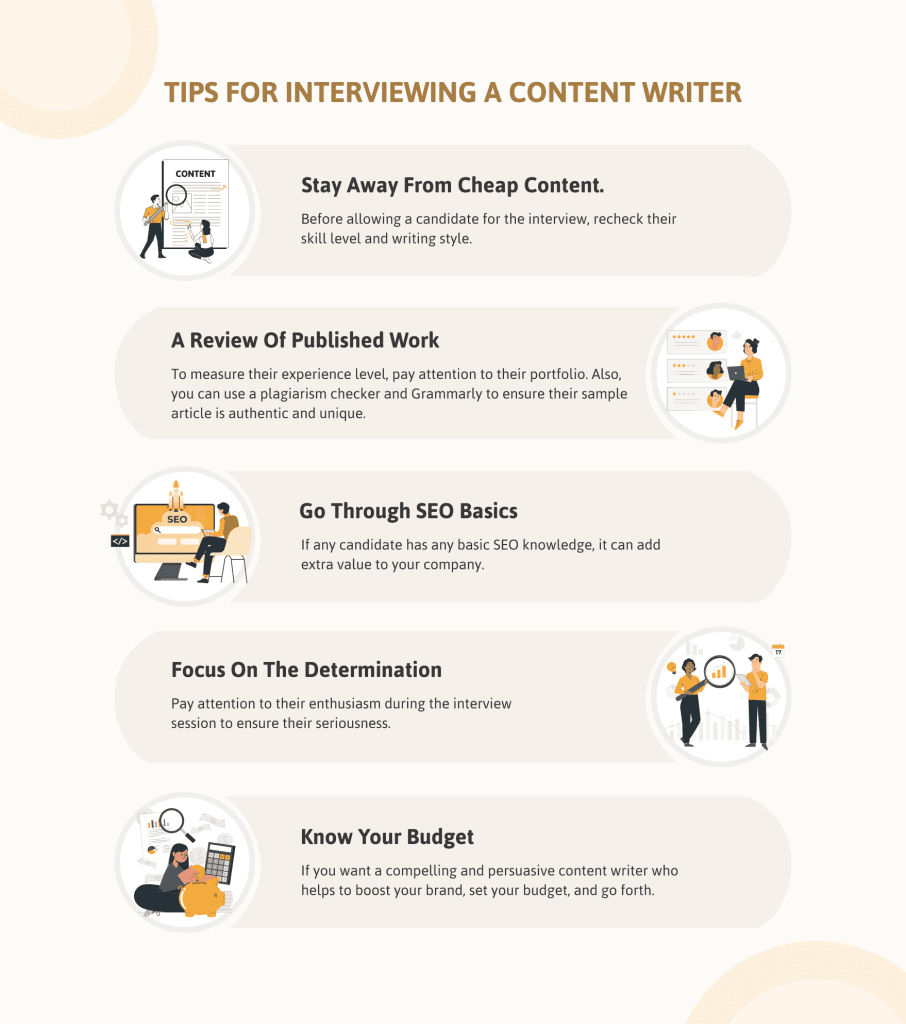 Whether it is blogging, copywriting, email marketing, or your website: Great and engaging writing has the power to generate your brand awareness, convince customers to take action or buy, and drive revenue.
As per statistics, 67% of marketers admit that content marketing generates quality leads/demand. Isn't the scenario indicating you hire the right persons?
But before hiring one, you need to set your checklist.
In the hope of helping you, we listed some essential tips below:
Stay away from cheap content. Before allowing a candidate for the interview, recheck their skill level and writing style.
A review of published work. To measure their experience level, pay attention to their portfolio. Also, you can use a plagiarism checker and Grammarly to ensure their sample article is authentic and unique.
Go through SEO basics. If any candidate has any basic SEO knowledge, it can add extra value to your company.
Focus on determination. Pay attention to their enthusiasm during the interview session to ensure their seriousness.
Know your budget. If you want a compelling and persuasive content writer who helps to boost your brand, set your budget, and go forth.
After completing your checklist, it's time to hunt a wordsmith by asking the right question.
11 Good Questions to Ask a Content Writer While Interviewing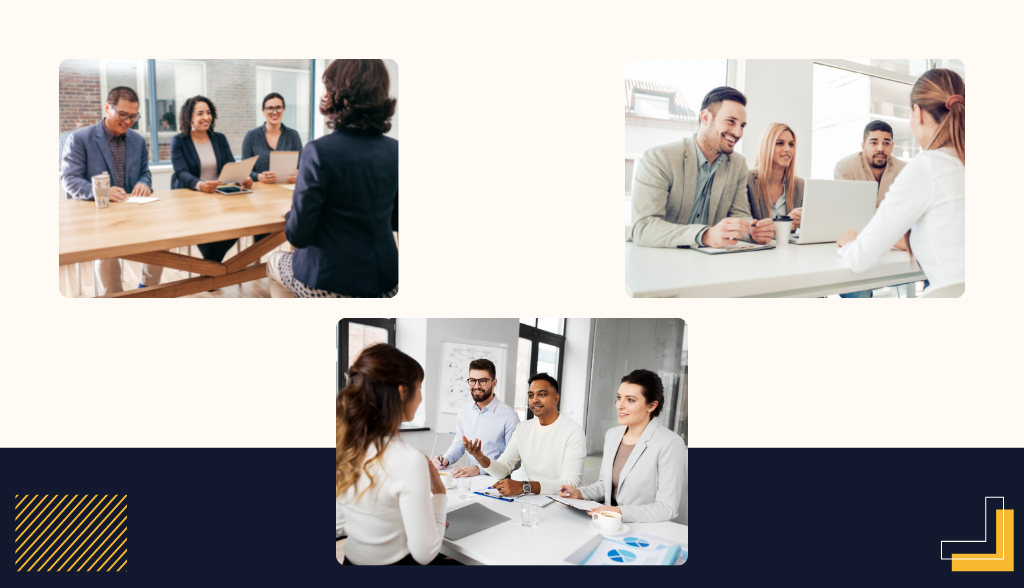 As a content marketer or a managing editor, you have already made a plan, set a budget, and done your research. Now it's time to hire an enthusiastic content creator.
You might be worried about thinking:
how to interview a content writer? Or,
how do you set interview questions for a technical writer?
Well, hiring a ghostwriter for your business is not a critical task at all. Simply use these content writer interview questions to guide your search for writers. First of all,
1. What are the different types of content writing you know?
Asking this question, you get an idea about their writing abilities and versatility in different niches.
Most of the cases, writers generate content based on particular niches. But a professional one is capable of writing a variety of topics.
What answer is expected from a content writer?
Great candidates may share their preferable content writing types, which they are confident to do.
After that, they discuss various forms of writing:
Technical Content
Blogging
Website
Email Content
E-books
Product Review
Social Media Content, etc.
2. How Would you research the target audience for content writing?
As an interviewer, you demand informative and engaging content that fulfills your client's or readers' queries.
By asking this question, you can learn about their research procedures and preferable Search Engines.
What answer is expected from a content writer?
Google Analytics. A helpful tool for obtaining demographic details (age, gender, location, who's visiting your website, and how your content fits into their lives) about customers' interests and needs.
Reader persona. To sell something, it is crucial to understand customers' difficulties and marketing goals.
Social media analytics. Facebook, Twitter, LinkedIn, and others media analytics help to know what is working and not working content-wise. Also, help in observing the audience's lifestyle and campaign planning—for example, Facebook insights.
Website performance. Monitoring the best and worst-performing content areas is a great way to attract more audience members.
3. How do you choose the right tone for your content writing?
One of the most important questions you can ask for judging their writing style and how they draw their content mindmap.
What answer is expected from a content writer?
A professional wordsmith or a good writer will demonstrate the most crucial factors for answering this question, including:
Company's personality. Choose the approach and nature of writing by observing the brand's values, requirements, and characteristics.
Audience profile. Knowing readers and target audience needs to satisfy them.
Channel. Social media, blogs, or product descriptions for an eCommerce site; every content must be consistent with the channel attributes.
Some candidates also can mention their writing styles or modern-day writing types like:
Argumentative
Descriptive
Narrative
Persuasive
4. What do you know about SEO content writing?
This question helps you to find a professional who can accomplish the entire task, like keyword density, headings, meta titles, tags, and many other on-page SEO factors.
What answer is expected from an SEO content writer?
Keyword density. Keywords are the pillar of any content because it helps search engines to recognize the topic. The perfect keyword density is between 2 to 5 percent within a piece of content.
LSI keywords. Semantic or related keywords improve content's relevance and provide a better search experience for users.
Meta tags. Meta titles, Meta Descriptions, Meta robots, Meta viewports, and other meta tags instruct search engines on how to display a piece of content to visitors and in search results.
Headlines. H1, H2, H3, and H4 tags are essential for Google Bots to understand what it's about and offer readers a structured content map for getting ideas at a glance.
Alt tags. Alt tags, also known as "alt attributes, " are used for recognizing Google image files and offering audiences the best possible results when searching online.
URL structure. Keyword-oriented, short, readable, and descriptive URLs work well for visitors and search engines.
Internal and external linking. High authority external linking ensures better content engagement. Also, the quality and relevant topics of internal linking enrich the performance of web content.
5. How do you create a content marketing strategy?
You can ask this question to understand the depth of content marketing strategies and are they stay up to date with industry trends.
What answer is expected from a content writer?
The candidates can narrate the following process to prove their authenticity and professionalism:
Step 1: Set business goals and mission (what's best for content strategy, why need to create a content marketing plan, and others.).
Step 2: Establish KPIs (revenue, sales, traffic, SEO, and different digital marketing aspects).
Step 3: Conduct buyer persona research (targeted audiences' needs, requirements, behavior, demographics, personality, etc.).
Step 4: Research competitors (traditional competitors, reference, entertainment sites, and others).
Step 5: Brainstorming for creating a topic, keyword list, etc.
Step 6: Figure out the best content channels (blog posts, articles, how-to guides, eBooks, social media posts, etc) as per audience demands.
Step 7: Figure out the niche's content placements (YouTube, Instagram, Facebook ads, etc.).
Step 8: Plan resources for responding to the content marketing campaign, comments, and questions.
Step 9: Analyze the results by monitoring click rates, views, customer comments, responses, social media likes, and shares.
Step 10: Draw a rollout plan (revisit and revise).
6. What content management systems (CMS) are you familiar with?
You may ask the most common question to get an idea about the applicant's tech-oriented knowledge and how familiar they are with CMS sites like WordPress, Magento, Joomla, etc.
What answer is expected from a content writer?

WordPress. Offers free and premium plugins, themes, and customizable functions.
Wix. Is a drag-and-drop site builder which is easy to use.
Shopify. Effective in building, editing, creating, and managing eCommerce content, landing pages, and other navigation elements.
Squarespace. Offers creative portfolios for photographers, musicians, designers, and artists.
BigCommerce. Helps to manage thousands of products and other content with ease.
Joomla. Offers multiple themes and templates for different pages and types of content.
Drupal. Provide flexibility to create and manage custom post types.
Note: The question may not be suitable for judging a content writer's quality because the writer mainly focuses on readability. But many professional content writers have experience in content management platforms
7. What are some projects you worked on in past roles?
With this question, you get an idea about their passion and working expertise fields that is crucial to compare with your criteria or niches.
What answer is expected from a content writer?
Live writing samples of clients or company profiles
Difficulties or challenging stories when dealing
Responsibilities include collecting accurate data, proofreading, keyword researching, and other related terms to fulfill the project
Demonstrate expert writing fields or niches (i.e., photography)
8. What strategies do you use to meet tight deadlines?
The important question helps you understand how the candidate handles pressure and meets deadlines.
Also, you can analyze their dedication and cooperation in various kinds of niches.
What answer is expected from a content writer?
Step 1: Set up marketing goals by understanding the content strategy
Step 2: Plan out the writing process
Step 3: Set a time limit for each task/part, like researching the topic, creating a draft, proofreading, and publishing
Step 4: Done creative work first
Step 5: Keep a backup for handling uncertain situations
9. What are the ways to measure Your content performance?
Performance analysis depends on the target audience, stats, feedback, marketing objectives, and other parameters. And the answer may vary from writer to writer.
What answer is expected from a content writer?
Traffic. This includes both unique visitors and pageviews. Google Analytics is the best tool for measuring website traffic.
Time on site. Audiences' average spending time on a particular website is the most effective way.
Bounce rate. A lower bounce rate (25 to 40) indicates satisfactory audience engagement.
Keyword rankings. Moz or SEMrush Keyword rankings measurement tools help to recognize how well content is performing in search engines.
Conversions. Kissmetrics, Google Analytics, and Mixpanel help to track conversions like filling out a form or buying a product.
Click-through rates. MailChimp, Customer.io, and Klaviyo are the most effective tools for tracking how many people opened an email or clicked on a link in the body of a message.
Engagement. Social media's Likes, shares, and comments help to observe how well it performs.
SEO performance. Google search console or other tools help to measure content SEO performance.
Call to action. Inquiries, leads, sales, etc are other effective way to measure performance.
10. Why should we hire you as a content developer?
With this question, you want to make sure that the applicants have clear outlines of their responsibilities like developing a company's content strategy with proper researching, writing, organizing, and editing information for publication on websites.
What answer is expected from a content developer?
Skills
Excellent written and verbal communication skills
Ability to work both independently and in a team
Strategic thinking and analytical skills
Multitasking abilities
Expert in content management software
Basic HTML formatting knowledge
Good eye for every detail
Advanced Skills
Advanced knowledge of SEO
Job Tasks
Quality assurance
Collaborate with other departments on content creation
Develop strategic content goals
Tools
Project management software (Asana)
Content management software (WordPress, Shopify, and as per company's preferences)
Graphic design software (Adobe Photoshop)
Slideshow software (MS PowerPoint)
11. How do you communicate professionally with clients and other professionals?
As a recruiter, your main concern is to build a smooth relationship with clients and other professionals.
By asking this question, you ensure that the digital content writers are flexible in communicating effectively via email, Google Meets, etc.
What answer is expected from a professional content writer?
Email. A convenient, swift, and cost-effective communication medium. It is best for sending out newsletters or personalized messages.
Website. Offer clients product or service-oriented information, delivery schedules, and ordering process.
Google Meet. For in-depth conversation or any new project.
Text messaging. Skype, Slack, or other messaging apps for a quick question.
Web chat. Allow automated answers to common questions by offering a representative.
Great wordsmiths are the real hero of each successful website or brand establishment. But to improve customer retention and develop a client's business or company's objectives, a content strategist is a must thing.
If you want to hire one without looking back, let's jump to the next section.
Content Strategist Interview Questions Before Hiring a Writer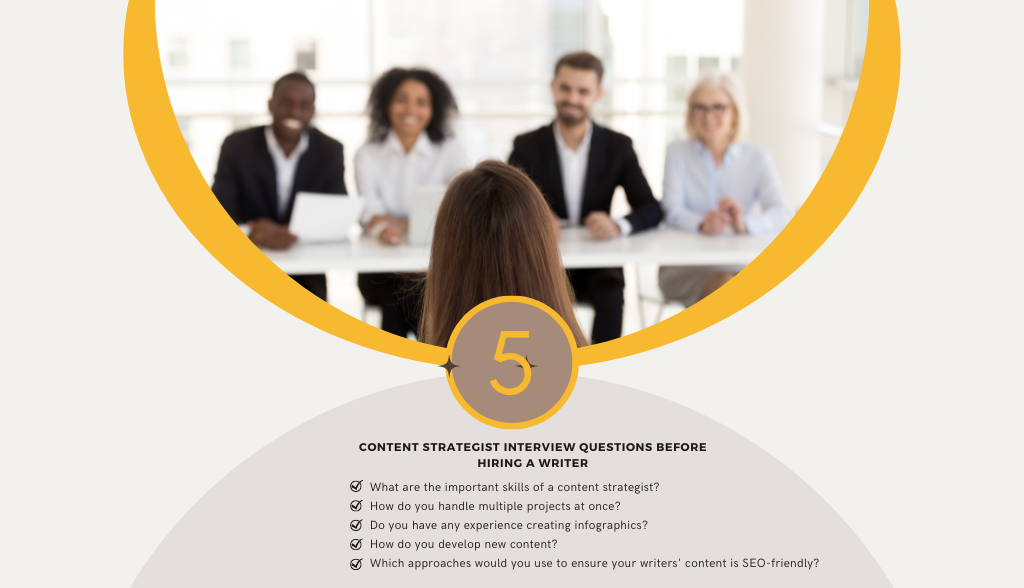 When interviewing content strategists, hiring one with excellent analytical, effective communication, and content presentation skills is crucial.
For this reason, we outlined the most important content strategist interview questions that help you to find out the right match for your company.
1. What are the important skills of a content strategist?
The content strategist's role is to plan, produce, analyze, distribute, and manage to boost the brand's voice.
With this question, you can understand how they meet various organizational goals like brand awareness, lead generation, and conversion using content.
What answer is expected from a content strategist?
Excellent Copywriting Skills
Empathy
Content Presentation Skills
Editing and Proofreading
Analytical Skills
Communication Skills
Multitasking and Organizational Skills
Campaign Experience
Content Monetization Skills
Team building skills and attention to detail
Pressure handling capabilities
Knowledge of SEO strategies
2. How do you handle multiple projects at once?
The question helps you to identify their time management skills and abilities to handle a team on a tight schedule.
What answer is expected from a content strategist?
Step 1: Set up an integrated plan and schedule
Step 2: Outline prioritize and delegate projects following four-square methods: Important, not important, urgent, and not urgent.
Step 3: Constantly communicate with the manager and project teams about workload.
Step 4: Apply techniques like time blocking and task batching to improve tasks and meet deadlines.
Step 5: Schedule a hub for documentation, feedback, and communication.
Step 6: Adapt and continuously optimize project plans.
Project Management & Tracking Software:
Basecamp
ProofHub
Trello
Zoho
ClickUp
JIRA
Wrike
Notion
Hubstaff
3. Which approaches would you use to ensure your writers' content is SEO-friendly?
By asking this question, you can get an idea about how they plan, manage, and execute a brand's content strategy.
What answer is expected from a content strategist?
Step 1: Keyword Placement, the search intent
Step 2: incorporate semantic keywords
Step 3: Meta Description & length (160 characters)
Step 4: Recheck the pre-planned outline
Step 5: Proper Subheadings
Step 6: Short & Crisp paragraphs (within 4 to 5 lines)
Step 7: Bullets & numbering
Step 8: Proper internal & external linking
Step 9: Readability (grammatical errors, spelling errors, sentence structure, etc.)
Step 10: Content Relevancy
Step 11: Repetitions
Step 12: Proofread
SEO Content Checker Tools:


Ahrefs
Google Search Console
SEMRush
KWFinder
MOZ Pro
Ubersuggest
Hemingway
Grammarly, and many others.
4. How do you develop new content?
This question gives you insight into how the candidates plan and address specific business goals when making a content strategy.
What answer is expected from a content strategist?
The first step. Is to understand the business or brand objectives to focus on SEO research and audience.
Second. Research customers' needs and requirements for converting them.
The last one. Is to discuss with the team when initiating and monitoring strategy performance.
5. Do you have any experience creating infographics?
You can ask this question to ensure how much time they take to complete one or have any experience in making one.
What answer is expected from a content strategist?
Step 1: Outline the goals of the infographic (i.e. specific, measurable, achievable, relevant, and time-bound).
Step 2: Define infographic purpose (informational, statistical, mind map, list, etc), aspect ratio (vertical, square, and horizontal), and file type (image, PDF, video, interactive, or carousal)
Step 3: Plan and create the content
Step 4: Organize and visualize data using a line graph, pie chart, or others.
Step 5: Set content blocks
Step 6: Add engaging design elements
Infographic Maker and Graphics Tools
Visme
Befunky
Canva
Adobe Creative Cloud Express
Snappa
Venngage
DesignCap
Infogram
Do you want to build a strong digital marketing team by hiring a strategic content manager?
Let's take a look at the next section!
Content Manager Interview Questions Before Hiring a Writer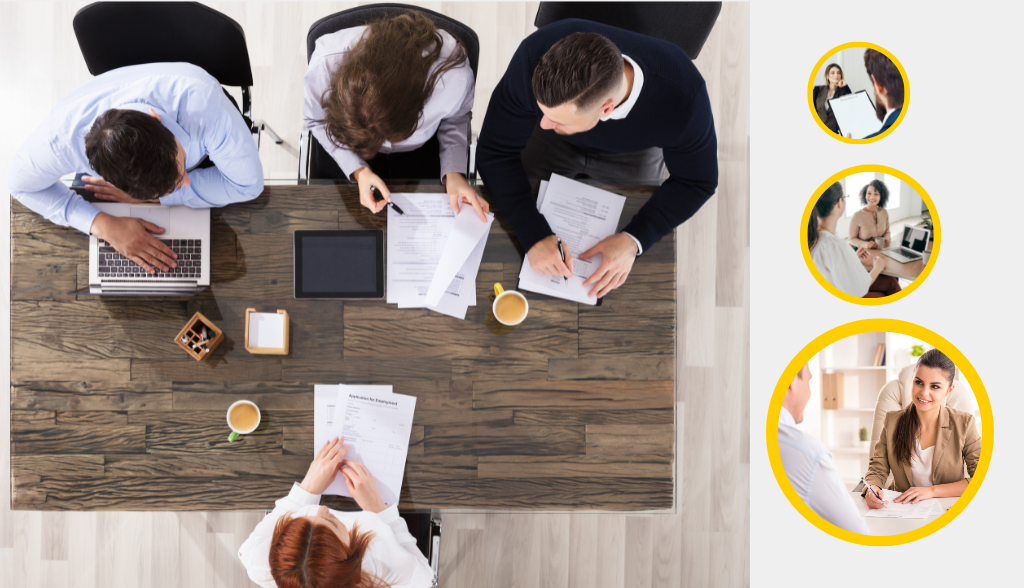 The most crucial factor is to finalize content management interview questions that help you to identify their skills, dedication, and experience in this role.
Well, by following these interview questions for a content manager, we hope you can achieve your target.
No more talk, Let's get started!
1. What are your responsibilities as a content manager?
The most common question you can ask is verifying their managerial experience and how fast they overcome a difficult situation.
What answer is expected from a content manager?
Develop and nurture relationships with sales, leadership, and experts.
Collaborate with marketing and design teams to develop site content, engaging style, and layout
Plan an editorial calendar, including what kinds of content are beneficial to promote the company voice.
Schedule expected drafts and revisions
Publishing blog content days, posting on social media platforms, or sending emails.
Optimize content according to SEO.
Brainstorming with editorial team members for developing new ideas.
Manage all content creation, revision, and retention across multiple platforms.
Build and manage a team of writers, contributors, and other contributors.
Content management systems to analyze website traffic and user engagement metrics.
Ensure compliance with maintaining law (i.e. copyright and data protection).
2. Do you have any idea about digital marketing fundamentals?
The content manager's role is to plan, create, and implement a company's content marketing strategy.
You can ask this question to ensure that the candidates clearly understand good content and effective marketing, like how digital marketing works.
What answer is expected from a content manager?
SEO. The heart of digital marketing helps to increase a brand's visibility on SERP and ensure potential consumers.
Content marketing. Aims to engage and retain the desired audience by creating articles, videos, podcasts, and other media.
Email marketing. Connect with existing and potential customers.
Social media marketing. Helps to track the reach of content, equip current trends, and report what works best.
Online advertising. Channels for online ads are YouTube, Facebook, LinkedIn, Instagram, Google, PPC campaigns, etc.
Pay-Per-Click. Is a short time solution to drive traffic and many big companies during seasonal deals, new product promotions, etc.
Mobile marketing. Focuses on reaching the target market via text messages or over the phone.
Affiliate/Influencer marketing. Help to earn a commission from each sale.
Video marketing. Integrates engaging video into marketing campaigns, and promotes customer testimonials, live-stream events, and how-to videos.
3. How do you plan what content to produce for a website?/ How do you create a website content plan?
With this question, you get an opportunity to know the applicant's content planning procedures, niche selection that adds value to the company, and other factors.
What answer is expected from a content manager?
Step 1: Define the buying cycle for both customers and content strategists of the business (awareness, consideration, and purchase decision).
Step 2: Cover the development of personas (demographic, pain points, values, research, priorities, identifying factors, etc).
Step 3: Understand the niche market using Google Keyword Planner, keyword research tools, AnswerThePublic, etc.


Step 4: Map the content channels and mediums (eBooks, blogs, videos, etc).
4. How do you measure content marketing ROI?
If you want to know how B2B content marketers measure the performance of the content to boost the business, this question allows you to know their ROI metrics.
What answer is expected from a content manager?
Step 1: Calculate spending revenue to produce the content (keyword research, editing, writing, on-page SEO, and others factors).
Step 2: Determine the distributing content amount (total costs of tools, advertising, or services to promote or create the content)
Step 3: Calculate the content sales, SEO success (organic traffic, SERP rankings, backlinks, and user engagement), leads, web traffic, onsite engagement, domain authority, and other content marketing ROI metrics
Step 4: Use ROI formula ((Return – Investment) / Investment ) * 100
Step 5: Plot monthly costs to track progress
ROI Calculating Tools: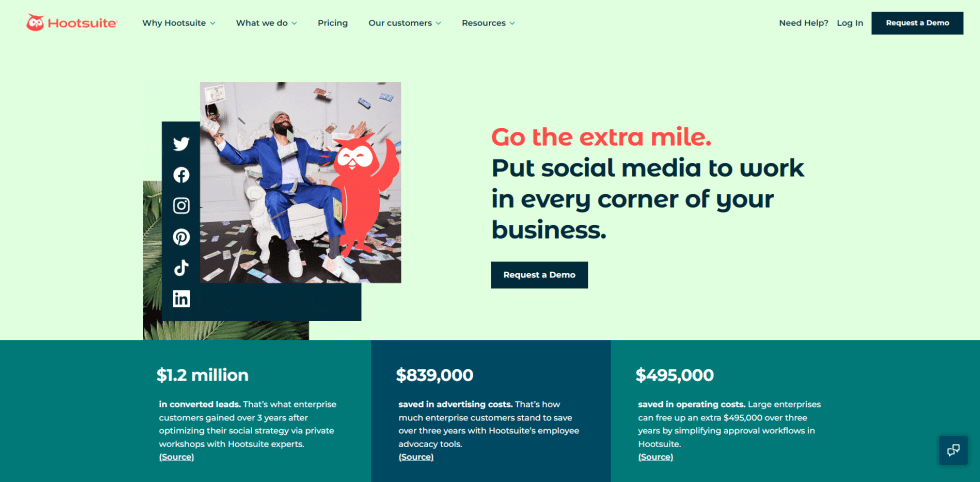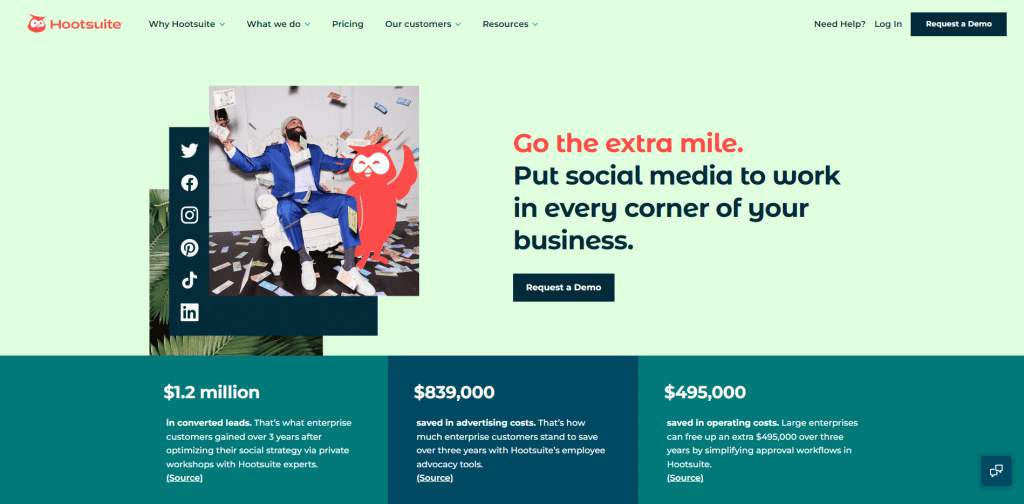 Google Analytics
Meta Pixel
Kissmetrics
Cyfe
5. How do you ensure website success?
By asking this question, you get an idea about their website function calculation, content and security audit process, and other criteria that ensure a successful website.
What answer is expected from a content manager?
Inbound traffic from organic search
Bounce rate
New & returning customers
Page ranking based on selected keywords
Site load time
Number of conversions, leads, and activity
Domain authority
After hiring a content manager for your business, you may plan to recruit a copywriter to increase your website's rankings in SERPs. And for this, you require copywriter interview questions, isn't it?
Let's scroll down and find out the top 5 interview questions for copywriters.
Interview Questions for CopyWriters Before Hiring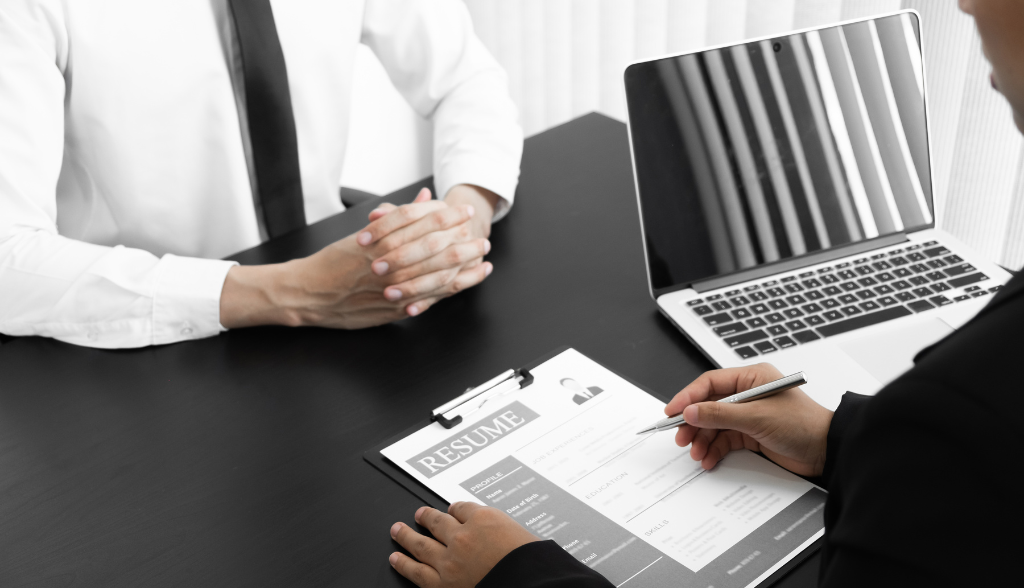 The power of a professional copywriter lies in effective leads, revenues, and more organic traffic.
But before hiring one, it is crucial to understand the core abilities between a content writer and a copywriter. Then decide on which candidate you need to hire.
1. What factors are responsible for a successful copywriting campaign?
By asking this question, you can understand the candidate's knowledge of this role.
What answer is expected from a CopyWriter?
Upfront goals
Established KPIs
Detailed buyer & customer personas
Proper planning sales funnel stage
Long-term vision
Diverse marketing channels
Clear, concise, and persuasive copy.
2. What are your research processes?
You must want to determine where and how the applicant gets their inspiration for a copy. With this question, you can get an idea about their research and writing procedures.
What answer is expected from a CopyWriter?
Step 1: Market research to demonstrate the problem, and audience objectives.
Step 2: Define the target audience and competitors.
Step 3: Estimate time for research from different sources like Google search, YouTube, and others.
Step 4: Pinpoint the important topics.
Step 5: Sum up the final piece.
3. How would you handle a new copywriting topic?
If you want to get an idea about the candidate writing process or how they deal with a new product, brand voice, or topics, this question can help you.
What answer is expected from a CopyWriter?
Step 1: Study blog posts, articles, or other relevant copy to acknowledge brand tone.
Step 2: Gather relevant and important information from other successful brands or sites.
Step 3: Set a plan before starting writing like which portion is important or time-consuming.
4. Do you have any idea about the sales funnel?
This question helps you understand how the applicants can engage customers with the content and ensure a successful purchasing journey.
What answer is expected from a CopyWriter?
The professional one may demonstrate the four key stages of the sales funnel,
Awareness. Depends on sales and marketing ability, including guest posting, webinars, SEO, social media posts, etc.
Interest and evaluation. The main goal is to build a relationship with the new lead and determine their end goals. Content ideas for growing the interest stages are blog posts, chatbots, free trials, retargeting campaigns, etc.
Desire. Aim to determine how well the offer fits within the customer's budget, current business model, and outcomes. Popular content types are testimonials, pricing pages, discount codes, customer reviews, product comparisons, and others.
Action. In this stage, all the action happens by converting consumers. Different content types are special offers, product implementation, follow-up emails, etc.
5. Why do you think you are qualified for this role?
This question is the best pick if you want to judge their confidence, ability, and ideas for promoting your company's products.
What answer is expected from a CopyWriter?
Expert in building creative and engaging pieces of content that drive potential traffic.
Familiar with different content management systems like Joomla, WordPress, and others.
Advanced knowledge of SEO.
Pay attention to every detail and care about the user's experience.
Ability to meet deadlines and work under pressure.
A sense of adventure and curiosity.
5 Interview Questions You Should Never Ask a Content Writer
As a recruiter, your main concern is to hire a professional content writer who helps to get effective traffic, build up credibility and develop your brand profile.
Sometimes you may ask candidates about their family status, ethnicity, marital status, or other off-limits topics concerning their resignation or absence.
But the Equal Employment Opportunity Commission (EEOC) prohibits you from asking questions that might lead the candidates to discrimination.
To help you, we listed the five most commonly asked interview questions you should avoid.
1. Do you have any disabilities?
Under the disabilities act (ADA), you can't ask the candidates about the nature or severity of a disability or their medications.
To avoid this lawsuit, you can ask, "Can you perform the essential job duties perfectly?" Or, "What are your strengths and weakness?"
2. Do you have any family history of disorders or diseases?
As a recruiter, you can not ask these types of questions that can humiliate any applicants.
So, rather than asking this question, you can verify their working abilities under pressure or dedication to performing the role.
3. What is your racial or ethnic background?
Race background defines the biological and physical traits inherited from parents.
On the other hand, ethnicity is all about cultural identity. But the question is not valid for asking any candidates in any interview session.
4. What is your sexual orientation?
The most illegal interview questions asked by an interviewer to the candidate.
So, it is wise to avoid these types of personal questions. Your key role is to focus on their professional skills.
5. Are you married? How many kids do you have?
The question may arise when you are concerned about absenteeism. But legally, you can't refuse applicants based on marital status, family status, or sexual orientation.
So, the acceptable way to verify the reason for absenteeism would be: "Do you have any commitments that could obstruct you from meeting the work schedule we discussed?"
How Do I Find a Freelance Content Writer for an Interview?
According to statistics, 55% of successful content market strategies focused on quality content to generate organic traffic and increase brand value. Isn't the ratio indicating that high-quality content is one of the cornerstones for boosting your business?
However, in the freelance marketplace, you get many options to outsource content writing, like content writers' marketplaces (Upwork, Fiverr) or social platforms (LinkedIn).
But for a professional and dedicated one who can rank your brand on Google's 1st Page, you can hire a top-notch content writing agency like Rankupper. 
Conclusion
Now at the end of this article: Content writing interview questions before hiring a writer, we hope you can hire dedicated and high-quality freelance content writers for your business and ensure more engagement.
Also, you can conduct with dedicated content marketing agencies to take your hiring to the next level.
Wish you a successful Recruitment!