Guess what?
Stepping into the world of ghostwriters might be like opening Pandora's box!
Ghostwriters are the unsung heroes behind highlighting the famous brand story and thousands of bestselling products.
That means it is clear that building a solid marketing strategy need a ghostwriter. But a trusted expert can grow your business online and in the physical world.
Curious to know: "How to outsource content writing and where you can find one to highlight your brand story the exact way you want it told?"
The article: How to Find a Ghostwriter: 9 Untold Secret will cover all your queries, including hiring benefits, ghostwriters' costs, finding processes, and the marketplace.
Let's start the journey together!
Why Do You Need a GhostWriter for Your Online Business?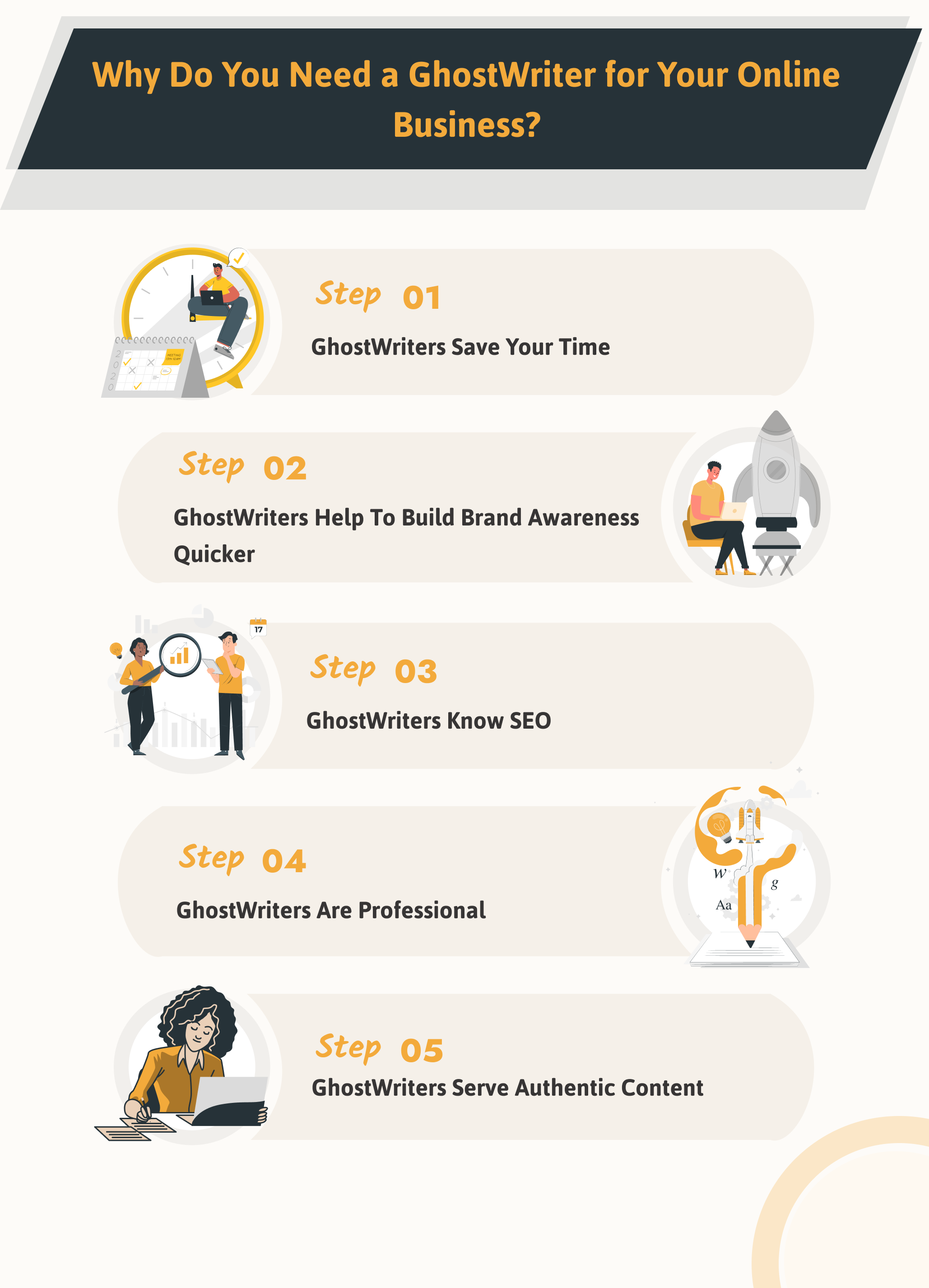 As per statistics, 82% of B2B marketers prioritize to fulfill the audience's informational needs over branding and sales promotion. Isn't the ratio indicating the power of high-quality and consistent content marketing?
Of course. And with a ghostwriter, the path becomes smooth. You might know: what a ghostwriter is.
But you may be unaware of: why hiring one is a perfect solution to fulfill all those writing roadblocks and avoid all marketing pitfalls.
Let's look at some key perks of hiring a ghostwriter below:
1. GhostWriters Save Your Time
Ghostwriters are a huge time saver for individuals and bigger companies where tasks are multiplied drastically. Also, they give an easy solution to put together your ideas for speech writing, article, video script, etc.
Picture this: you write an email with a 1000-word piece and take a huge time to complete it. Then how much do you take time to complete a full-length article, including multiple rounds of edits for clarity?
Here, ghostwriters play a vital role in fulfilling the brand-building mission of leaders, business owners, online shoppers, etc.
2. GhostWriters Help to Build Brand Awareness Quicker
High-quality and user-centric content is the must thing for amplifying brand awareness.
As an executive, if you allocate your valuable time to publishing quality stories taking huge time, is it add value to your brand?
By hiring a ghostwriter, you can speed up the process of highlighting your brand story's to your audiences quickly.
Also, they do proper research for figuring out your competitors and marketing trends.
3. GhostWriters Know SEO
Content with SEO ensures Google's 1st-page ranking because, in this piece, you get an authoritative voice, proper keyword analytics, and essential backlinks.
All these factors ensure your business's or service's online presence through Search Engine Optimization (SEO). Ghostwriters have SEO and up-to-date Google algorithms knowledge that drive more leads to your business's websites.
This way, you don't need to worry about SEO factors and Google updates that may affect ranking.
4. GhostWriters are Professional
Suppose you have the best service or product that easily competes with your industry.
But without communicating or expressing the "Why" of your service or product, will you scale up your business?
Obviously, No. So, to attract your targeted audience and fulfill market demands, professional ghostwriters are a must. They have years of experience and know how to make content engaging and interesting.
5. GhostWriters Serve Authentic Content
Reputable and expert ghostwriters work closely with their clients adopting their voice and representing it across all writings.
From book writing to documentation, ghostwriters have the experience of handling different content types with the appropriate tone, which is essential to attract readers' and listeners' concentration.
However, your customers are looking for answers, and if your service or business can fulfill their queries with value-rich content, you can stand out from the crowd successfully.
Sounds great, right? Now that you have all reasons: why do you find a ghostwriter to scale up your business?
It's time to explore top-notch processes: how do you find a trustworthy ghostwriter? Let's dive into the next section!
How Do You Find a Great GhostWriter Who You Actually Trust?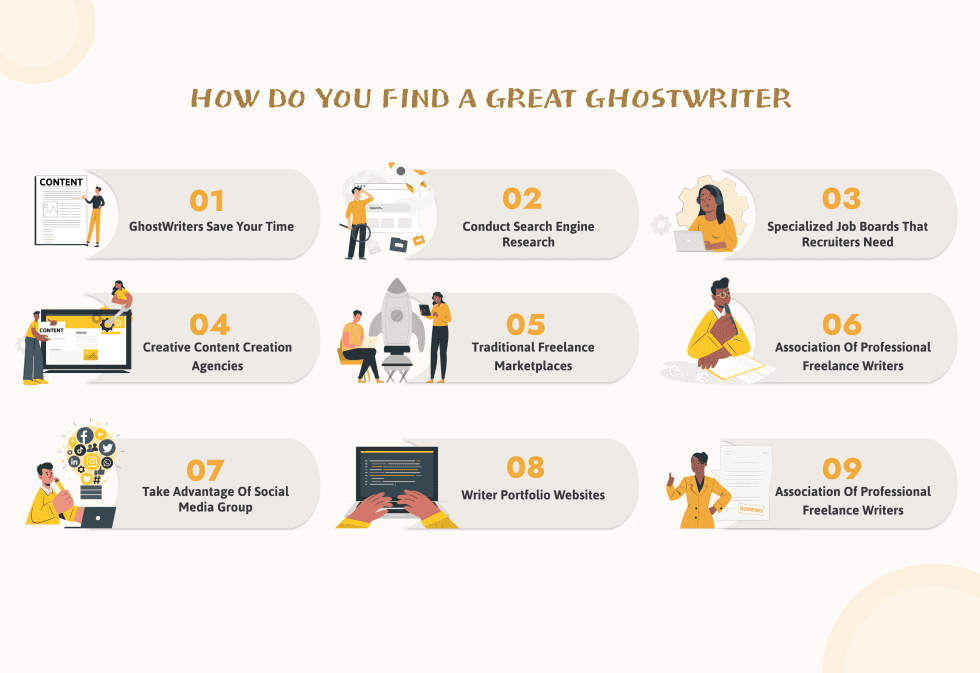 Ready to hire a ghostwriter to boost your online business? Before hiring, pay attention to these key factors that are mentioned below:
1. Familiar with the Subject
The most crucial factor is to hire one who has the proficiency or knowledge about your subject. So, find individuals or a service that can fulfill your demands and topic's need.
How large the firm is it, working with the actual subject matter or handing over research outlines experts, you can achieve your goal.
2. Conduct Search Engine Research
Google, Bing, Yahoo, LinkedIn, and other search engines are the best platforms to create ghostwriter lists. However, these platforms have some drawbacks and require a lot of time.
For example, Thousands of results will show when you search "book ghostwriter." From this listing, you will need to filter one by one as per your requirements.
3. Specialized Job Boards that Recruiters Need
The most effective way is to connect with the specialized job boards that recruiters need because they set a standard pattern for hiring professionals and experts.
Also, you can observe their portfolio and writing style, which is the key thing in content marketing.
4. Creative Content Creation Agencies
In the digitalization world, you get a lot of ghostwriting agencies, but finding out the trusted one becomes a challenging task.
So, before hiring a ghostwriter from a content creation agency, choose the established ones with a long track record of success with satisfied clients. These types of agencies have a proven reputation.
5. Traditional Freelance Marketplaces
Upwork, Fiverr, Indeed, etc., are the most popular online freelancing sites. Here, you only need to post a project and have writers make proposals to complete your task.
On the other hand, you can search for specialized freelance ghostwriters and choose the best match for your business or service.
Note: Disadvantages of using the freelance marketplace are you need to compromise on the assignment's quality, time, and deadline.
6. Association of Professional Freelance Writers
Organizations and associations of professional freelance writers can serve you as per your industry requirements. So, find someone who has working experience with these networks or can contact them.
But it might be a lengthy process to find one.
7. Take Advantage of Social Media Group
Facebook or other social media groups can be a useful source to find ghostwriters for hire. Here, you only need to post your project or requirements mentioning all details.
After that, suitable candidates will reach you. But have some risks to depending on social media because you might face different issues after hiring one.
8. Writer Portfolio Websites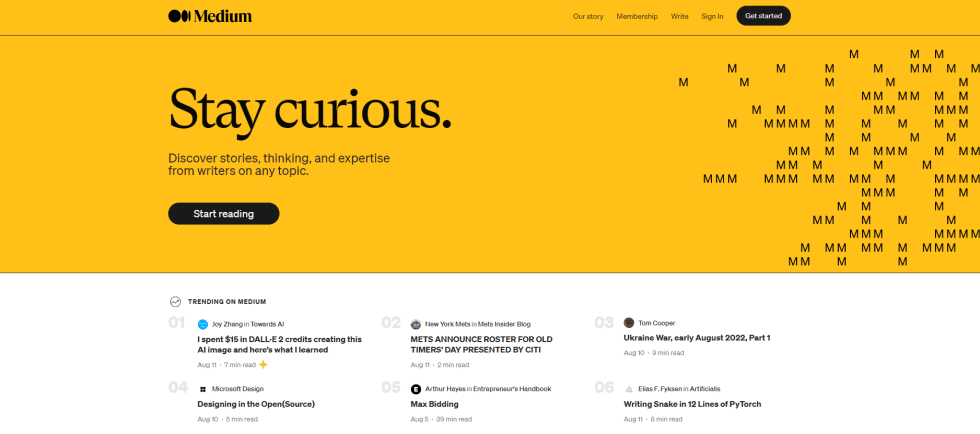 Medium, Contently, Writerfolio, etc., are the most demanding writer portfolio websites. You can review these sites to overview their portfolios and testimonials (if included).
But following this way, you can not guarantee who is legitimate.
9. Ask for Recommendations
Ask people in your circles if they have recommendations for a trustworthy ghostwriter who can help your project. Sometimes, you may find people who refer one who has the eligibility to help you.
That way, you'll know a bit about their tone, style of writing, and experience.
Now, if you follow all these guidelines for finding a ghostwriter, you may be able to find a suitable one.
But all these require a lot of time.
Worry about thinking: how to find a great content writer for hire and where to find one?
Scroll down to get the answer!
Where to Find a Good GhostWriter for Hire?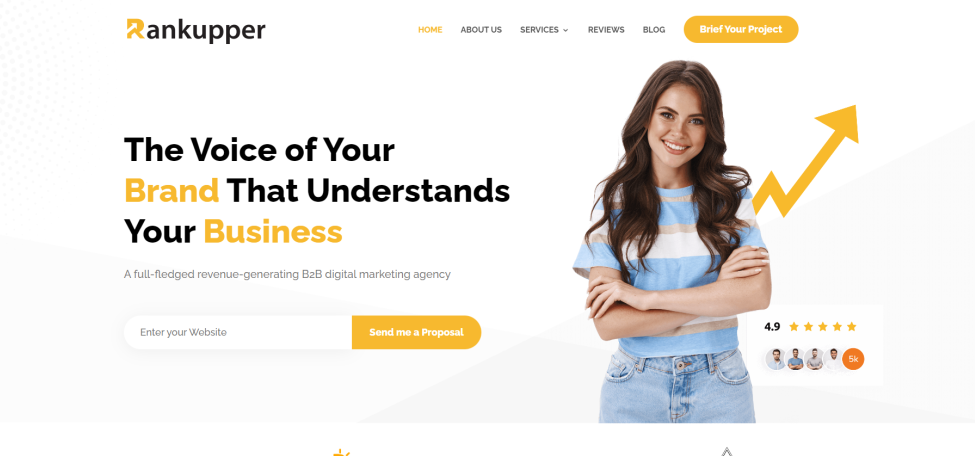 Would you believe me, If I say the ghostwriting business is booming daily? To stand out from this competition requires an all-in-one platform that can serve market research, content planning, SEO optimization, etc.
RankUpper is the best content writing agency where you get in-house professional and expert ghostwriters who love to deal with different content writing challenges.
Let's look at some reasons below why you rely on us:
Reasons to Hire
Dedicated SEO Team. With the collaboration of Search Engine Optimization experts, ghostwriters ensure your business's unbeatable online presence that drives more traffic and revenues.
Keyword. Powerful keyword plays a vital role in Search Intent; our ghostwriters pay attention to every LSI and keyword.
Deadline Specific. We have working experience in different industries over the years, and they trust us most for our quality content within the estimated time.
Legal and Popular site Referencing. Internal linking and external linking help you to build the site's authenticity and credibility. Here, our SEO professionals ensure every link is legal and from a popular site.
Ensure Quality. From small to industries, we offer high-quality and bulk ghostwriting services at affordable pricing. It's time to look at the current market prices that ghostwriters demand or charge per ghostwriting content type. Without further ado, let's head over to the next section!
How Much Does it Cost to Hire a Professional GhostWriter?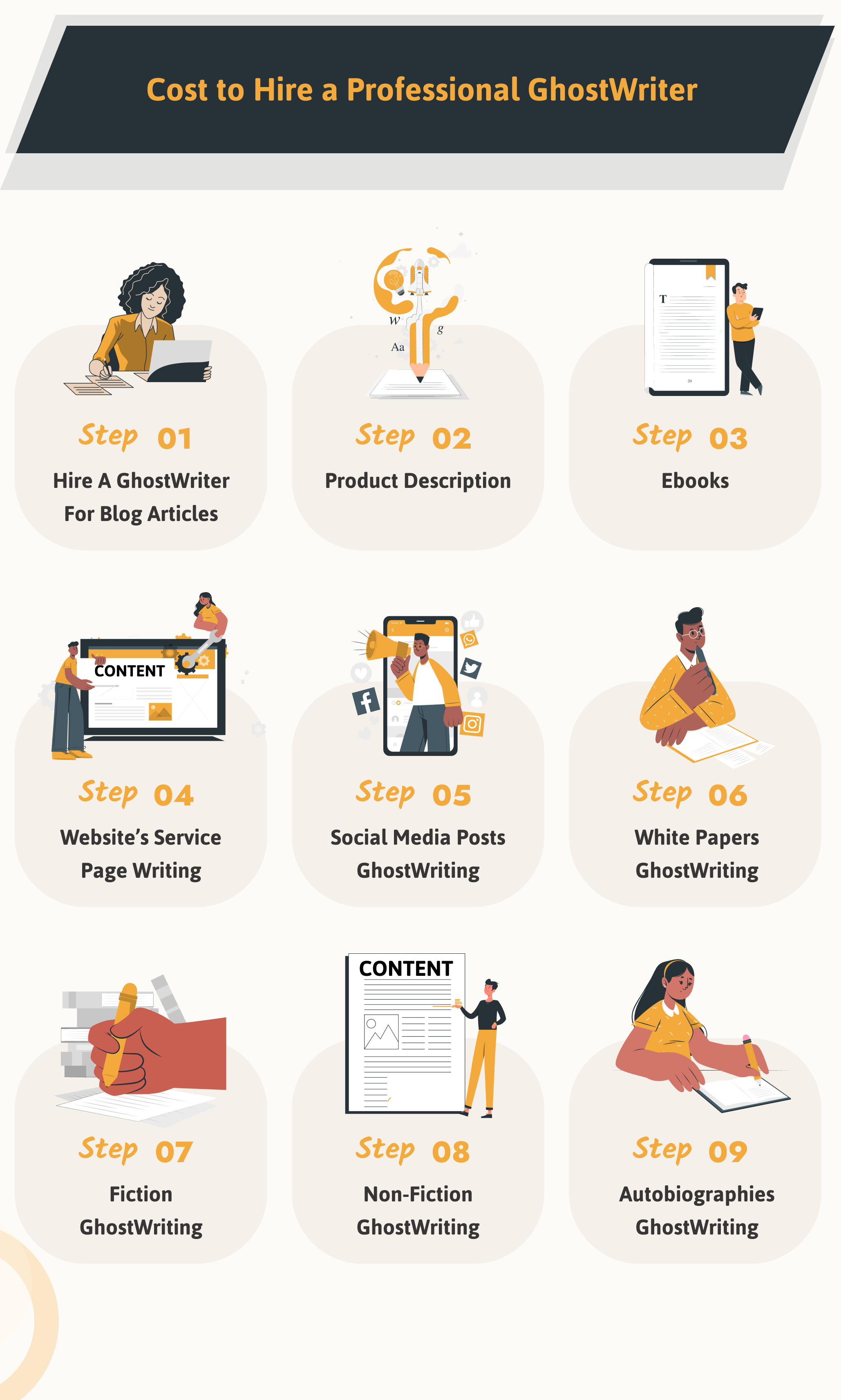 Think about publishing your book or boosting your online business by hiring a professional ghostwriter.
But, confused about thinking: how much does a ghostwriter charge?
To make it easier for you, I have created a list of ghostwriter costs and rates below:
1. Hire a GhostWriter for Blog Articles
Blogging is the best resource to educate your audience about your business, products, and uniqueness.
A quality and professional blog article ghostwriter may charge between $0.06 per word. But the cost may fluctuate depending on the word count, SEO research, and content outline creation.
2. Product Description
It is a form of marketing copy whose main objective is to describe and explain the benefits of your product and evoke customers to buy it.
For product descriptions, ghostwriters may demand $0.07 per word. The range may vary depending on words, product type, and other factors.
3. Ebooks
A digital format non-editable and reflowable book that is represented in a more specific way.
Ebook ghostwriters may demand $0.05 per word or more depending on clients' demands, pages, and other resources.
4. Website's Service Page Writing
This type of content appears on different website pages like the homepage, landing page, about page, or FAQ.
For completing the website content, ghostwriters may demand $0.09 per word depending on the pages, SEO, and other factors.
5. Social Media Posts GhostWriting
Different companies or individuals prefer social media content to build social networks, promote new products or services, offers, and many more.
Ghostwriters may demand $0.13 per word or more. The charge may fluctuate on content length or other different factors.
6. White Papers GhostWriting
It is a clear, authoritative, in-depth guideline on one specific topic that represents a problem and provides a solution.
To complete white paper content, ghostwriters may demand between $5 to $150 per page/word depending on clients' preferences.
7. Fiction Ghostwriting
Fiction is a fascinating tale piece, novel, and other story books that convert your ideas. Based on Reedsy, the fiction ghostwriter's charge is 30 cents or more, depending on the book's category.
That means a fiction ghostwriter may charge $30 to $200 per hour or more depending on the chapter, book category, etc.
8. Non-fiction GhostWriting
Creative and technical content writing highlights a story to keep the context close to reality.
The non-fiction ghostwriters may charge $50 to $200 per hour or more depending on book criteria, pages, words, hours, etc.
9. Autobiographies GhostWriting
The target of this content is to portray famous people, celebrities, and executives' new stories or edit autobiographies, memoirs, and biographies.
Ghostwriters may charge $25 to $250 per hour or more to fulfill their demands.
FAQs on Finding Affordable Ghost Writers
Who needs GhostWriters? 
Anyone from authors to all business executives, owners, photographers, entrepreneurs, and other service providers hires ghostwriters.
Are GhostWriters legal? 
If you hire from a renowned outsource company or who has a strong and professional-prove portfolio, they are legal ghostwriters.
Note: Pay attention to ghostwriting contracts to avoid unnecessary issues.
Are GhostWriters get royalties?
In a Word, No. Ghostwriters do not receive royalties for the content they are hired to write. When you hire one, you're paying them for completing the writing; once delivered, you own its ownership.
Note: Sometimes, the royalties may depend on the deal or contract. 
Are GhostWriters do research?
Yes, a professional and expert ghostwriter does proper research:
● Knowing your target audience and SERP (Search Engine Results Page).
● Understanding industry-specific keywords.
● Ensuring the long-term growth of your online business, web traffic, and leads.
Afterward, they prepare Google rank-oriented content that builds trust factors and ensures proper formatting readability. 
How are GhostWriters paid? 
Let's look at some standards of paying ghostwriters below:
● You must pay ghostwriters hourly, day, or word-based per project.
● Based on the contract with a ghostwriter, you may follow periodic or final payment options after completion.
● Depending on the contract, some ghostwriters may ask for a royalty based on sales. 
● Some may prefer PayPal, Pioneer, or other payment methods.
However, reviewing the agreement before confirming the contract is a wise decision to avoid litigation.
Conclusion
From marketing materials to business eBooks, ghostwriters can uniquely tell your brand's story and bring revenues with leads.
Now that you have all ideas on how to find a ghostwriter? It's time to rank your business by achieving trust from your customers, which ensures more sales.
If you have any thoughts, feel free to share them with us.
Good luck!