The beginning of a digital journey online starts with creating a website. In the past, it would have taken hours and hours of coding to develop a fully functional and modern-looking website. But with time, the job has become much easier due to systems like WordPress.
Having a WordPress website makes your journey much easier. You can use the dynamic features of the service to update your website regularly. This led to WordPress powering almost 43.2% of the 2023 internet world. (Source: Colorlib, Wpbeginner, Searchlogistics)
While operating the website may be easy, designing one can still be tricky. That's why you must look for the best WordPress website design agency that can skillfully design a fully functional website for you.
Let's go ahead and learn a bit more about this.
What are WordPress Website Design Agencies?
WordPress website design agencies provide website development services through the WordPress platform. It's a team of web developers who design websites or front-end development. And they also provide support for back-end development.
It's not just about appearance or looks from these agencies. They also provide services like integrating various WordPress plugins to add versatility and functionality to a website.
Here are some common and key services that a WordPress web design company may provide:
One key service of a WordPress website design company is creating a website's overall look and feel. It includes things like UI/ UX design, website layout creation, and different page functionalities. 
Developing the website means make it ready to publish on the internet. This involves the methods of coding, domain purchase, hosting, and management. It mostly works with all the technical aspects of creating the website.
A website is useless if there is no content in it. That's why many website design agencies also provide content creation services. They would write blog posts or articles and create various kinds of content based on the relevant topic of the business.
Optimizing the website is one of the most crucial aspects of creating and designing a website for a business. Without the right search engine optimization on the website, it's nearly impossible to get satisfactory results from the website.
Some website design agencies also provide maintenance services to keep the website running smoothly and up to date. They would occasionally check the website and fix any issues to keep it running without any problems.
These are some typical services that a WordPress website design and development agency may provide.
Why Hire a WordPress Web Design Company?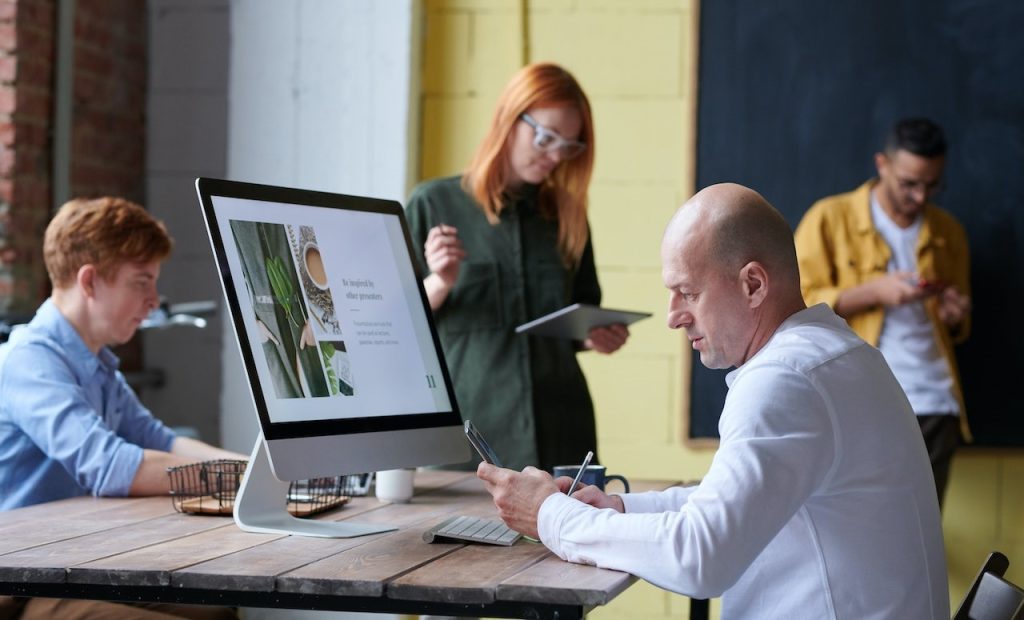 Having a website is almost mandatory if you want your business to keep up with the modern world. WordPress is the easiest way to get a website that you can operate by yourself even after the development phase.
While you can upload content and keep things updated on your website by yourself, designing and developing the website is something you must learn. As a business owner, you may not have that kind of time to learn all these things, and you will have a lot on your plate as well.
That's where the WordPress website design companies come into play. Below are some convincing reasons to consider hiring a company to get your WordPress website.
Expertise and Experience
Most of these design companies have a team of expert web designers and developers with years of experience. With their expertise in making WordPress websites, they can provide easy-to-navigate, professional-looking websites.
Maximum Efficiency
Well, whenever you opt for a design agency to get your website done, you won't have to bother about it yourself for a while. You won't have to spend hours and hours learning to build a website.
Also, the agencies will build you a full-fledged website while you focus on other sides of your business. This way, you can get many things done quickly to achieve maximum efficiency for your business.
Design Consistency
Another benefit of hiring a design agency is the consistency in website designs. After developing websites for years, these agencies develop a style of website that ensures their designs are consistent throughout. It ensures a better user experience and better looks.
Custom-Fit Design
One crucial benefit of WordPress design companies is the customization option. You can tell them what and how you want it on your website, and they will do it for you.
The customization facility is truly useful to make your business unique online. Also, it makes sure everything happens to your preferences rather than in general procedures.
Access to the Latest Tools and Technologies
Companies use the most updated tools and the latest technologies to ensure the best possible design services for their clients. The purpose is to make the websites as modern as possible to keep up with the ever-changing landscapes of website design and development.
Worry-Free Management
When you hire a website design agency, they not only design the websites for you but also manage them for you. Such as updating the pages, features, and products occasionally. Changing the website's layout, or implementing new additions, and so forth.
Multi-Layer Support
Every WordPress website design company will provide you with multi-layer support. It's not just about the design aspect. They will help you with theme development, plugins for your website, maintenance, migration, and even marketing.
Try the Best WordPress Website Design Companies for Engaging Website
Now that you know why you should hire a design agency, you should also know which one to choose. There are plenty of website design companies out there who can provide you with WordPress websites.
Finding the right company among all the choices can be very difficult. But we are here to make your life easier with the best WordPress web design company. They provide you with excellence, expertise, and value all in one place.
Let's get through these choices one by one.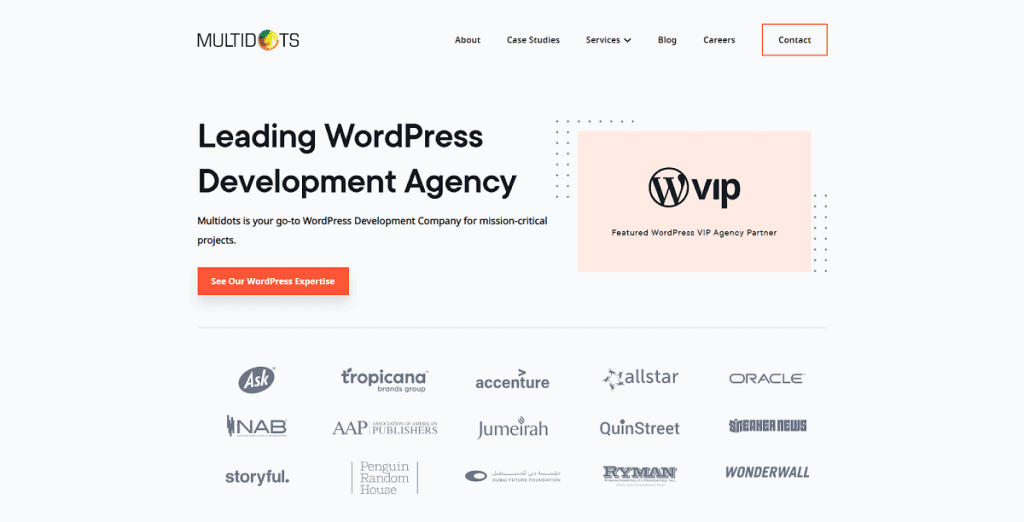 Location: 801 Barton Springs Rd, Austin, TX 78704
Founded in: 2009
Employee: 100+
Links: WordPress/ Github/ Facebook/ Twitter/ LinkedIn/ Instagram
Multidots is one of the fastest growing private companies for WordPress development who are listed under Inc.5000 company. It's also one of the preferred company for WordPress implementation or WordPress VIP Gold Partner chosen by Automattic. Their various services include:
Essential WordPress development with advanced security, improved performance, and excellent hosting features.
WordPress Migration from platforms like Joomla, Drupal, Django, Squarespace, and many other CMS.
The WordPress Performance Audit service for better-performing websites/
Media and publishing services to tackle the content publication challenges.
WordPress SEO to rank the websites higher in the SERP.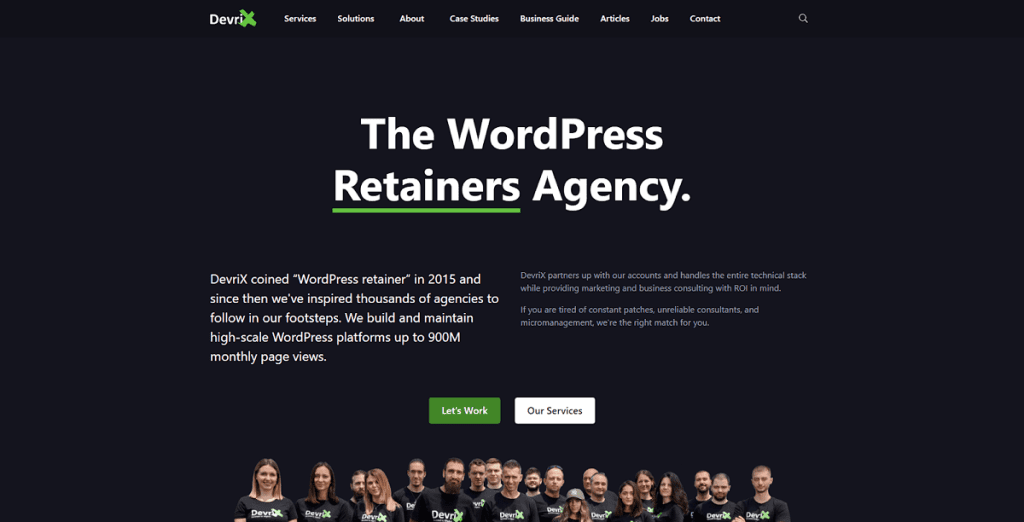 Location: New York Financial District Center, 17 State Street Suite 4000, New York, NY 10004
Founded in: 2010
Employee: 50+
Links: Facebook/ Twitter/ LinkedIn/ Instagram
Devrix is a globally operating agency that provides WordPress design services on 5 different continents. They have over 50 highly skilled web developers working in various continents to serve their clients. These are the following services they provide –
Technical support for WordPress development to get the initial website design and platform.
Strategy and consulting services for further growth of the website and your business.
WordPress maintenance services provide you with fixes to issues on the website every once in a while.
The company also boasts in SaaS development that helps you generate traffic and build a user base.
Digital marketing services are also there to promote the business throughout the internet.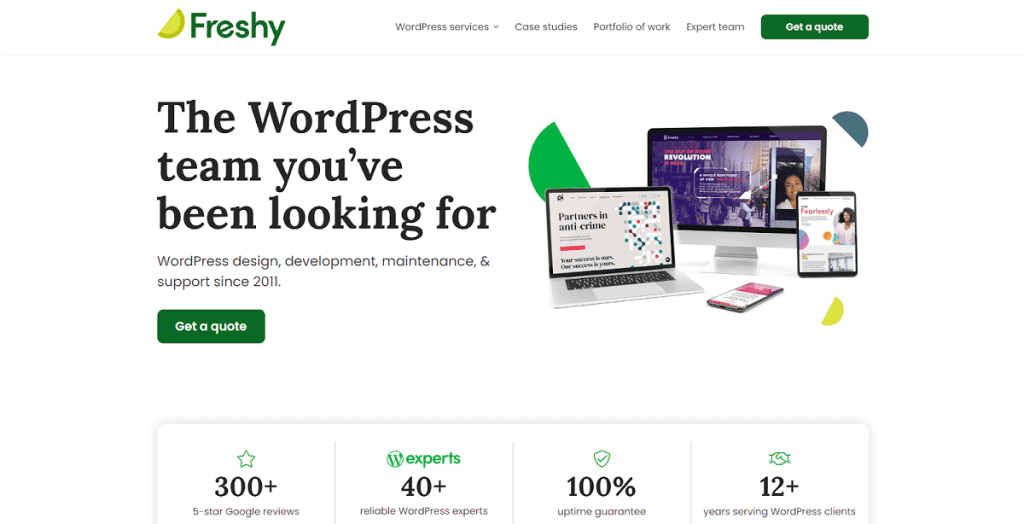 Location: Primary. 37 Front St. Binghamton, New York 13905
Founded in: 2011
Employee: 40+
Links: YouTube/ Facebook/ Twitter/ LinkedIn/ Instagram
If you want a website for your business from a leading WordPress service, then Freshysites might be one to watch. Their highly skilled team of web developers has brought them immense success within the 12 years of their operation. Their primary WordPress services include the following facilities –
WordPress design and development to give you the base website to work on.
Their maintenance and support services ensure your website runs smoothly without trouble.
They also have WordPress retained services to help you run the website more professionally.
With WordPress-managed hosting services, the company deals with all the hosting activities for a website.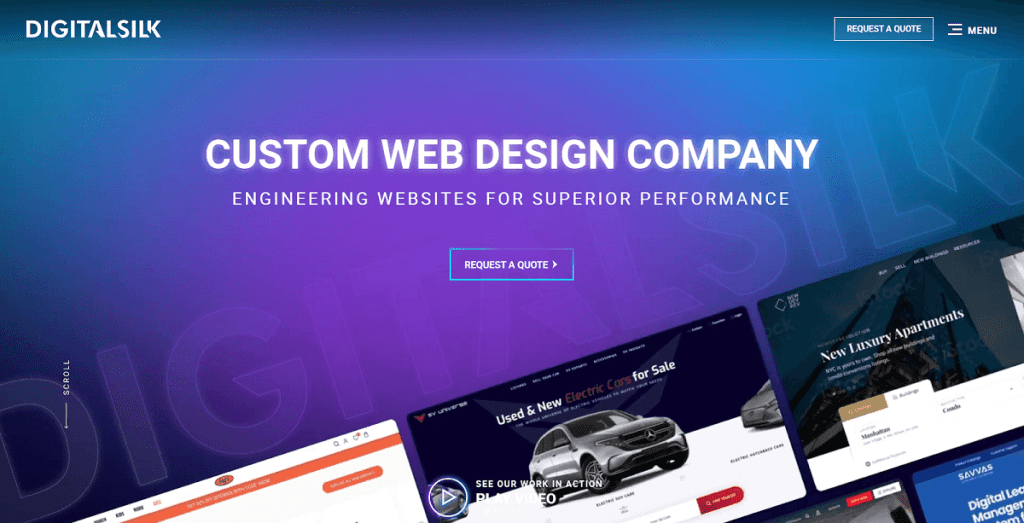 Location: 17975 Collins Avenue, Sunny Isles Beach, FL 33160
Founded in: 2019
Employee: 150+
Digital Silk is a global agency that offers WordPress web design and development services.
They focus on creating visually stunning and user-centric websites, combining design and technology to engage and convert users effectively. Their one-of-a-kind services include –
Customized website designs and development that bring in users and provide better conversions.
eCommerce web development stores with unique experiences to boost sales and brand loyalty.
Website marketing services allow businesses to reach their target audiences more efficiently.
They provide web app services to make websites more convenient for users and increase engagement.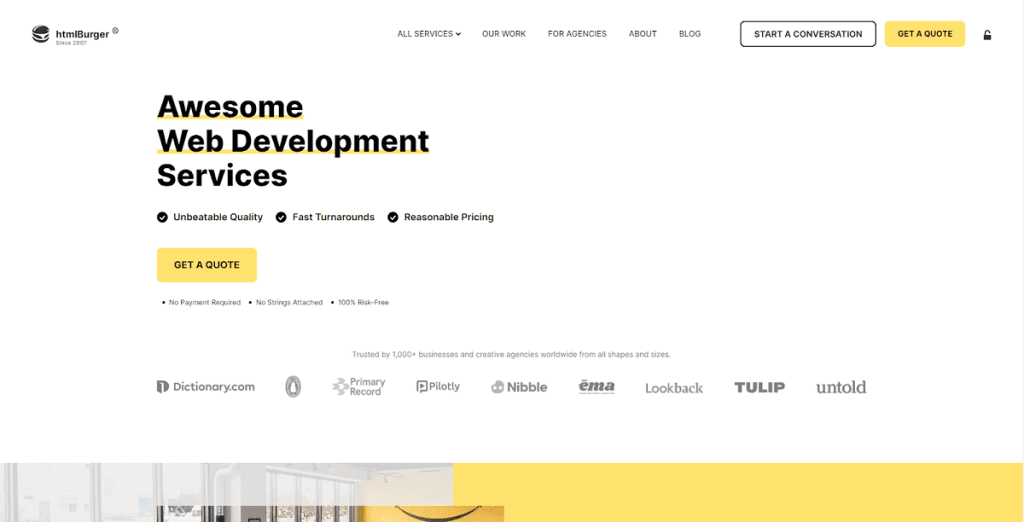 Location: 9000 Varna, Bulgaria, Western Industrial Area, 8 Neptune str
Founded in: 2005
Employee: 100+
Links: Github/ Twitter/ Instagram
With over ten years of expertise, htmlBurger is an expert at turning design files into responsive and fully functional WordPress websites. They are a top option for businesses due to their extensive attention to detail and dedication to producing pixel-perfect websites for clients. Their services are –
Designing and developing highly customizable WordPress websites that are easy to manage.
Converting design files to HTML and CSS codes that come out pixel-perfect, semantic, and standard.
WordPress e-commerce websites using WooCommerce for running online businesses.
Shopify e-commerce services for businesses building up on Shopify.
Vue/ React development for designing software and other web apps.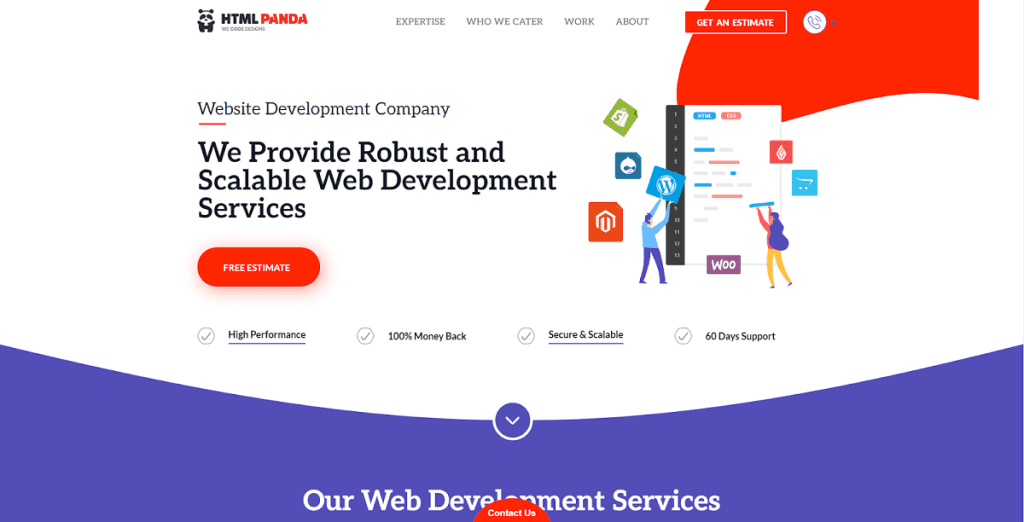 Location: 1600 Boston-Providence Highway, Suite#288, Walpole, MA 02081
Founded in: 2014
Employee: 50+
Links: YouTube/ Pinterest/ Facebook/ Twitter/ LinkedIn/ Instagram
HTMLPanda is a flexible WordPress site design company with years of experience in the web design industry. They are renowned for providing all-inclusive WordPress development services to cater to the needs of their clients. Their services are as follows –
They provide full-fledged development services in various CMS platforms.
Converting design to websites is another one of their areas of expertise.
Creating functional e-commerce websites to launch an online business is another reliable service.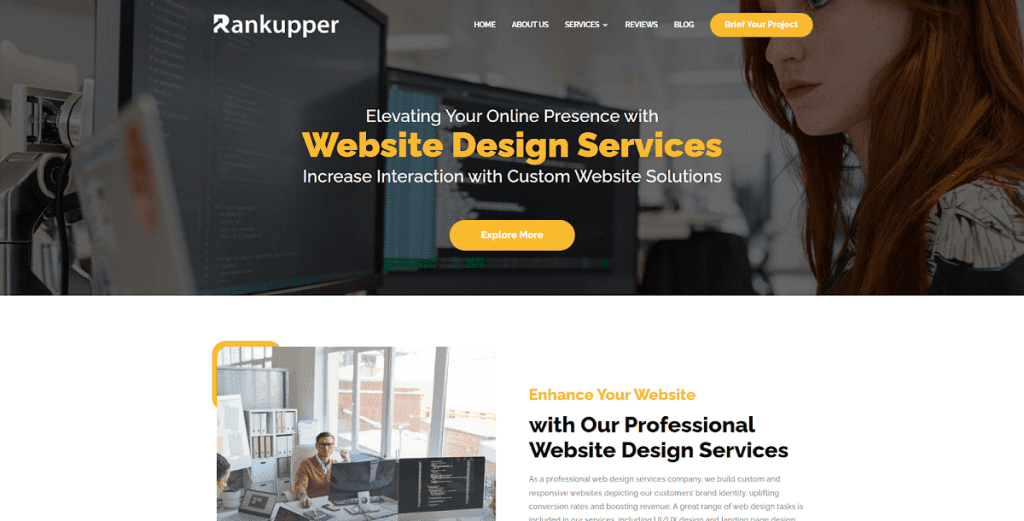 Location: 801 Barton Springs Rd, Austin, TX 78704
Founded in: 2009
Employee: 40+
Links: Facebook/ Twitter/ LinkedIn/ YouTube/ Pinterest
SEO knowledge is combined with WordPress web design at RankUpper LLC. They are experts at building WordPress websites that are search engine friendly and provide excellent value to the websites to rank them in all the search engines. They have expertise in the following services –
Content optimization services for websites to make them rank.
Local SEO solutions to increase the presence of the businesses locally through websites.
SEO audits and strategic planning to increase a website's search engine visibility.
Custom web development services to create personalized websites for the unique identity of the business.
Speed optimization services ensure the website runs smoothly and has good speed.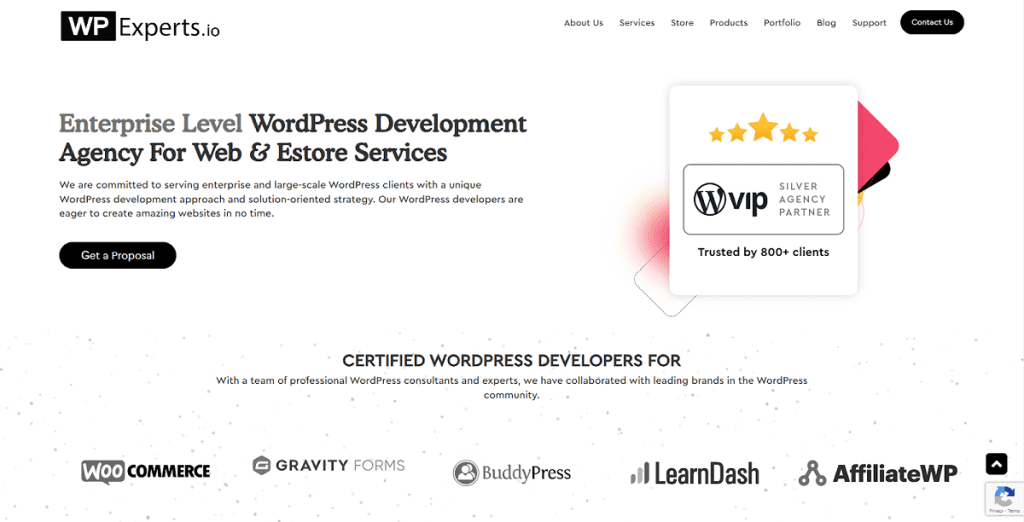 Location: 1 Moustafa Kamel Street, Floor 7, Roushdy, Alexandria, Egypt.
Founded in: 2011
Employee: 100+
Links: Facebook/ Twitter/ LinkedIn/ YouTube
WPExperts offers a wide range of WordPress services for large-scale businesses running on an enterprise level. They implement a unique WordPress approach and solution-based strategies to serve clients quickly. The services include –
Developing and customizing WordPress themes to elevate the design of a website to keep up with the modern world.
WordPress consultant services provide businesses with the necessary knowledge for improvement.
WooCommerce services can help businesses build up a successful e-commerce store quickly.
To stay in the competition, migrate from a different CMS to WordPress with the WordPress migration services.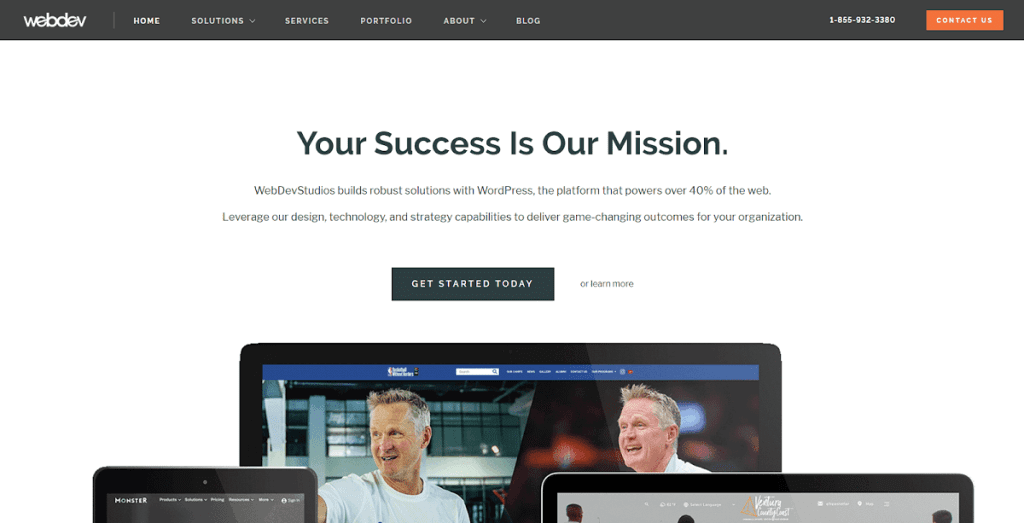 Location: Philadelphia, Pennsylvania, USA
Founded in: 2008
Employee Numbers: 50+
Links: WordPress/ Github/ Facebook/ Twitter/ Instagram
WebDevStudios is a prominent WordPress website design company with a strong focus on custom WordPress development. They have contributed significantly to the WordPress community to provide businesses with the necessary website needs. The services they offer are –
Custom website development allows businesses to get their input into the website's design.
With content migration services, the company allows businesses to import all their data from different sources.
The expert team can also lead a website towards success with digital strategy services.
Performance and security services ensure the website is safe from third-party access.
Website audit service allows the owners to know about the performance and overall state of the website.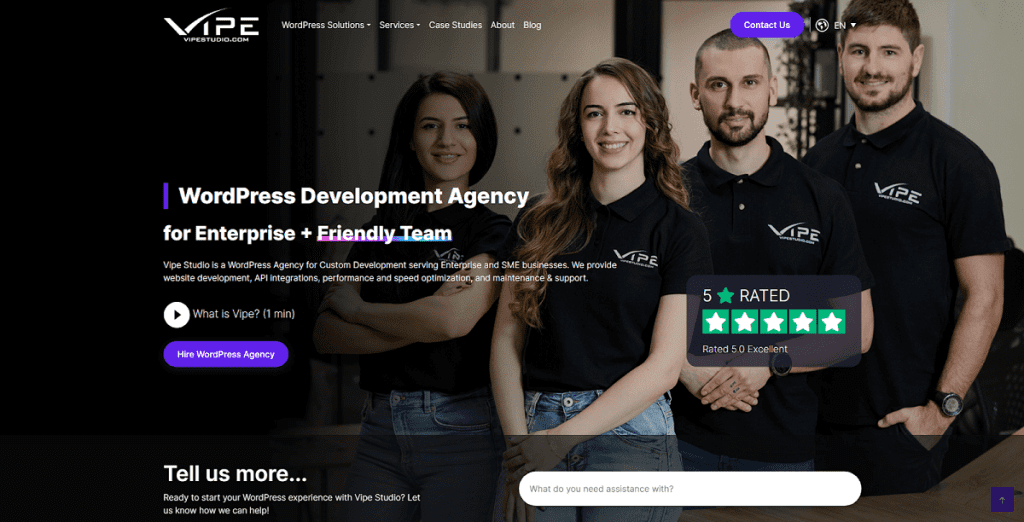 Location: 35 Trakia Str, Sofia, Bulgaria
Founded in: 2016
Employee: 9
Links: WordPress/ Facebook/ Twitter/ LinkedIn/ Instagram
Vipe Studio is a WordPress design company that offers cutting-edge creativity in all its projects. They provide clients seeking a significant online impact with creative and eye-catching WordPress solutions. And they achieve that feat with the following services-
Custom website development with unique themes and plugins with a touch of artistry in them.
WordPress maintenance services to keep the websites up and running smoothly and securely.
Retaining services to help businesses operate their websites more professionally.
Consultation services provide businesses with the necessary insight to build and grow further.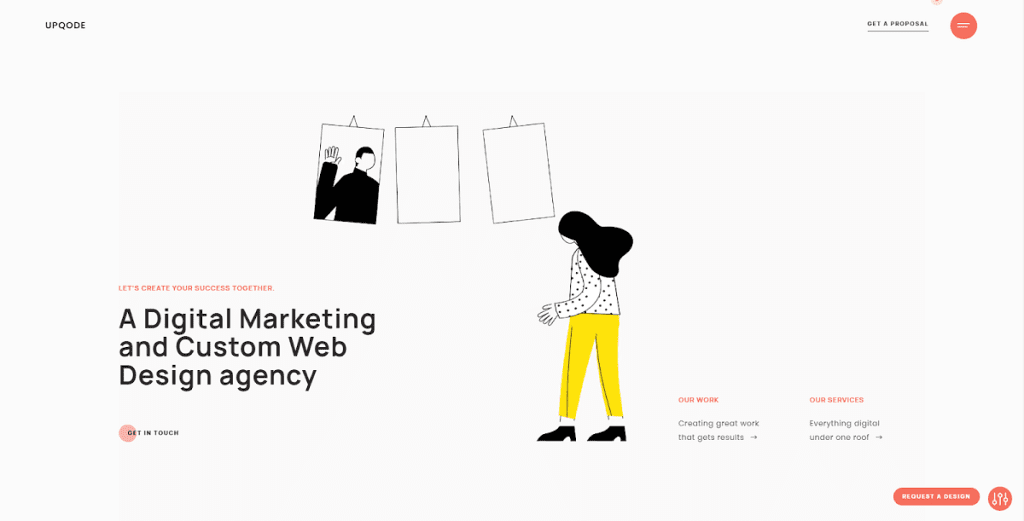 Location: 41 Peabody, Nashville, TN 37210
Founded in: 2015
Employee: 45+
Links: Facebook/ Dribble/ Behance/ Instagram
Upqode is a design company that implements digital marketing ideas with custom-made websites.
They specialize in creating beautiful, high-performance WordPress websites for businesses. Their primary services typically are –
Basic web design services give you the designs and website platform to build upon.
With complete web development services, they provide front and back-end support.
There are also services for web apps to make use of mobile devices and reach a broader audience.
Website maintenance services can help optimize the website for better performance in the long run.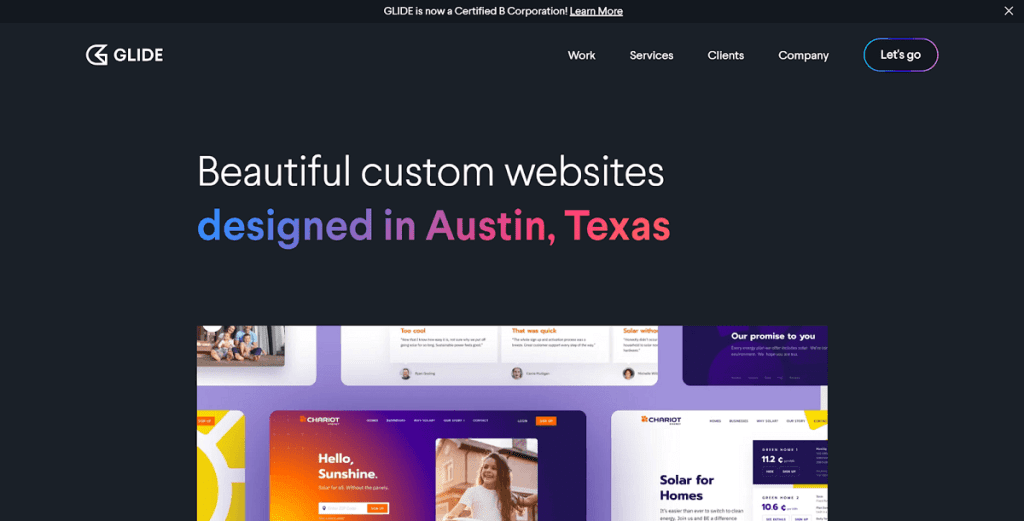 Location: 501 Congress Avenue, Suite 150, Austin, Texas 78701
Founded in: 2003
Employee: 24+
Links: Dribble/ Facebook/ Twitter/ LinkedIn/ Instagram
When it comes to a good sense of aesthetics for a WordPress site design, GlideDesign is a top contender for that.
They design aesthetically pleasing and user-friendly websites, ensuring their clients' online presence complements their brand identity and business objectives. They satisfy the clients with the following services –
Creating custom websites, UX designs, and UI prototypes can help you build a base for the business.
With their web development services, get complete access to a website built on WordPress CMS.
The company also provides services to optimize the website and help it get a better user experience.
There are website support services for site maintenance and monitoring to tackle any issues or difficulties.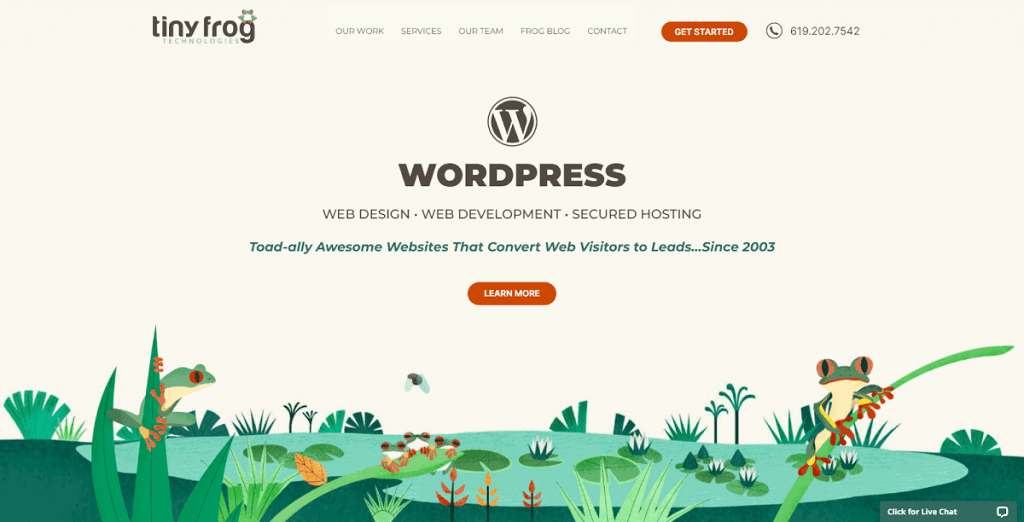 Location: 4455 Murphy Canyon Road, Suite 100, San Diego, CA 92123
Founded in: 2003
Employee: 19
Links: Facebook/ YouTube/ LinkedIn
Tiny Frog is a WordPress-focused web design company that prioritizes the performance and security of websites more than anything else. In their comprehensive WordPress solutions, they provide several different services. Such as –
100% customized designs to appear unique in the online world.
Excellent WordPress maintenance services for better website performance and protection.
WordPress fixes and tweaks services to resolve any WordPress-related issues on websites.
Web accessibility services to make the websites available to more people.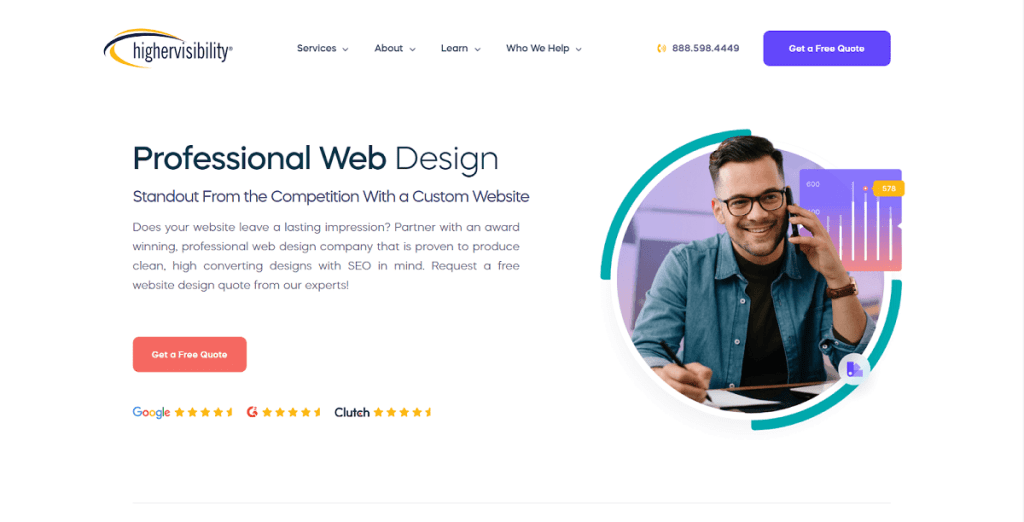 Location: 6070 Poplar Avenue, Suite 760, Memphis, TN 38119
Founded in: 2009
Employee: 70+
Links: Facebook/ Twitter/ LinkedIn/ YouTube
HigherVisibility is a WordPress site design company with a focus on SEO and online promotion. They produce excellent websites that perform well in search engine results, generating organic visitors. With their highly skilled team of experts, they provide the following services.
Create responsive SEO-friendly web designs for more engagement with the audience.
A complete web development solution through WordPress integration with optimized page speed.
Hosting and maintenance services to keep the website up and running for a longer time.
Location: 73 West Monroe St, 5th Floor 60603 Chicago, IL, United States
Founded in: 2010
Employee: 100+
Links: Behance/ Pinterest/ Facebook/ Twitter/ LinkedIn/ Instagram
PopArt Studio is a WordPress web design company with a presence worldwide reaching over 65 countries. They provide innovative WordPress solutions that combine design, development, and digital marketing to support online business growth. Their web development services are –
In their WordPress development services, they ensure custom themes, quick loading, and user-friendly websites.
Their WooCommerce services are tailored to bring prospects and convert them into customers.
Custom web apps can help businesses reach people quickly and become more accessible.
With the help of maintenance services, it's very easy to keep the website performing well for a long time.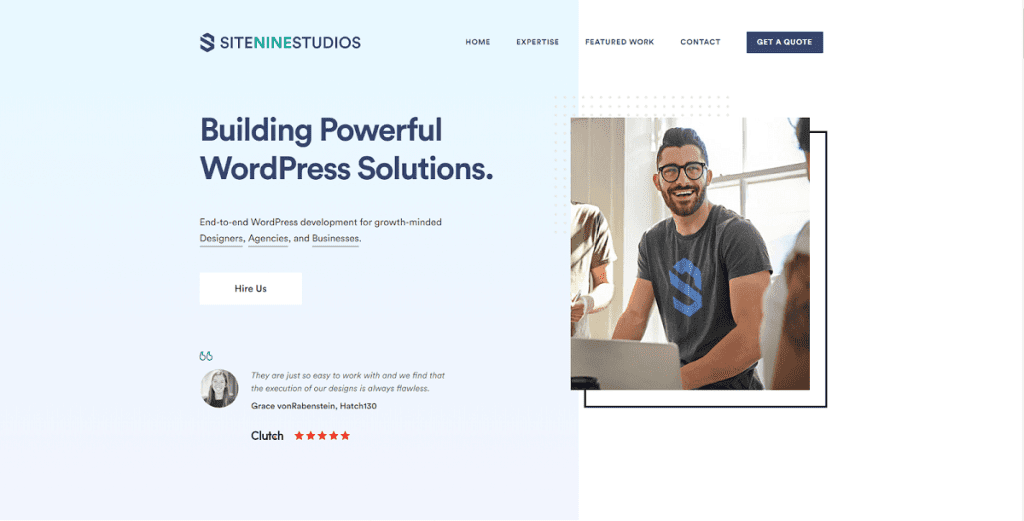 Location: 4533 MacArthur Blvd #5069, Newport Beach, CA 92660
Founded in: 2014
Employee: 45+
Links: LinkedIn
Site Nine Studios LLC is renowned for its all-inclusive approach to website building. They offer complete solutions, from website design and development to continuous maintenance, ensuring that clients' websites are always efficient and current. Their services are –
You can get a custom WordPress website tailored to your needs and preferences from them.
Apart from full-fledged websites, they also work on only front-end development, WordPress themes, and WooCommerce.
Their WordPress speed optimization service provides excellent performance on the websites.
With WordPress maintenance, you can keep the websites running without problems.
WordPress conversion and migration is also an excellent service from the company.
WordPress Website Design FAQs
Even though we went through most of the things regarding WordPress design agencies, there might be some questions remaining. Here, we go through the most popular questions and answers.
What is the cost of hiring a WordPress website design agency?
Hiring a WordPress website design agency can cost around $ 1,500 to $ 10,000. It depends on the services they provide and the brand value of the agency. 
What is the typical timeline for creating a WordPress website with an agency?
Generally, the timeline for creating a WordPress website through an agency can be around 4 to 8 weeks. But if the website is advanced or involves a lot of customization, it can take up to 6 months to complete. 
Do I need to have technical knowledge to work with a WordPress agency?
No, that's the neat part of working with a WordPress agency. You don't need to do any of the work or won't need to spend time learning any of the technical things. The agency will take care of all the technical aspects. 
Do WordPress website design agencies handle e-commerce websites?
Yes, there are plenty of WordPress website agencies that handle e-commerce websites. Most of them try to implement WooCommerce for managing e-commerce websites. 
Do WordPress website design agencies offer ongoing support and maintenance?
Yes, many WordPress website agencies provide support and maintenance after delivering the websites to their clients. You can avail of these services from the agencies with some extra cost. 
How do I choose the right WordPress website design agency for my project?
To choose the right WordPress design agency, you have to consider factors like experience, quality, expertise, testimonials, and budget. Go through these factors for each agency to find out the perfect one for your needs. 
What services do WordPress website design agencies provide?
Typically, WordPress website design agencies provide services like website design, WordPress development, theme and plugin development. Some agencies also have website SEO, speed optimization, consultation, and maintenance services. 
Final Words
Summing it up, choosing the right WordPress website design agency is crucial for the ROI of your business. You will be spending quite a lot of money in an agency, so if you end up with the wrong one, it will all go to waste.
Finding the right kind of agency can bring you the best possible value in your business and help you grow your business online. With the help of our guide, hopefully, you will find the perfect pick for your needs.