An outdated look on your website can never create the engagement you need with your customers and clients. That's why it's essential to keep your website updated with the latest design trends and make sure the evolving audience can connect with it.
Now, the question is, what do you do if you already have a website? Can you redesign an existing website?
Fortunately, the answer is yes, you can. To redesign a website, you will need a strategy to determine the necessary changes. Then, hire a designer or a service to redesign the website following your strategy and preferences.
Let's dive deeper into the topic to learn more about the redesigning process. Here, we will go through every detail about redesigning an existing website as well as the pros and cons of doing it.
What Is A Website Redesign?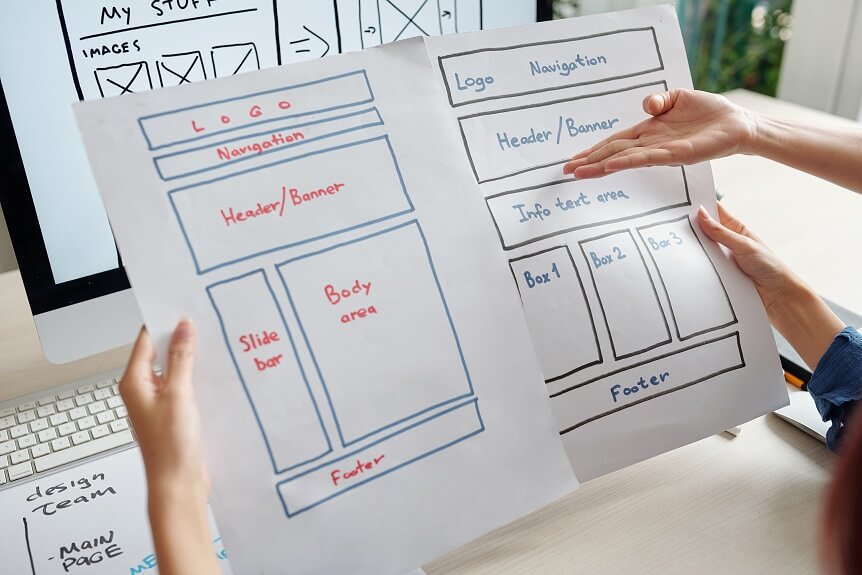 A website redesign refers to updating or overhauling the layout, user interface, user experience, functionality, visual features, and elements to enhance user engagement and conversions.
The changes can be very subtle, or you can implement significant changes and entirely create a brand-new design.
The whole purpose of redesigning your website is to enhance the user experience to engage the users more. With increased engagement, you can hope to have better conversion rates and a satisfied pool of customers/ clients.
Also, keeping up with the website design trends to stay in the competition is another crucial reason you need a website redesign. To better understand, let's get through the benefits of redesigning your website.
Benefits Of Website Redesign: Why Redesign A Website Is Important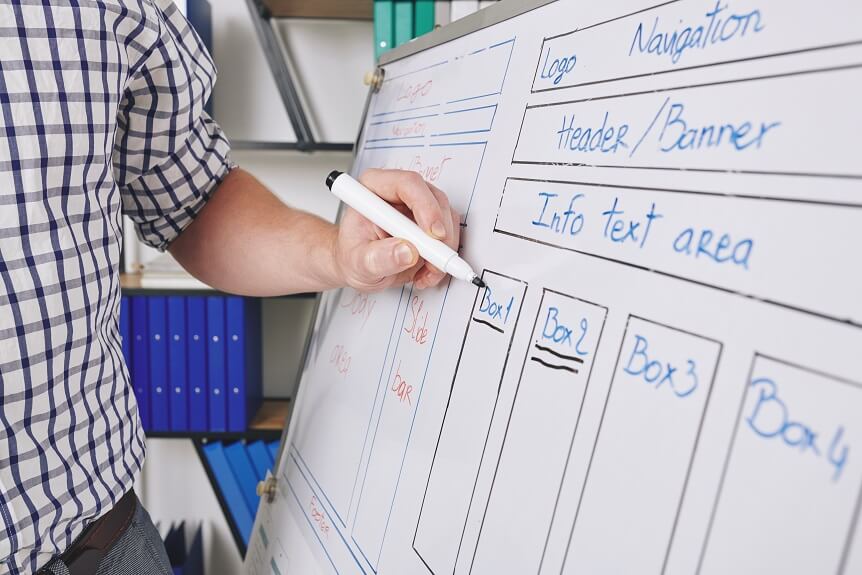 Redesigning a website always comes with several benefits. Learning about these benefits can give you a solid reason as to why you should think about redesigning a website. Here are a few reasons to redesign your clumsy-looking website today –
Improved user experience
In modern times, users like websites that are easy to navigate and operate smoothly. Redesigning your website can redefine the experience you provide and give the users exactly what they want.
A redesigned website can create a fresher and more intuitive interface that connects with people even more. When visitors can join to the website more, they will come to visit it more as a result you get repeated visitors and a higher chance of customer/ client retention.
Evolving with modern designs
Style and trends aren't only limited to fashion these days. Website design trends are also evolving every day. It's almost impossible to impress users with an outdated website design, as people are leaning more toward modernized websites and applications.
Having a modern-looking website has become the key to making that first impression leave a lasting mark on the user. It also portrays that you are keeping up with the everchanging business and adapting to its norms and trends.
Mobile optimization for better reach
Reaching a large pool of audience requires your website to be mobile-friendly these days. The tech world is becoming mobile-centric and people are using their mobile phones to connect with the online world more than computers.
When you redesign the website to add responsiveness and make it more mobile-friendly, you essentially work towards better reach. You can reach more users with mobile-friendly websites which can also increase the chances of getting more clients or customers with higher conversion.
Better SEO performance
There is no point in having highly informative and optimized SEO articles on your website if the website itself has poor SEO. Google constantly changes its search algorithms and sometimes it includes newer website trends for better ranking in those algorithms.
With a redesigned website, you can easily employ newer SEO tactics into your website to achieve a better SEO rank. This significantly increases your online visibility and helps you get noticed by your targeted audience a lot more.
Solidify the brand identity
An evolving business needs to have a solid brand identity and that can only be done with an evolved website. Your website is your brand identity online. It portrays your business to your audience in its fullest capacity. With an outdated or poorly made website, it can be quite difficult.
That's where redesigning can help you achieve that goal. You can create or reinforce your brand identity with a modern and uniquely designed website. A new design can convey your message to your target audience and have that consistency in all your marketing channels.
Increased trustworthiness
You might wonder, how does redesigning a website build more trust? Well, it's simple, when you visit a website and see everything is updated, it just shows they put effort into marketing. It increases the reliability and trust factor as opposed to an outdated website.
When you can gain that trust from the visitors, you can have a chance to convert them into customers/clients. That's how beneficial a simple redesign of your website can be.
Questions To Ask When Redesigning A Website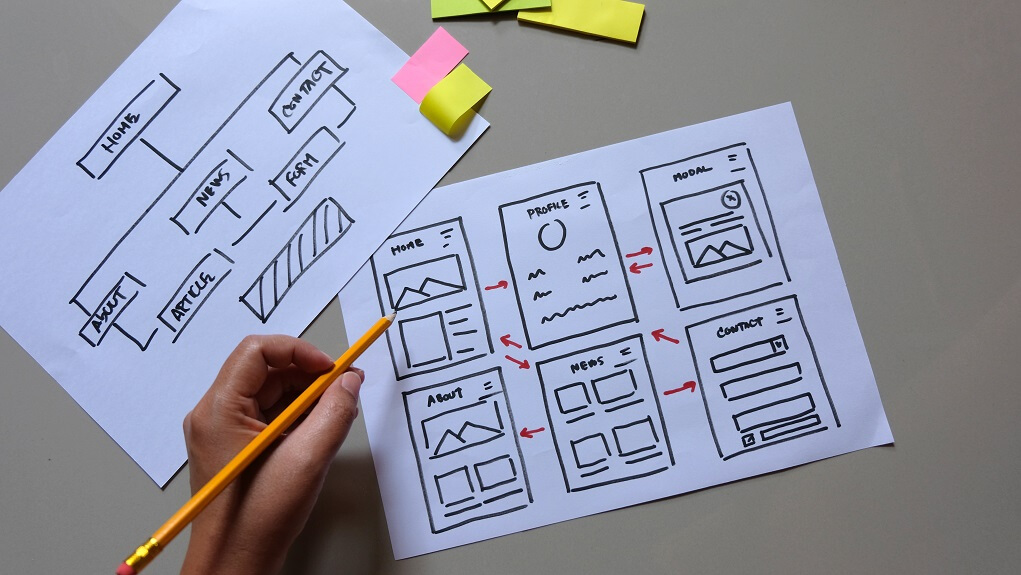 Well, after realizing the benefits, it's very easy to jump onto the train of redesigning your website. But don't be hasty with it. You need to ask yourself some questions before you start redesigning your website.
Answers to these questions will tell you whether website redesign is the right step for you or not. Let's not waste any moment and get right into it.
Is Your Website Outdated And Losing Your Business Clients?
The first thing you have to ask yourself about your website is whether it has an outdated design, experience, or functionality. If the answer is yes, then you need to consider redesigning your website.
You can check out your competitor's websites to see what kind of design trends they are following. If their website looks much more modern and appealing than yours, then you surely have an outdated website.
How Is The User Experience On Your Website?
Sometimes even with the modern looks, you can't get proper engagement due to poor user experiences. When you visit the website as a user ask yourself the following questions –
Is the website easy to navigate?
Can you find the necessary information easily and quickly?
Are the pages loading fast enough?
Does the website work on mobile devices?
If any of these answers suggests that the experience is not up to the mark then you have to opt for website redesign.
The best user experience of a website is when it's easy to navigate, information is accessible easily and quickly, pages load very quickly, and it works on all devices.
Does The Current Website Design Meet Your Business Goals?
If your website isn't meeting your business goals, then you can't attract the proper audience and convert them into customers. You may get traffic, but that won't be effective as most of them won't even have any idea of what your business is trying to achieve.
In short, if you feel like you have a modern design and a great user experience, yet don't have good conversion, the design might not be meeting your business goals. And that's when you have to set goals for website redesign and align them with your business goals.
Can Your Website Clear The Pain Points Of Your Targeted Customers?
Another question you need to ask regarding your website is whether it's addressing the pain point of the customers directly. If your customers aren't getting what they want from your website, then it's pointless to have such traffic.
Also, if the customers have a lot of confusion and trouble while visiting your website, it's best to opt for a redesign in this scenario.
How Often Should You Redesign Your Website?
When you start on a redesign journey, you have to ask yourself how often you have to do it. Even though, there is no certain period for redesigning a website, still doing it every 2 to 3 years can be quite effective.
Other than that, it also depends on factors like industry trends, technological advancement, and evolution, or your business needs. But if these factors are constant, then it's good to change your website every 2 to 3 years to keep it relevant and competitive in the market.
Does Every Website Need A Redesign?
No, not every website needs to be a redesigned. If your website is performing well in all aspects, then you don't need to worry about redesigning your website. As long as the website fulfills your business goal, it's working fine.
When Should You Avoid Redesigning Your Website?
Sometimes you should just avoid redesigning your website. Especially, when it's doing well, you are getting customers, the conversion is pretty high, and the bounce rates are low. Also, if the experience is satisfactory, you don't need to redesign your website as it can ruin your success.
Changing such a website can disrupt the functionality of the website and make your loyal visitors confused. Also, if your business has a major rebranding, then make sure to not rush into the redesign of your website, and wait a while to get the timing right on this.
When A Website Redesign Goes Wrong And Right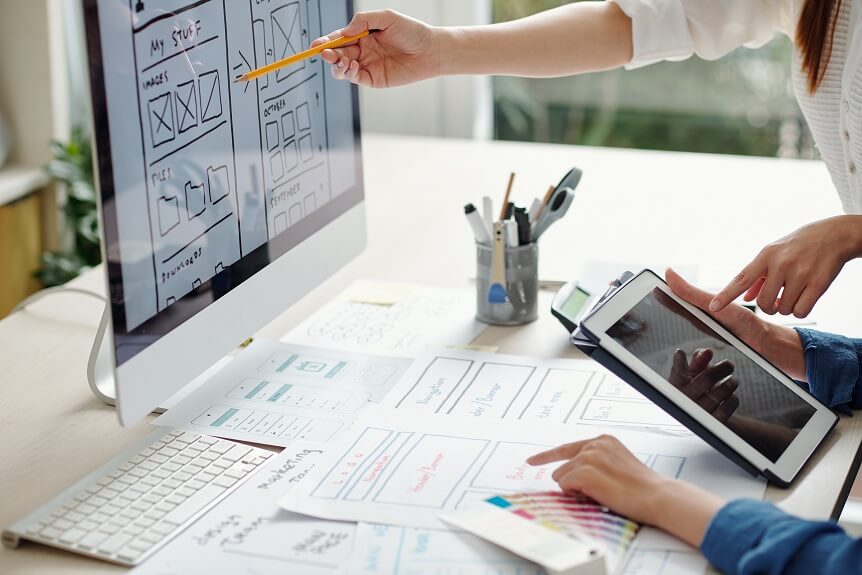 When it goes wrong
Redesigning a website without a clear strategy or understanding of its impact can lead to undesirable outcomes that result in website failure.
A poorly executed redesign may cause the website to lose traffic, get higher bounce rates, and create user confusion. It can significantly damage your SEO rankings and lead to a loss of trust among your audience
When it goes right
A successful website redesign involves detailed planning, adaptation of best practices, and a clear understanding of your goals and audience.
It results in a website that not only looks fantastic but also functions seamlessly. When it's done right, the website redesign can lead to increased traffic, higher conversion rates, and improved user engagement
DIY, Freelancer Vs. Agency Redesign: Which One Do You Choose?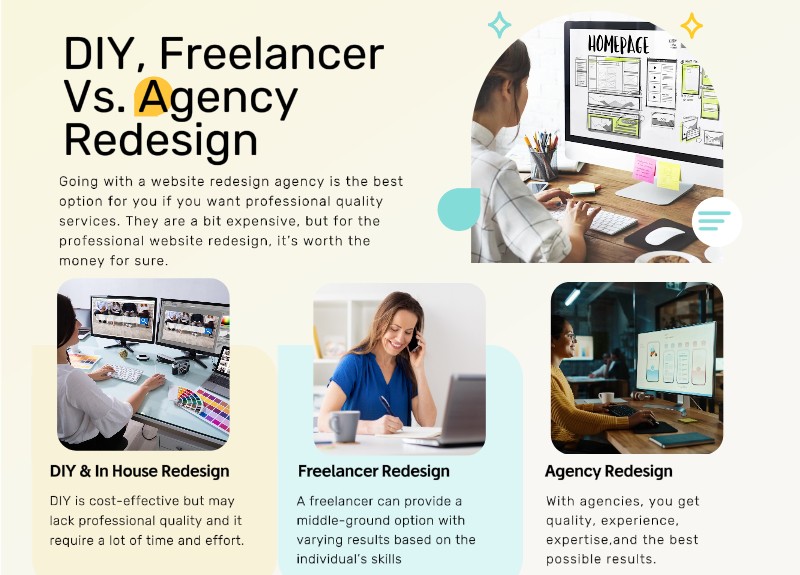 One of the most important decisions to make for a website redesign process is to choose the method you want to adopt. You can either go for a DIY redesign or hire a Freelancer to redesign. Or simply take website redesign services from agencies.
Check out each method to understand which one will work out for you the best.
DIY or In-House redesign
The first choice you have is the DIY option where you can redesign the website yourself. While it's an affordable website redesign option, it can require a lot of time and effort. Apart from that, you also need to have expertise in website design. If you don't have that, learning it can take a lot of time. So, it's not a viable option for non-designers.
Freelancer website redesign
Hiring a freelancer to redesign your website is pretty effective. It doesn't cost as much as hiring a service company. If you can find a capable freelancer with pretty good skills, you can end up with an excellent website redesign. The challenge here is to find an accomplished freelancer.
Website redesign agency
Going with a website redesign agency is the best option for you if you want professional quality services. They are a bit expensive, but for the professional website redesign, it's worth the money for sure. With agencies, you get quality, experience, expertise, and the best possible results.
Here is a quick comparison guide that will help you decide whether to get a website redesign service. Let's take a detailed look at the comparison of DIY or In-House vs. Freelancer website redesign vs. Website redesign agency.
| | | | |
| --- | --- | --- | --- |
| Aspect | DIY or In-House | Freelancer | Agency |
| Cost | Low (mainly tools) | Moderate | High |
| Turnaround Time | Variable | Depends on freelancer | Typically fixed |
| Time Commitment | High (learning curve) | Moderate | Limited |
| Expertise | Self-taught | Specialized | Diverse & Skilled |
| Design Quality | Depends on skills | Variable | High-quality |
| Design Consistency | May lack design consistency | Depends on the freelancer's style | Consistent design standards |
| Customization Options | Limited | Medium | Extensive |
| Communication | Self-managed | Direct | Managed |
| Project Management | Self-managed | May require guidance | Comprehensive |
| Technical Support | Self-reliant | Varies | Available |
| Risk & Accountability | Solely responsible | Moderate | Agency accountable |
| Scalability | Limited | Varies | High |
| Maintenance | Self-responsibility | Varies | Included/Optional |
| Portfolio & Reputation | Personal project | Varies | Established |
| Legal Considerations | Self-handled | Freelancer contract | Professional contract |
| Satisfaction Guarantee | Self-assured | Freelancer's word | Agency's reputation |
| SEO and Optimization | Basic or no optimization | Depending on the freelancer | Comprehensive SEO and optimization services |
| Additional Services | Limited | Varies | Comprehensive |
When you're in search of a website redesign, it's crucial to make good decisions. Your website is your digital storefront, and it plays a pivotal role in your online success. To help you navigate this process, here are some valuable tips to consider.
Cost: DIY is the most budget-friendly option, while agencies are typically the most expensive.
Time Investment: DIY requires the most time, while agencies save you time.
Expertise Required: DIY may require a broad range of skills; freelancers and agencies specialize.
Customization: Agencies offer the highest level of customization.
Design Quality: Agencies typically provide the highest quality design.
Project Management: Agencies manage the project for you, while DIY requires self-management.
Speed of Completion: Agencies are often the fastest option.
Maintenance & Support: Agencies typically include ongoing support.
Scalability: Agencies offer the best scalability options.
Risk & Accountability: Agencies hold more accountability than freelancers or DIY.
Additional Services: Agencies often offer a comprehensive suite of services.
Portfolio & Reputation: Agencies have established reputations.
Communication: Agencies often have structured communication processes.
Compliance & Legal: Agencies handle legal and compliance aspects.
It's important to note that the suitability of each option depends on the specific project requirements, your budget, and your level of expertise. DIY is cost-effective but may lack professional quality, while an agency offers a UI/UX design solution but at a higher cost.

A freelancer can provide a middle-ground option with varying results based on the individual's skills. Consider your priorities, and choose the option that best aligns with your website redesign needs.
Ask Your Question
Call Us
+1 601 345 2345
A Quick Website Redesign Checklist In 2023
To approach the redesign process of your website, you can follow a quick checklist. Just follow these processes, and the whole thing should be a walk in the park. Let's get started with it.
First determine what's going wrong with your website based on aesthetics, experience, and performance.
Based on that, you have to figure out what should be the fix and how you need to approach it.
Once you have an idea of the solution, you need to select the method you want to use.
Next, you need to communicate the goals of your business and brand to align them with your redesign plan.
Ask for the work progress of your designers or service providers to give feedback on the work they have done to that point.
When the redesign is complete, you can go for user testing to see how it's performing and give feedback for necessary changes.
Lastly, implement the changes based on the feedback and finalize the design process.
Cost Of Website Redesign: Average Cost Of Website Redesign In 2023
Website redesign isn't essentially costly. The website redesign cost depends on several different factors, so it's difficult to pinpoint a certain amount.
Things like the complexity of the project, the expertise of the designer, availability of features, SEO services, regular maintenance, and after-service support.
Check the table below to know the average cost for website redesign on different methods.
| | |
| --- | --- |
| Provider | Cost |
| DIY or In-House | $1000-$5000 |
| Freelance | $2000-$10,000 |
| Design service agency | $5000-$50,000 |
What To Consider When Redesigning A Website – Important Things You Need To Know
Whenever you plan to redesign your website, you need to consider several factors. Going through these factors ensures that you make a much more informed decision and it gives you some effective results.
Have a consistent brand identity
No matter how many times you choose to redesign, you have to make sure that the design doesn't sway away from the brand identity. Especially, in b2b website redesign, you can't compromise on the brand identity as other businesses know you from that identity.
Keep users at the center
Regardless of all other factors, whenever you make a design decision, make sure it's user-centric. Think about the users, their comfort, and their experience then choose a design idea. Don't just focus on the looks, ensure a better user experience on your website also.
Implement SEO strategies
There is no way to get more organic reach without implementing the right kind of SEO strategies. That's why, you need to choose the right service that can provide you with effective and tactical SEO strategies. Improving SEO strategies is the fastest way to grow for you.
Quality content
With every redesign journey, you have to think about including some high-quality content on your website. While an attractive design can appeal to a lot of people, keeping quality content will keep them on your website and also get them to keep coming back.
Higher security measures
One thing you have to keep in mind is that never let the website get compromised. Whether it's before the redesign, during the redesign, or after the redesign, you have to ensure safety at all points. Try to implement security measures to protect all your data in every phase.
Common Mistakes To Avoid During A Website Redesign
A lot of the time people make some silly mistakes while redesigning a website due to sheer excitement. It's very easy to make them, and fortunately, with a bit of attention, it's very easy to avoid them as well. Here are some mistakes you don't want to make for a website redesign.
Not paying attention to mobile optimization. It can result in losing a lot of traffic and conversions.
Using poor SEO strategies in a hurry can result in a drop in traffic on the website.
Ignoring the user feedback and not taking actions based on that to fulfill user expectations.
Rushing the design process never leads to effective and good-looking results.
Neglecting the importance of high-quality content on the website results in low engagement and poor SEO scores.
Lack of communication amongst the designers and experts can result in poor website quality.
Website Redesign: Frequently Asked Questions
Until now, we have gone through almost a complete website redesign guide. But if you still have some confusion, then check out the following popular questions that a lot of people ask regarding website redesign.
How Much Does It Cost To Redesign A Website?
Redesigning a website can cost you from somewhere around $1000 to $50,000 depending on the method you choose and the services provided by them. The complexity also matters a lot in determining the cost.
How Often Should You Redesign Your Website?
It's suitable to go for a website redesign every 2 years or 3 years. Generally, website design trends change every 2 to 3 years. With redesigns in that time frame, you can keep up with the latest trends and stay relevant at all times.
Should You Hire A Freelancer Or A Design Agency?
If you want a cost-effective solution then hiring a freelancer can be a pretty good option for you. But for a corporate website redesign, it's better to go with a design agency. They are costly, but they are very professional and provide effective results.
How Long Does It Take To Redesign A Website?
The timeline for a website redesign can vary, but it typically takes 3-6 months. Complex projects may take longer, while simpler redesigns can be completed more quickly.
When Is It Time To Redesign Your Website?
Whenever you think the current website isn't giving you the necessary outcomes such as good conversions, and satisfying user experience. Also if it's not aligning with your business goals, then it's time to redesign the website. Also, an outdated design is a clear indication of redesigning a website.
Does My Website Need A Redesign?
Assess your website for factors such as outdated design, poor user experience, declining traffic, and high bounce rates. If you notice these issues, it may be time for a redesign.
Does Website Redesign Affect SEO?
Yes, website redesign can impact SEO. A well-planned redesign can enhance SEO by improving site speed, mobile-friendliness, and content quality. However, a poorly executed redesign can have adverse effects on SEO.
Why Should A Website Avoid A Complete Redesign?
A complete redesign can be risky if not executed properly. It can lead to loss of traffic, user confusion, and damage to SEO rankings. It's essential to carefully plan and execute any redesign.
Get Started On Your Website Redesign Today!
Now that you have a complete knowledge of the pros and cons of redesigning an existing website, you can easily take that decision. In summary, if you have an outdated design or an ineffective design, then you need to opt for redesigning your website.
If you don't have any prior knowledge of website design, then go for a professional design agency as they can give you the best solution. But for a tight budget going with a freelancer might be the way for you.
Lastly, you have our guide to help you throughout the website redesign journey. As long as you follow our suggestion, you will be on the right track without any worries.
Ask Your Question
Call Us
+1 601 345 2345
Don't forget to read: