Choosing the right UI/UX design services company for your business can be a daunting task. You need high-quality designers that understand your business and can connect with the audiences deeply. Not only a good designer help you save time, but save money by keeping things organized, looking more professional, and increasing sales pathway.
When it comes to hiring the right UI/UX design company, there are a lot of choices you have to make. Today we've evaluated several companies and come up with the best solutions of how to choose the right UI/UX services company for your business or for your project.
Let's embark on it!
What is a UI/UX Design Services Company?
Before jumping anywhere, first know what UI design is and exactly what UX design is.
UI and UX are two aspects of web design that complement each other. UI (User Interface) is all about building interfaces in software, whereas UX (User Experience) focuses on how pleasantly and quickly users experience the entire software system. So, the UI/UX design services company refers to whoever provides these services accurately and shows you the best outcome from it.

In a broader view, UI design isn't just about improving the visual, but a blend of design and psychology. Of course, that doesn't mean enrolling in a psychology course, it just means putting your feet in the consumer's shoes. A UI service company knows the core UI principles because they've got a larger team with the right skills.
On the other hand, UX design is about making things easier when visitors or an audience browses your website or mobile app. If things bother you, your downfall will commence! When you consider a UI design service company to work for, they deeply assess the end user's mind and precisely think about the areas that can bother them to get seamless website experiences.

Hiring a UI/UX service company instead of an in-house UI/UX designer can be your best decision. I know some of them won't agree but just think of the fact that only UI designers are hired. They are undoubtedly capable of one or two skills; there may be more of them, but one person is unable to see four-side at once; he must turn to the path first, right? So being a UI or UX designer requires more heads to think of the solutions—hitting the consumers' pain points—through the website interface and experiences.
The companies employ a team of web designers and developers who collaborate to create aesthetically pleasing, intuitive, and usable digital products like websites, mobile apps, software, and other digital platforms.
There are several services a UI/UX design company offers-
UI/UX Design for Web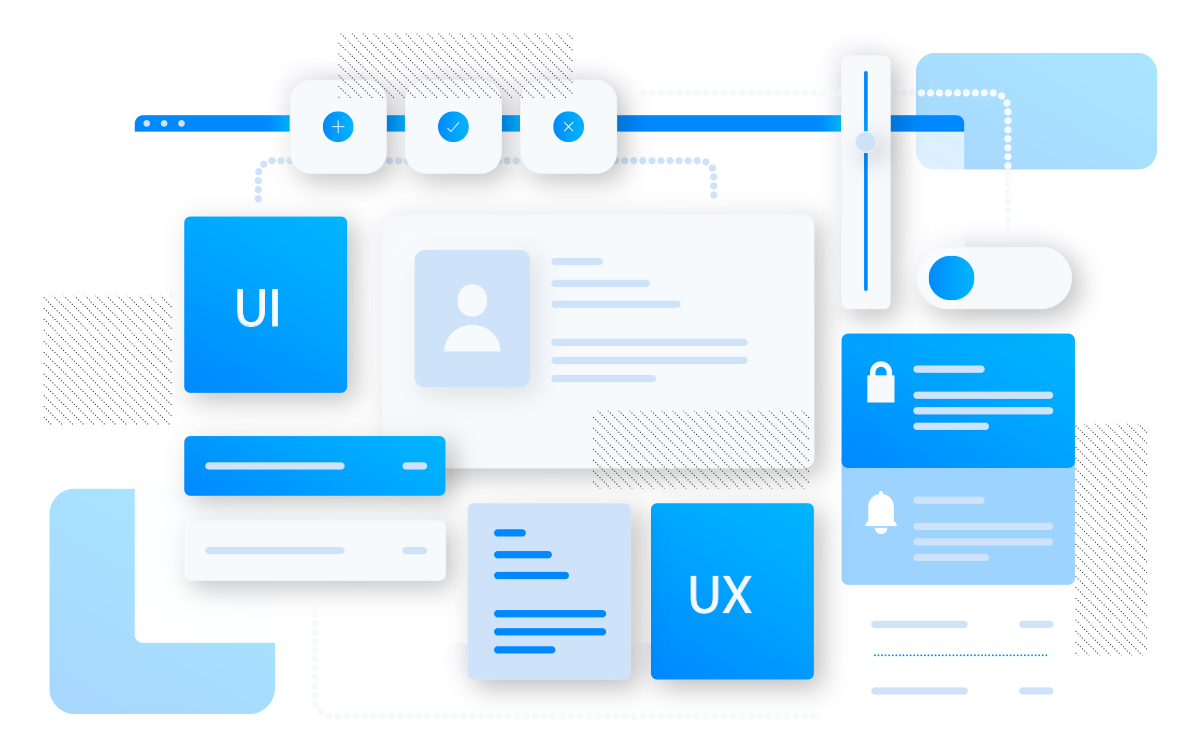 For websites, both UI and UX designers play a great role. UI designers focus on the website's visual elements, such as how to arrange the layouts, use the color scheme, typography, and other aesthetic features.
On the other hand, UX designers' prime focus is on website development and how to make it user-friendly, smoothly navigate from one webpage to another, and have overall functionality. Moreover, UX can be a constant improvement-based task, whereas UI can be a one or two-time structural task for a website.
UI/UX Design for Mobile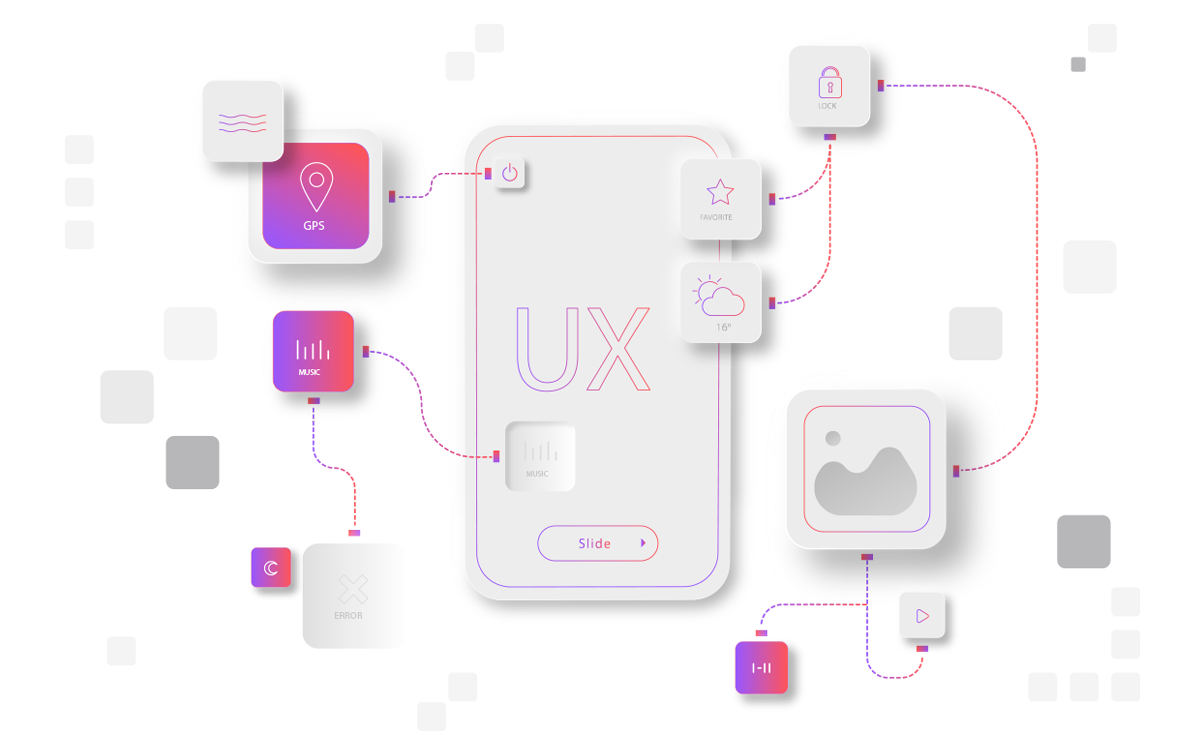 UI and UX design are associated parts of mobile app development. How the app works and how it attracts customers through looks and experience all depend on it.
The mobile UI design is the screen where users interact, from text fields to menu buttons, whereas the mobile UX design improves the user's interaction and experience. They can improve the user experience, which influences customer satisfaction. Because the more satisfied users use your mobile app, the higher your conversions and recommendations will be.
Cross-platform experience design
Cross-platform is multi-platform design tool that is designed to work on several operating systems, like iOS, Android, and Windows, and devices, including the web, mobile devices, tablets, and wearable watches. In this case, the designers know the guidelines and make your web application more usable for the users.
Wireframing and Prototyping
Wireframing shows the webpage's structure, layout, information, architecture, user flow, and functionality. The service lets you, your programmers, and your designers judge and find areas for improvement so that your users can effectively interact with the interface.
While prototyping is the most concerning step in UX for mobile or website development. A UX designer weaves together the entire set of visuals and navigational elements and interacts with them to determine how the design will behave and feel.
UI and UX consulting
Having a UI/UX consultant aligns your vision of who you are, what you offer, and how you present yourself to clients. Their knowledge makes your services or digital products more presentable, intuitive, and effective at achieving goals.
They have their own UI and UX strategies, which range from product or service design and invention to branding. Even somewhere, they might also provide clients with instruction and training so they can develop their own UI/UX design competencies over time.
Importance of having a UI/UX design company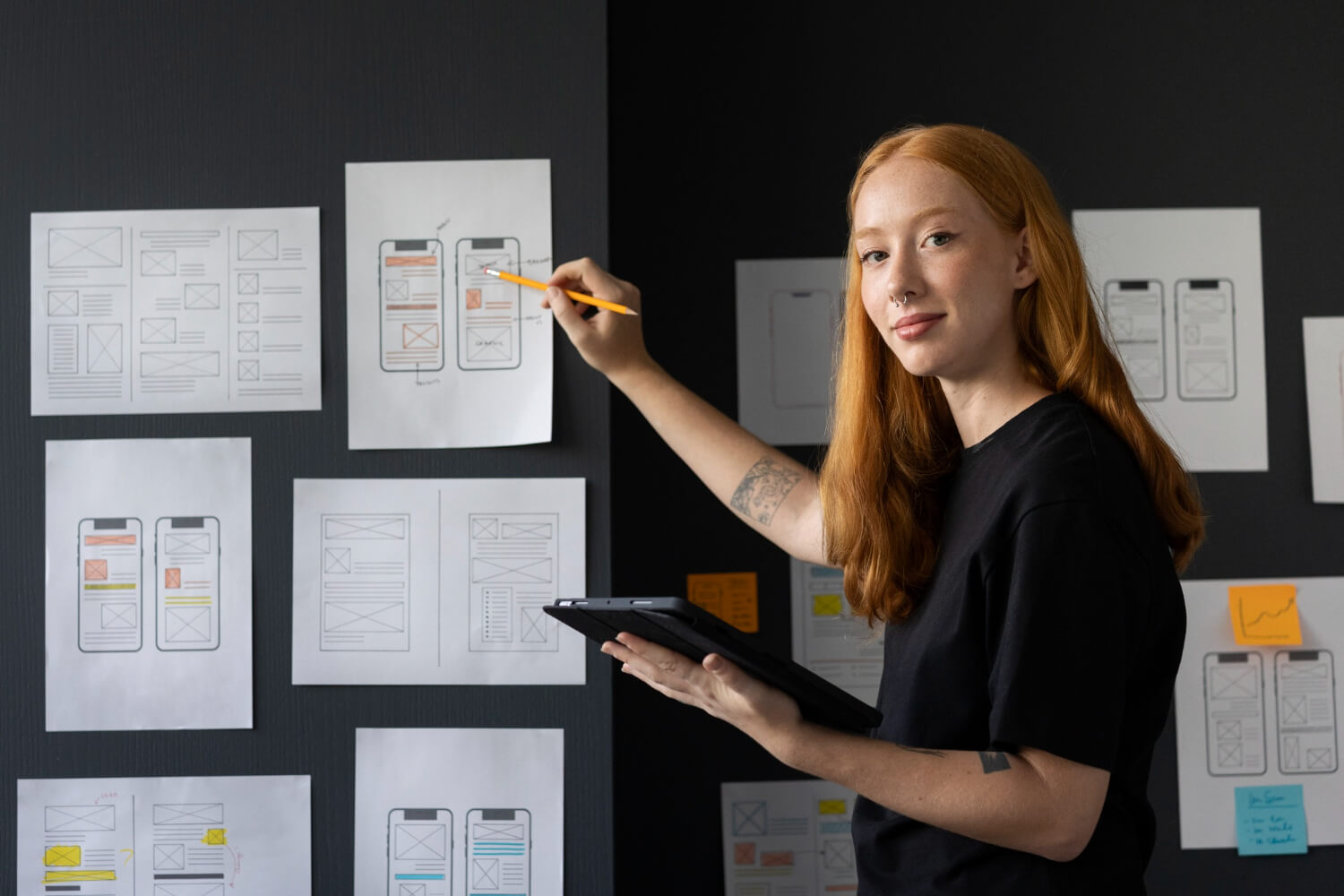 Any website and mobile app aim to increase visitor or installation rates and earn money. Keeping customers constantly satisfied is quite tough; in this case, the visualization and experience of your website or mobile app play a great role. So, collaborating with a UI/UX design services company can be your secret weapon for your business.
They have the power to turn a dull and confusing website into a user-friendly and visually stunning masterpiece. Whether you've got a start-up or a small venture, UI and UX design pave the way to finding a goal in a better way.
Why not walk through its importance first!
User-driven Design
The goal of a UI/UX design company is to produce digital products that satisfy user demands and expectations. This user-driven design strategy allows the digital product to be aesthetically pleasing to the eyes of the audience, simple to use, and offer a satisfying user experience.
Reveal your competitive edge
Given the abundance of digital products on the market, having a well-designed and user-friendly product can give you a big competitive edge. Businesses can create digital products that stand out from the competition and offer a better user experience with the help of a UI/UX design services provider.
The more competition you face, the tougher your strategy and the more user-oriented website needs to be. UI/UX service provider can be your saviour and save you from this competitive edge.
Customer satisfaction = Higher ROI
A simple navigational website design allows visitors to navigate to their queries through engaging content and encourages them to divert toward other pages. If they like your service or digital products, they will surely buy from you or subscribe to your services.
A well-designed digital product with a positive user experience can increase engagement and encourage repeat usage. This can lead to increased customer satisfaction, loyalty, and, ultimately, revenue.
Access to more sophisticated expertise
A team of experts with specialized abilities and knowledge in UI/UX design makes up a UI/UX design services company. By doing this, companies can access this knowledge without spending money to establish an internal design team.
Cost reductions
A great quality app or website design can't be cheap, but it can be reasonable and allow you to get a larger chunk of return on investment.
The pricing of UI/UX design mostly depends on the complexity of the app development, whether it is for cross-platform functionality or for Android or iOS operating systems. Moreover, your smartest move will be to outsource your UI and UX design services to the company. They can give you the best UI/UX design cost and the possibility of reaching more users.
Know The Process of UI/UX Design Company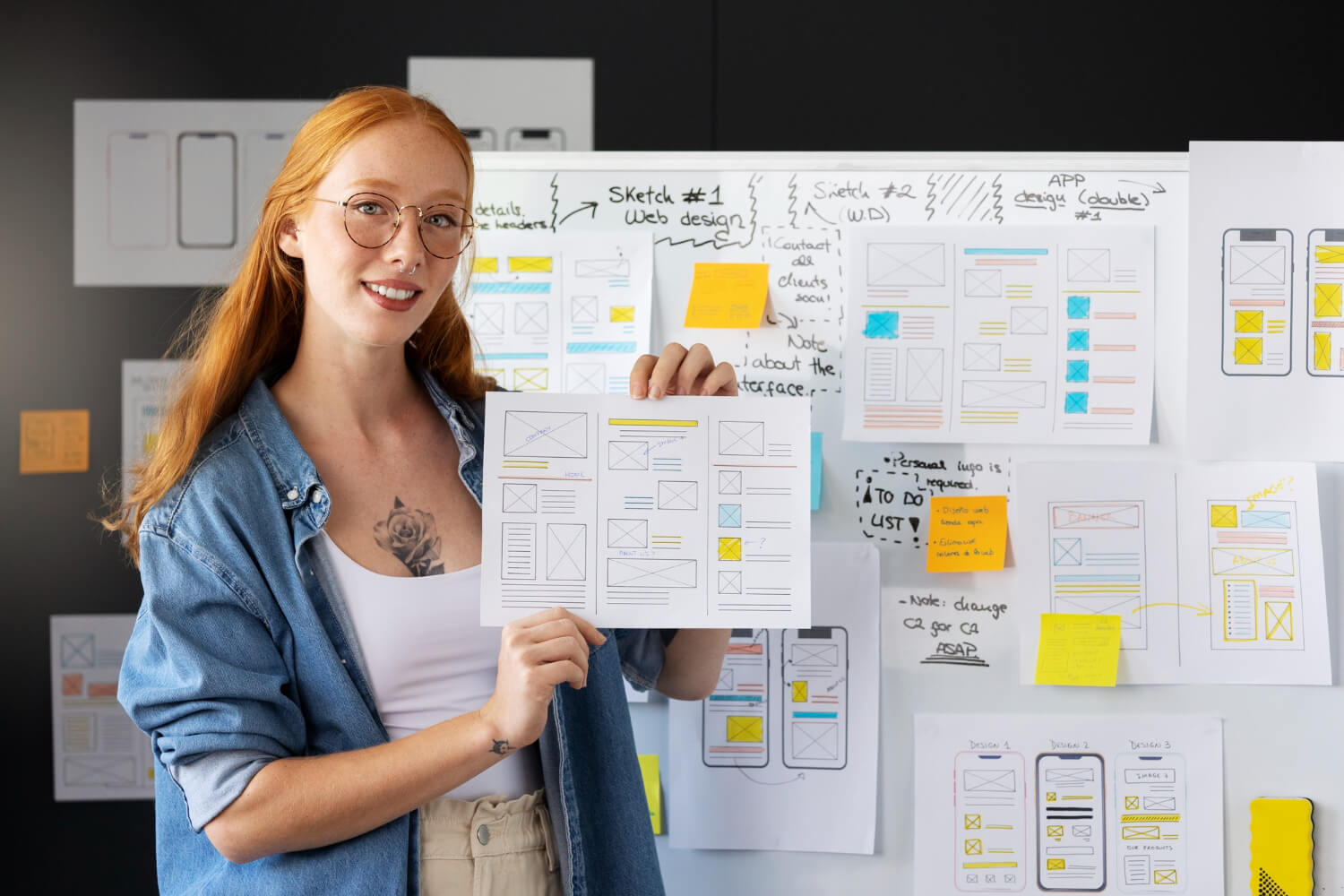 The UI/UX design process lets your digital products' user interface be polished, which ends up with a great deal of relish in the user's mind. Since this company focuses on a user-centric approach, before making any decisions, you must know how UI/UX service providers work and what the strategy is behind its successful structural website or mobile app.
So now we discuss the UI/UX design process:
User Research
User research is a crucial element for a UI UX designer. Before designing any website or mobile app, the first question that comes to mind is, "Who needs this service the most?"
So you need to create a buyer persona, know who your end-users are, their behavior, needs, and attitudes, observe the problems they might face, or collect feedback. Furthermore, you must maintain consistent user-centric research. The more user research you conduct, the more likely you are to provide the best user experiences and intuitive and engaging micro-moments.
However, you must ensure that your user research is based on your targeted audiences and conducted properly.

Interface architecture
Interface architecture design establishes a framework and anticipates how users will interact with your product and how the product will get users reactions and feedback. It uncovers what the users need and makes it easier for them to act. Regarding interface architecture, UI creates structure and hierarchy for several interactive components, including buttons, menus, and forms. The placement of these interactive elements on the screen ensures the website's or application's overall style and branding consistency.
On the other hand, the interface architecture for UX design involves creating a clear and intuitive flow for the user, ensuring that the user's goals are aligned with the system's objectives, and streamlining and optimizing the user's interactions. So you must keep an eye on these tasks to improve your interface architecture properly.
Sketching & Wireframes
Sketching generates, communicates, and refines ideas to understand the precise details of UI and UX projects. So that you can easily decide what might be effective and what might be a constraint on this project because of the various approaches acknowledged.
Conversely, wireframing is regarded as a type of sketching that focuses on the design, structure, and functionality of the user interface. They are mainly assessed for usability and design viability.
The combination of sketching and wireframing allows designers to quickly explore and iterate on ideas without devoting too much time or effort to detailed designs. Because sketching is frequently used to brainstorm ideas and concepts, which can then be refined through wireframing.
You must consider that they provide you with a basic layout and test out how effectively the users interact with it. In addition, you get a blueprint for the web development team and accurate instructions on constructing the interface.
Dynamic prototype
A dynamic prototype identifies and addresses potential problems and opportunities for improvement because it simulates how the interface will appear and function in a real-world environment.
This prototype allows UI/UX designers to work on the feedback that they gather from users, web developers, product managers, and other executives. This sort of prototype is created with specialized tools or software, including Figma, Adobe XD,or InVision. As a result, designers simulated the data and content to provide users with a realistic experience, so you can know how the interface will work.
Data-Driven Design
Data-driven design is an effective method for both web designers and businesses to create a user-friendly interface. During this process, UI UX designers collect and analyze user behavior, preferences, and needs, then use that data to guide design decisions and improve the user experience.
Collect the data from user surveys, A/B testing, user interviews, analytics tools, and other methods for collecting quantitative and qualitative data about user behavior and preferences.
After collection, analyze the trends, patterns, and insights, then apply them to improve your digital product or interface.
The tested and refined process is constant and based on further feedback. Moreover,you must ensure that designers deliver you the best outcomes, better user engagement, and increased conversions with user-friendly interfaces.
Data Visualization
Data visualization is the process of UI and UX to present data and information by using graphical elements like graphs, charts, infographics, diagrams, and maps. It simplifies the data and shows effective communication of insights in a clear and understandable way.
When data is in chart, graph, or infographic form, it can be helpful for UI and UX designers to understand complex information more easily than textual or numerical information. Using good design principles like hierarchy and color theory can help you produce data visualizations that are both aesthetically pleasing and functional.
Moreover, it detects target audiences' needs, creating a path toward user engagement and satisfaction. As a result, with the data visualization, you're aware of where your growth graph has risen and where you need to improve.
UX Audit
Ux Audit is the evaluation of digital products such as websites, software, and mobile apps. Here you can assess the gathered data to identify the user behavior trends, discover the troubling points when the user visits, find bugs, design, or technical issues, and even come up with some recommendations on how to eliminate the issues. You must do the UX audit to lessen website errors and find growth opportunities based on user satisfaction and retention.
Now here we take a look on how we do the UX audit-
Evaluate specific pages or sections of the website or mobile app.
After that, collect user-oriented data via surveys, user testing, or analytical tools.
Analyze the accessibility and usability of the interface, navigation, and task flows where users are getting stuck, and assess whether the color, typography, and layout support the visuals.
Create a report of it and devise a strategy to implement the changes effectively, so you can understand whether your website's interface is user-friendly or not.
Usability Testing
Usability testing assesses a design's effectiveness and ease of use from the user's point of view. It can help you identify areas for improvement, learn about the behavior and preferences of your target audience, and give you an opportunity to increase user retention, conversion rates, sales, and even brand reputation.
So before conducting a test, you need to draw the scenario based on the real-life situation that the user may encounter.
Then a designer will-
Conduct a test
Ask the participants to complete it
Observe their behavior, and
Write down their feedback and suggestions on a note.
When you identify the issues with patterns and themes, start making design improvements. This point reveals to you and your UI/UX designers how users interact with the design and identifies areas for improvement.
Accessibility Audit
An accessibility audit assesses digital products or services based on accessibility standards and guidelines. It identifies areas for improvement, barriers, or fixes for the sake of people with disabilities or sensory impairments so that they can surf the whole website seamlessly and effectively.
The bounce rate increases if a user becomes frustrated trying to use this site because it is inaccessible via keyboard-only navigation or a screen reader, especially for those with disabilities. The UI and UX designers design these accessible features for people with disabilities. Of course, you need to know if the process works well or not, and where improvement is needed.
Benefits of Hiring a UI/UX Design Services Company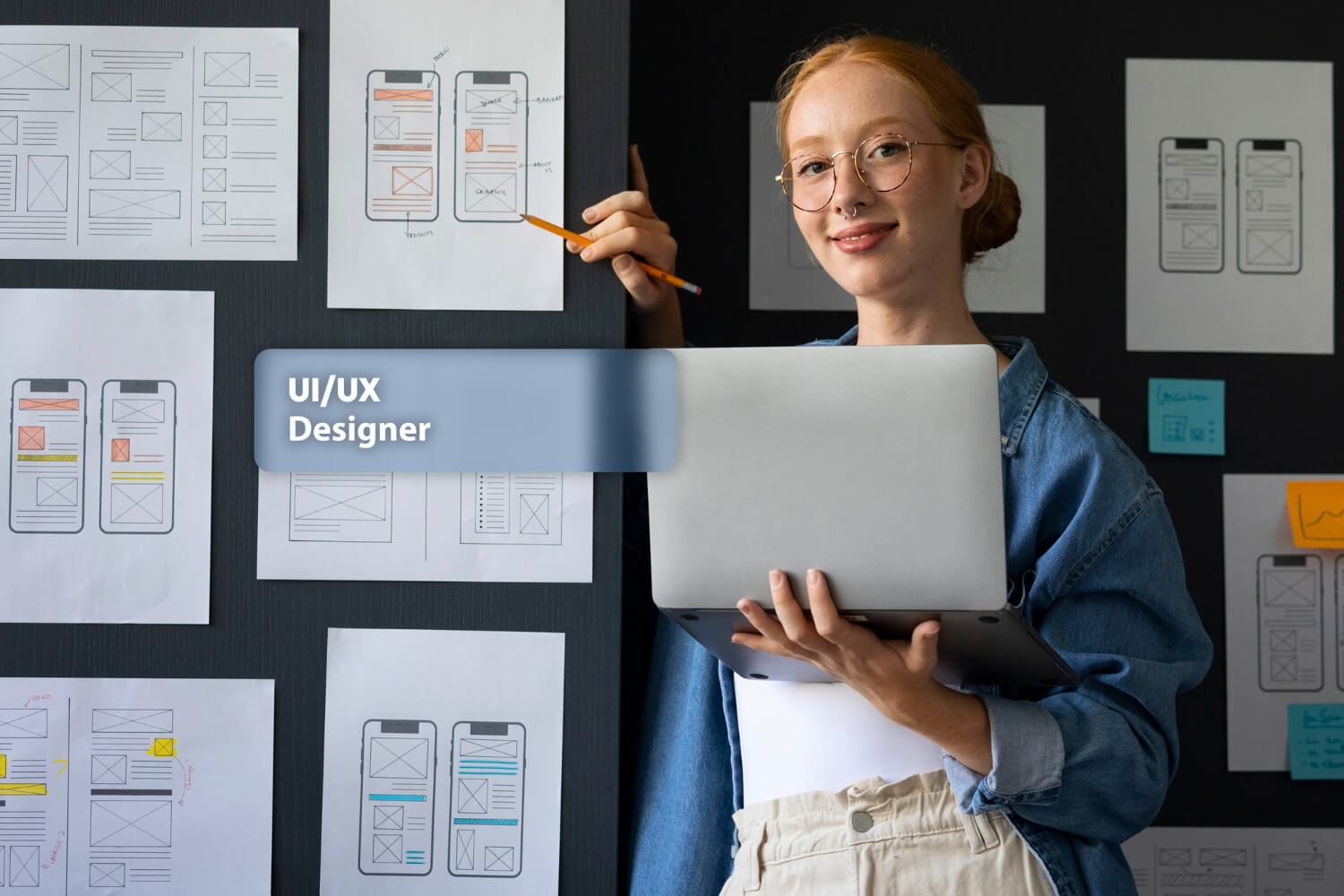 Business owners devote more time to product design and less time to how customers interact with their products or services. There is a UI UX design company that comes into play by delivering user-friendly experiences.
If you want customers to come to your website willingly and buy or subscribe to your products or services, it is best to hire UI UX design service providers. They can provide you with a wealth of benefits for your company.
Improved user experience
UI UX design companies have the knowledge and experience required to develop user-centered designs that meet the needs of customers. They carefully observe the users' limitations, motivations, and touchpoints that encourage them to return to the site or web applications again and again.
As a result, a better user experience persuades customers that they can find everything they need quickly and easily. The better the user experience, the higher the company's profitability.
Increased customer satisfaction
The goal of UI and UX design is to produce digital products and services that satisfy customer demands. Customers' satisfaction and loyalty can be increased through the improvement of usability, accessibility, and the overall experience of a digital product. More functional and useful products can both attract and retain customers.
Establish brand image
Whether you sell a service or a product, the most important thing to keep you competitive in the market is a solid, sturdy brand image. In this case, visualization and user-friendly content play an important role in establishing why a customer should choose your products or services and adding value to marketing campaigns.
People ultimately buy from those who understand their worth and to whom they feel connected, so better user experience development may help to establish our place in their minds.
Increased revenue and conversions
UI and UX designers can help businesses increase their conversion rates by making it easier for users to find what they need and complete desired actions, such as making a purchase or signing up for a service.
In this case, a positive user experience can lead to increased revenue for businesses. Users are more likely to recommend products or services they like, which can lead to increased sales and revenue over time.
Cost-effective solution
Investing in a UI UX design company can help businesses save money in the long run. A functional product can result in a more intuitive and user-friendly experience, which can result in lower customer support costs. An experienced UI UX design service provider understands the bounds of cost, protects you from reworks and risks, and releases a fair portion of your planned budget.
Factors to consider when choosing a UI/UX design services company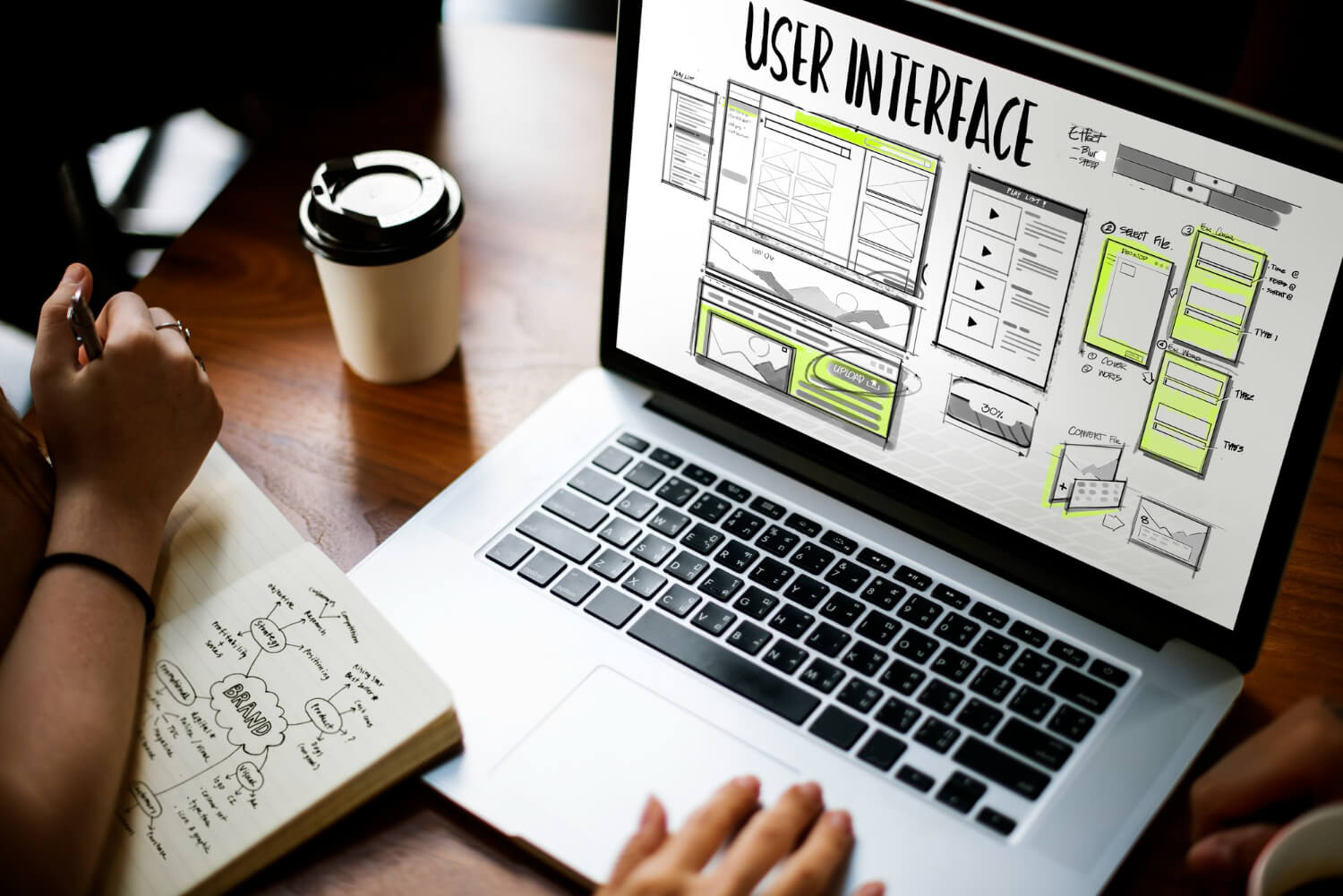 These days, UI UX design agencies are widely available because most companies now understand their true worth. Instead of falling into the wrong hands, make sure you can find the deserving one who values you and will offer the actual support that you require.
So there are some of the following things you should look for, these are-
Portfolio review
The UI and UX design service company's portfolio and industry experience are core factors to examine. When you hire a design agency, the portfolio determines how creative and multi-talented they are and lights up their works, which influence you the most.
Their design style, skill level, and capability will help you understand whether they can comprehend your business necessitates or not. Make sure to ask your service or product-related questions, which will provide more clarity. If not, think twice before hiring.
Client testimonials and reviews
Testimonials and reviews are the social proof that demonstrates to potential clients why their design and skill level are better than those of other UI UX design agencies.
So, you can determine the company's level of service, the caliber of its work, and its capacity to meet deadlines. This shows how reliable and trustworthy they are and provides a clearer picture of whether you should work with them or not.
Experience and expertise
A good, experienced UI/UX design agency knows all about design tools and technologies, user research, and testing methodologies. They even know how to get a better result, which sticks with you in the long run.
With this comprehensive knowledge, they will develop a full-proof strategy that improves the overall experience of the users and determines how efficiently they connect with it.
Price and budget
The right balance between work quality and pricing is crucial to determine. Make sure the company's pricing and payment terms match your expectations and budget by considering your project's budget.
Though most established UI UX design agencies charge a lot in terms of their work quality, they charge reasonably depending on the complexity of the projects and the services you get.
For example, if you outsource to a company with higher recognition, you will be charged more. That does not imply that you should choose a young design firm; instead, think about firms with at least 5 to 6 years of experience; you won't regret your choice.
Communication and Collaboration
Successful design projects depend on effective communication and teamwork. As a result, assessing their capacity for collaboration and communication is essential throughout the project.
To understand your team's needs for design and to regularly update you on the status of the project, make sure the company values collaboration and can work closely with them. When a design agency values candid feedback and open communication, the end result is that it hits its mark.
Conclusion
Thanks for sticking around to the end!
Direct communication, frequent feedback, and a shared dedication to the project's success can all contribute to a smooth and effective design process.
Last but not least, remember that selecting the best UI/UX design services provider is just the start of the design process. Your digital products or services will meet the evolving needs and expectations of your end-users, if you collaborate closely with the design team throughout the entire project and afterward.