Google loves local searches!
What if your local SEO is weak or you haven't started implementing an SEO strategy? You might not appear in the local search engine results.
Implementing local SEO lets businesses rank higher in SERPs and increases the likelihood that the local searcher will find your relevant content easily.
If you don't receive the best offers on local SEO for getting higher results, you might be confused about which local pricing packages to choose, which services your company absolutely needs, and how to choose the packages.
Not to worry! You're at the right location.
We're here to uncover the determining factors of local SEO and some core views that will help you decide which path to take for great results.
What is local SEO marketing?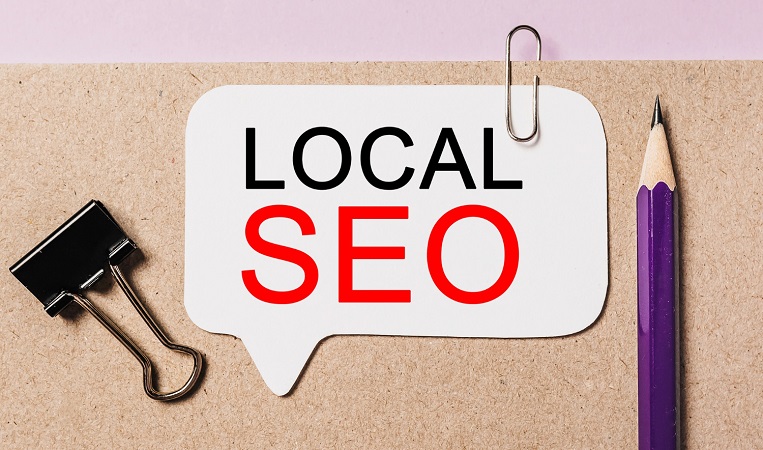 Local SEO marketing is a strategy for attracting customers to local businesses. It is all about showing the local search results on the maps in the local pack and in the localized organic results. It helps enterprise brands, large chains, and single-location businesses gain more visibility.
Google alone captures the majority of the search engine market. Even searches occur over 8.5 billion times per day, with 99,000 searches every second.
But with local SEO, Google uses a separate ranking algorithm for the best results. Identifying every factor in Google's local search algorithm can be difficult. In this case, Google relies on three main signals to determine the local search rankings.
Relevance- How closely the search terms correspond to the business information
Distance- how close the searcher is to local businesses based on the searcher's browser information.
Prominence- How popular your business is among search engine users.
Get the Guide: How to Get Clients for a Cleaning Business?
Why is local SEO important for small businesses?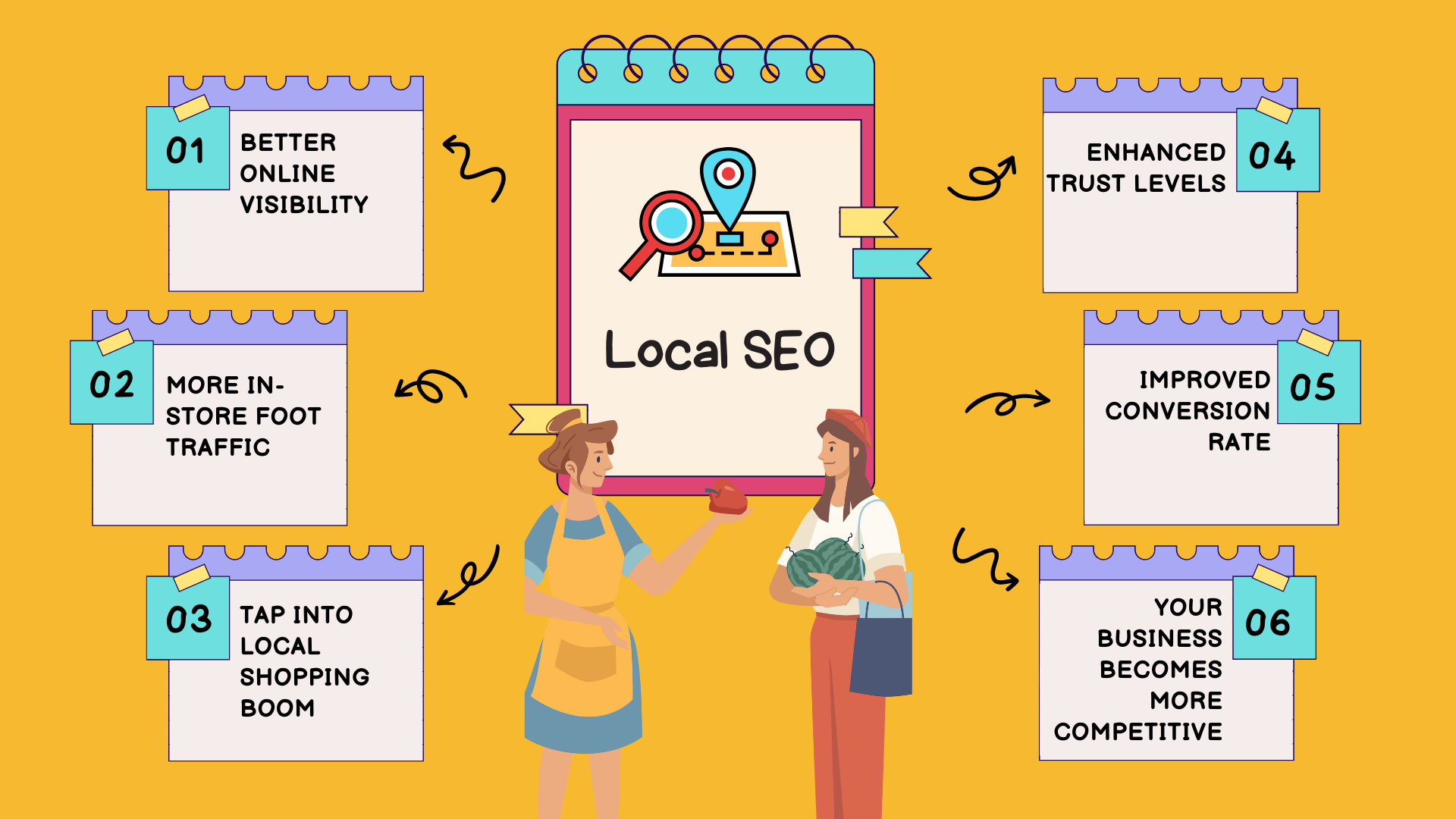 Local SEO for small businesses broadens the customer base and improves conversion rates. With a solid local SEO strategy, you can even gain greater customer exposure. As we know, SEO for businesses means dramatically growing on the search market and generating authority, traffic, and even leads from a targeted audience.
When we look back at the earlier days of traditional marketing, we see shrunken customer exposure, low foot traffic, and low conversion margins. The small businesses relied on business pamphlets, cards, advertisements, and good word-of-mouth. Then, anyone who needs information can get it from their neighbors or from the advertisements of nearby companies.
The times have drastically changed!
Nowadays, nearly half (46%) of Google searchers seek local information, and 30 to 40% of local searchers find local companies through maps. Local searchers favor search engines more, especially Google and Yahoo.
Take a look at some of its importance that might convince you why you need to use this strategy for your business, whether it is small, medium, or large.
78% of consumers find information about local businesses more than once a week, and 21% do so daily. You can see more clearly from these statistics how fiercely local businesses compete. It makes your business rise up and compete with the other local businesses within your niche.
When you priority local SEO on your website, store, or GMB (Google My Business) or connect with the local community, they find you easily and also know about you well, which might increase your reputation.
People prefer to buy products nearby and want to avoid going far to find them. It offers local small and medium businesses a chance to boost revenues and drive more online traffic.
Because everyone now has a smartphone, mobile searches are the most common. Do you know? 76% of mobile local searchers who search visit a physical store within 24 hours, and 28% of those searches result in a purchase. It configures your mobile responsive interface or analyzes user behavior to help you attract more visitors.
It increases map visibility for attaining large traffic.
To Know: The Best Way to Get Effective Leads for Cleaning Business
What is the difference between local SEO and general SEO?
Initially, general SEO focuses on improving the business website's visibility and generating more traffic and conversion rates in the search market like Google, Bing, and Yahoo, while local SEO is considerably targeted the same but the differences in it capture the local search territory.
Now, Let's go into more depth about the differences between general SEO and local SEO that might give you an idea that the two are different, not with the name but with their features.
| | |
| --- | --- |
| Local SEO | General SEO |
| Local SEO, a subsection of SEO, is the process of optimizing a website in the same way as SEO but with localized intent to appear in local search results. | General SEO is the process of optimizing a website's technicalities, content relevancy, and link building so that your webpage can easily be found by searchers and get a higher rank on SERPs. |
| It increases foot traffic to your real-time store or business. | It increases both the quality and quantity of organic traffic to your website. |
| It improves search visibility in a local market that relies on online directories and Google My Business listings. | It improves the search visibility of your website on a national or worldwide market. |
| It gives the most importance to NAP consistency and reputation management. | It is all about creating a foolproof SEO strategy, from competitive research to the process of increasing domain authority. |
| Local SEO is the perfect choice for small companies, restaurants, brick-and-mortar businesses, travel agencies, and many more. | General SEO is a perfect choice for mid-to-large businesses. |
What is the difference between Local Pack and Local Organic?
For local searchers, Google displays two different types of search results. These are-
Local Pack
Local Organic search results
If we get to the point of the difference between Local Pack and Local Organic, it is that Local Pack ranks Google My Business pages while Local Organic ranks business websites.
Let's find out more about them!
Local Pack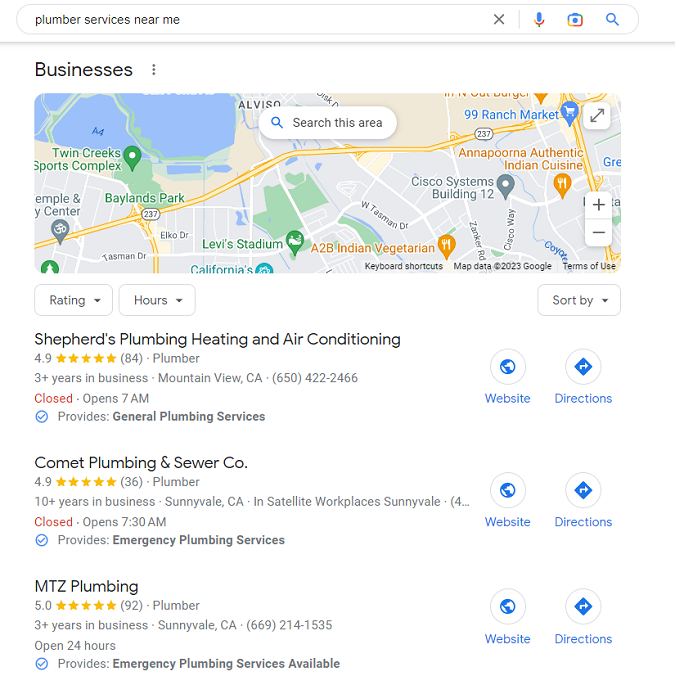 The "local pack" appears in the Map section of Google local search results and displays the top three ranked local listings for your search or location. Before 2015, Google showed seven results in a local pack without a map but suddenly changed its path into a Google Local 3 pack.
It is very readable on mobile devices, and the inclusion of a map makes it easier for local search to discover the location of the results right away.
The geographic location or the phrase "near me," that local searchers include in their search query allows Google to accurately determine the user's search intent and display relevant results.
As you know, consumers will only go up to the first page, so it's better to rank well for different search terms. The local map pack needs to claim your Google My Business first, optimize it with accurate information, and include relevant photos of your business.
Local Organic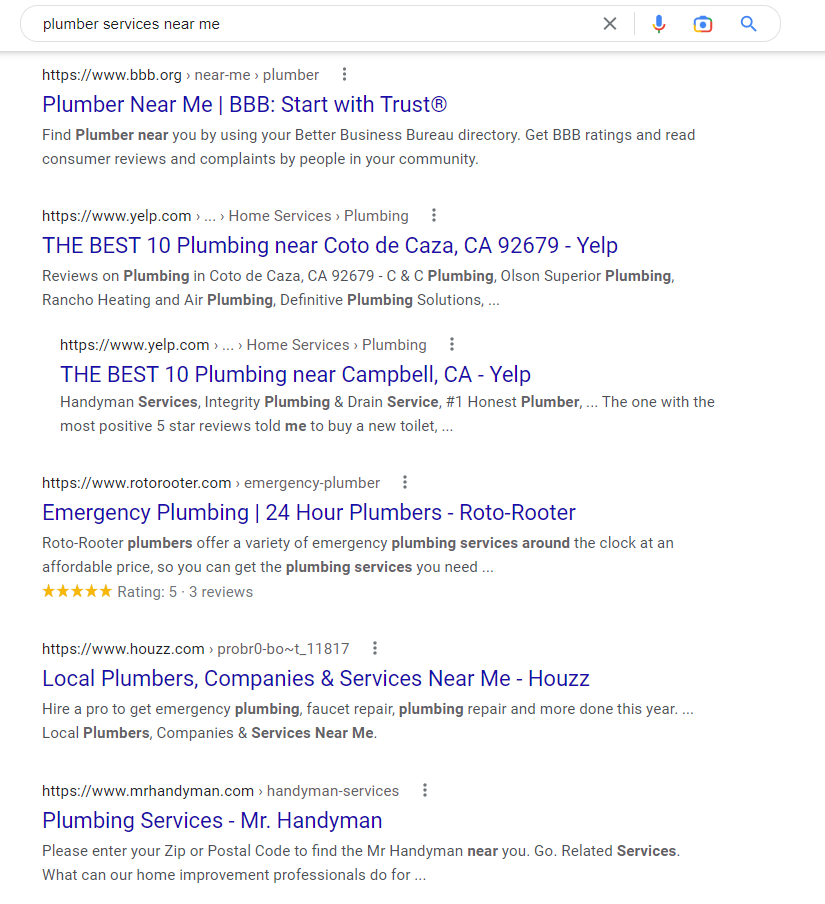 Local organic search is the result of the most relevant information that matches the local search queries, appearing after ad sections and local packs. The local organic results are ranked based on the expertise, authority, and trust (E-A-T) of the websites and are fully SEO optimized.
All you need is a general SEO strategy, but with a touch of localized factors such as
Incorporating geo-modifiers in URLs and titles,
Reputation management,
Local listings in online directories like Yelp, MapQuest, Yahoo! Local, HubSpot, and so on.
It is an important channel for all types of services for local customers because it ranks local businesses' websites in the SERPs. Currently, about one in five Google searches is about nearby locations.
How do you know if you need local SEO?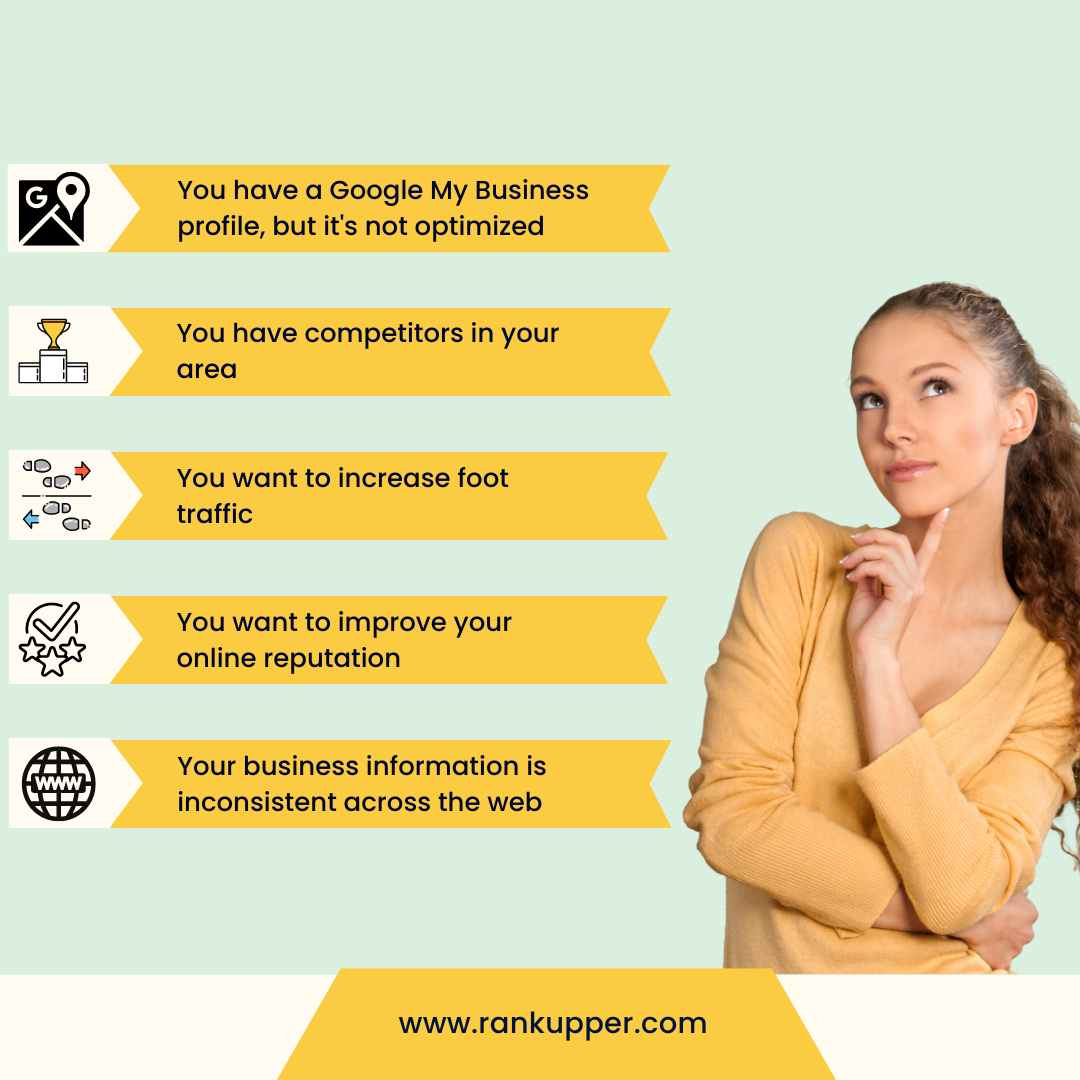 If your business has a brick-and-mortar location, or if you have a tight budget for marketing and want to capture the local market, all you need is local SEO. Because most businesses need to prioritize local organic SEO when they have yet to find any success, it might cut your marketing budget and save you money and time.
There are 1.88 billion websites in the entire world of the internet, and Google has over two million alone. You can't compete with the entire world and reach the target audience.
You need to shrink your location and target your potential local customers. There is an opportunity for you to grow your business rapidly.
How long does it take to see local SEO results?
Three to six months is the minimum amount of time needed to show local SEO results. However, there is no way to guarantee SEO results within a set timeframe. Because of the constant changes to Google's algorithms, it can sometimes take time to get the desired result.
Whether you're already aware of local SEO or are learning more about it, you should understand there are no hidden secrets to improving it by snapping your fingers.
It is a constant, but gradual growth. The more time and strategic steps you take, the better your results will be.
Local SEO time frames basically depend on some factors; these are-
The website's age and authority
SEO-optimized technical and on-page structure
Local keyword research and its difficulty
The competition in your industry or niche
Is your website new or old? A new website will struggle a lot in the first few months—even a year—to generate traffic and rank in the SERPs. On the other hand, older websites already have more links, indexed pages, and pages that are ranked for particular keywords.
What's the most important ranking factor in local SEO?
If we jump to the answer of the most important ranking factors, that wouldn't be just one but a bunch of factors, according to Ahrefs, like Google My Business( Now Google Business Profile), On-page, Review, Citation, Links, Behavioral, and Personalization.
Now let's turn to examine these local SEO ranking factors more closely to find some core perspectives on influential factors for local search rankings.
Let's move into it!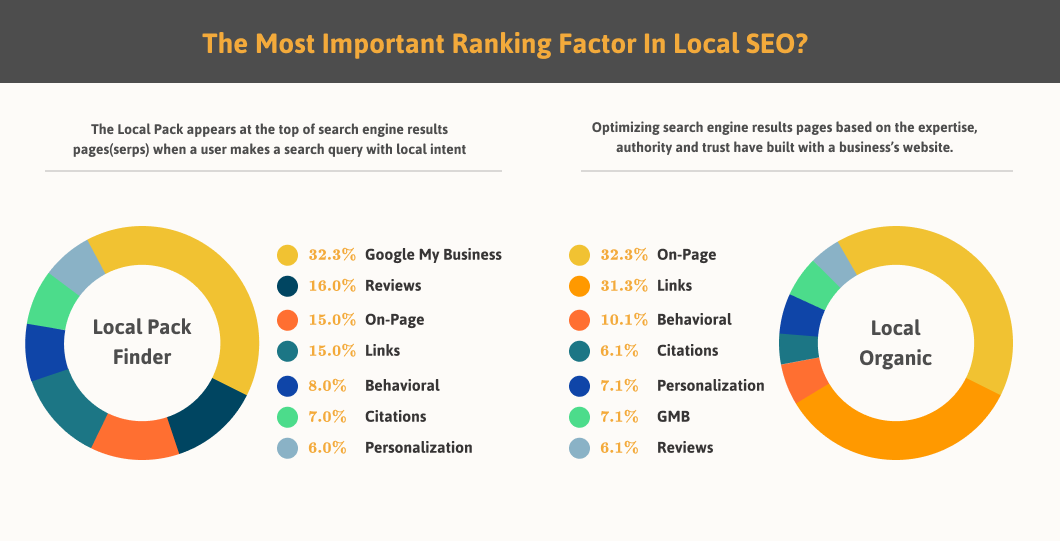 Let's move into the details!
Local Pack/Finder
Local Organic
Primary GBP category
Quality/authority of inbound links to domain
Keywords in GBP business title
Volume of quality content on entire website
Proximity of address to the point of search
Internal linking across entire website
Physical address in city of search
Topical (product/service) keyword relevance across
entire website
Additional GBP categories
Geographic (city/neighborhood) keyword relevance of
domain content
High numerical Google ratings
Keywords in GBP landing page title
Completeness of GBP listing
Website's degree of focus on a specific niche
Quality/authority of inbound links
Keywords in anchor text of inbound links to domain
Keywords in native Google reviews
Quantity of inbound links to domain from locally-
relevant domains
Removal of spam listings
Domain authority of website
Keywords in GBP landing page title
Quantity of inbound links to domain from industry-
relevant domains
Quantity of native Google reviews (with text)
Mobile-friendly/responsive website
Verified GBP listing
Volume of quality content on service pages
Quality/authority of inbound links to GBP
landing page URL
Diversity of inbound links to domain.
Proper placement of map pin
Keywords in GBP landing page H1/H2 tags
Google My Business
Google My Business (now Google Business Profile) is the most influential factor in local SEO. It offers details about your company and connects you with it by phone, messaging, or posting reviews.
Every time we hear, the first impression is everything; GMB gives the instant first impression for local search who see your business info on the interface. Its map integration makes it possible for the searcher to gain foot traffic. Compared to 6% of local organic search results, GMB has a greater impact on 36% of local packs.
GMB is influenced by:
Business title
Categories
Website URL
Geo-tagging images
Q&As
Bookings
Hours of operation
Popular time
Messaging
Phone
Map's directions
Product & service (Image and Videos)
Reviews
On-page
On-page has the elements to make a sturdy website, increasing the business's visibility in the local pack and organic search rankings. Rather than local pack (16%), it affects local organic search results (34%) the most.
On-page is influenced by:
Domain Authority
Page Authority
NAP
Quality content
Meta tags
Image tags
Technical and data security factors
Reviews
A review is the written sentiment of customers about their experiences with local businesses. It is social proof. You can get reviews from Google, online directories, and your own website that build customer trust and credibility. Reviews have a greater impact on ranking factors in the local pack(17%) than local organic search results(5%).
Reviews get influenced by:
Recent business reviews
The frequency of receiving reviews
Text-based reviews
Multiple platforms reviews
Citation
Citations are the listings of your business in trusted online directories, including Yelp, and Bing, that send signals to Google about your business existence. The overall consistency of NAP data online gives your site credibility among searchers and social media users and provides several indirect SEO benefits. It impacts 7% of both local pack or finder and local organics.
It is influenced by include:
Accurate information
Quality platforms
Citing multiple platforms
Relevant directories
Link
Link building is the most important factor for Google, which is why it's mostly updated based on links. It evaluates the site's authority and relevance, getting a link from a reputable site will give you a slight ranking boost. Link is influenced mostly by the organic results(31%) compared to the local pack(13%).
It is influenced by include:
Domain Authority
Page Authority
Quantity of internal and external links
Relevancy of the links
Accurate Link anchor text
Behavioral
The ranking factors that, in my opinion, are most affected by the behavior of visitors. How the public interacts with your photos, reviews, posts, menus, Q&As, bookings, and products that need to be tracked. Google may be more interested in raising your rankings if more people visit your site. Behavioral factors are affected by 7% in the local pack and 11% in the local organic results.
It is influenced by include:
Click-through rate
Dwell time
Click to call
Click to direction
Click to site
Personalization
Personalization is one of the most influential among the other ranking factors. It basically comes down to the fact that websites you are already familiar with and frequently visit will show results more frequently. It has a 4% impact on local packs and a 6% on organic results.
It is influenced by include:
Searchers' past history
User-to-business proximity
What are included in local SEO services? Discover the best local SEO strategies to drive local traffic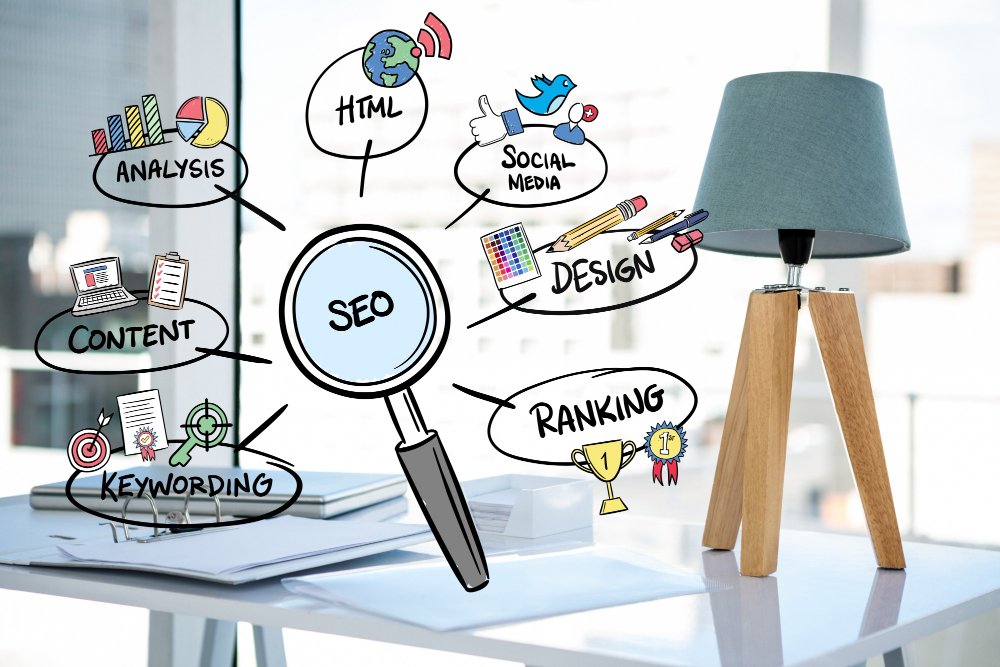 When you're stuck somewhere, it's easier to get out of there with help. Local SEO services are something like that. So there we have it—we've compiled those data-fueled local SEO services that dominate the whole local search market.
Get The Guide: Marketing Strategies to Grow Your Restaurant Business
Local SEO Audit
Auditing is an integral part of SEO. You can see more clearly how your website is operating, where issues have arisen, and where opportunities are present. It lets you create a local organic search strategy and local pack ranking with its comprehensive website health check.
Check Google Penalties
Local Keyword Research
Rankings
Links and Website authority
Citations
Google Business Profile
Reviews and Ratings
Social Media
Keyword Research
Keyword research reveals what most people are searching for related to your business and helps you understand the searcher's intent. Nonetheless, it also gives you insight into how difficult or easy it is to reach the top.
City-specified keywords
Analyze Competitive keywords
Examine keyword search intent
Keyword strategy
Google My Business SEO
Optimizing Google My Business Profile takes time, effort, and constant updating. It is best for businesses with physical locations rather than online-only businesses, where you'll stick with only Google tools like Google Ads or Google Analytics.
But with the GMB, you can distribute your brick-and-mortar business information and images in Google search, Google Maps, and Google Shopping. It will see two times more search engine visibility if you reach the Google Local-3 pack listings.
Google My Business listing
Business Categories
Google Webmasters
Google Analytics
Mobile responsive website
On-Page Optimization
On-page optimization focuses on the website's inner development so that consumers stay on your website for a long time. As you may be aware, Google gives your website more weight when the three elements of Expertise-Authority-Trustworthiness are present. With the help of experts, you can gain Google's trust and get ranked on local SERPs.
Optimize title tags
Geo-hierarchy URL structure/ URL structure
Optimize Images
Optimize Navigation menu
NAP consistency
Complete Location data
Structured Data markup
XML sitemap
Redirects
Content Writing
Local content can be in text, visuals, or audio, but focus on the local community. When targeting local searchers, village-based, city-based, town-based, or neighborhood-based content allows for a higher level of consumer presence on your website.
Quality content
Voice search
Duplicate content
Social Media Management
Social media management is the procedure of creating, scheduling, analyzing, listening, and engaging with the social content posted on Facebook, Instagram, Pinterest, Twitter, and other social media platforms. Basically, it grows a community, which is one of the most important elements to consider in local SEO.
The more channels you have, the more local traffic and foot traffic you gain. With the help of local marketers' social media strategies, you can generate a measurable ROI.
Monitor all social media profiles
Track competitors' strategy
Schedule postings and Monitor mentions
Respond to the comments and messages
Hashtag strategy
Link Building
Link building is a signal to Google that you have high-quality resources worthy of citation. Reputable site backlinks will increase your chance to earn higher search rankings and grow your business significantly. With the local SEO packages, you can see how impactful they are for your business growth.
Backlink audit
Competitor Backlink Analysis
Email outreach
Guest blogging
Directories
Testimonial and review
Affiliate links
Charities and events
Citation Management
Citation management lets you improve local rankings and earn referral traffic. The more citations you have on online platforms, the more authority you gain from Google. Although it can be a tedious task, doing so will help your business show up in the local SERPs.
There are online references to a business from different online directories.
Optimize citations
Submit citations top sites
Competitors citations
Duplicate citations
Online Reputation Management (ORM)
Consumers use search engines to research new products, which is where ORM comes into play. Every brand hopes to make a positive impression online, just like you, but not every time it is possible to do so.
Basically, online reputation management creates a positive perception of the brand in the minds of consumers. ORM services will help you control and reshape public perception of your company, enhancing its credibility in front of customers.
Monitor review
Respond review
Generate more reviews
Recognizable testimonials
Conversion Rate Optimization (CRO)
Conversion rate optimization is important to achieve because traffic is way more expensive. It increases organic traffic by lowering customer acquisition costs. Though it's hard to hold customers for a long time, you can take advantage of new or repeated potential traffic for conversions with this service.
Usage of generic CTAs
Offer
Website Design
Headline
Local Business Advertising
Local Business Advertising is the mainstay of ad campaigns, making it easy to promote your local businesses in Google Search, Maps, YouTube, Gmail, and even on social media. You can see how to grow your offline business goal, and maximize in-store value because the services target your radius, which is linked to your Google My Business profile and locations.
Search engine Ads
Social Media Ads
Local Business directory.
PPC Campaigns
A Complete Guide of Local SEO Packages and Pricing 2023
Local SEO packages are either one-time or monthly plans that include strategic steps to increase a local business's visibility in local SERPs. It offers a wide range of services aimed at improving how well your website performs on local search engines.
Local SEO pricing packages will prioritize your Google My Business page, increasing the likelihood that people in your geographic area will find your website in a SERP.
Purchasing a local SEO package means hiring a local marketer or SEO agency. Local marketers have the knowledge and capacity to extract the most value from the trash.
It is preferable to purchase local digital marketing packages that assist you in keeping up with Google's constantly shifting standards if you want your own, as doing so can be time-consuming and out-of-date. Ultimately, local SEO is a great investment. But nowadays, inflation impacts the pricing of local SEO packages the most.
According to the BrightLocal research on the Local Marketing Confidence survey, post-pandemic life and inflation influence business needs and consumer behavior. Almost half of the agencies and consultants plan to increase the price of services over the next year.
On the other hand, new and prospective clients are getting more price-conscious and nervous to commit to local packages, but the multi-location business unwillingly plans to increase its marketing budget due to the recession and inflation.
Furthermore, inflation and recession have a significant impact on pricing packages. This might be the main driver behind local business SEO package price increases.
Let's move on to the local marketing package category.
Don't Forget to Read: Affordable SEO Packages for Small Businesses
Basic local SEO package
Enrich growing business.
---
Keyword research and optimization, on-page optimization, and local citation building are included in the basic local SEO service packages.
---
Standard local SEO package
Support special to growing business.
---
Link building and content marketing, as well as more in-depth keyword research and optimization, and technical SEO optimization are included in the standard SEO service packages.
---
---
Premium local SEO package
Take support to the next level.
---
Basic and standard packers of services with social media marketing and reputation management are included in the premium package.
What works and supports include in local SEO package? Let's check out the details!
| Service | Basic Package | Basic Package | Basic Package |
| --- | --- | --- | --- |
| Website Audit | Yes | Yes | ✔ |
| Competitor Research | Yes | Yes | Yes |
| Strategic Planning | Yes | Yes | Yes |
| Website Architecture | No | Yes | Yes |
| Website Optimization | No | Yes | Yes |
| Technical Optimization | No | Yes | Yes |
| OnPage SEO | Yes | Yes | Yes |
| Article & Page Creation | 3 | 6 | 10 |
| Graphic Design | No | Yes | Yes |
| Custom Landing Page Design | No | Yes | Yes |
| Google Business Profile Optimization | Yes | Yes | Yes |
| Review Management | No | No | Yes |
| Citation Building and Management | No | Yes | Yes |
| Local Page Management | No | Yes | Yes |
| Reputation Management | No | No | Yes |
| Geo-Targeted Page Management | No | No | Yes |
| Guest Blog Outreach Links | 5 | 10 | 20 |
| Social Media Setup & Optimization | Yes | Yes | Yes |
| Paid Ads Management | No | Yes | Yes |
| Video Production & Marketing | No | No | Yes |
| Ongoing Analysis and Review | Yes | Yes | Yes |
| Monthly reporting | Yes | Yes | Yes |
| Dedicated Management | No | No | Yes |
| Price | $500 per month | $1,000 per month | $2,000 per month |
Consider those things before looking for local SEO packages
Local SEO packages are a big investment for you, so you should carefully consider the ins and outs of the agency or marketer before making any purchases.
What tools do they use?
As you know, local SEO tools track and monitor performance, assist you in improving it, and provide in-depth competitor insights. So you can investigate some popular tools or which tools are best for which types of usages. Inquire if they have their own tool subscription and what they expect from you for this support.
Do you check the reputation of the provider?
Since there are many scammers out there, you should work with a reputable business to ensure that your work is in good hands. While investing in the provider, give their reputation a priority. Consider checking the clients' reviews or third-party reviews to help you decide which one is perfect for you.
Are they experienced in improving local search results?
Years of experience refine the expertise of local SEO marketers or agencies. The more experience they have in their work, the better the results. The past experiences or challenges of your business niches give you wings to fly higher.
Are they staying up-to-date on industry changes and Google updates?
As you know, Google makes thousands of algorithm updates each year. Make sure the agencies or local marketers are aware of the Google updates and your industry niches, which might help you make them understand your views and goals.
How long will it be until you can expect to see results?
It is completely still being determined how long the results will take. Though an experienced SEO specialist can offer you faster results, they also need two to three months for better results. Aside from this, you may hold it for three to four months.
Does the SEO specialist provide you with useful guidance?
An SEO specialist has specialized knowledge of SEO. In this manner, you have the right to receive practical SEO guidance. Getting advice on website development from an SEO perspective or a technical perspective makes your knowledge base wider.
Do they ensure the use of data security?
Data is an asset for a company. So, data security protects the company from financial loss, reputational harm, brand erosion, and customer trust degradation. So the assurance of data is necessary for any business. Signing an agreement to protect your data ensures that your data is secure.
What do they need from you to be more effective?
Local SEO requires more resources to not only develop the website structure but also improve the site's localization. Whether they need some tools, support, or justification about their local strategy, you need to provide them so that they are able to produce more effective results for your localized business.
How will you communicate and how often?
Communication is a necessary factor while investing in local SEO projects. Whether you communicate with them by email, over the phone, via video call, or in person, you can make them understand the factors on which they must focus while working on your projects.
The more frequent and friendly the communication, the more you are relieved about the excellent work they deliver. Frequent communication helps you get the excellent SERP results you want.
What are their fees and payment terms?
Each local marketer has a different set of fees and payment terms. Some want payment at the time of the service, and some like it after. Some require a 50% deposit, and some only need 20%. Even considering the pricing model, it can be fixed-rate or contracted. Figure out your marketing budget and find the one who can match it.
What happens when we part ways?
If you hire a local marketer, consider whether they offer after-support, leave work after the contract is completed, or charge a fee. Following support, the local marketer may demonstrate dedication to your projects; if so, consider rehiring them because they know all about your website and preferences.
Wrap-Up
Look, finding an affordable package is easy when you're on the right track. However, make sure you evaluate your business needs first before seeking a local SEO package. At that point, you know what the problem is and what you need to look for in a solid solution. You received an excellent solution from us regarding local SEO pricing.
Want to know more about it? Don't hesitate to knock!