AI website design tools have revolutionized the entire process of website design and content creation. You perhaps spent a lot of time designing websites on platforms that are hard to use and often get bored. This article is then a gift for you.
We discussed website design with AI and some essential tools used for that. Hence, you will get ideas on AI website design, its benefits, types of AI tools, and some tips on choosing the best tool for you.
So, without much ado, let's get into the main topic!
What is AI website design?
AI website design refers to building and developing websites using a new generation of tools that use artificial intelligence to complete web designing tasks easily and quickly. AI tools can automatically produce code, create content and suggest design options depending on user input.
What does it mean to website design with AI?
Designing a website with AI means you don't need to use manual code-generating and content-creating tasks because the AI tools are enough to complete these activities.
AI code-generating and content-making tools help you create functional websites even if you have no good ideas of coding and design skills. Therefore, AI website design is an excellent option for business owners to get their websites up and running on time while saving money and time.
How does AI website design work?
AI website design works in a fast and easy process using data to make the website better. AI tools collect website information based on visitors' preferences, product catalog, and other vital aspects. When the data collection is complete, AI will take the ultimate instructions, such as theme, content, and color preferences, to design a unique website for you.
What are the benefits of AI website design?
There are numerous benefits to using AI website design as it helps to enhance efficiency and improve customer service with a fast ecommerce website development. Here we included the most remarkable advantages of AI website design.
Enhanced Efficiency: An AI-powered website can improve efficiency by automating monotonous tasks. It makes your team concentrate on more crucial tasks.
Intelligent Personalization: AI software can provide users with more tailored services, which helps you connect with more users and appeal to a broader audience.
Improved Customer Service: By providing automated solutions suited to each user's demands, an AI website design can improve customer service, which may result in a more satisfying user experience overall.
Automated processes: Artificial intelligence (AI) website design can assist in automating complex operations like customer segmentation, marketing, and data analysis. This can help your team save a ton of time and effort.
Revenue growth: AI website design can assist your company in generating more sales and money.
As you know the benefits of using AI web design, get an idea of the types of AI web design tools below.
Types of AI website design tools

A considerable number of AI website design tools have emerged to help web designers to design and develop websites and produce content for them. Here we discussed the three main types of AI website design tools you can try.
AI website builders
AI website builders use artificial intelligence to generate a custom site from scratch, which helps to get a fast and easy website creation process. The top AI website builders make it simpler than ever to quickly build a professional, mobile-optimized site, with features like AI-driven design aid and code generation.
For that reason, you can easily create and modify a website with the help of these AI website builders tools.
AI design assistants
AI assistants are computer applications that help website users by utilizing artificial intelligence (AI). Instead of using conventional search tools, they are intended to mimic a human-like interaction by replying to questions and queries in normal language. Visitors to websites can more easily and swiftly access the information they need thanks to AI helpers' tailored and entertaining experiences.
AI assistants examine user behavior to learn more about their preferences and wants. They handle various data, including logs from customer service, user queries, customer comments, and website performance indicators. AI assistants can then deliver real-time customized responses based on this data.
AI content generators
AI content generators help to create automated content by generating blog posts, product descriptions, or articles based on predetermined rules or keywords. These tools streamline the content-making process, save time, and maintain consistency. For example, you can use Jasper or Copysmith to create a personal bio, social media post, product description, and blog articles.
Systems for content curation and recommendation powered by AI also help to provide users with individualized content recommendations, boosting engagement and promoting conversions.
AI can also help Search Engine Optimization (SEO) by examining keywords and recommending optimization techniques. For example, you can use Semrush and Surfer SEO to generate exact keywords and check your google SEO ranking factors.
Key Elements of AI-Driven Website Design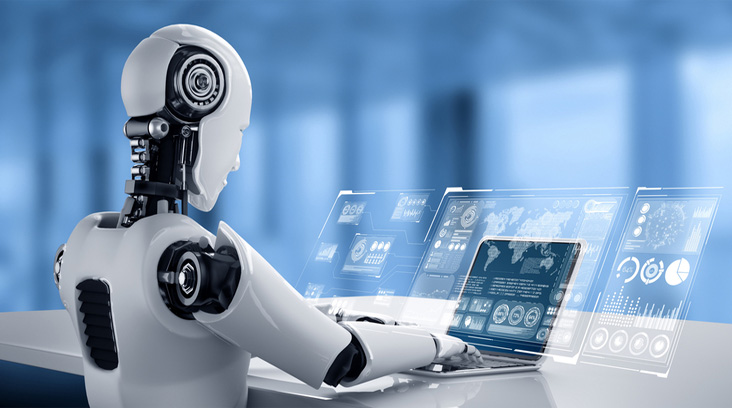 A variety of elements are used for website design with AI, such as UI/UX design, responsive design, adaptive layouts, and content generation and curation. Here is a brief discussion about key elements of AI-powered website design.
User interface and user experience (UI/UX) design with AI
AI is transforming the tech sector by automating tasks that people typically perform, and UI/UX design is no exception. You can choose the right UI/UX design using AI because AI tools enable UI/UX designers to automate tedious activities like categorizing user actions, forecasting future behaviors, and extracting pertinent insights from vast amounts of user data, freeing up more time for the final product's fine-tuning.
AI tools also allow UX designers to build predictive models based on user data and automatically apply them to their designs, replacing trial-and-error methods or established guidelines. Digital products that are more complex and user-focused are made possible by this level of personalization.
Responsive design and adaptive layouts using AI
AI helps website designers to create automotive responsive designs powered by AI, which adjusts the websites to different devices and screen sizes. AI algorithms analyze user behavior and device data so websites can dynamically adapt to the layout elements, font sizes, and images for optimal viewing experience.
AI enables content optimization, resulting in quicker load times and enhanced device performance.
Content generation and curation with AI
Natural language generation systems driven by AI support automated content production by generating blog posts, product descriptions, or articles based on predetermined rules or keywords. Using AI, designers can streamline the content creation process, save time, and maintain consistency.
Systems for content curation and recommendation powered by AI assist in providing users with individualized content recommendations, boosting engagement, and promoting conversions. AI can also help Search Engine Optimization (SEO) by examining keywords and recommending optimization techniques.
How to choose the right AI website design tool
There are no specific criteria for selecting the best AI website builder because it will entirely depend on your personal needs, choice, and website categories. As for general guidelines, you can try the criteria discussed below.
Consider your needs
Before searching for an AI website design tool, you should consider what you are looking for and which features and facilities you need for your website design. It will help you identify a specific AI tool that is perfect for creating a personalized and customized website.
Read reviews
The second fundamental fact you should consider before choosing an AI tool for website design is to read the reviews about that tool. You will find many AI website design tools, but not each is perfect for you. Try to read the reviews about them, and then choose the one which suits your needs the most.
Try out the tool for free
Finally, try to find a tool that is free to use and provides quality services. There are several AI tools to design websites, most of which are premium. People need to pay money to use Artificial Intelligence tools for website design. It is best to try a free tool because it will save you money.
Tips for using AI Website design tools
Numerous AI website design tools, such as Chatgpt and Midjourney, are used in different ways. Here are some tips for using artificial intelligence with AI design.
Be clear about your goals
Firstly, it's important to have clear ideas about your goals and what kind of websites you want to design with AI, such as ecommerce websites, blog websites, or others. It will help you generate accurate information on your desired website design.
Use the tool to generate ideas, not finished products
Another important thing to remember is that try to use these tools to generate ideas and information, not for finished products. And customize the design accurately.
Consideration
Good to know: Getting services from a website design agency offers several benefits that outweigh using AI alone:
Tailored Creativity: An agency provides human creativity and expertise, customizing designs to suit your unique business needs, branding, and target audience, ensuring a personalized and impactful website.
Strategic Approach: Agencies offer strategic planning, understanding your business goals, and designing websites that align with your overall marketing strategy, fostering growth and conversion.
Human Touch: Agencies offer direct communication and collaboration with real professionals who understand your vision, allowing for better feedback and adjustments throughout the design process.
Comprehensive Solutions: Beyond design, agencies provide a range of services like content creation, SEO optimization, and ongoing maintenance, ensuring a holistic and professional online presence.
Quality Assurance: Human designers ensure high-quality, error-free websites, avoiding common AI design mistakes that might negatively impact user experience.
User-Centered Design: Agencies focus on creating intuitive and user-friendly interfaces, enhancing customer experience and increasing user engagement.
Adaptability and Innovation: Agencies stay up-to-date with the latest trends and technologies, incorporating new ideas to keep your website modern and competitive.
Long-Term Support: With an agency, you get ongoing support, updates, and improvements, allowing your website to evolve alongside your business.
While AI can aid certain aspects of web design, partnering with a website design agency guarantees a human touch, strategic thinking, and a tailored approach, resulting in a more effective and engaging online presence for your business.
Final Thought
It is undeniable that AI will change the overall website design process at present and in the future. Though some people see it as a risk for website designers, it seems not like that. Most website designers recently prefer using AI tools for web design tasks, and there is a big opportunity to begin new jobs for people due to AI tools.
This content briefly discussed the benefits of AI tools for website design and gave some effective suggestions. I hope it was helpful to you. So, make fun!